10 Best Foods You Have to Try in Porto
Real Portuguese Dishes That Locals Love to Eat
Meal times are a highlight of any trip to Portugal, and Porto is no exception. The city sits on the Atlantic coast, with the Duoro River running through it and mountain ranges almost touching distance inland. This diverse natural land makes for a fantastic range of produce available to chefs in Porto.
Bold, spicy, and more hearty than southern Portuguese food, in Porto, meals can be rather filling. A wide range of meat and fish is used in classic dishes, all washed down with a glass of port wine. This list contains the best dishes in Porto, popular with locals and visitors.
1
Francesinha
The mother of all sandwiches!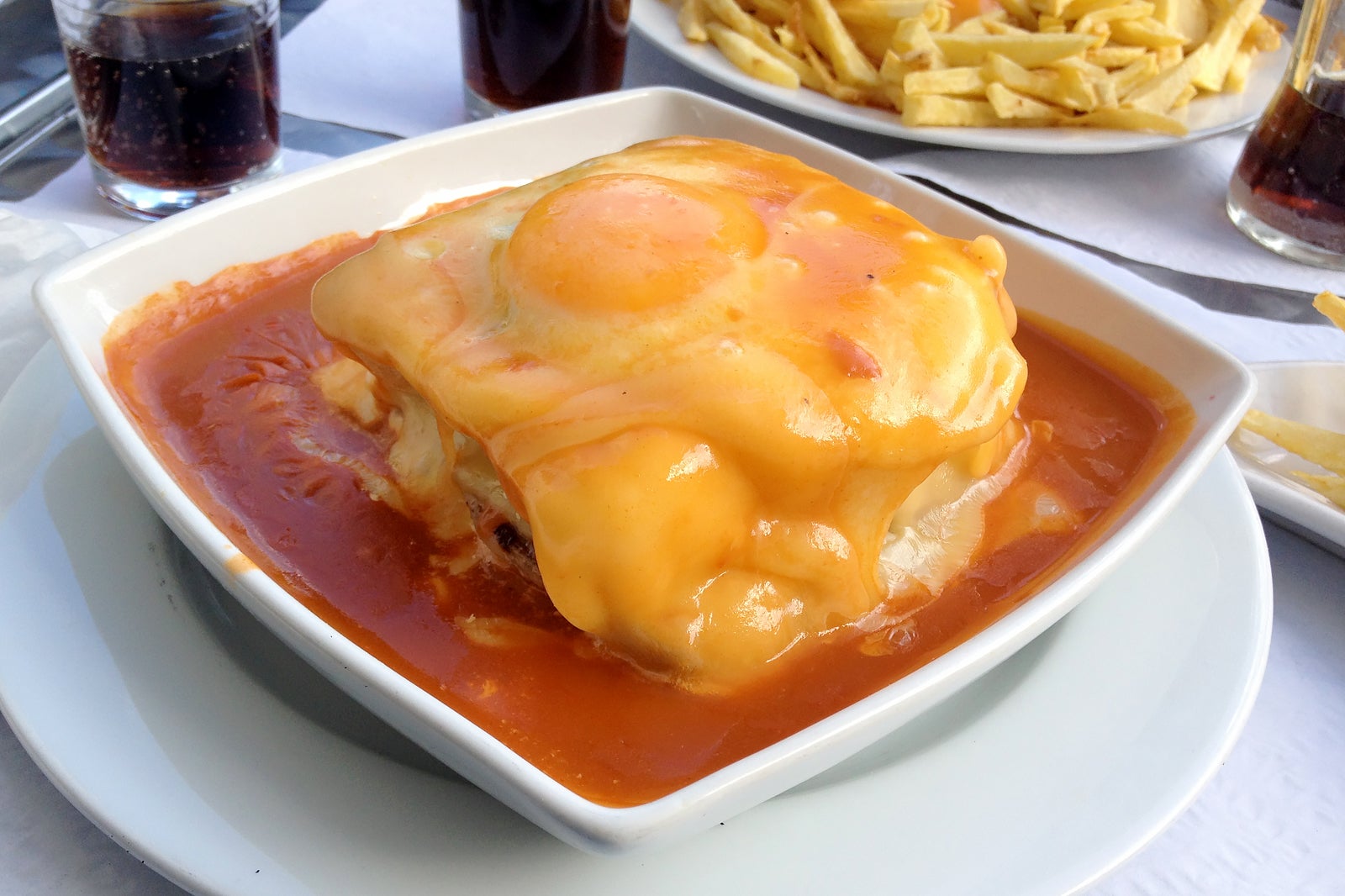 This recipe originated in the city in the '60s as an evolution of the croque monsieur by a French immigrant who worked there. Its complex multitude of ingredients and flavours pay tribute to the Porto locals who like wholesome and heavy dishes.
It consists of a multi-layered sandwich with a slim beef steak with little fat, sausages, spicy linguiça, ham, lots of cheese melted on top, and sliced bread smothered in a spicy seafood sauce. Served with copious amounts of fries and a fried egg on top, this is a generous dish, irresistibly hot and innovative in its composition. Moreover, it serves as the ultimate hangover cure!
The best places to try this local delicacy are Café Santiago and Bufete Fase (but be prepared to queue!)
2
Tripas à moda do Porto
Originally a poor man's dish but now loved by all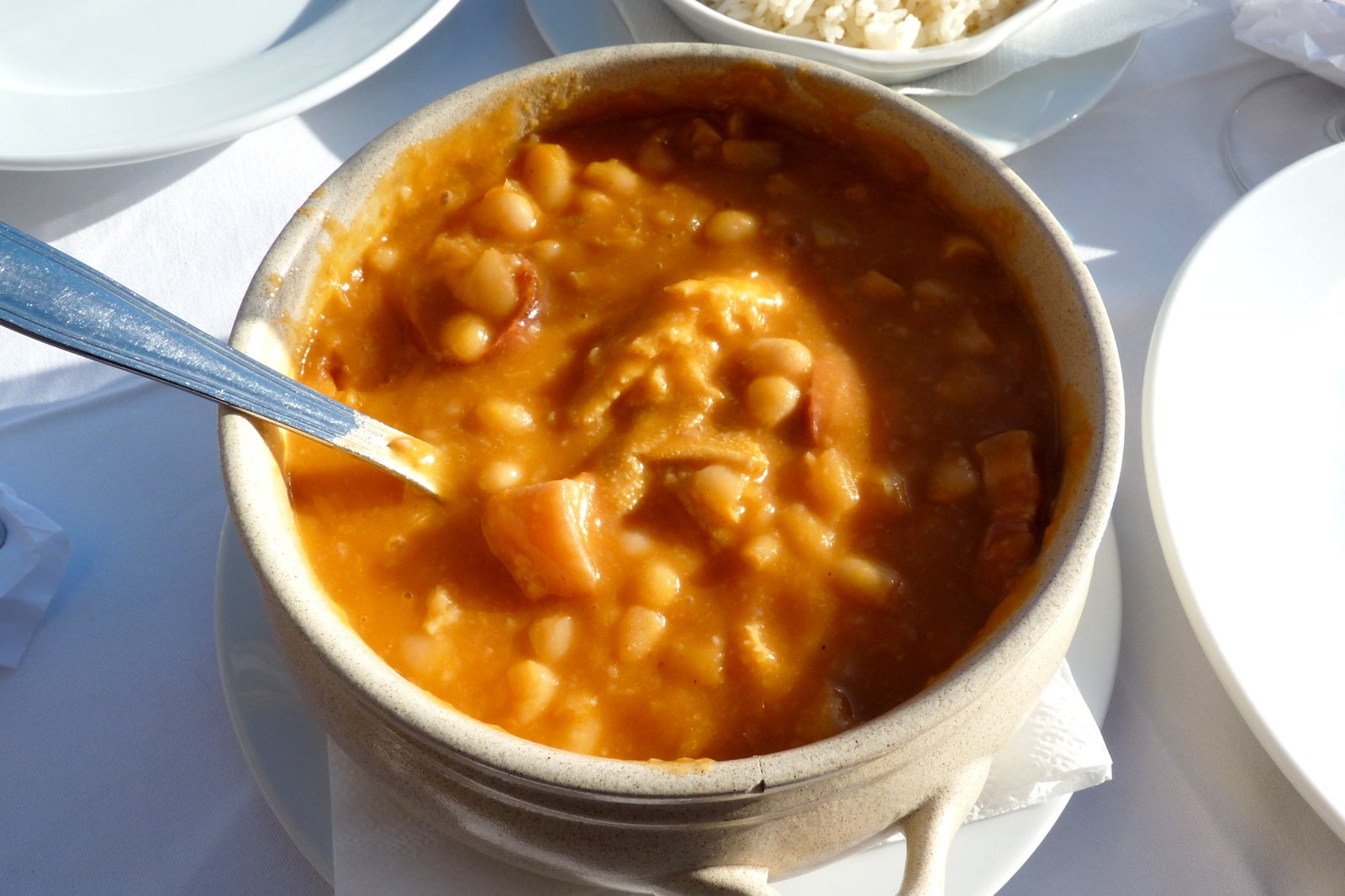 This dish originated when Henry the Navigator was preparing his ships to conquer Ceuta in 1415 and he asked the people of Porto to donate supplies to stock the Portuguese navy. They did, and all that was left to eat was tripe. This granted them the nickname of "tripeiros" or "tripe eaters".
Besides its obvious main ingredient, it consists of several other cuts of meat, such as veal shank, pea beans, smoked pork sausage, smoked ham, chicken and carrots. It's seasoned with cumin, black pepper and bay leaf and served with rice.
photo by MariaCartas (CC BY-SA 3.0) modified
3
Caldo verde
The perfect winter warmer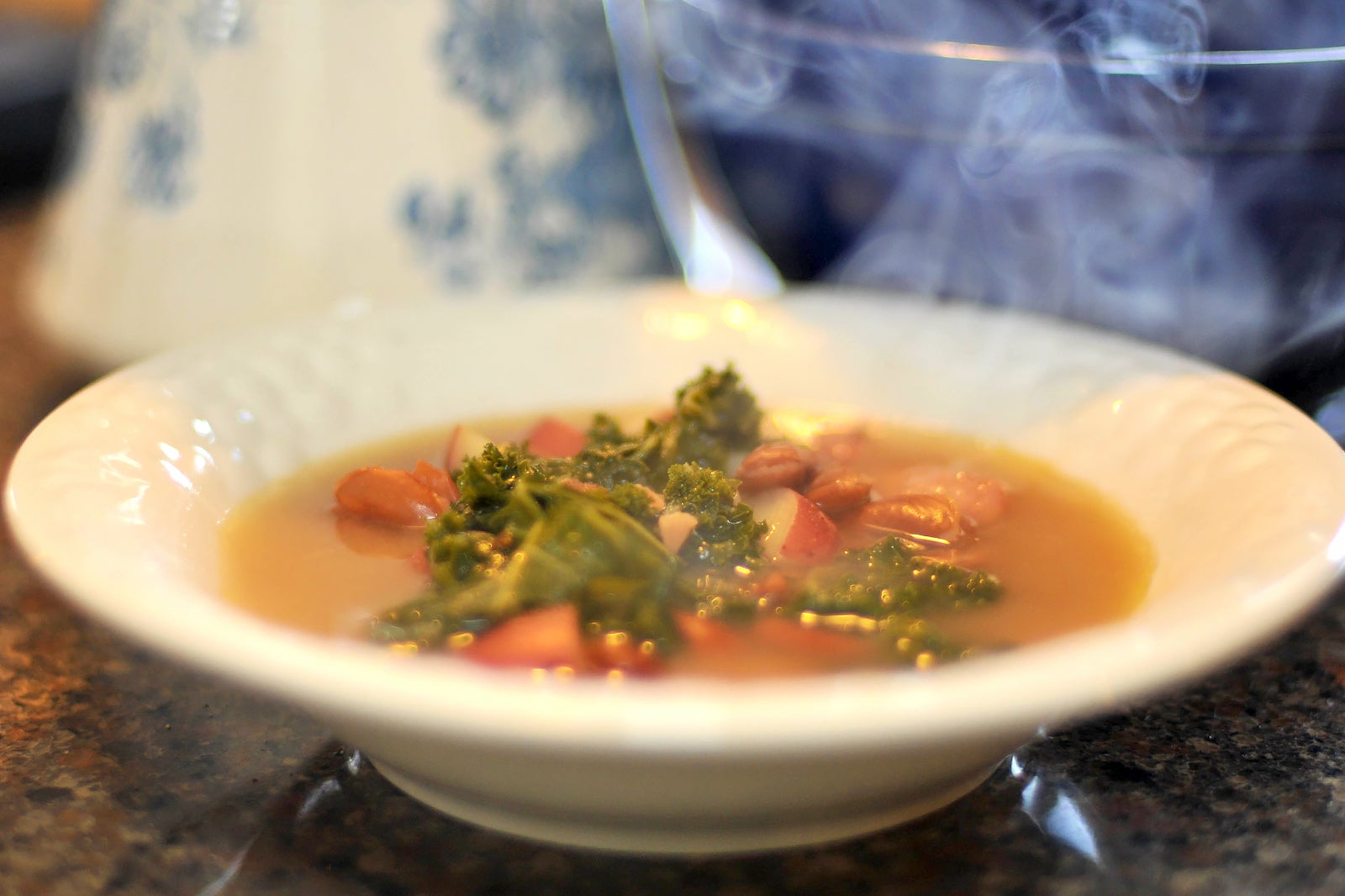 Caldo verde (literally "green broth") originated from the Minho Province in northern Portugal. The basic traditional ingredients for caldo verde are potatoes, collard greens, olive oil and salt. Additionally, garlic or onion may be added. The soup is usually accompanied by slices of paio, chouriço or linguiça (boiled separately with that water being discarded and the sausage added last minute to the soup), and with Portuguese broa cornbread for dipping.
In Portugal, caldo verde is typically consumed during Portuguese celebrations, such as weddings, birthdays and popular celebrations, such as the festival of St John in Porto. It is sometimes consumed before a main course meal or as a late supper and it is the perfect dish for cold winter nights!
photo by QUOI Media Group (CC BY 2.0) modified
4
Papas de sarrabulho
Meat lovers will enjoy it
Papas de Sarrabulho (Sarrabulho paste) is a typical dish of the Portuguese cuisine with origins in Minho, in the north of Portugal. It contains pork blood, chicken, pork, ham, sausages, smoked sausage, cumin, lemon and bread or corn flour, as well as other tasty ingredients. It's served as soup or as a side dish of Rojões à moda do Minho (meat cut into cubes).
The "papas" are made in winter, since this is when the pig slaughter takes place, and all the meat and blood can be used for their creation. During the winter, it's common to find them on menus in the restaurants of Porto. As they are originally from the Minho region, they must be accompanied with green or red wine.
5
Polvo com molho verde
Seafood dish best enjoyed with your feet in the sand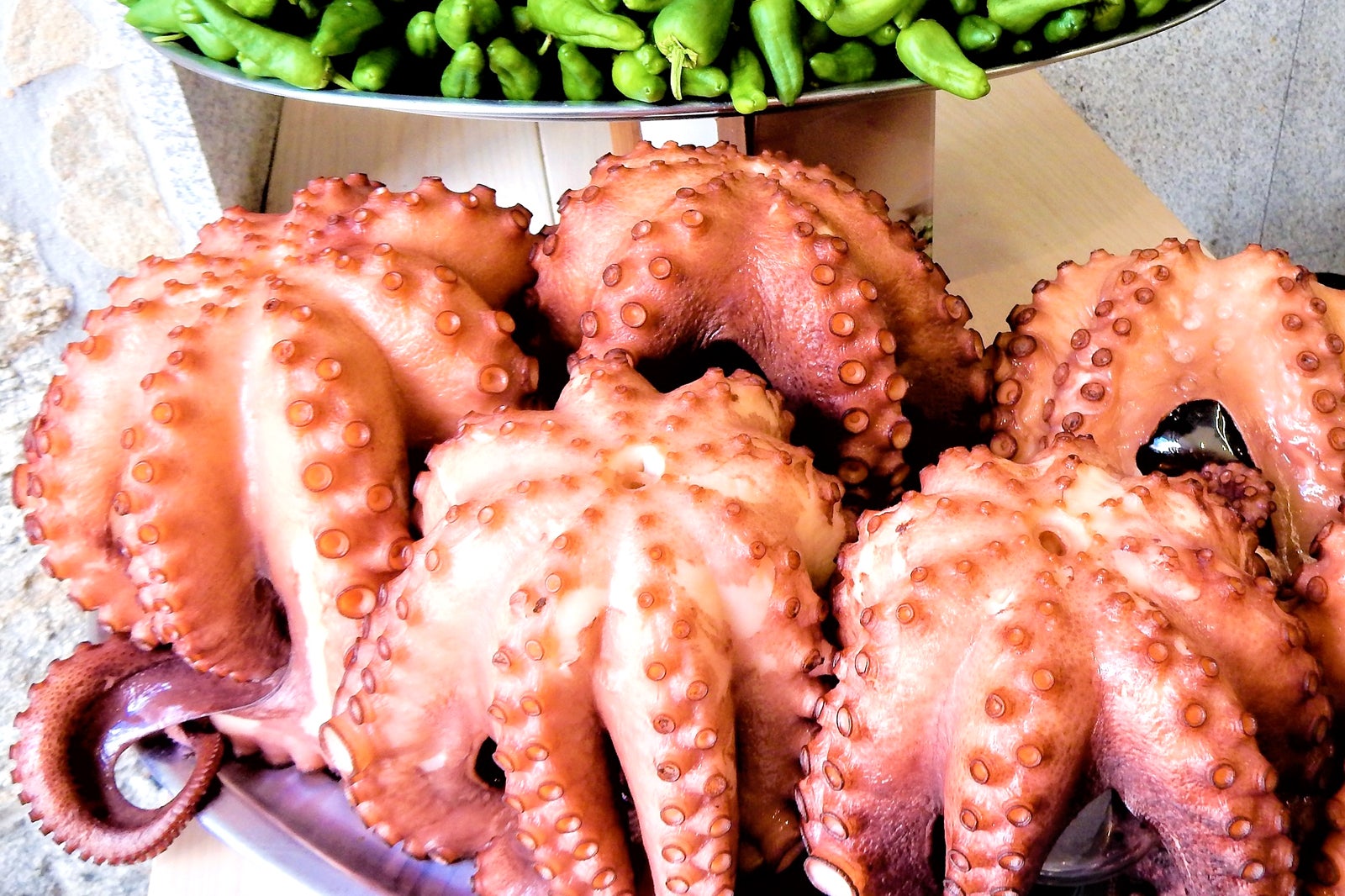 This lovely summer dish is a favourite among locals, especially when enjoyed on the seaside. It consists of boiled octopus, finely chopped onions, garlic, chopped parsley and it's seasoned with olive oil and vinegar.
To find this delicacy, check the restaurants in the seaside neighbourhood of Matosinhos that specialise in fish and seafood dishes.
6
Sardinhas assadas
A taste of the sea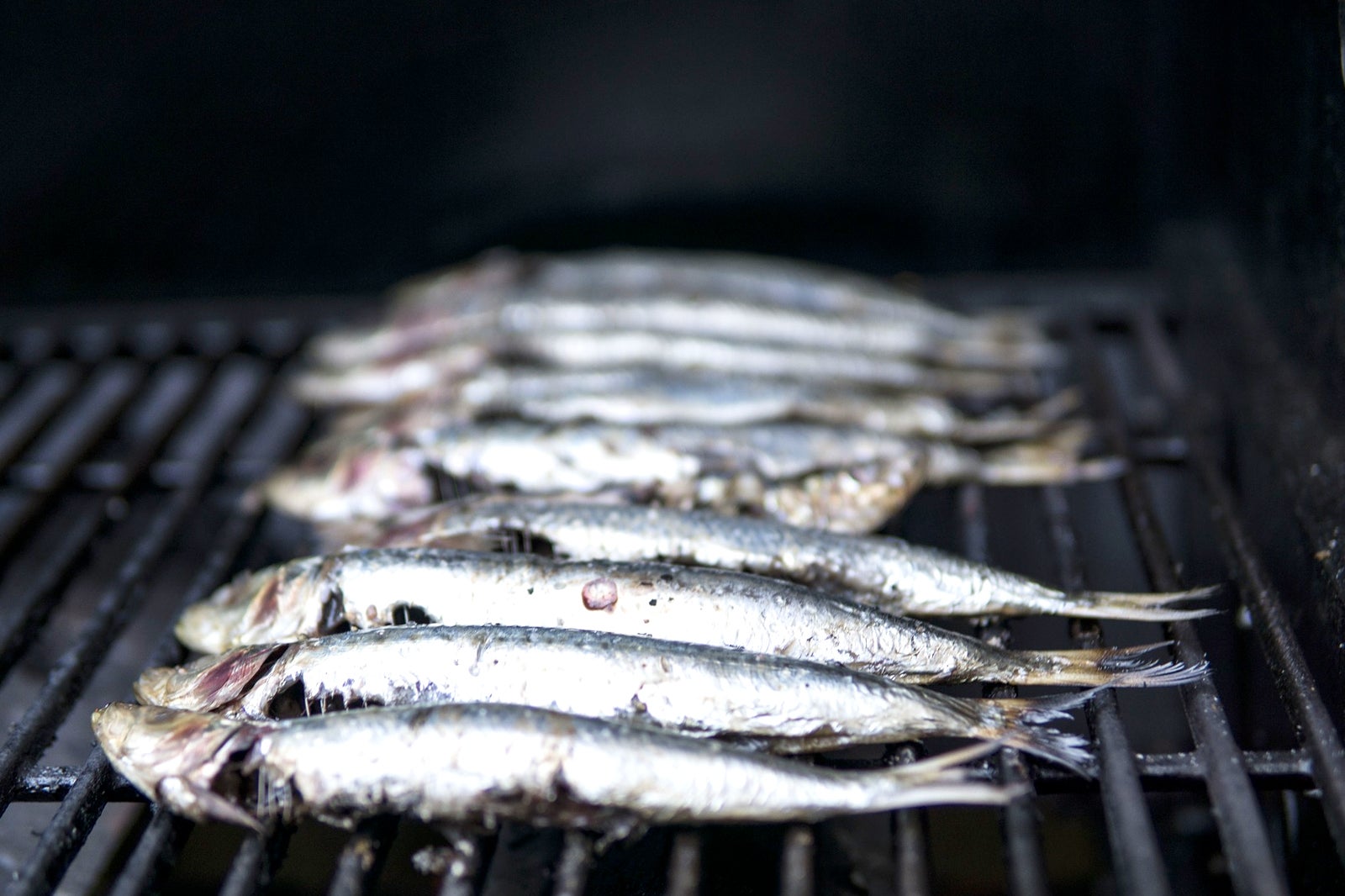 As a country that has deep connections to the sea and fishing, sardinhas assadas is one of the most popular dishes in Portuguese cuisine. After cleaning, the fish are seasoned with coarse salt and grilled on both sides for about 10 minutes. Sardines are typically served on top of a slice of bread, which soaks up the oily fat from the fish and provides its distinctive flavours. They are often paired with a side of roasted potatoes and peppers.
The dish has been a traditional local festival food for saint celebrations for centuries, such as the festivals of John, Peter and Anthony and the traditional sardine festivals that take place in the first 10 days of August. These festivals often feature hundreds of sardines roasted on an open fire grill inside specially made grates that make flipping easy.
7
Bolinhos de bacalhau
Deep-fried, fishy goodness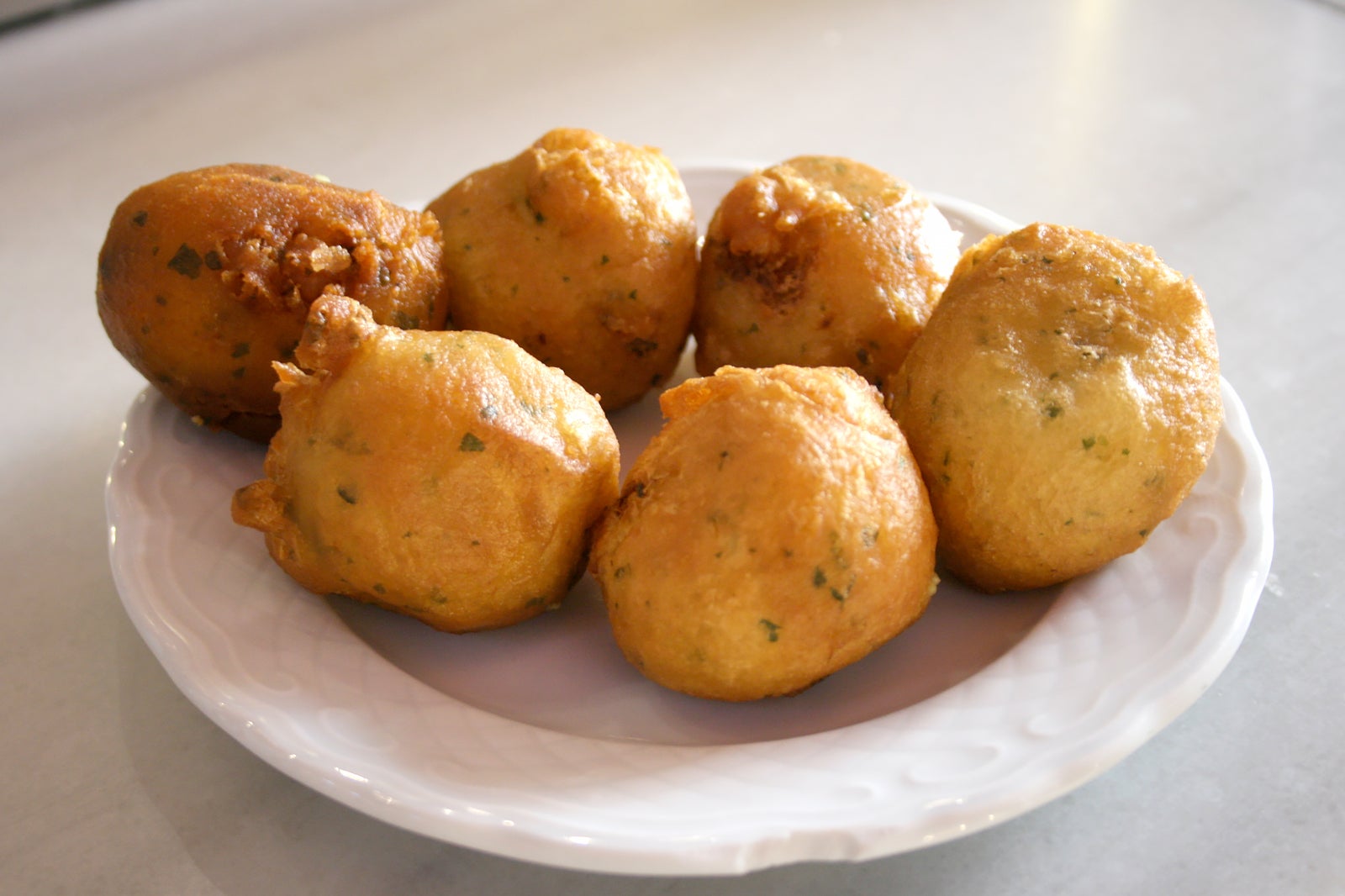 Bolinhos de bacalhau (salt cod cakes) are one of the most popular bacalhau (salt cod) recipes and definitely the most common bacalhau appetiser in Portugal. They are prepared by combining bacalhau with mashed potato, onion, eggs and parsley. The mixture is then shaped using two tablespoons into a torpedo shape, and deep fried until golden brown.
They are tastier when enjoyed warm, when their texture is still crunchy on the outside and soft on the inside. They are often eaten as a snack or appetiser, but can also be served as a main course when served with rice, salad and olives. "Bolinhos de bacalhau" is their name in Northern Portugal and Brazil. However, they are called "pastéis de bacalhau" in Central and Southern Portugal, as well as in other Portuguese-speaking countries including Angola, Cape Verde, Guinea-Bissau and Mozambique, as well as São Tomé and Príncipe.
8
Cachorrinhos
Hot dogs, Portuguese style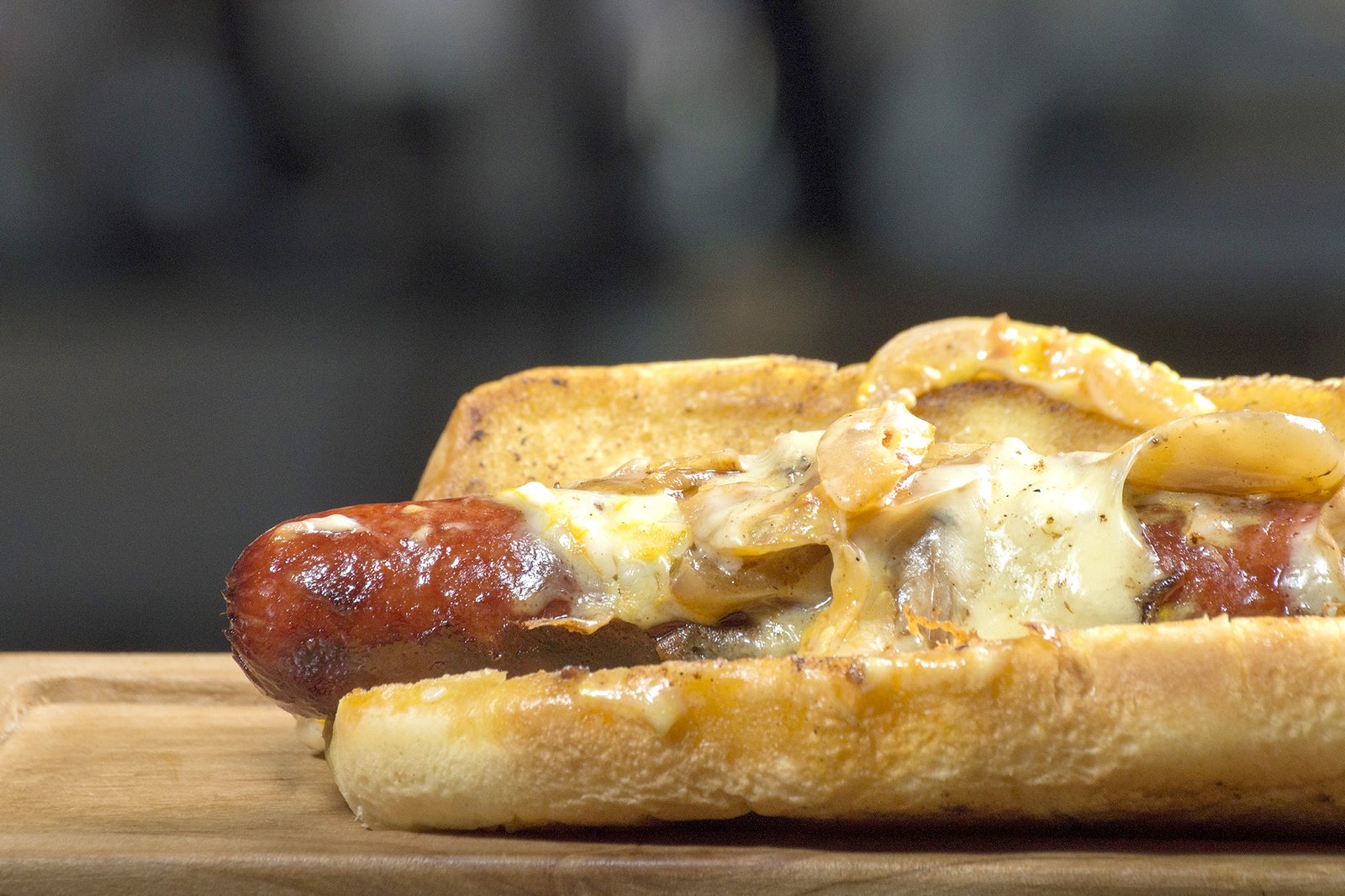 Cachorrinhos (or "little hot dogs") is a popular snack consisting of a toasted loaf stuffed with mouthwatering sausage and melted cheese, which is then sprinkled with butter and spicy sauce and sliced into pop-it-in-your-mouth pieces.
Cervejaria Gazela (in the Batalha neighbourhood of Porto) is the birthplace of this delicacy, where you'll find the hottest dogs in town.
Traditionally served at Christmas, aletria is a northern Portuguese speciality that resembles rice pudding, but it is made with vermicelli pasta. It contains milk, sugar, butter, egg yolks and lemon peel. For that special finishing touch, you can decorate it in festive patterns with ground cinnamon and cinnamon sticks. Casa Inês is the place to go if you want to try aletria that tastes just like the one your imaginary Portuguese grandmother would make. Totally worth the pilgrimage!
photo by André Luís (CC BY 2.0) modified
10
Sandes de pernil com queijo da serra
A common afternoon snack in the sunshine
A delicious pork-leg sandwich with mountain cheese. The pork is swimming in sauce, the cheese is creamy and the bread is lightly toasted. Accompanied by a refreshing glass of vinho verde (green wine), it serves as the perfect late afternoon snack after a long day of sightseeing in Porto. Make sure you order them from Casa Guedes in downtown Porto. There is a terrace where you can enjoy these delicacies and the garden views, located side by side with São Lázaro garden.