10 Best Qatari Foods and Where to Find Them in Doha
Real Qatari Dishes that Locals Love
Doha has such an incredible diversity of international cuisine that it can be hard to find classic Qatari dishes during your visit to the country's capital. But it's worth the effort of hunting down traditional local restaurants for the amazing food, ranging from hearty home-cooked stews to delicate desserts.
Over the centuries, Qatari food has been influenced by the Levant, North Africa and the Indian subcontinent, as well as nomadic Bedouin culture. The result is a cuisine full of complex flavours with a combination of slow cooking techniques and a rich blend of spices. The food in Doha could easily be the highlight of your trip, so we've compiled a list of real Qatari dishes that locals love... and where to find them.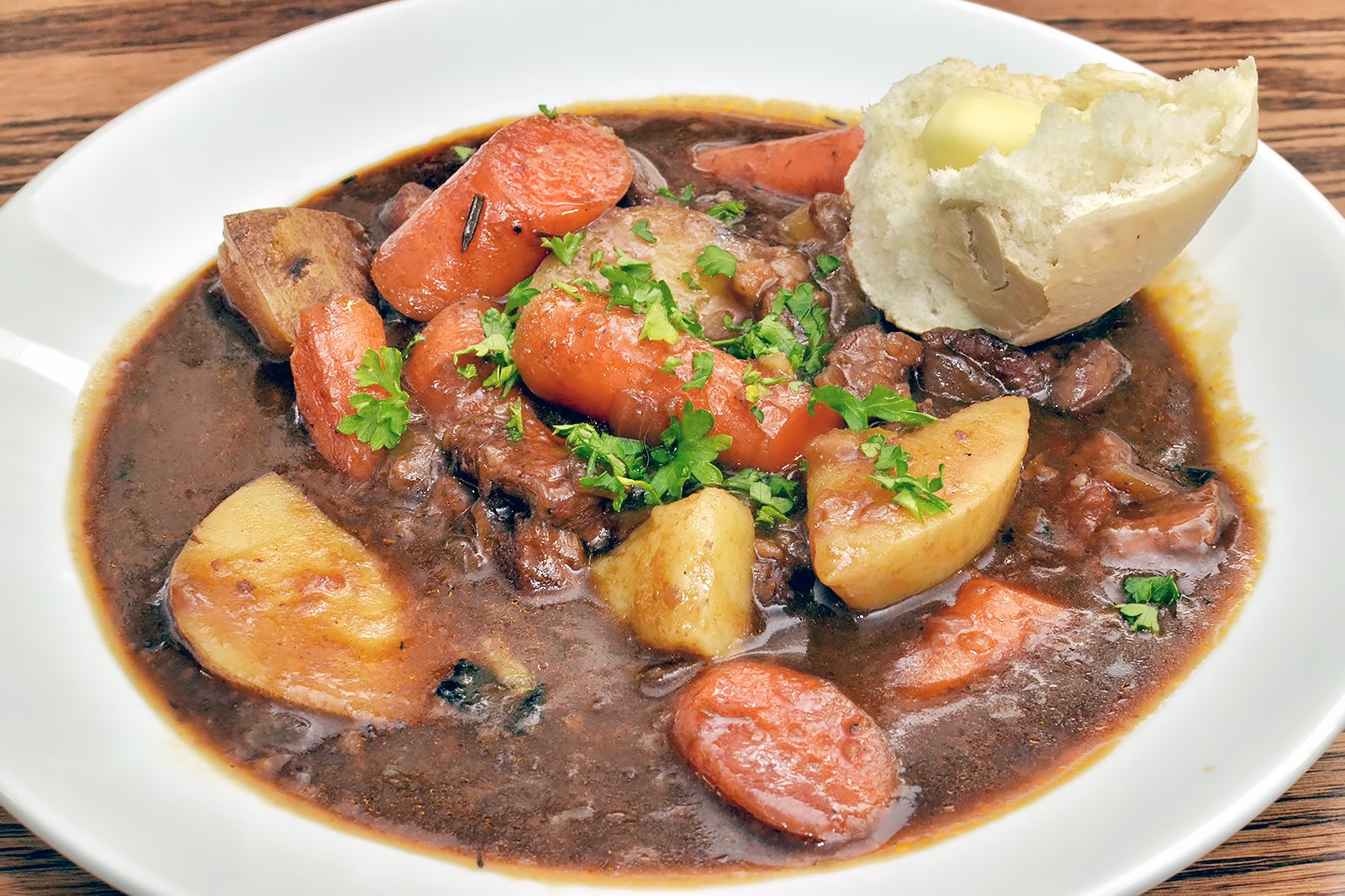 Saloona at Walima
Cosy comfort food that tastes like home cooking
Saloona is a classic Arabic stew that's often cooked at home for family dinners. It's designed to be made with whatever you have on hand, but usually starts with beef, lamb or fish plus seasonal vegetables flavoured with garlic and ginger. It should be eaten with a generous helping of bread to soak up the broth.
Walima does a contemporary twist on this and other Qatari dishes at their gleaming modern restaurants, which are decorated with light colours and Middle Eastern touches like coloured glass lamps. Their take on saloona is a rich and satisfying version, based on chicken and served with thin slices of lime.
Location: Mondrian Doha, West Bay Lagoon, Doha 24685, Qatar
Open: Daily from 6pm to 12am
Phone: +974 4045 5999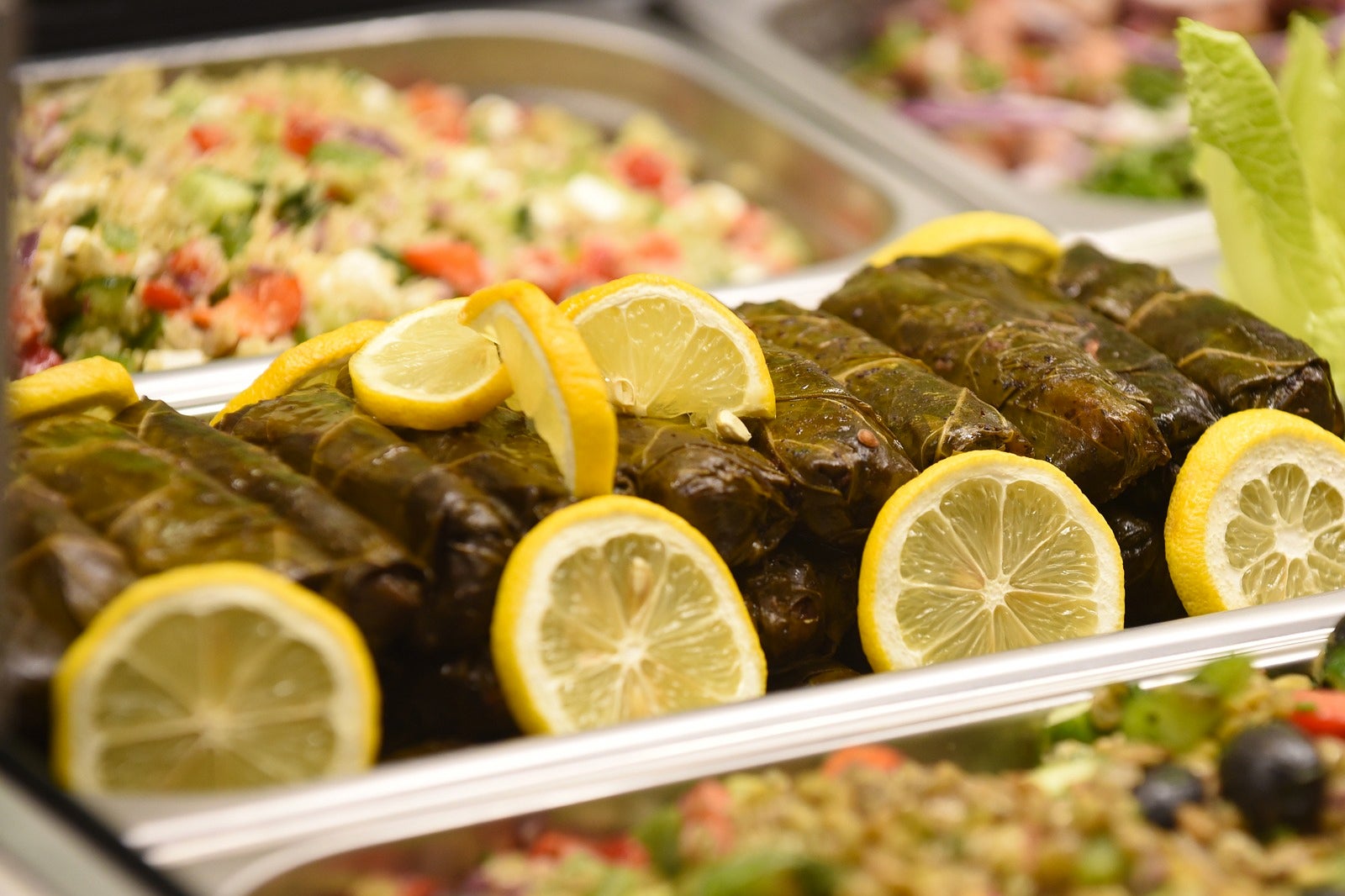 Warak enab at Shisha Garden
A tasty snack at any time of day
Stuffed vine leaves are common to most Middle Eastern cuisines, but the Qatari ones are especially tasty. Warak enab usually contains minced beef or lamb and rice, seasoned with garlic, pepper and coriander. It's best to enjoy this Qatari dish with slices of fresh lemon.
Located in the courtyard of La Cigale Hotel, Shisha Garden makes you feel like you've escaped the hubbub of downtown Doha. The verdant greenery and soft waterfalls create a lovely, peaceful atmosphere. It's a great place for casual snacking on finger food like warak enab and enjoying a cup of coffee or a shisha.
Location: La Cigale Hotel, 60 Suhaim Bin Hamad St, Doha, Qatar
Open: Daily from 7.30am to 1am with seasonal variations
Phone: +974 4428 8702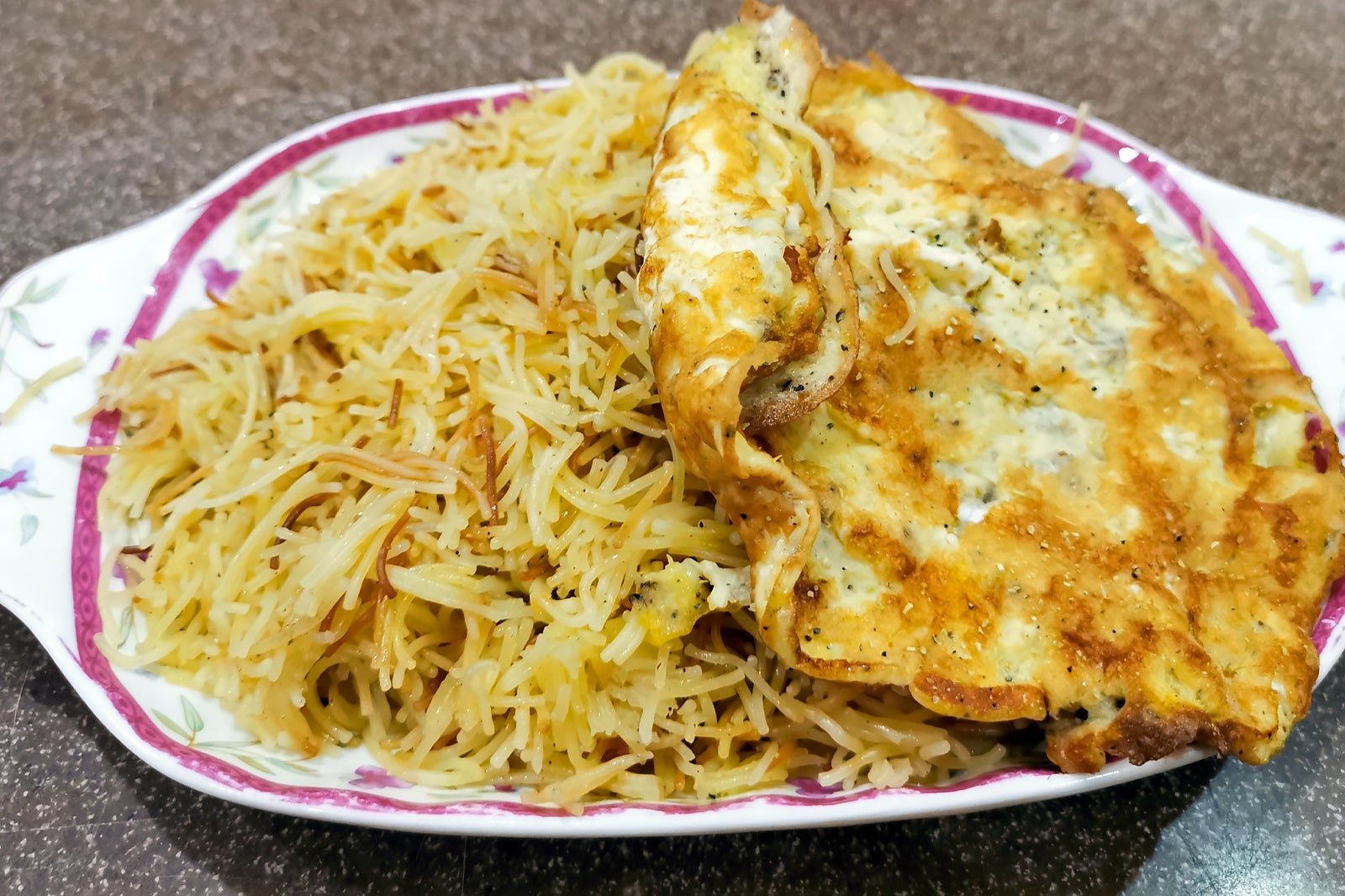 Balaleet at Al Jasra Traditional Food
A unique combination of ingredients that works surprisingly well
Vermicelli and omelette might sound like a strange marriage, but don't knock it till you've tried it. Balaleet is a popular pasta dish flavoured with sugar, saffron and rose water and topped with an omelette to create a unique sweet and savoury flavour. It's often served as a breakfast dish during Eid-al-Fitr celebrations.
Al Jasra is a bit of a secret gem, hidden in the back streets of Souq Waqif. The food is cooked fresh every day by the 4 Qatari women who run the restaurant, using the same recipes they follow at home. The traditional Qatari textiles everywhere give the place a snug, homey feel.
Location: Ali Bin Abdullah St, Souq Waqif, Doha, Qatar
Open: Daily from 8.30am to 10pm (Fridays from 8.30am to 10.30am and from 12.30pm to 10pm)
Phone: +974 5529 8871
photo by Droodkin (CC BY-SA 4.0) modified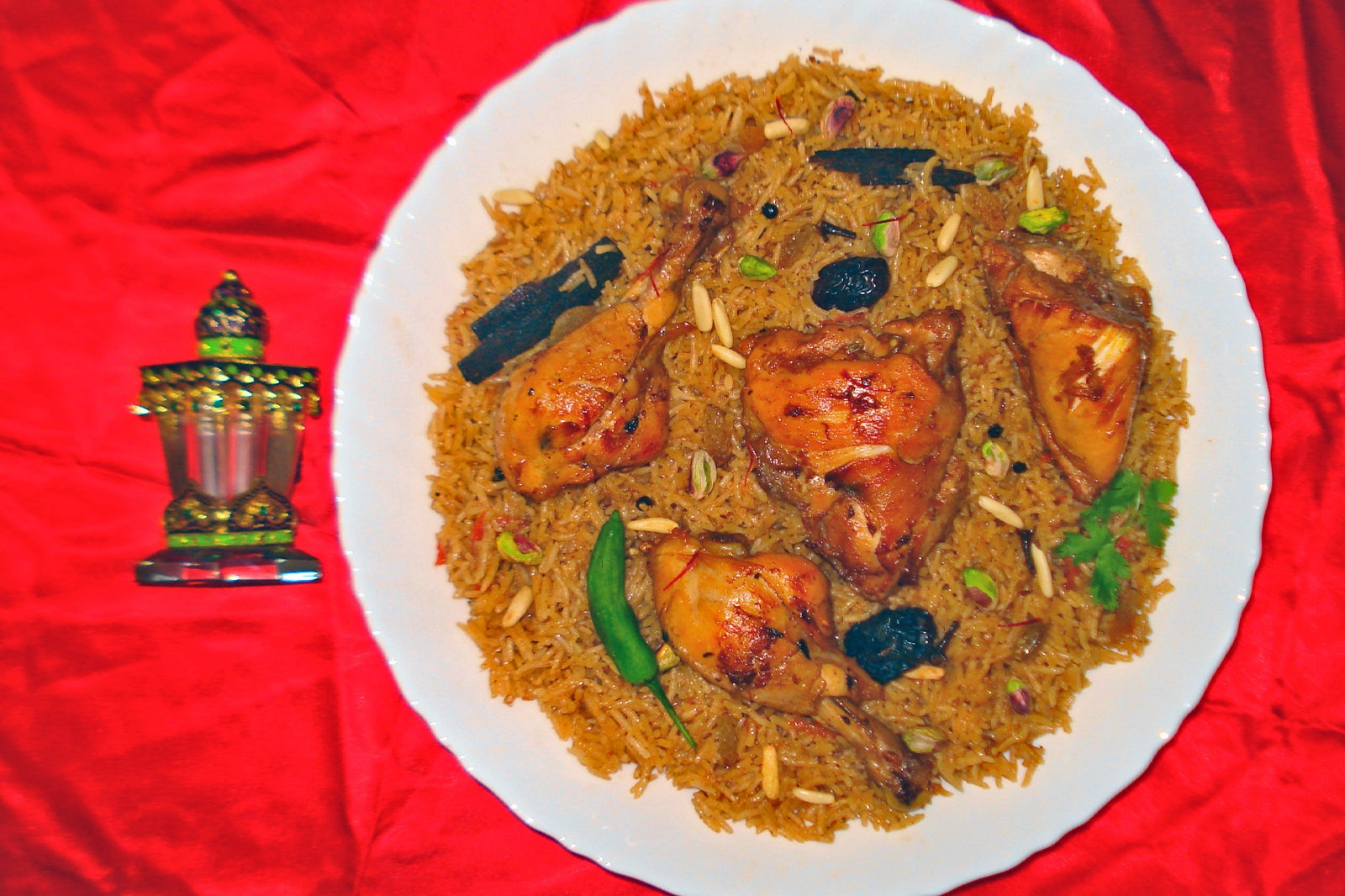 Majboos at Al Manchab
Try the Qatari national dish in sumptuous surroundings
Majboos is Qatar's national dish, making it a must-try when visiting Doha. It's usually made with either lamb or chicken and is slow-cooked to give it a depth of flavour. It's served on a bed of seasoned rice accompanied by salad and homemade tomato sauce.
You can eat this dish in practically any Qatari restaurant in Doha, but if you want to push the boat out a little, go for Al Manchab. This swanky restaurant serves a fragrantly seasoned Majboos that's slow-cooked to perfection and topped with rosemary. Cosy décor with well-cushioned benches and family portraits add real authenticity and make it feel like you're dining in a Qatari home.
Location: Al Hazm Mall, Markhiya St, Doha, Qatar
Open: Saturday–Thursday from 9am to 11pm, Friday from 1pm to 11pm
Phone: +974 3301 2286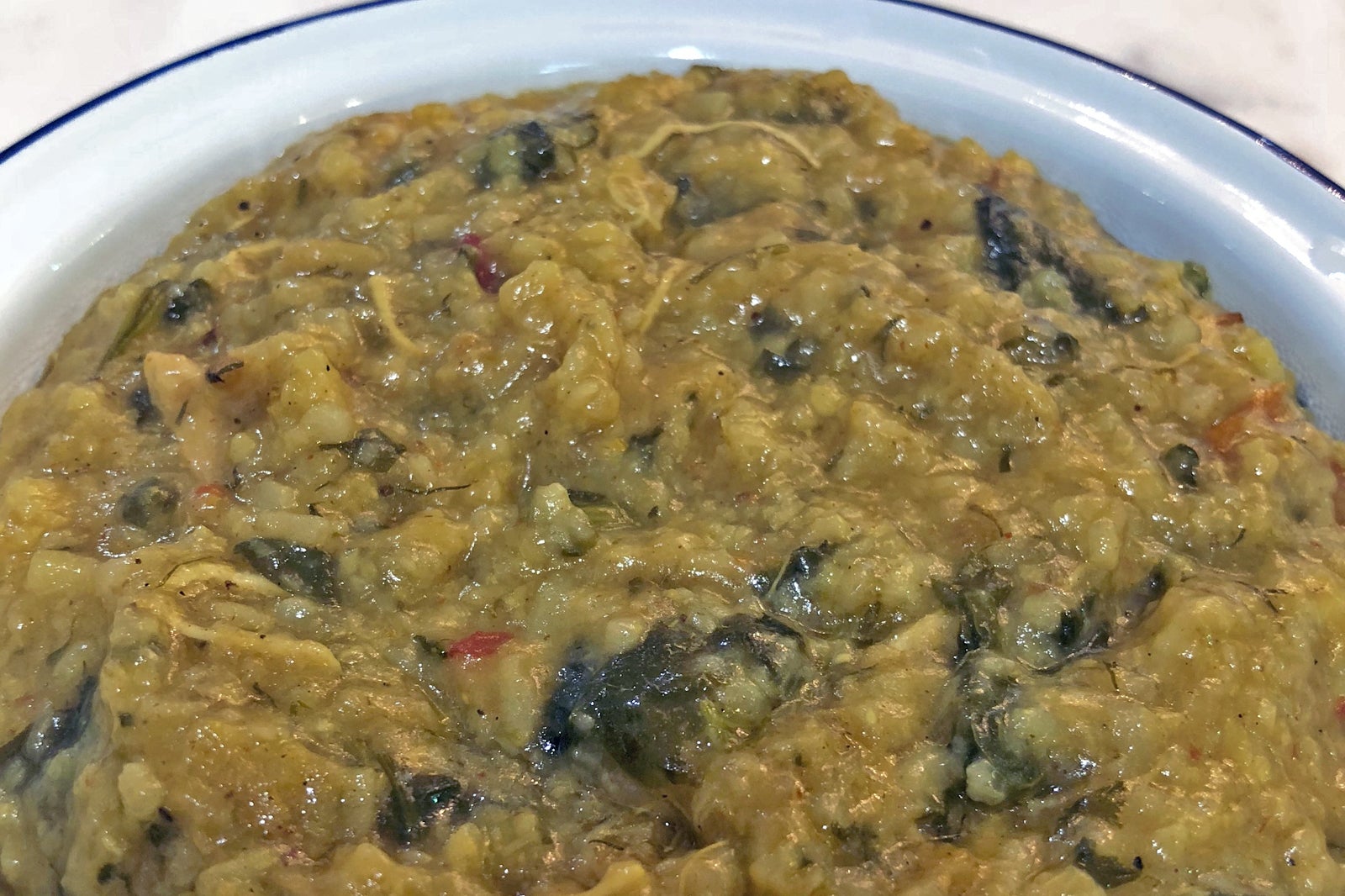 Madrouba at Easair Cafe
A simple dish popular at Ramadan
Madrouba is a savoury rice porridge that can be eaten for any meal. It's cooked with milk, butter, cardamom and chicken (sometimes beans), then simmered for hours until it becomes mushy. Each place has its own unique recipe, but toppings often include cardamom ghee or fried onions.
The maze of courtyards and alleyways at Souq Al Wakrah is a great place to eat this traditional dish. Café Easir is housed in a cool clay building near the waterfront and serves up a range of Qatari snacks and delicacies, including a mouth-watering chicken madrouba.
Location: Souq Al Wakrah, Al Wakrah Seafront, Doha, Qatar
Open: Daily from 7.30am to 11.30pm
Phone: +974 4488 5199
photo by AmnaMF (CC BY-SA 4.0) modified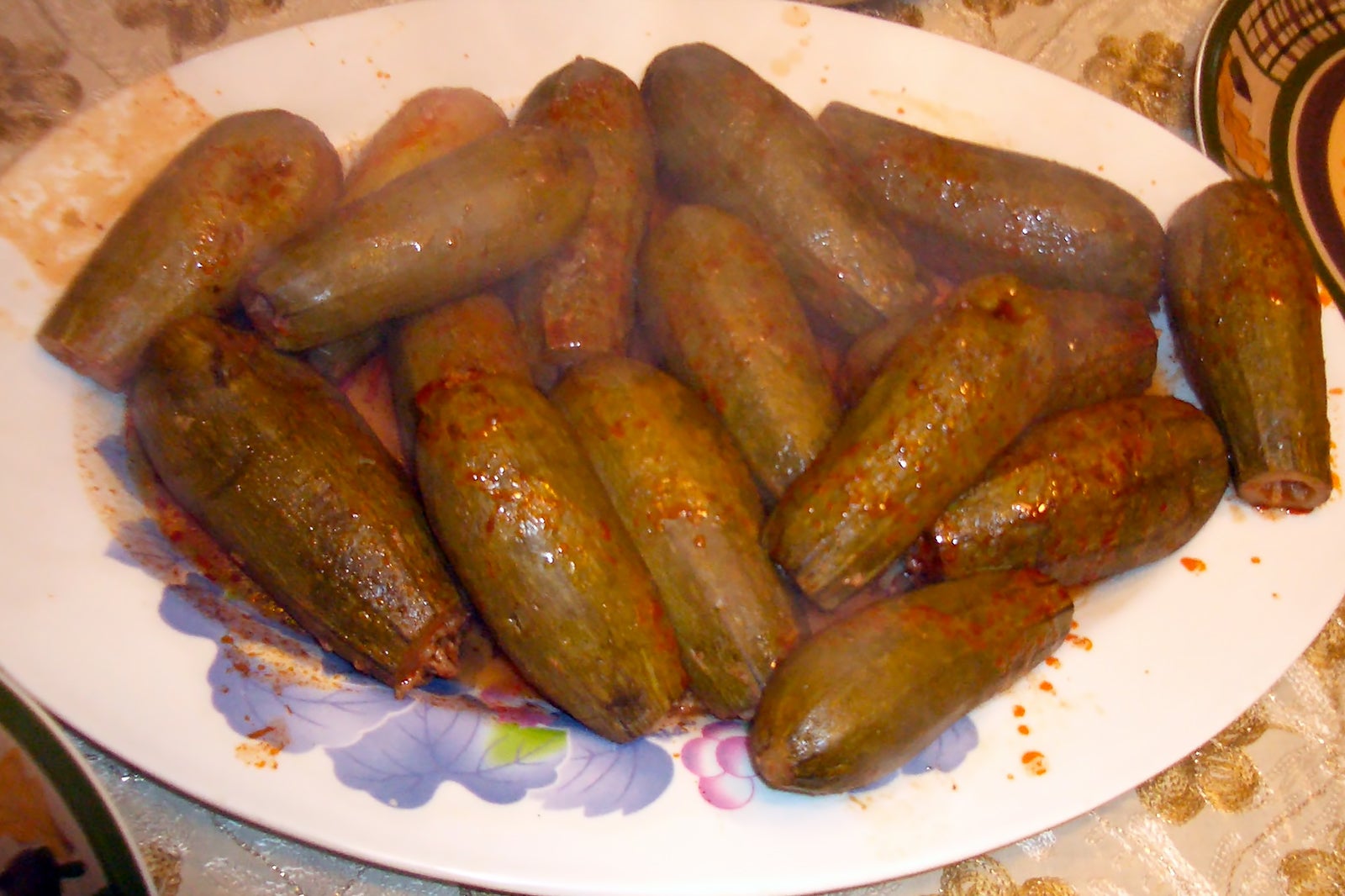 Koussa mahshi at Al Shami Home Restaurant
A fun way to get your 5 a day
Kousa mahshi are Middle Eastern courgettes stuffed with minced lamb and vegetables and seasoned with parsley and mint. You can also find many Doha restaurants serving chickpea versions for vegetarians. Dip them in tomato paste or yoghurt for the complete experience.
Dining at Al Shami Home Restaurant often results in a unique experience. It's decorated like a traditional Berber tent, with fabric hung from the ceiling and a marble fountain. The authentic kousa mahshi here are packed with flavour and come in generous portions.
Location: Salwa Rd, Doha, Qatar
Open: Daily from 7am to midnight
Phone: +974 4450 1117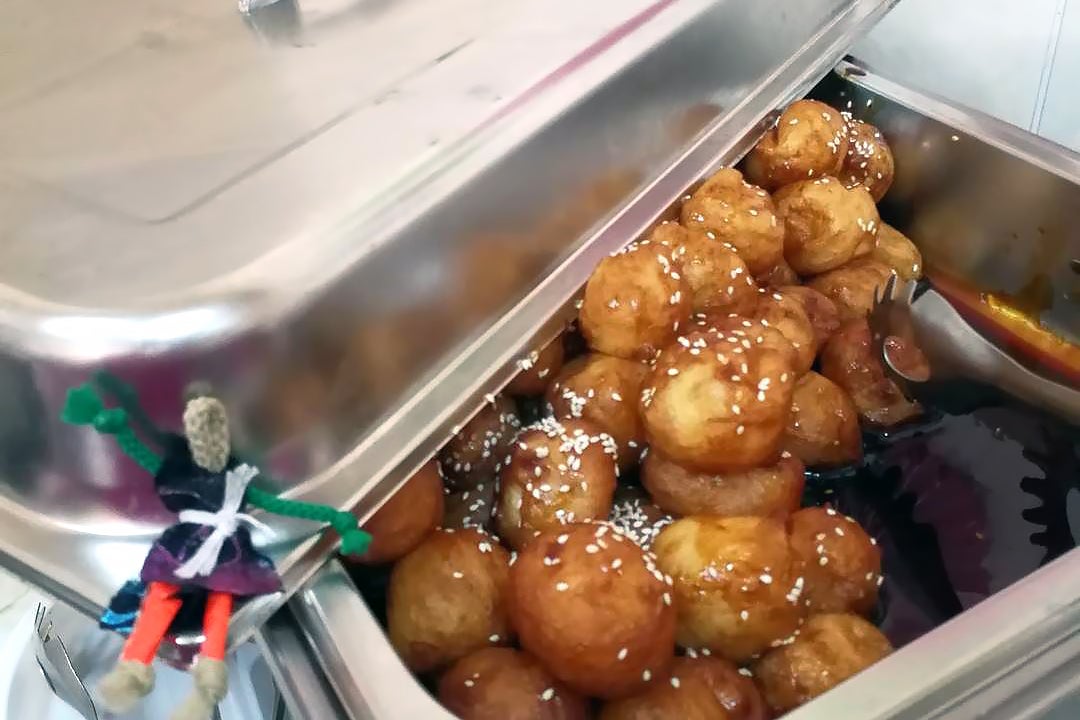 Luqaimat at Chai Halib
Doughnuts Qatar-style
A ubiquitous dessert in Qatar, luqaimat are sweet dumplings flavoured with cardamom and saffron, which are deep-fried and drenched with sugar syrup, a little bit like a doughnut. The ideal luqaimat is crunchy on the outside and soft on the inside.
Chai Halib offers luqaimat in a staggering range of flavours, from the fairly traditional date to chocolatey Snickers ones. The café is modelled after a traditional Arabic tearoom and your luqaimat pairs well with a cup of strong Arabic coffee.
Location: Mall of Qatar, Street 605, Al Gharaffa, Doha, Qatar
Open: Saturday–Wednesday from 9am to 11pm, Thursday from 9am to 12am, Friday from 1pm to midnight
Phone: +974 5000 1799
photo by Denise Krebs (CC BY 2.0) modified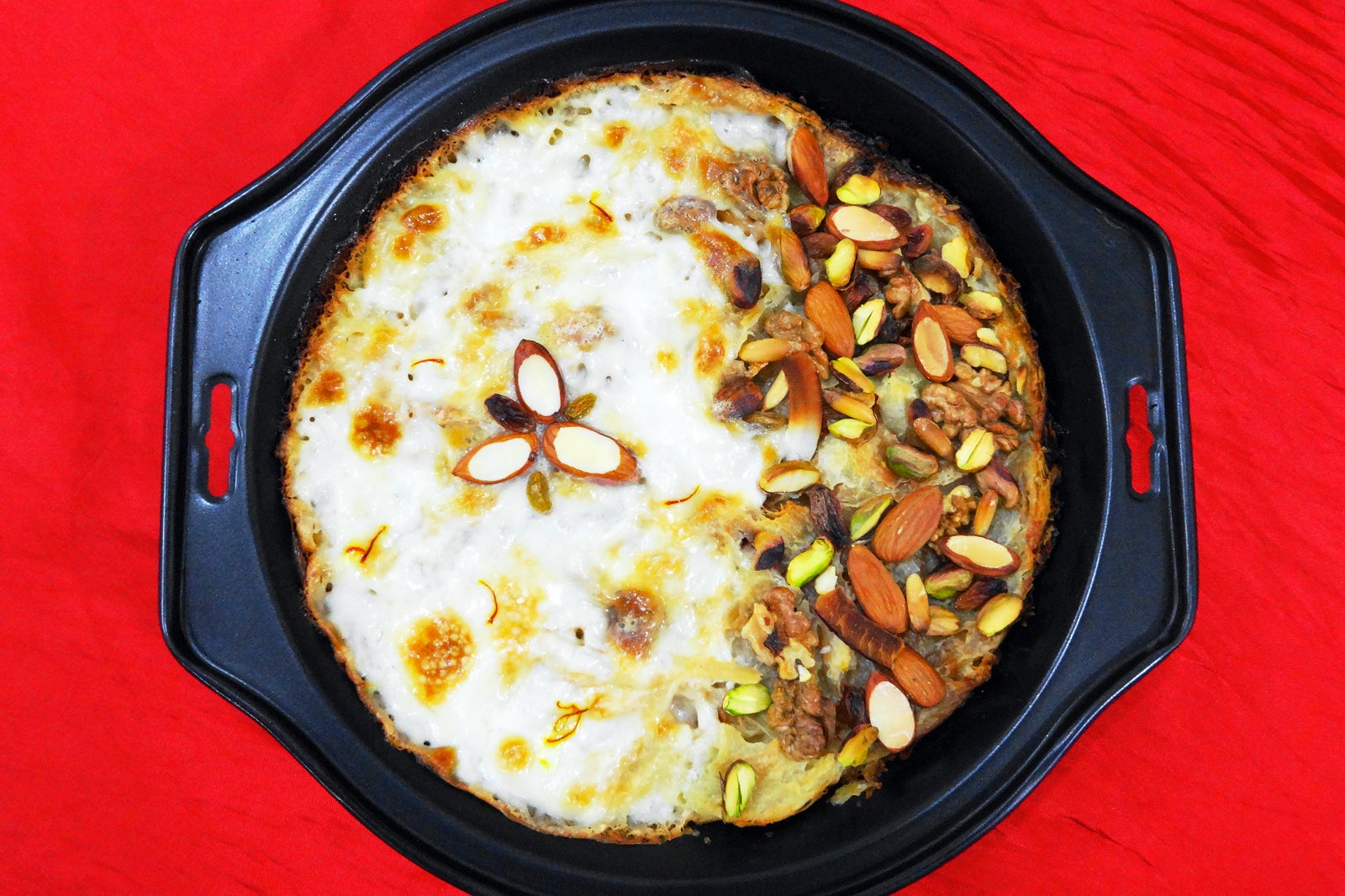 Umm Ali at Karaki
Classic Middle Eastern comfort food
Umm Ali is a type of dessert most associated with Egypt, but Qatar does its own equally delicious version. It's similar to bread pudding, made with raisins, chopped nuts and sweetened milk and baked until brown and crispy on top, then sprinkled with cinnamon. It's probably one of the sweetest of Qatar's desserts.
Even though Karaki specialises in the sweet Karak tea it's named for, they're also making a name for themselves with desserts and pastries. The Umm Ali here is creamy and filling, with lots of dried fruit and a beautifully aromatic blend of spices.
Location: Andalucia Way, Building B12 Medina Centrale, The Pearl, Doha, Qatar
Open: Daily from 9am to 1am (until midnight on Sundays)
Phone: +974 4437 8477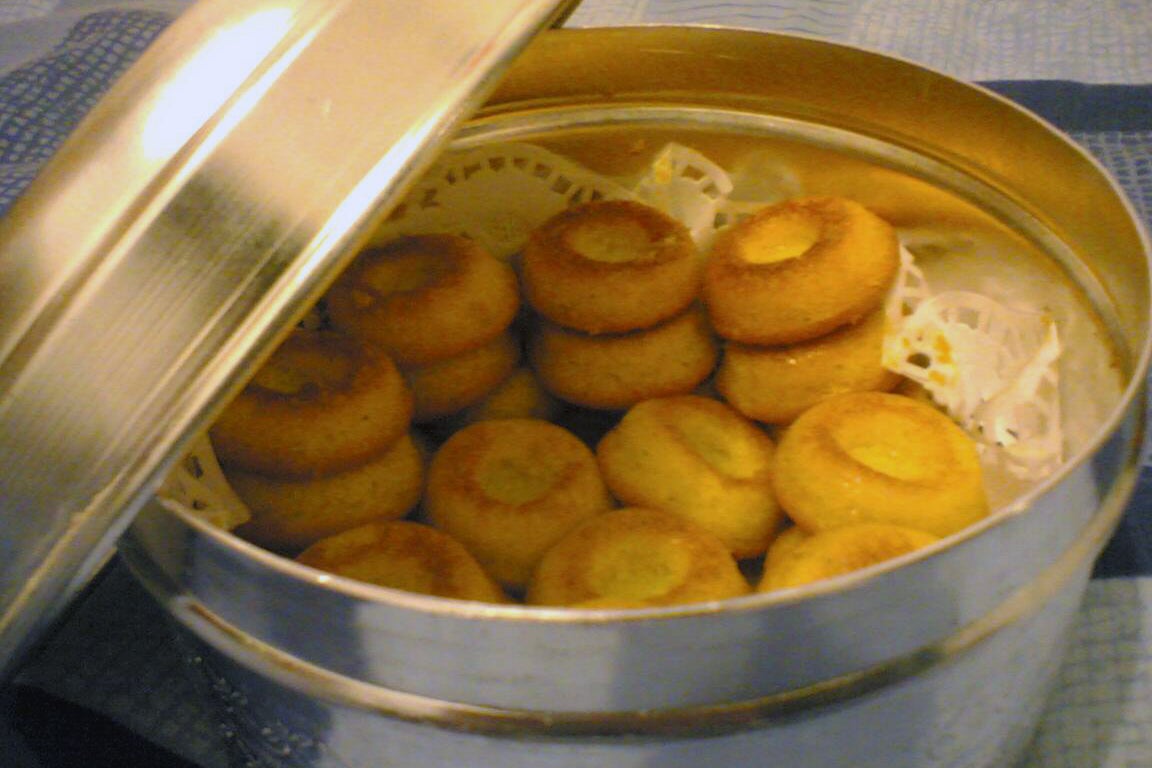 Khanfaroosh at Hawn Cafe
Aromatic fried sweets
Khanfaroosh are something in between a biscuit and a cake – discs of dough made with rosewater and saffron and deep-fried before being served with either a dusting of icing sugar or a drizzle of honey. The rosewater gives them a slightly floral fragrance and a delicate taste.
Hawn Café may have a small menu, but just about everything is done brilliantly. The khanfaroosh are no exception, as they're fried until crispy on the outside and then completely drenched in honey. Grab a seat by one of the café's high-arched windows, order a platter of this local snack with some mint tea, and watch the world go by.
Location: Al Hazm, Markhiya St, Doha, Qatar
Open: Daily from 4pm to 12am
Phone: +974 4496 7026
photo by boulanger.IE (CC BY 2.0) modified
Rogag at Shay Al Shoomos
Pancakes filled with anything you fancy
You can see India's influence on Qatari cuisine in rogag, a thin layer of batter (similar to dosa) that can be filled with meat, eggs or vegetables. It's traditional as a breakfast dish but delicious at any time of the day, with cheese and honey an option for anyone with a sweet tooth.
The rogag at Shay Al Shoomos comes with all the fixings – egg with thyme is especially tasty. This cosy restaurant in Souq Waqif is always busy, and you can watch the food being freshly prepared in the open kitchen before it's brought to your table. Order a pot of sweet tea for a perfect Qatari breakfast.
Location: Souq Waqif, Al Souq St, Doha, Qatar
Open: Daily from 8am to 1pm and from 6pm to 11pm
Phone: +974 5551 5561