9 Best Things to Do in Aberdeen
What is Aberdeen Most Famous For?
Aberdeen is historically known for its strong ties with the North Sea. Boasting notable fishing and shipping industries as well as a lively cultural scene, the third largest city in Scotland is a multi-faceted place which offers its visitors a broad range of things to see and do.
The so-called Silver City with the Golden Sands has historical buildings such as St. Machar's Cathedral and genuinely Scottish whisky distilleries, as well as exciting activities including scuba diving and dolphin watching. Take a look at what Aberdeen's most famous for.
What are the best things to do in Aberdeen?
1
Aberdeen Beach
Enjoy beach activities and more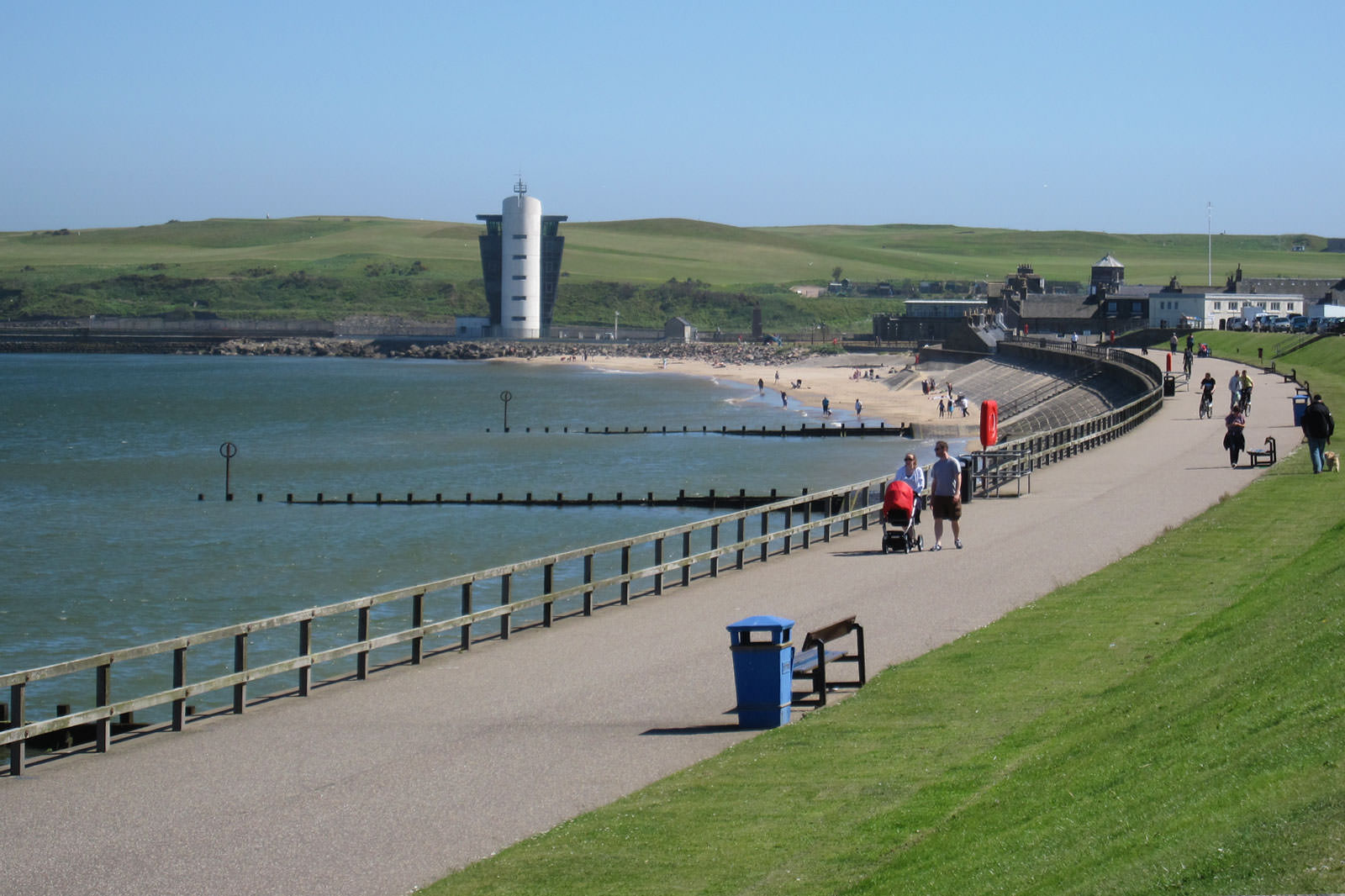 Couples
Families
Photo
Budget
Stretching for almost 3.5 km between the mouth of the Don River and the fishing pier, Aberdeen Beach is a popular spot that hosts a cool choice of activities. The promenade along the beach gives great strolling, jogging and cycling opportunities, while the beach itself is always popular with children who can play in its golden sand. Bars and restaurants as well as the Codona's Amusement Park can be found along the beach esplanade.
Location: Beach Esplanade, Sea Beach, Aberdeen AB24 5NS, UK
photo by Bernt Rostad (CC BY 2.0) modified
2
St. Machar's Cathedral
See some of the remains of William Wallace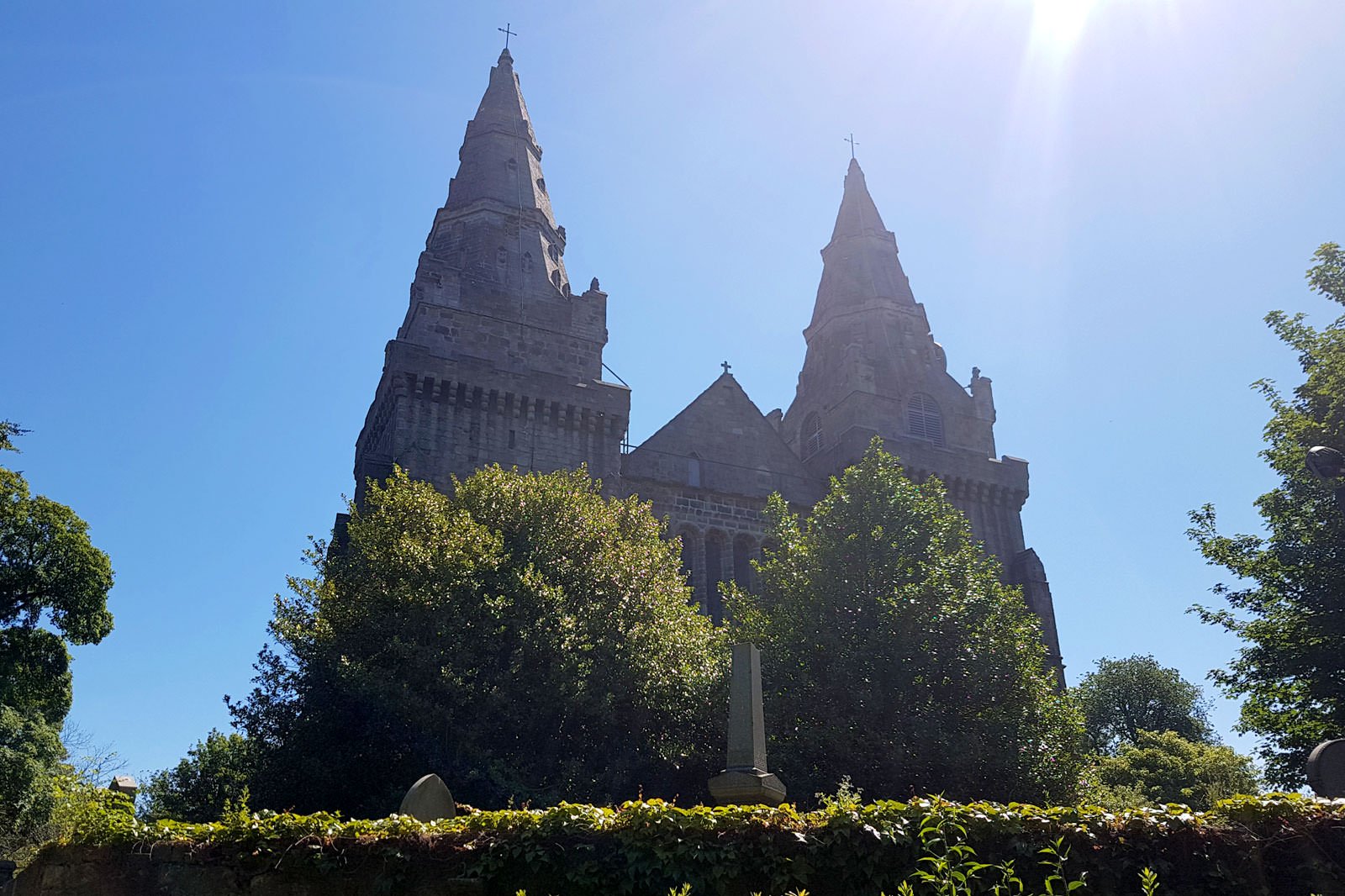 Housing one quarter of the famous William Wallace within its walls, St. Machar's Cathedral is a stunning historical church that sits to the north of the inner city. The actual edifice was built between the 14th and 15th centuries in the form of a fortified kirk (the Scottish name for a church), but St. Machar's Cathedral still features earlier architectural elements. You'll really feel like you've stepped back in time in this impressive building of grey stones and warm-coloured woods
Location: The Chanonry, Aberdeen AB24 1RQ, UK
3
GlenDronach distillery
Discover how whisky is produced in a Victorian old distillery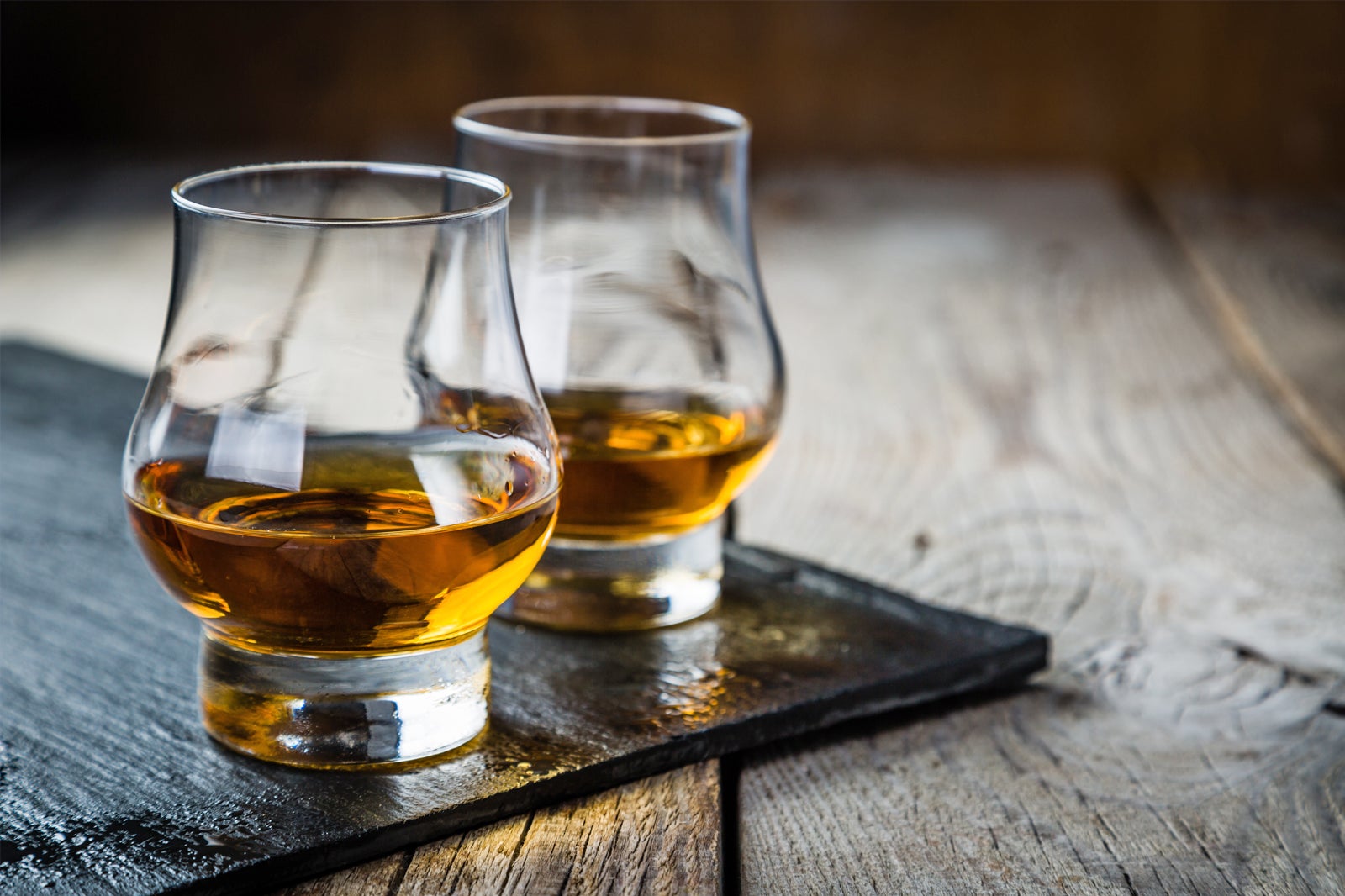 You can't go to Scotland without learning a bit about how the national drink is produced. Founded in 1826, the GlenDronach distillery sits in the village of Forgue, a good hour's drive northwest of Aberdeen, through the picturesque Scottish countryside. Take the informative tour of this historical distillery, discover the importance of the casks' types of wood in the creation of first class whiskies, then sample a few of their best products. At the end of the visit, you can purchase a few bottles at the shop.
Location: Forgue By Huntly AB54 6DB, UK
Open: Daily from 10 am to 4.30 pm
4
Dunnottar Castle
Step back in time at an impressive seaside castle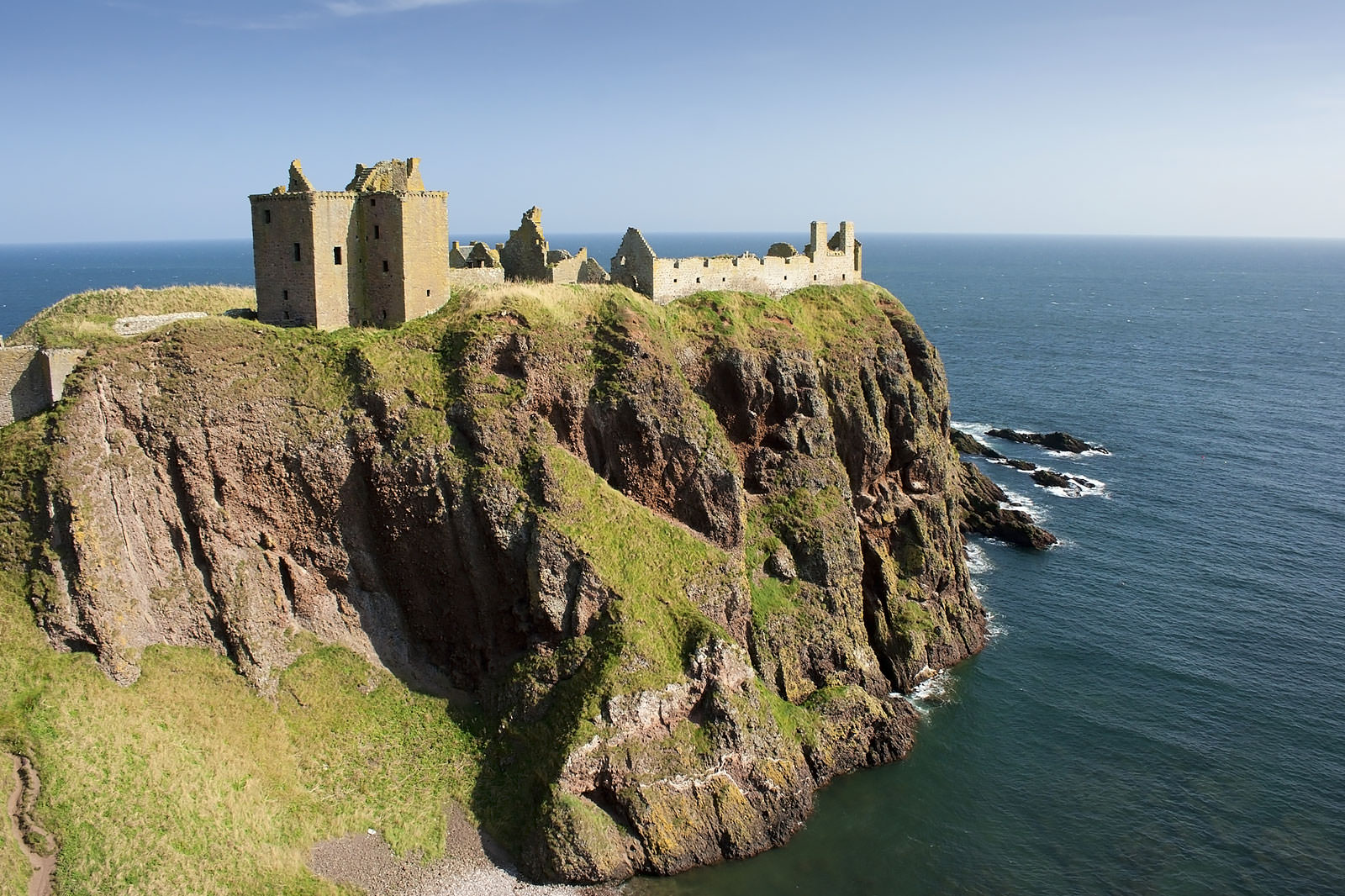 Couples
History
Photo
Budget
Dunnottar Castle is a ruined medieval fortress perched on a rocky headland overlooking the North Sea, 23 km south of Aberdeen. Originally built in the early Middle Ages, the remaining buildings date back to the 15th and 16th centuries. The castle and its surroundings are simply stunning. You feel like you are in a historical movie and would not be surprised to see knights in armour riding their horses next to the fortress. Be aware that you need to climb a lot of steps to get up to the castle.
Location: Stonehaven AB39 2TL, UK
Open: Summer: daily from 9 am to 5.30 pm. Winter: daily at 10 am (closing times vary)
5
Go dolphin spotting
See bottlenose dolphins from a high vantage point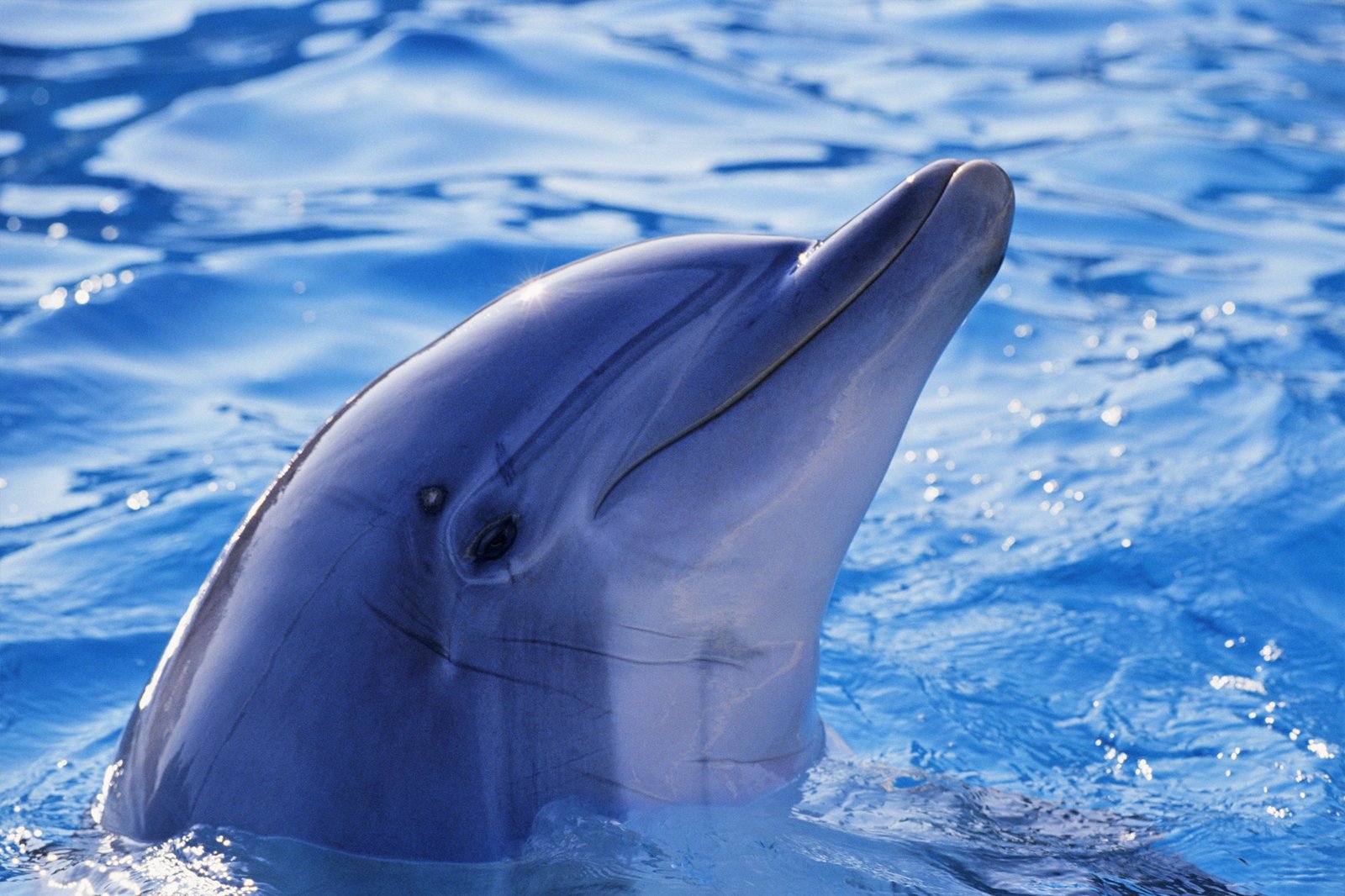 It seems strange to join the Royal Society for the Protection of Birds for an exciting dolphin watching session, their van at the Torry Battery, just south of the River Dee's mouth, offers just that. Between May and August, they offer top-notch binoculars and telescopes for you to see the bottlenose dolphins and sometimes other marine mammals such as seals or even whales swimming in the North Sea. A pair of good walking shoes and warm, waterproof clothing are all that you need to enjoy this great encounter with wildlife.
Location: Greyhope Road, Aberdeen, AB11 8QX, UK
Open: April–August: Thursday–Sunday from 11 am to 5 pm
6
Aberdeen Maritime Museum
Discover the city's long connection with the North Sea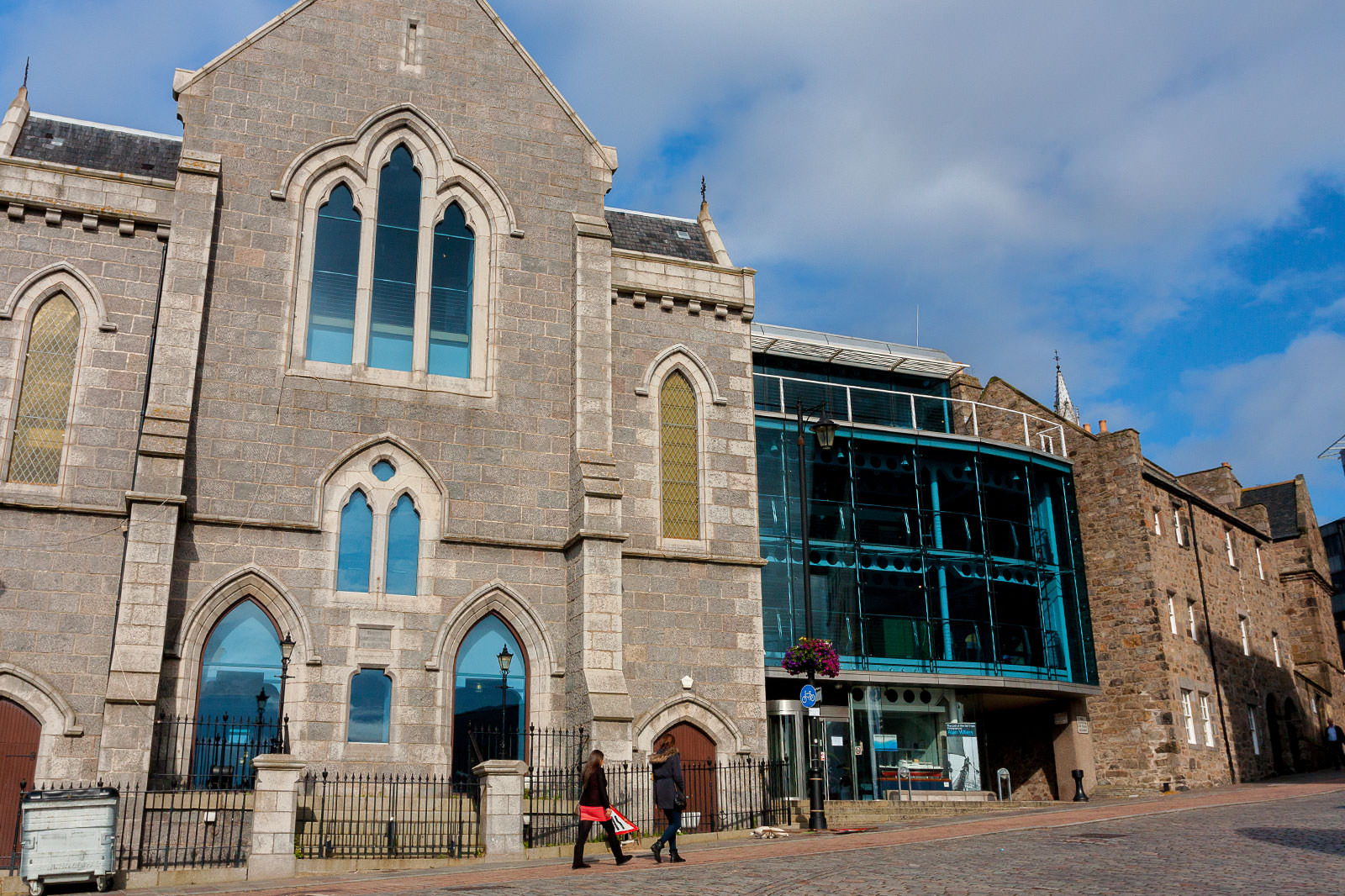 Families
History
Photo
Budget
Located in the historical neighbourhood of Shiprow, right next to the harbour, the Aberdeen Maritime Museum is inside a group of vintage buildings, including a former church. You can't miss its modern, glass-fronted entrance, framed by bygone buildings in grey granite. From shipbuilding to fishing and from the North Sea oil industry to the port history, the collections on display at this award-winning museum are captivating. The entrance is free (you can make donations, though) and you can enjoy drinks and snacks at the friendly onsite restaurant.
Location: Shiprow, Aberdeen AB11 5BY, UK
Open: Monday–Saturday from 10 am to 5 pm, Sunday from noon to 3 pm
photo by Alan Jamieson (CC BY-SA 3.0) modified
7
Enjoy seafood by the Aberdeen Harbour
Indulge in delicious fish, crustaceans and shellfish
Scallops, prawns, herring, mussels, and more – the types of seafood caught along the 170 km coastline of Aberdeenshire seem endless. If you're a seafood lover, the Aberdeen Harbour area is especially recommended. The Silver Darling is a long-established modern restaurant in a vintage building on Pocra Quay, in the old fishing village of Footdee, at the eastern end of the harbour. Moonfish Cafe is a small, quaint seafood brasserie on Correction Wynd. Bistro Verde is a cool seafood bistro on The Green. It's reputed for its excellent service and unpretentious atmosphere.
8
Music Hall Aberdeen
Spend the evening in a historical concert hall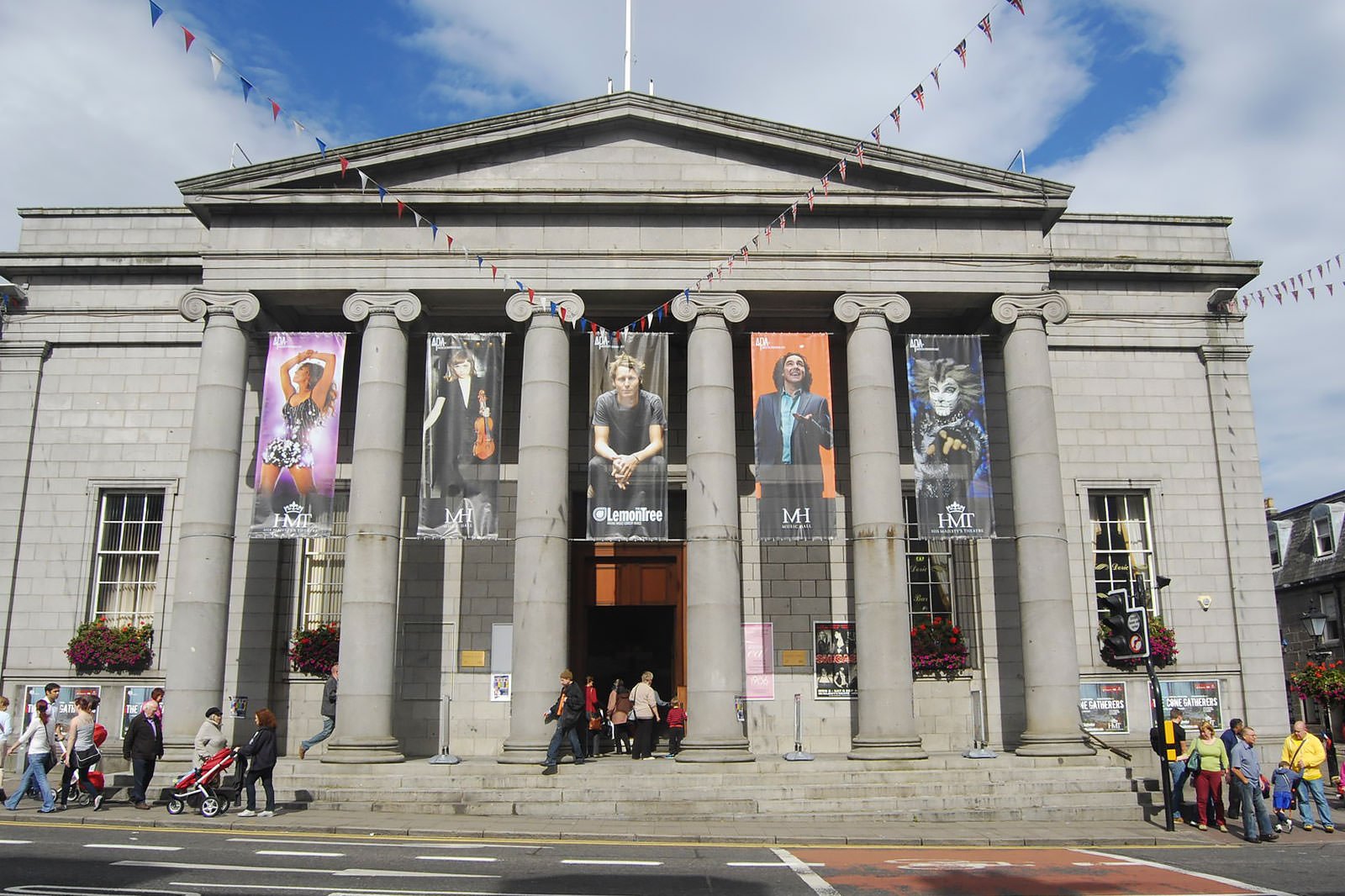 Originally built in 1822, the Music Hall Aberdeen is a 1,300-seat concert hall at which you can see a great range of shows. Regularly hosting large orchestras such as the Royal Scottish National Orchestra, you also can attend comedy shows, pop/rock concerts and musical theatre shows here. Featuring lovely architectural details and excellent acoustics, the size of the venue makes it intimate enough to properly see the stage and fully enjoy the shows. A coffee shop is available inside the venue.
Location: Union St, Aberdeen AB10 1QS, UK
photo by AberdeenBill (CC BY-SA 3.0) modified
9
Aberdeen Old Town
End the day exploring Aberdeen's bar scene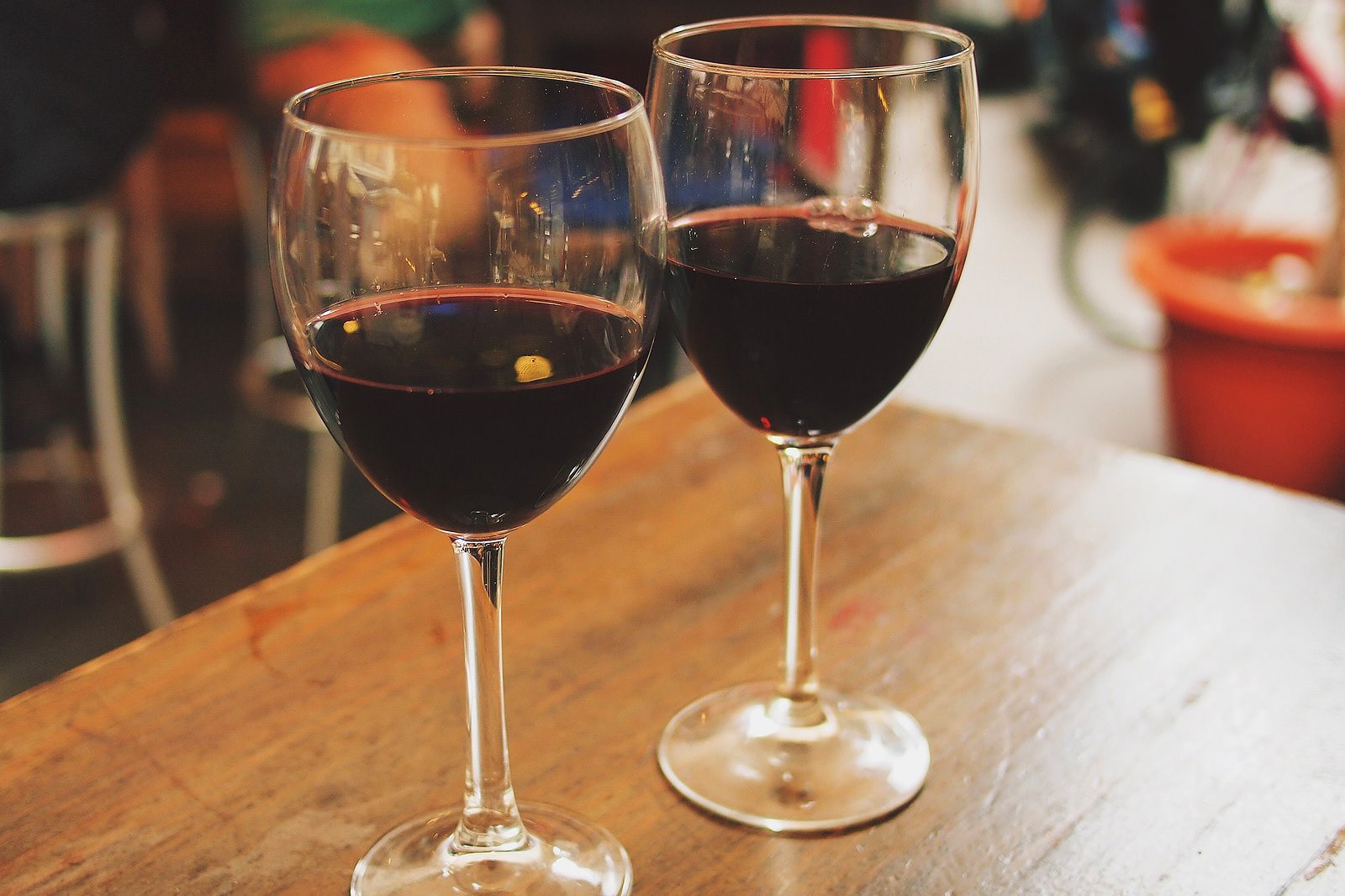 Aberdeen Old Town hosts a buzzing bar scene. One of the most intriguing venues in town is Slains Castle on Belmont Street. This vampire-themed bar and restaurant is installed in a former Gothic church, offering great décor and a cool atmosphere. About 400 metres away, on Union Street, you'll find BrewDog Castlegate. This pub specialises in local craft beers. Last but not least, if you're into quality cigars, ale, scotch and coffee, you should head to CASC on Stirling Street. Named after the goods it has on offer, CASC is a stylish and friendly place to enjoy a nightcap.
Back to top