9 Best Things to Do After Dinner in Malmö
Where to Go in Malmö at Night?
You'll have no problem finding fun things to do after a dinner in Malmö with activities for the whole family to suit all tastes and interests. Enjoy a beer on a toasty terrace or indulge your competitive side with a round of bowling or a visit to the casino.
Dance until the sun comes up at one of the city's many popular nightclubs. Laugh until you snort at a comedy show or play. Rock out to an awesome band. Or take a leisurely stroll at sunset and take some amazing photographs of the city's gorgeous architecture.
1
Little Square (Lilla torg)
Enjoy a beer at one of the city's most popular terraces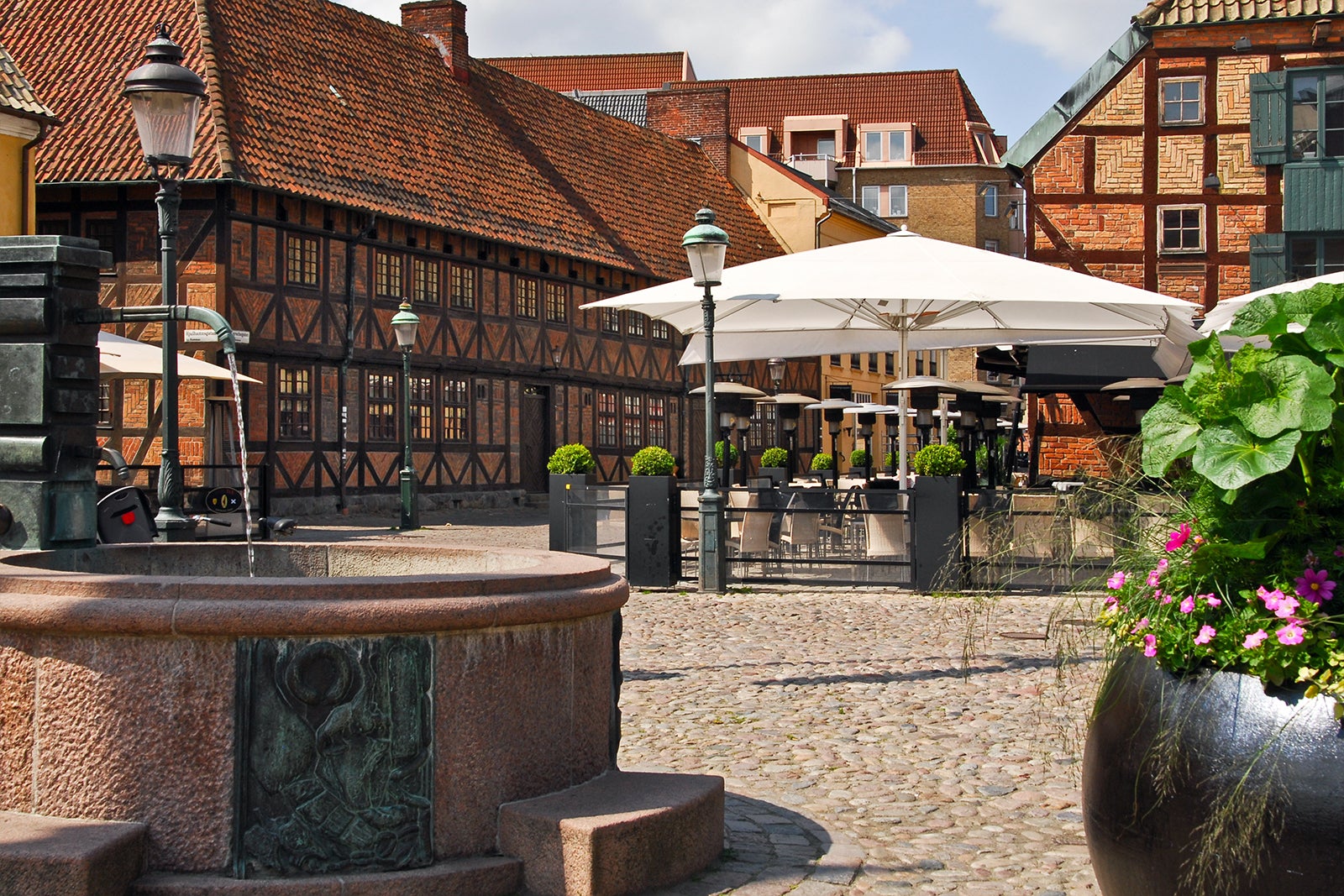 Little Square (Lilla torg) is at the heart of Malmö's casual nightlife. Its central location in the city's old town (Gamla staden), just a few minutes away from Malmö Central Station, makes it easy both to get to the square and to move on to nightclubs and concerts later in the evening.
This cute, cobblestoned square is flanked on all sides by historical buildings in brick and the region's traditional half-timber style, as well as some of the city's most popular terraces. Even if you aren't visiting in the summer, it may still be worth your while pulling up a chair at one of these terrace spots – they normally boast outdoor heating as a nice way to extend the season.
2
Étage
Dance the night away in a colourful bustle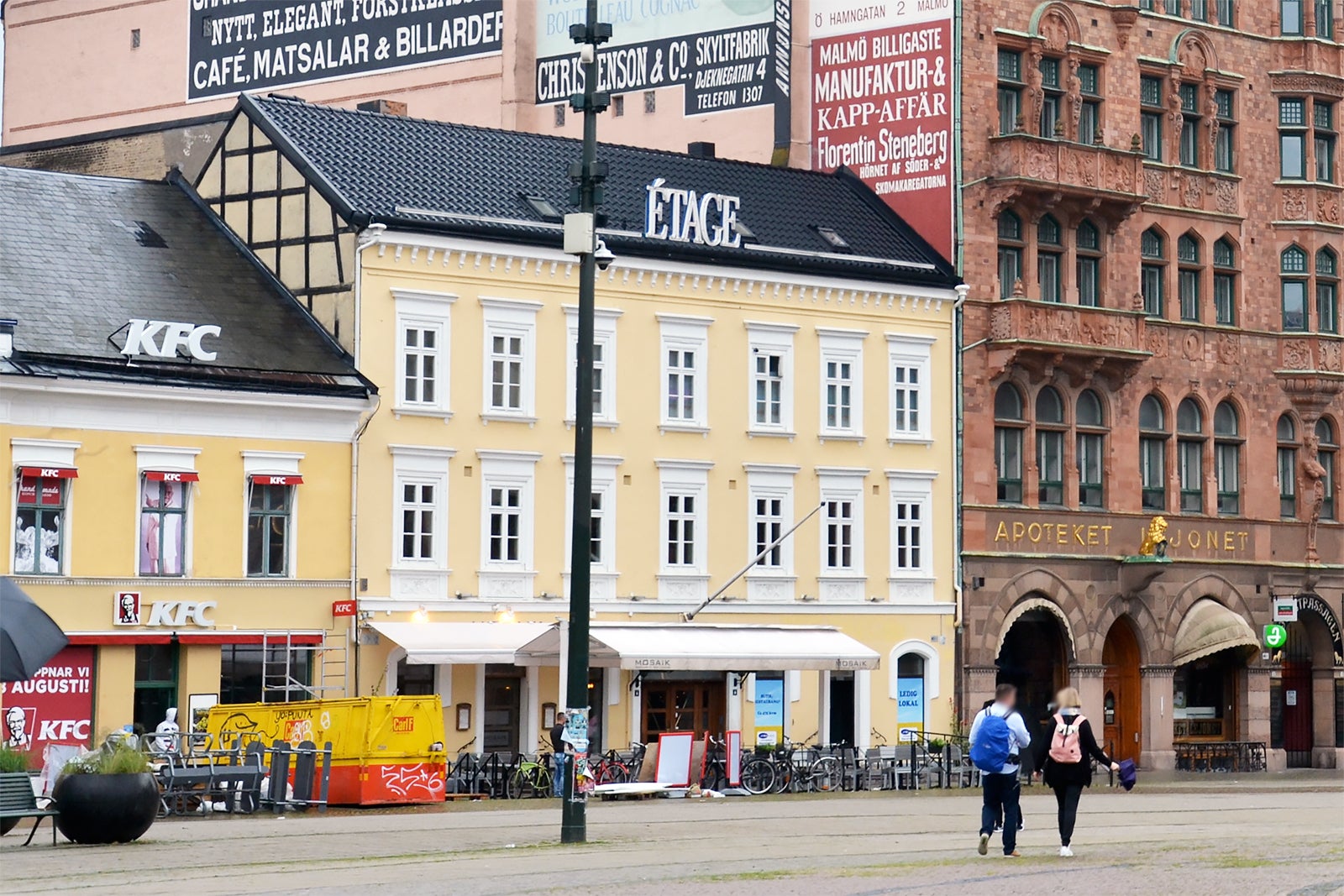 Étage is a solid choice if you want a booming nightclub experience while on your visit to Malmö. Over the years, this classic nightclub has become an important staple of the Malmö club scene, with its central location at Stortorget square – just a 5 minute walk away from Malmö Central Station and Little Square – making it a convenient destination to round off the night.
Several dance floors featuring different genres mean that this is a nightclub to suit practically every taste. On certain evenings the age limit creeps down to 18, making Étage a suitable spot for younger travellers who want to dance the night away.
Location: Stortorget 6, 211 34 Malmö, Sweden
Open: Monday and Thursday 11:30 pm to 4 am, Friday–Saturday 11:30 pm to 5 am
Phone: +46 40 232 060
photo by Steven Lek (CC BY-SA 4.0) modified
3
KB
Rock out to a concert or DJ set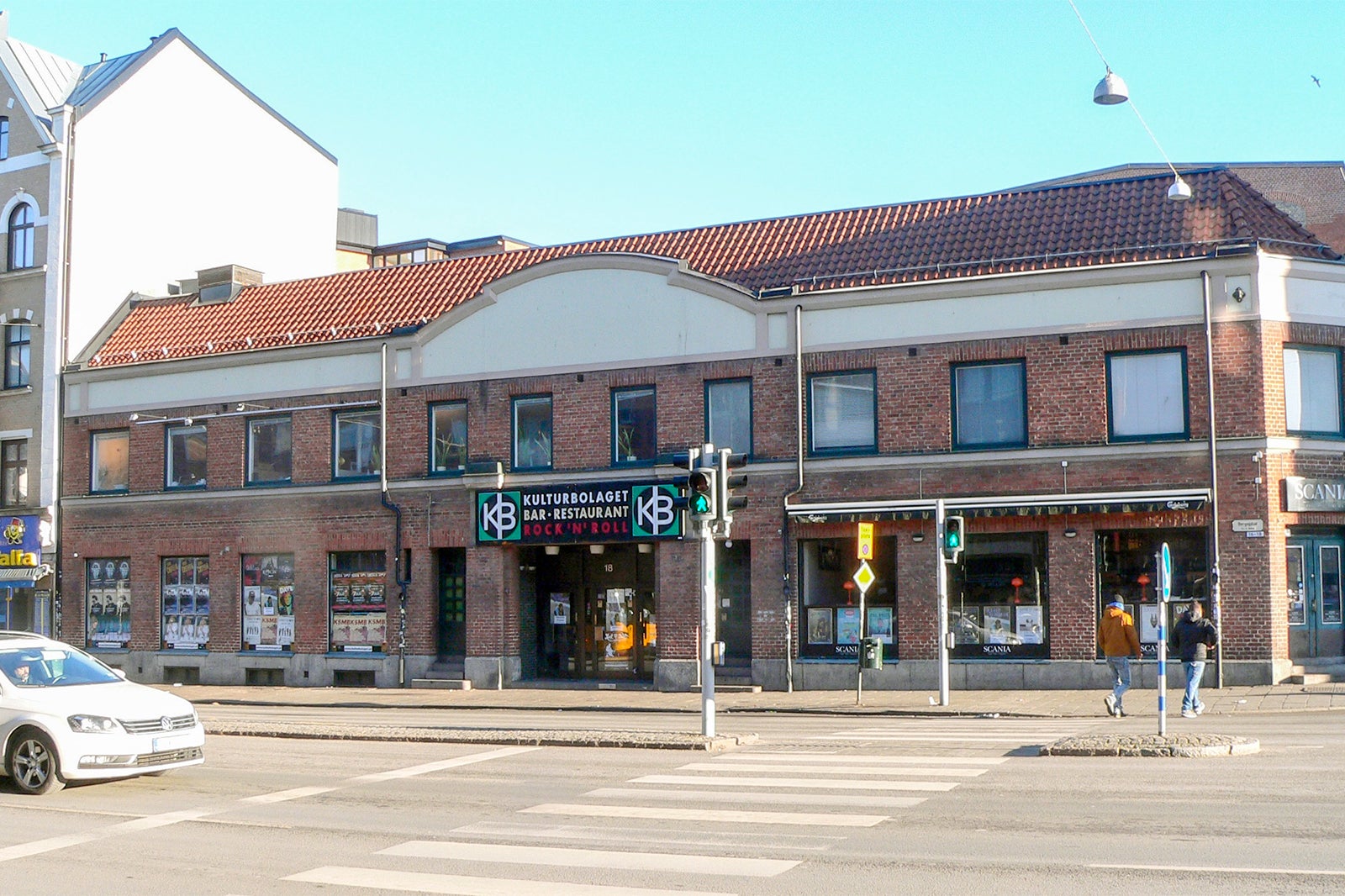 Kulturbolaget (lit. Culture Company), or KB as it's better known, is one of Malmö's most popular and intimate concert venues as well as an excellent nightclub. Its location on Bergsgatan in Malmö, just a 5 minute walk away from the terraces on Möllevång Square, makes it easy to reach by foot after a casual dinner nearby.
KB is where locals go to enjoy a cold beer and all kinds of music from melodic singer-songwriters to skull-rattling death metal. Even on nights when no artist is booked, guests can still come down for a drink and a dance in the nightclub which is known for its unique ambience in an edgy, industrial setting.
Location: Bergsgatan 18, 211 54 Malmö, Sweden
Open: Tuesday–Thursday 11:30 am to 2 pm and 5 pm to 11 pm, Friday 11:30 am to 2 pm and 5 pm to 3 am, Saturday 5 pm to 3 am
Phone: +46 40 302 011
4
Malmö Opera
Watch a swinging musical or a gripping play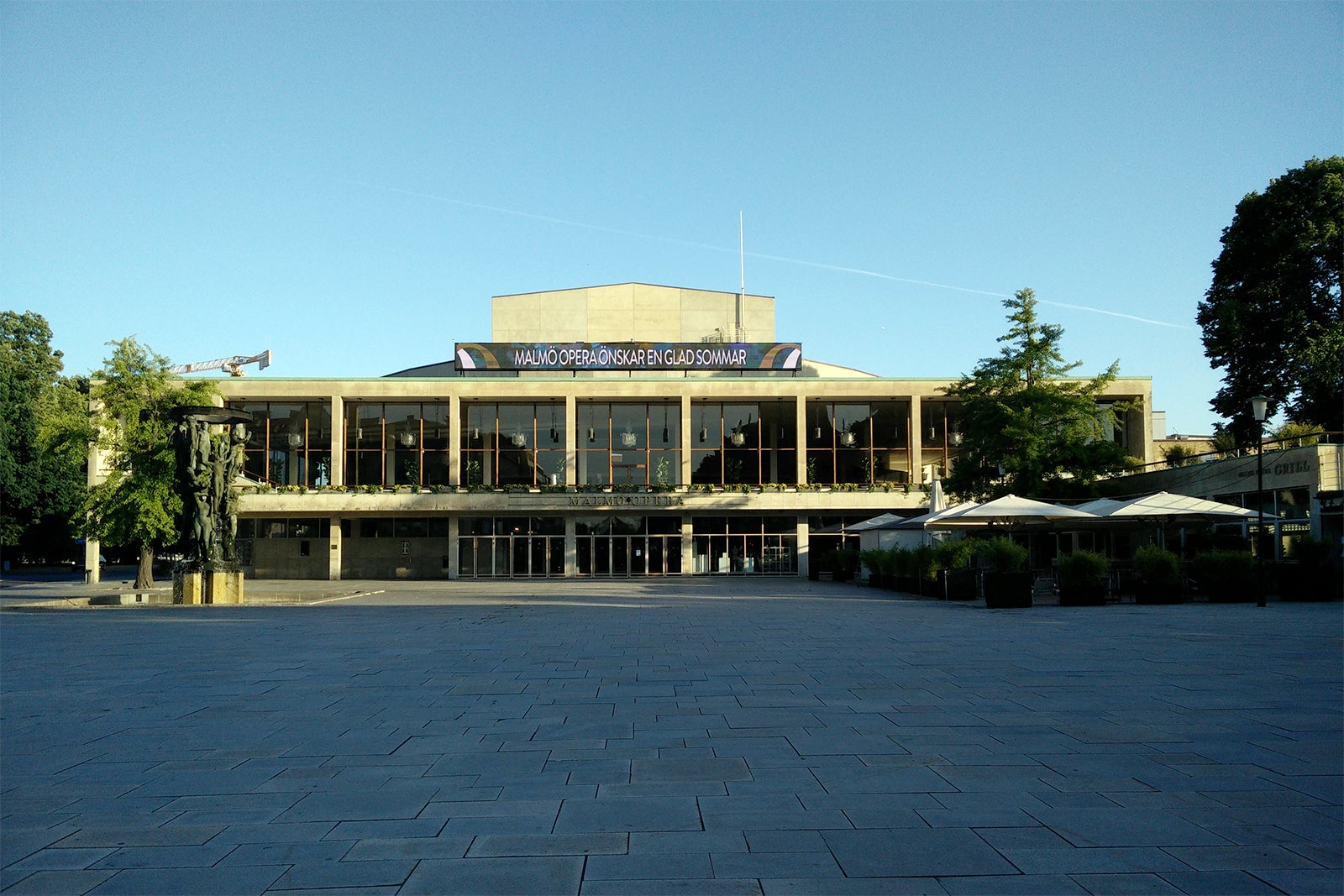 Malmö Opera offers high-class entertaining for all ages – children's theatre, lectures, musicals, theatre plays, concerts and not to mention opera, of course! The opera house is located in the district of Kronoborg in the southern part of what is now central Malmö, just 500 metres away from Triangeln Train Station.
Book tickets for a campy musical to enjoy with the girls, an absurdly comical opera with your best friend, or a romantic and magnificent concert with that special someone in your life. Also on offer are fun, family-friendly plays and raucous sing-alongs to well-known tunes and chart-topping hits, not to mention a wide array of popular guest artists.
Location: Östra Rönneholmsvägen 20, 211 47 Malmö, Sweden
Phone: +46 40 208 500
photo by Johan Jönsson (CC BY-SA 4.0) modified
5
Casino Cosmopol
Take your shot to strike lucky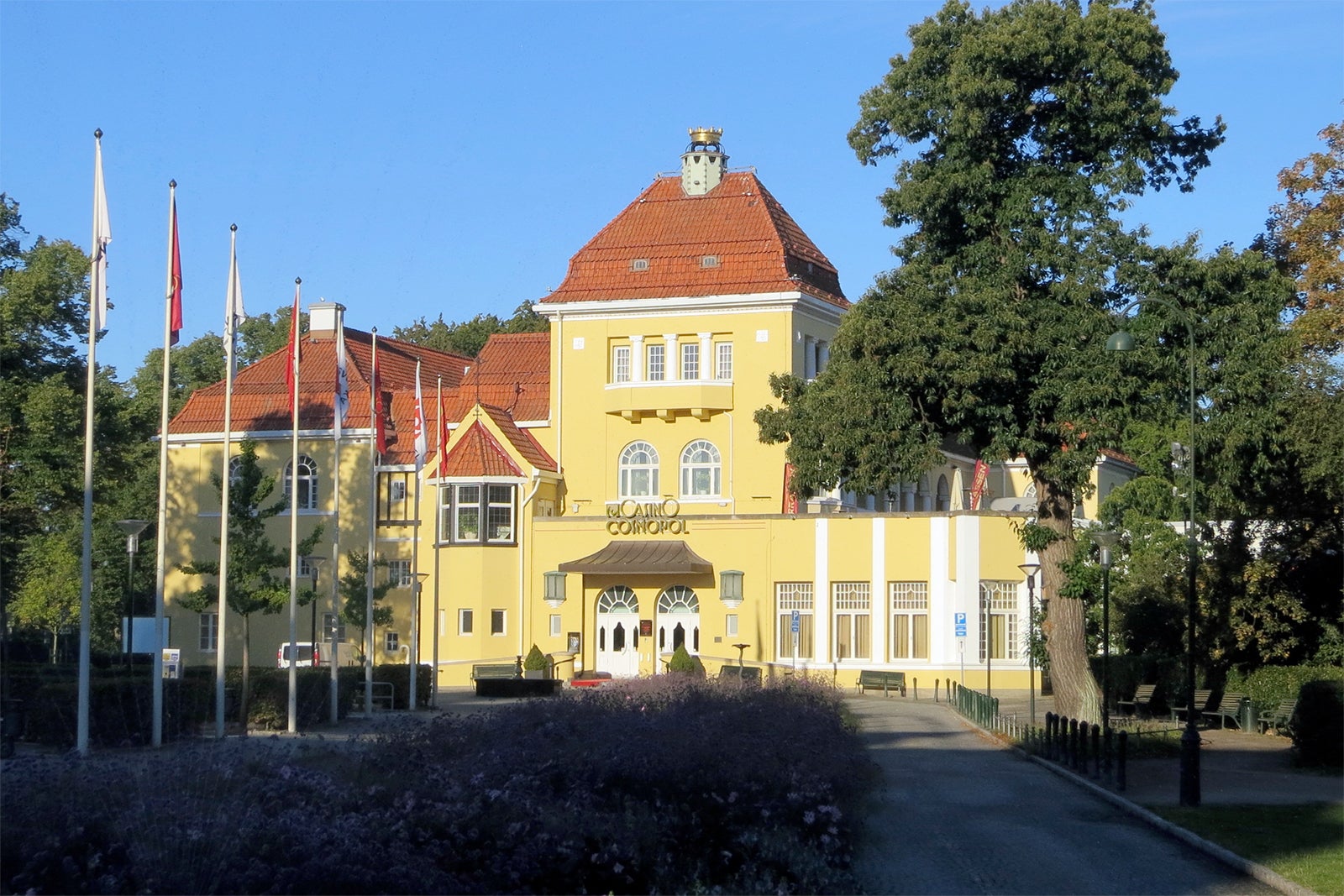 Visit Casino Cosmopol and try your hand at a game of poker, watch with anticipation as the roulette spins, play a game of one-armed bandit or enjoy some quality entertainment in the form of a live performance or an evening of karaoke. Casino Cosmopol is located in the city's Castle Park (Slottsparken) next to the Renaissance Malmö Castle (Malmöhus), about half a mile from Malmö Central Station.
Inside you'll find games such as poker, black jack, baccarat and roulette. There are also plenty of exciting and exclusive slot machines and often live entertainment for when you feel like taking a break from the action.
Location: Slottsgatan 33, 211 33 Malmö, Sweden
Open: Daily from 4 pm to 2 am
Phone: +46 20 219 219
photo by Jorchr (CC BY-SA 3.0) modified
6
Big Bowl
Knock 'em down and play some shuffleboard in a colourful environment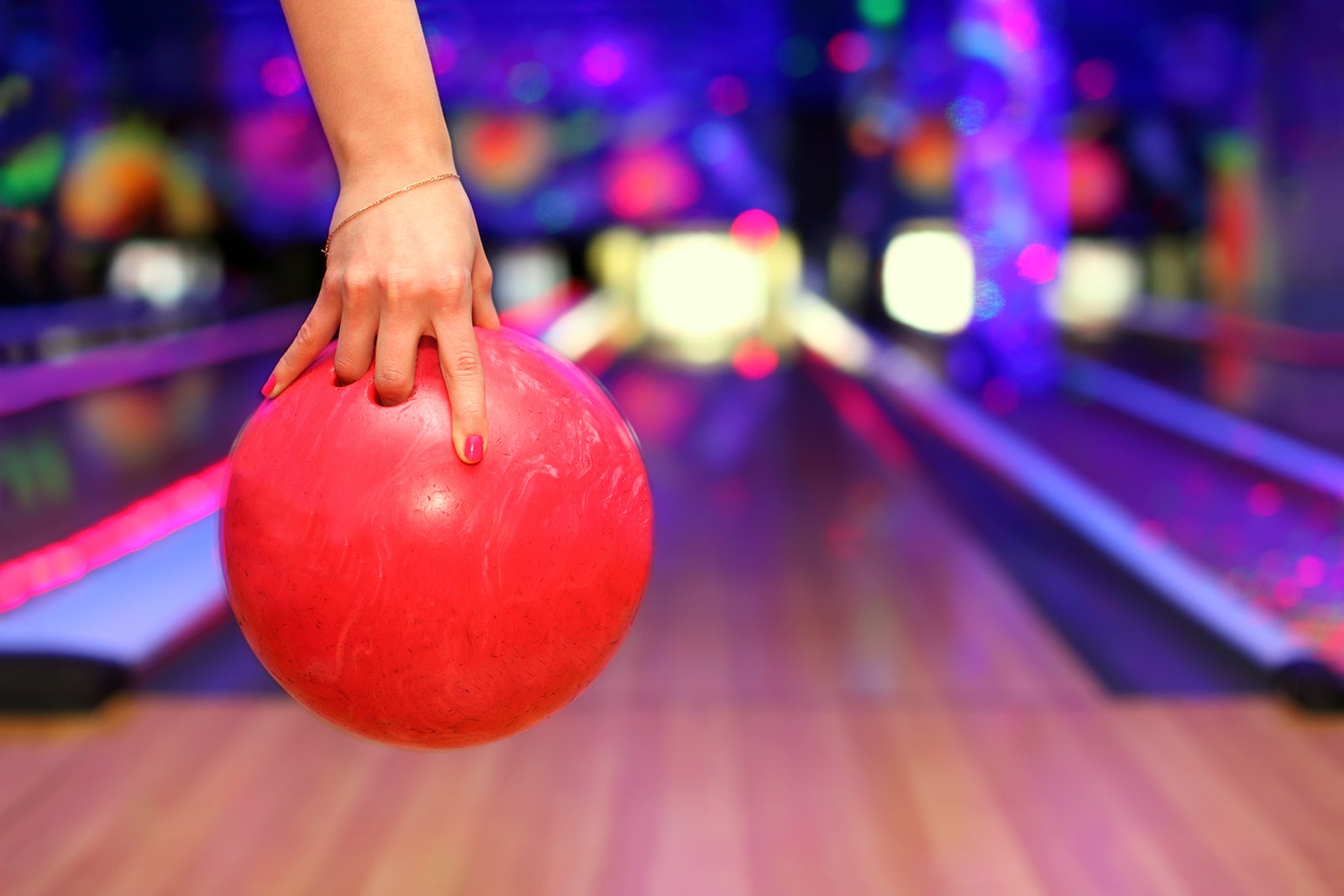 Big Bowl in Malmö is the home of fast-paced and colourful activity for the whole family. It is located in the district of Slussen, between Malmö Central Station and Värnhem Square. Local buses stop regularly nearby, so you'll find it easy to arrive after a dinner in town.
Bring along the entire gang or family for some good old fashioned fun at Big Bowl, where you can play bowling, try your hand at shuffleboard or book a package and combine both activities with a visit to the arcade. There's also a bar serving up delicious cocktails if you think a drink or two won't throw you off your game!
Location: Östra Förstadsgatan 32, 212 12 Malmö, Sweden
Open: Wednesday–Thursday 4 pm to 10 pm, Friday–Saturday 4 pm to 1 am, Sunday 1 pm to 8 pm
Phone: +46 40 680 32 88
7
Moorish Pavillion (Moriska paviljongen)
Sip a colourful concoction, dance or enjoy the entertainment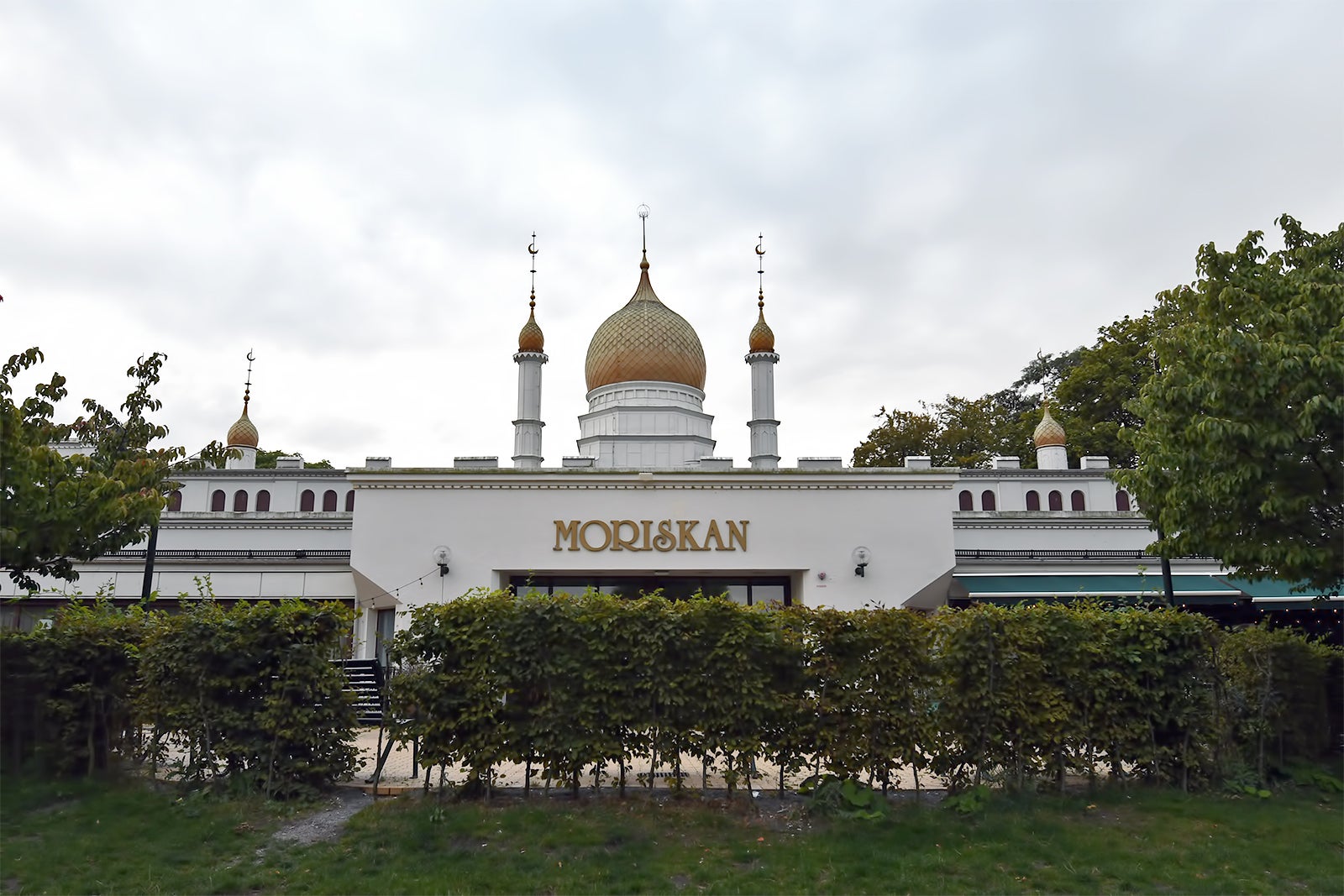 The Moorish Pavilion (Moriska paviljongen) offers live entertainment, nightclubbing and a cosy cocktail bar. The pavilion is located in the People's Park (Folkets park) in the most southerly part of central Malmö. It can be reached on food in just a few minutes from the district of Södervärn and there is also a bus stop at the entrance to the People's Park. Here you'll find everything from pulse-raising Moroccan music to stand-up comedy that will leave you gasping for breath.
Or would you prefer a beer hall or a cocktail bar? Not to worry, because you'll find both here. Plus a nightclub with several different dance floors playing music in different genres and where theme nights are often arranged.
Location: Norra Parkgatan 2, 214 22 Malmö, Sweden
Open: Monday–Thursday 4 pm to 11 pm, Friday 4 pm to 1 am, Saturday noon to 1 am, Sunday noon to 10 pm
Phone: +46 40 685 40 35
photo by Johan Jönsson (CC BY-SA 4.0) modified
8
Hyllie Water Tower (Hyllie vattentorn)
Snap a picture of the illuminated tower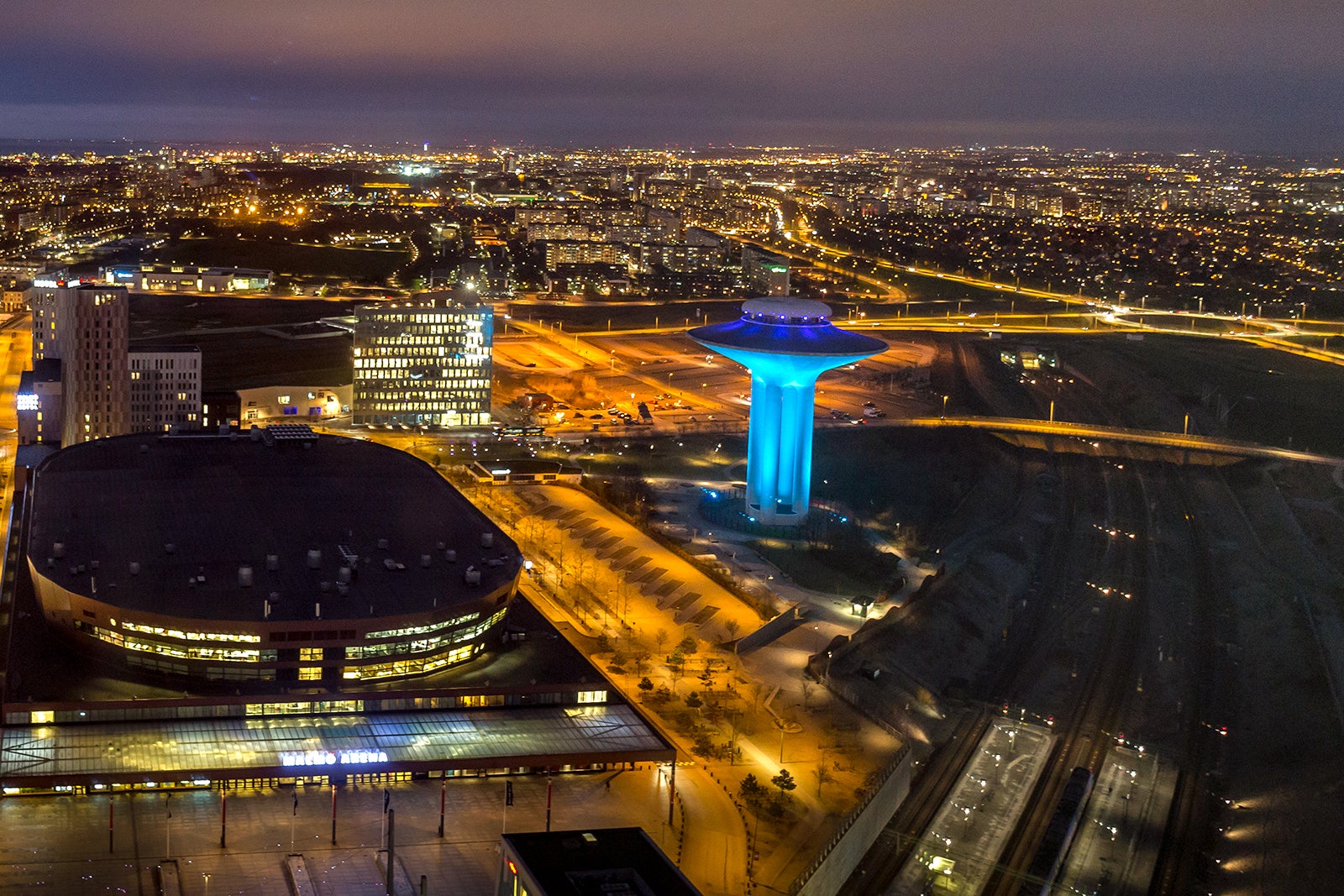 Hyllie Water Tower (Hyllie vattentorn) is an important part of Malmö's urban landscape and can be seen from far and wide, especially in the evening when it is lit up in gorgeous colours. The water tower is located in the district of Hyllie in southern Malmö, a stone's throw away from Hyllie Station. The area is also home to Malmö Arena and popular shopping centre Emporia.
When the sun goes down over Hyllie, this iconic Malmö landmark transforms, taking on a colourful glimmer in tones of blue and purple, for example. It makes for a great opportunity to take a unique picture to remind you of your visit to Malmö.
Location: Arenagatan 9, 215 32 Malmö, Sweden
photo by News Oresund (CC BY 2.0) modified
9
Sample local beer at a tap room
The Malmö region is overflowing with exciting beers to try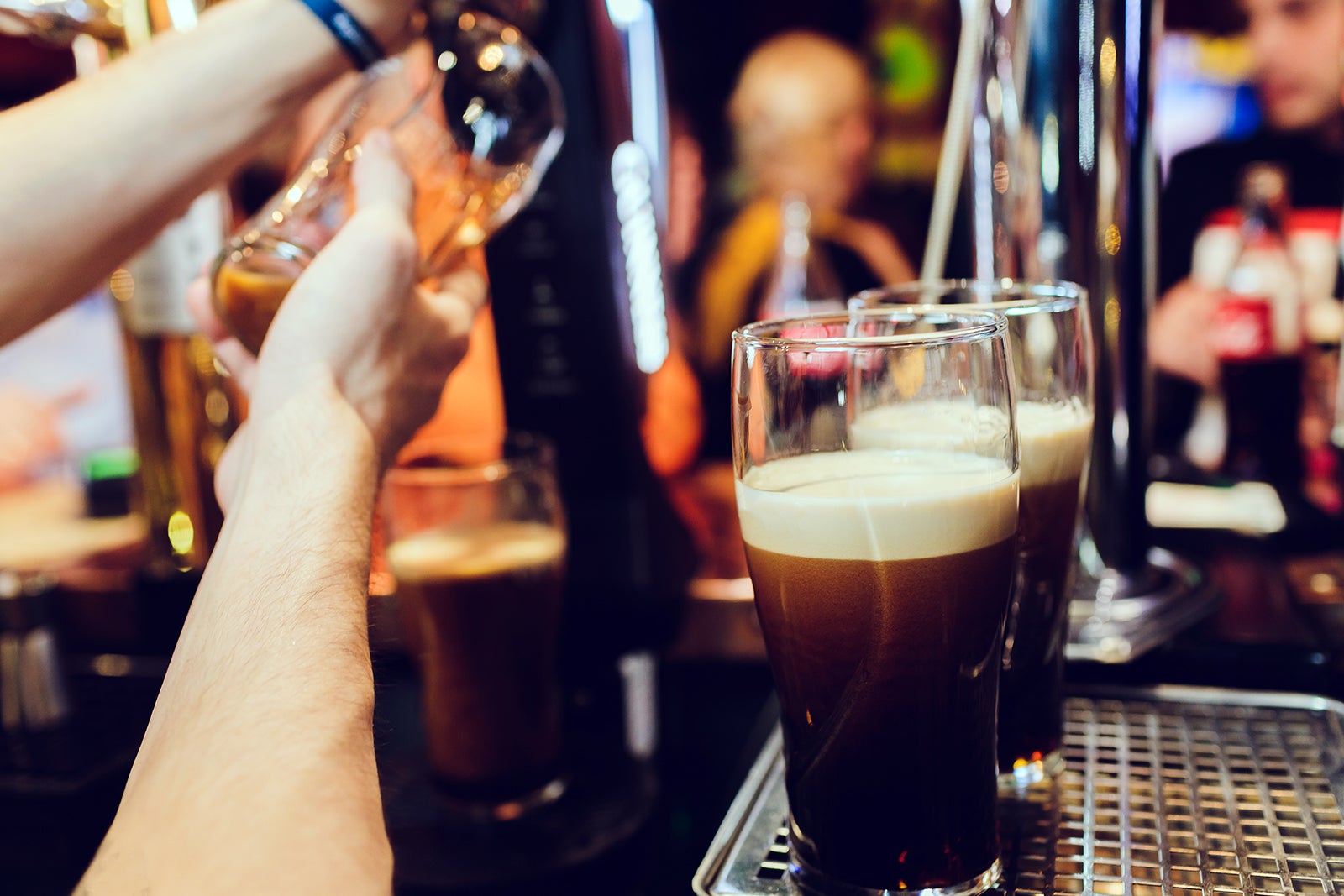 Malmö and the surrounding region boasts a wide array of exciting local beers, offering everything from light lagers with notes of vanilla through to dark chocolate stouts – so why not visit a tap room and sample a few different types? A beer tasting makes for a unique and somewhat different activity for a catch-up with friends or an engaging date.
Malmö Brewing Co. is well known for its IPAs and vanilla porters. There, you can try a lager from nearby Sibbarp or a natural wild-yeast blackcurrant beer from the town of Staffanstorp. Or if you fancy something a little sweeter, try a mead from Malmö Meadery.
Back to top