10 Best Things to Do for Couples in Taipei
Taipei's Most Romantic Places
The best things to do for couples in Taipei offer a surprising range of ways to create unforgettable memories of your trip with your partner. You can go to Taipei Songshan Airport Observation Deck to see the planes taking off and landing as you enjoy a coffee or go to the observation deck of the Taipei 101 building for a panoramic view of the city. A sky-high date in the Maokong Gondola is another great option. If your companion loves the night sky, Jiannan Mountain, where famous romantic dramas are filmed, is an excellent place to visit.
For a different kind of date, you can attend a metalwork workshop, where you can create unique and exclusive ornaments for your companion and memories to cherish forever. If you want to spend private time together, you can book a room for 2 at Beitou Hot Spring.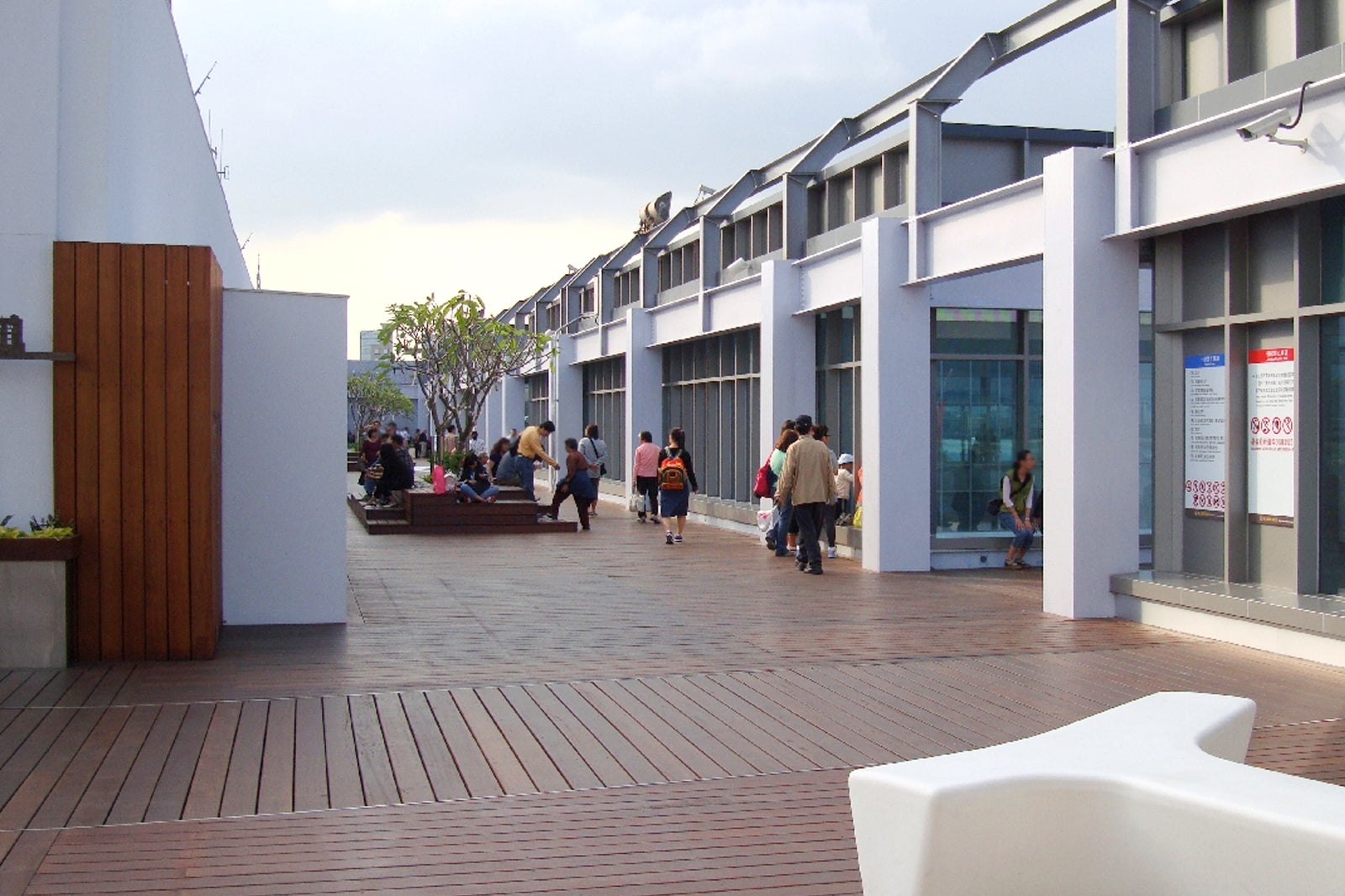 Watch airplanes from Taipei Songshan Airport Observation Deck
Taipei Songshan Airport Observation Deck is located on the 3rd floor between the Terminal 1 and Terminal 2 buildings, covering an area of almost 1,800 sq m. It's an open-air wooden platform with facilities such as sculpture seats and viewing terraces. On the other side, there's also an outdoor area where you can get coffee and snacks. On Taipei Songshan Airport Observation Deck, as well as seeing planes taking off and landing from close range, you also get to enjoy famous sights in northern Taipei, such as the Ferris wheel, Datun Mountain and Dazhi Bridge. The beautiful scenery of Keelung River is also within view.
All these features make the Observation Deck one of the best scenic spots in Taipei City. Many couples come here on dates for its beautiful scenery and romantic atmosphere. With planes flying high into the sky and landing on the runway, beautiful views of the mountains and rivers in the distance, a cup of coffee and snacks at hand, couples are guaranteed a romantic and unforgettable time together.
Location: 3 FL, No. 340-9, Dunhua North Road, Songshan District, Taipei City, Taiwan 10548
Open: Daily from 9 am to 9 pm
photo by CCY18999 (CC BY-SA 3.0) modified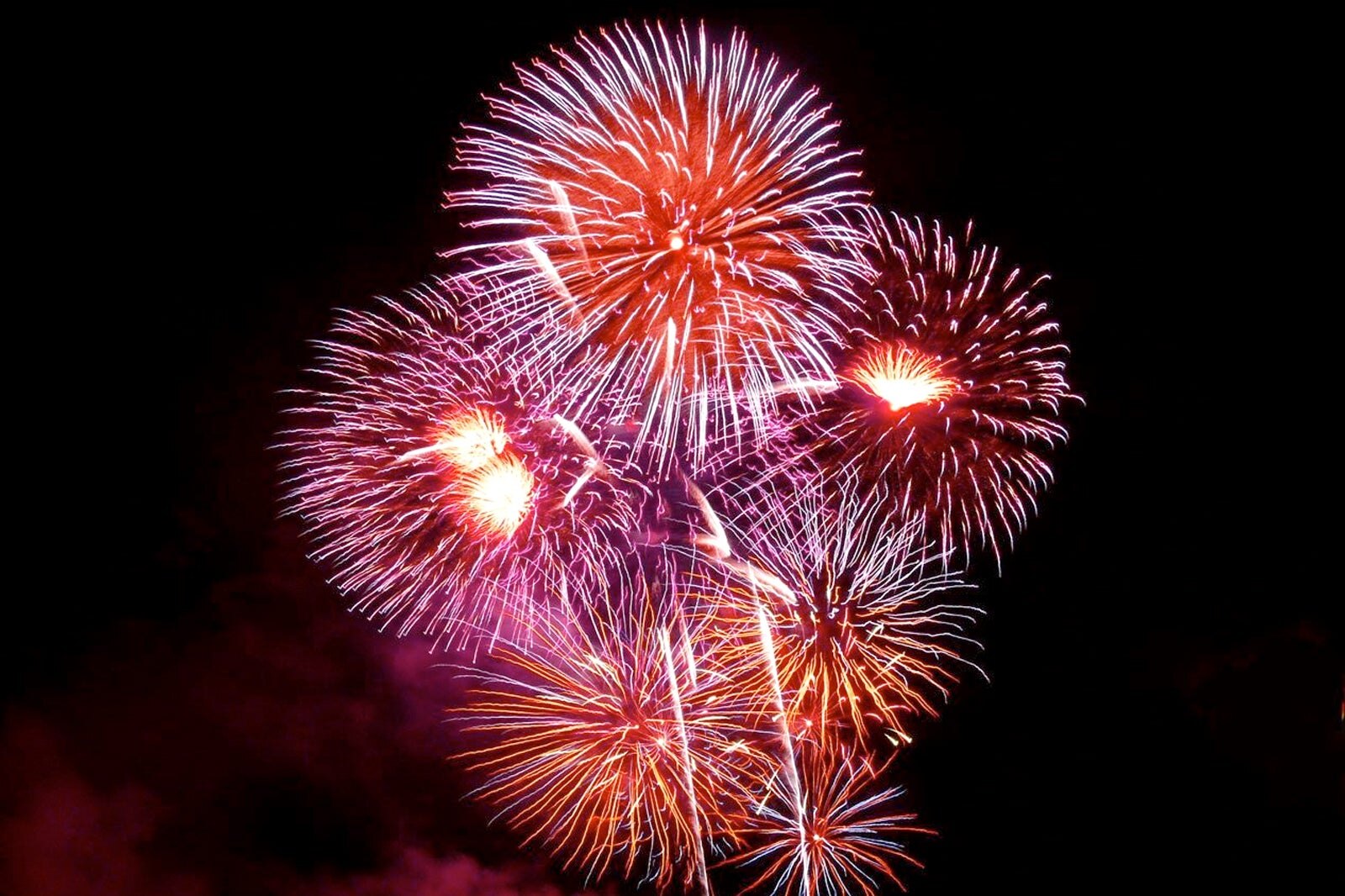 Watch fireworks in Dadaocheng
Dadaocheng covers the famous Dihua Street commercial loop in Datong District. Transportation links here are excellent owing to its connection to many roads and proximity to MRT Daqiaotou Station and Shuanglian Station. In Dadaocheng, you can see Taipei's best-preserved old street, baroque buildings, the Xiahai City God Temple (a Class 3 National Monument) and other important scenic highlights.
Dadaocheng also hosts activities on Qixi Festival (Chinese Valentine's Day). The fireworks show along the Tamsui River every year is a popular choice for couples, attracting many to come and watch and take photos. If you visit Dadaocheng by day, you can stroll along the old street, visit the ancient monuments and historical buildings and imagine the splendour of ancient times. After nightfall, you can find a good spot in the Riverside Park to enjoy the colourful and brilliant fireworks, making it an unforgettable romantic evening.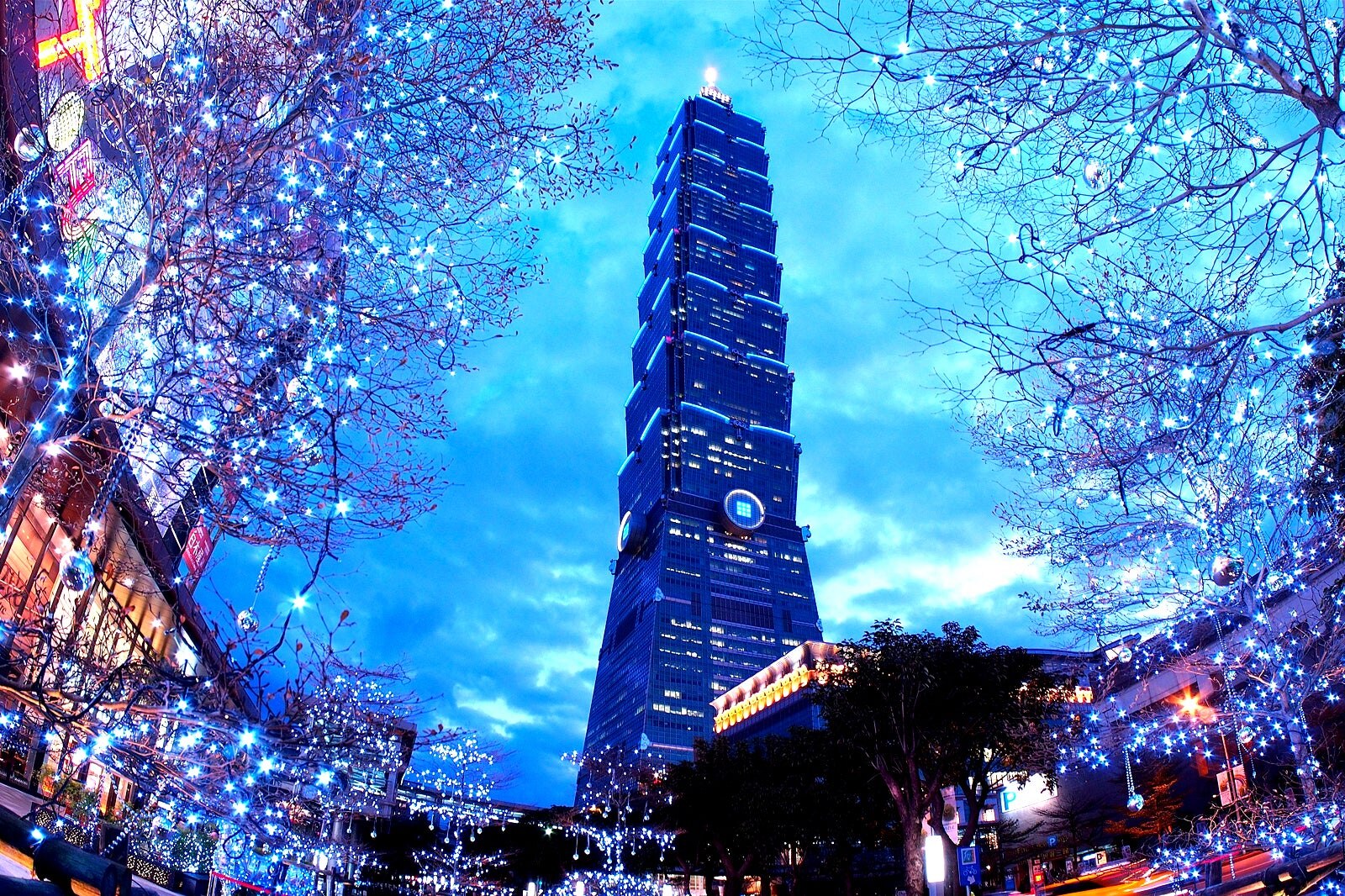 Taipei 101 is Taipei's most famous city landmark and is also where you'll find the best views of the entire city. Taipei 101 has observation decks on the 89th, 91st and 101st floors, each one unique in its own right. The observation deck on the 89th floor is 382 metres high, providing a 360-degree unobstructed panoramic view. It has the largest, heaviest, tuned mass damper in the world, and the only one available for viewing. Head upstairs from the 89th floor and you'll arrive at the outdoor observation deck on the 91st floor. Looking up from here you can see the tip of the spire – some 508 metres from the ground.
The popular 101 Skyline 460 is the highest 360-degree outdoor observation deck in Asia, where you can take a high-altitude walk and enjoy the amazing views of Taipei City and the surrounding mountains. It has rightly earned its name as Taipei's most incredible viewing spot. The wonderfully romantic high-altitude vista attracts many couples. Whether you visit during the day or at night, you are always guaranteed a magnificent view.
Location: No.7, Section 5, Xinyi Road, Xinyi District, Taipei City, Taiwan 11049
Open: Daily from 9 am to 10 pm
The Maokong Gondola is located in the Muzha area of Taipei, connecting the southwest side of Taipei Zoo to the Maokong area. It was opened in 2007. With a total line length of 4.03 km, it takes about 25 minutes for a one-way ride. It's Taipei's first sightseeing cable car and the longest mass transportation cable car system in Taiwan. The line has 4 stations: Taipei Zoo Station, Taipei Zoo South Station, Zhinan Temple Station, and Maokong Station. There are also 2 angle stations where the gondola changes direction. The scenery along the way is breathtaking, and you get the chance to appreciate Taipei City and the surrounding lush green mountains from up high.
If you take a ride on one of the famous "Eyes of Maokong Gondola" crystal cabins introduced in 2010, you'll get an incredible all-round panoramic view. Since its opening, the Maokong Gondola has attracted many couples who wish to experience romantic dates in the air surrounded by beautiful scenery. After getting off the gondola, you can go for a walk on the trails and enjoy tea or dinner while appreciating splendid night views of Taipei.
Location: No.8, Section 2, Xinguang Road, Wenshan District, Taipei City, Taiwan 11656
Open: Tuesday–Thursday from 9 am to 9 pm, Fridays from 9 am to 10 pm, Saturdays from 8.30 am to 10 pm, Sundays from 8.30 am to 9 pm
photo by Jan (CC BY-SA 2.0) modified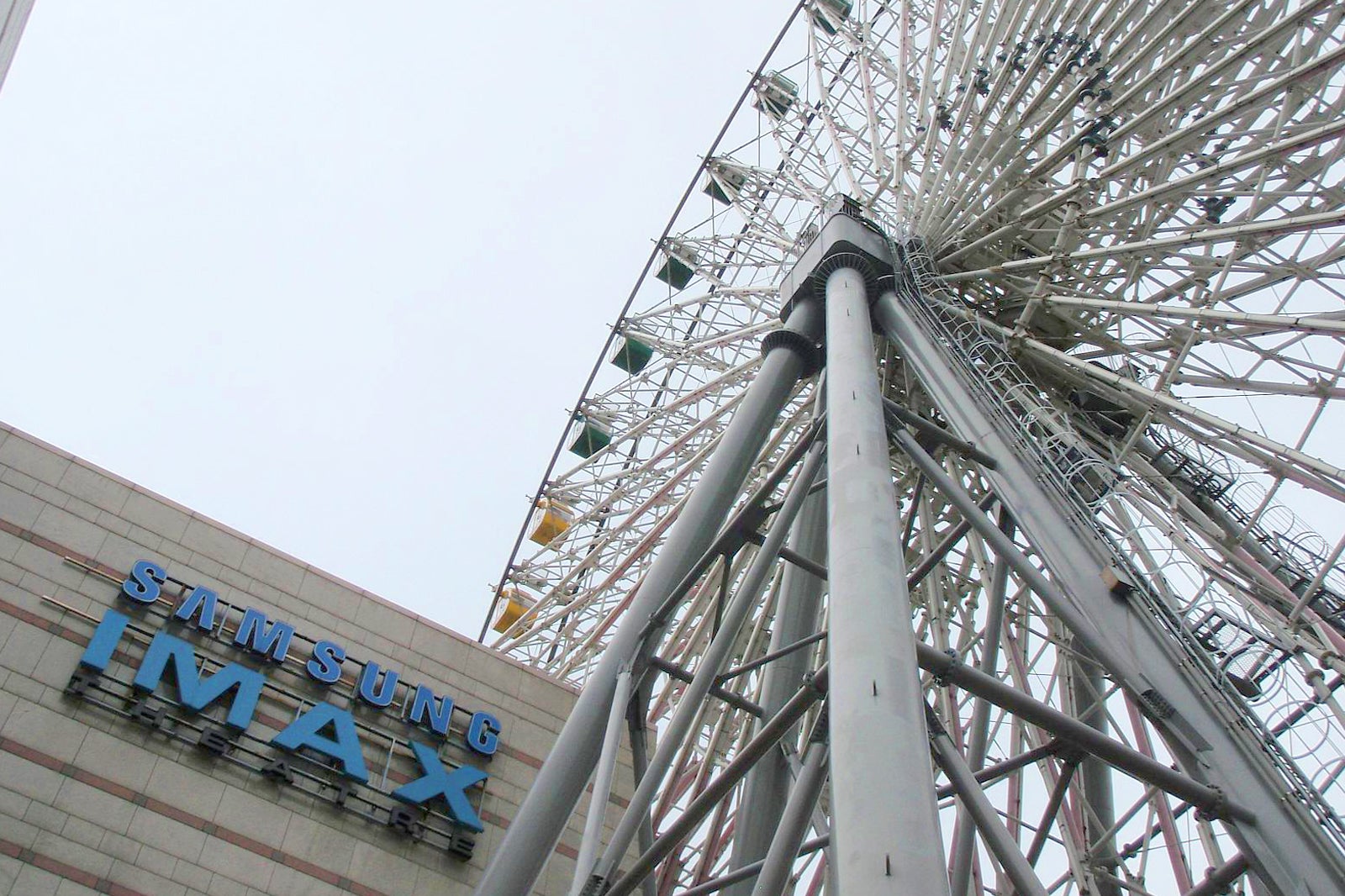 While high-rise buildings are one way to enjoy unobstructed city or night views of Taipei, another interesting alternative is the Ferris wheel. The slowly rotating Ferris wheel car gives you plenty of time to enjoy being alone together while appreciating the cityscape and the magnificent mountain scenery in the distance from up high. This makes it a popular attraction for couples on dates.
Taiwan's second-highest Ferris wheel is located in downtown Taipei, surrounded by shopping malls and cinemas. During the day, you can go shopping with your date, enjoy a delicious meal or watch a movie. At night, when the city lights are on, is the best time to take a ride on the Ferris wheel and enjoy the scenery. A different side to the bustling city of Taipei reveals itself when viewed from up high. The bright lights all around create an air of romance, setting the scene for an unforgettable night and the sweetest memories.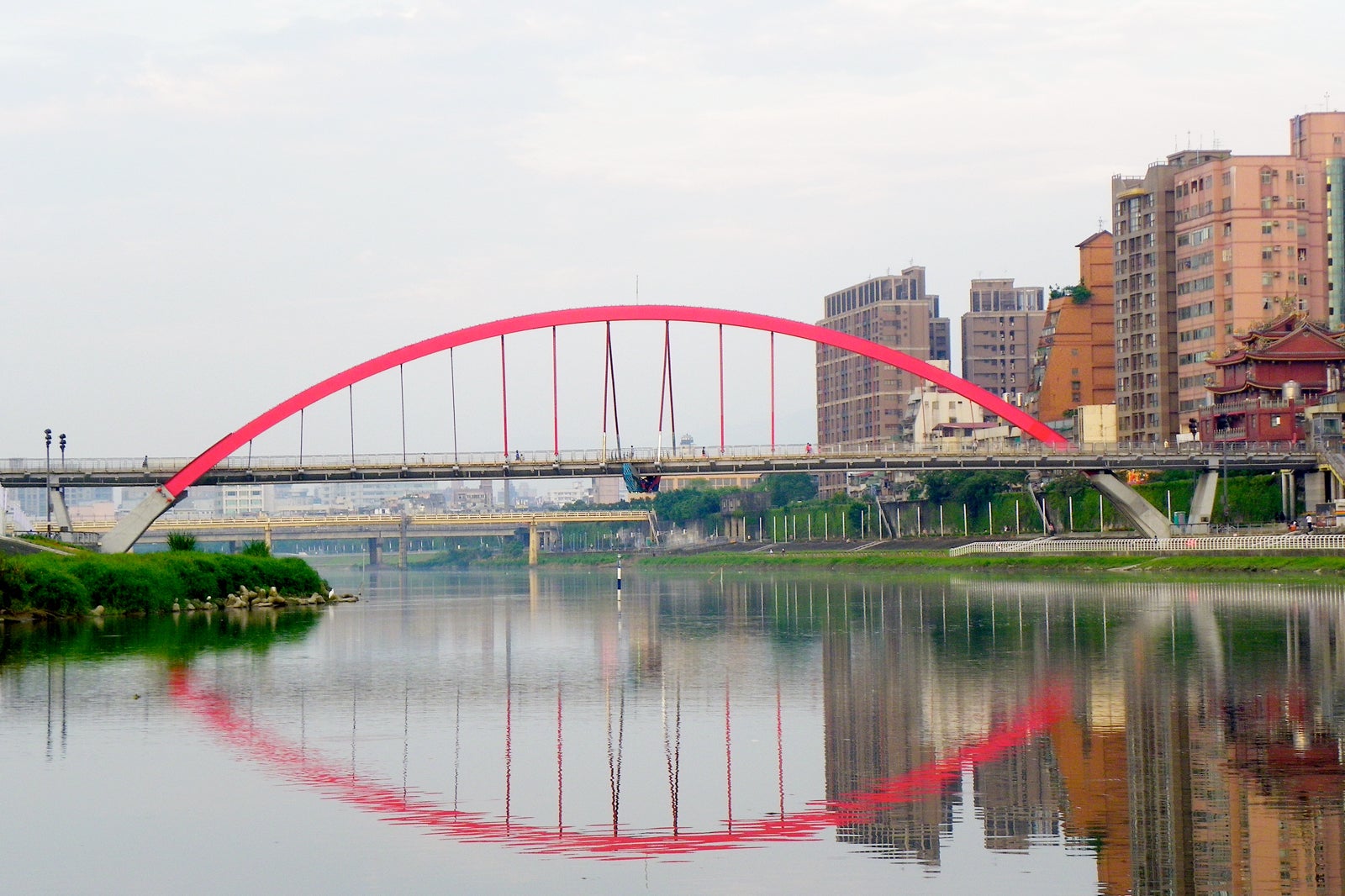 Songshan Rainbow Bridge is located in the Songshan District of Taipei City and close to the famous Raohe Night Market and Rainbow Riverside Park. It's 167 metres long and can only be crossed on foot. The Rainbow Bridge spans the Keelung River and connects Neihu and Songshan. The S-shaped bridge has a prominent red steel arch and beams and gets its name for its rainbow-like shape.
The bridge is equipped with projection lighting facilities, which light up after nightfall, connecting the Keelung River and the clouds on the horizon. The Rainbow Bridge is one of the most popular spots in Taipei with tourists and amateur photographers alike. The splendid night views and romantic atmosphere attract many couples to take a walk at nearby Raohe Night Market after dinner. Surrounded by a sea of twinkling lights, they can stroll all the way to Rainbow Riverside Park on the other side, for a perfect end to their romantic date.
Location: No. 180, Songhe Street, Songshan District, Taipei, Taiwan 10567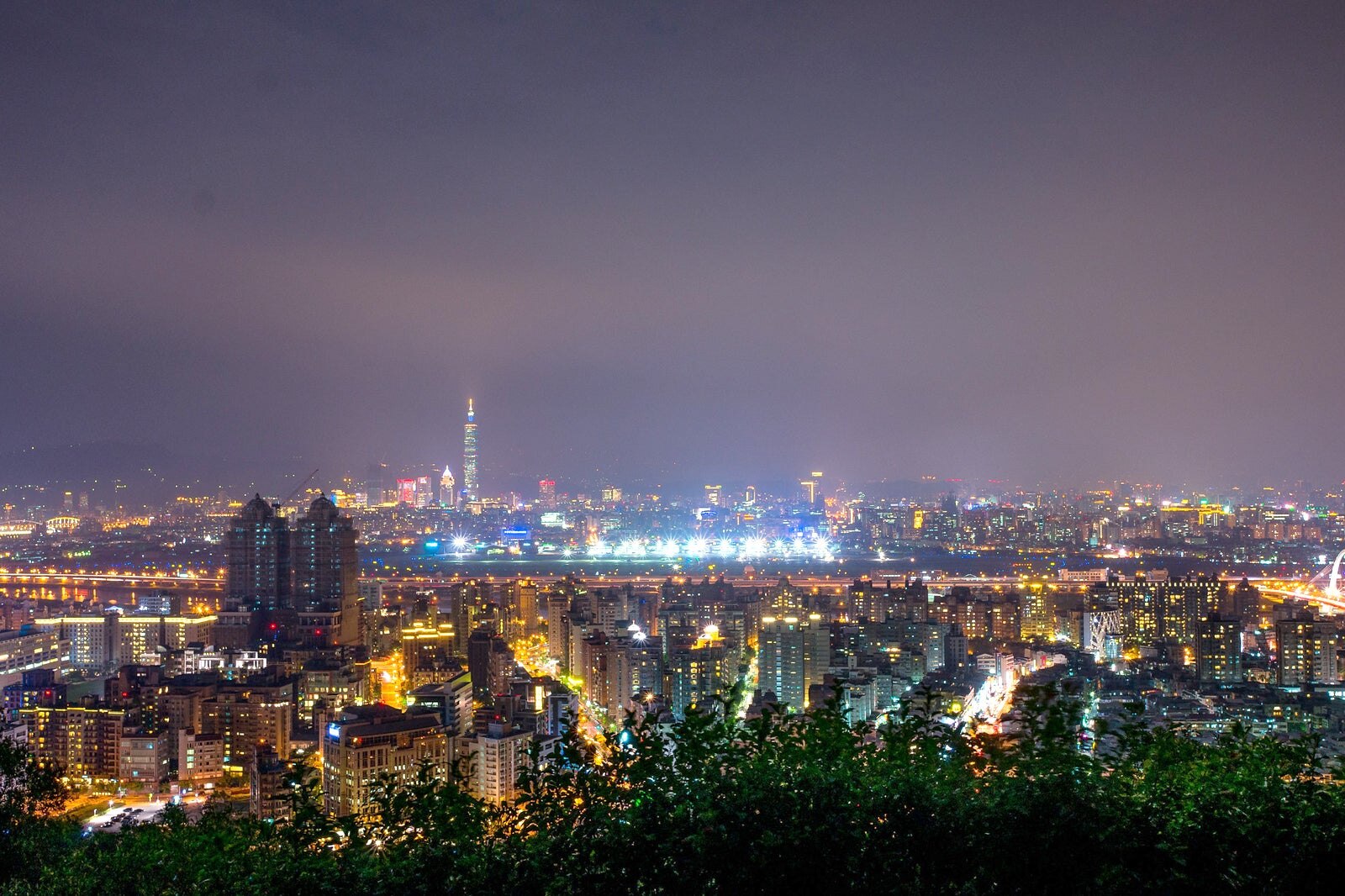 Head for Jiannan Mountain in the Songshan District of Taipei to savour the stunning views of Taipei by night without making your companion endure a strenuous mountain climb. An easy ride by bike from Shilin, Jiantan or other places will take you directly there to enjoy the almost unobstructed night view of Taipei. Jiannan Mountain has also been used as a filming location for a number of famous TV series.
In addition to being a great viewpoint for Taipei by night and a popular place to watch the 101 fireworks, Jiannan Mountain also offers an incredible panoramic view of Taipei 101, the Keelung River at its foot and the Shin Kong Mitsukoshi Department Store in the distance, making it an extremely popular location with photographers. Such a romantic and scenic location naturally attracts many couples at night.
Location: No. 181, Ziqiang Tunnel, Zhongshan District, Taipei, Taiwan 10491
photo by Wei-Te Wong (CC BY-SA 2.0) modified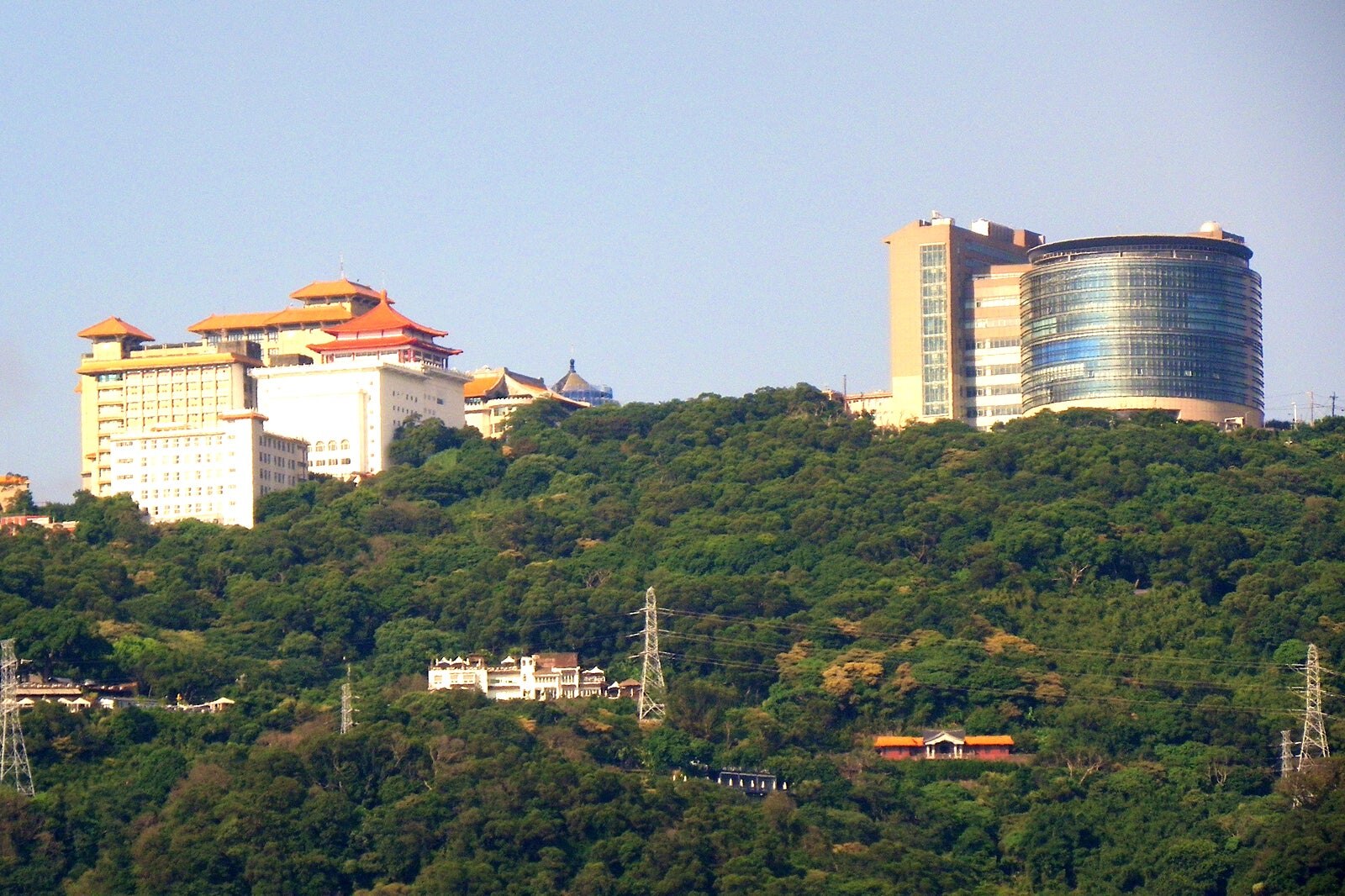 Chinese Culture University
The Chinese Culture University, located in the Shilin District and neighbouring the Yangmingshan National Park, is a well-known scenic spot in Taipei. Sitting at an altitude of 410 metres, the campus is blessed with excellent views overlooking the Tamsui River and the Taipei Basin, famed for its spectacular sunsets and magnificent night view. The best location on the campus to watch the sunset is the hill at the back of the university on Jingshan Road. At every sunset, you'll find a large number of people waiting here with their cameras or mobile phones to capture the magnificent evening lights and marvellously coloured clouds.
Shortly after the incredible sunset, you'll find revealed in front of your eyes the breathtaking view of Taipei illuminated by lights. The hill at the back of the university with its fabulous sunsets and night vista is also a popular destination for new and dating couples. With such beautiful surroundings and views, this is a great spot for anyone wishing to declare their true feelings.
Location: No. 55, Huagang Road, Shilin District, Taipei, Taiwan 11114
Open: 24 hours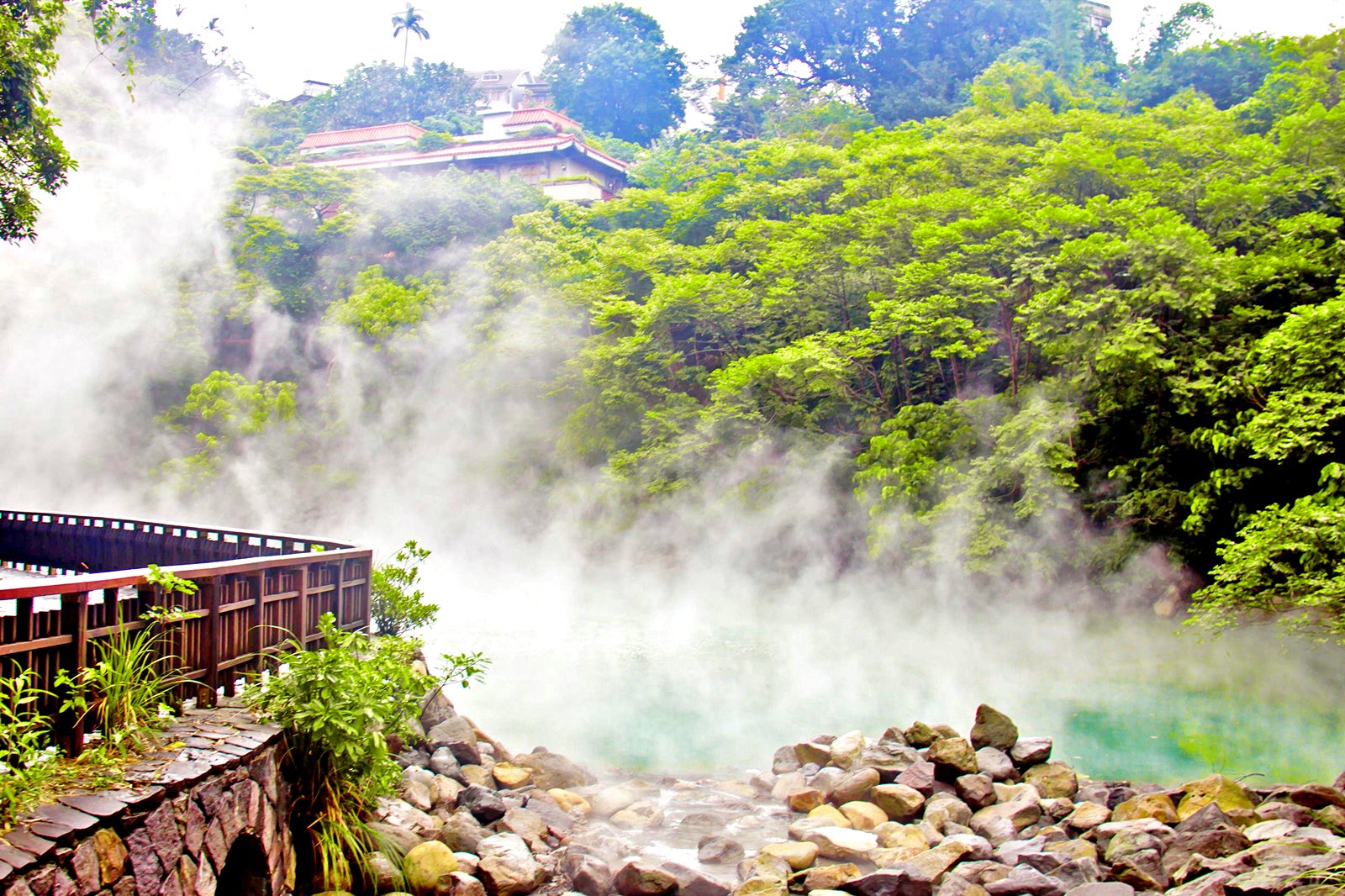 Around Daye Road near the MRT Xinbeitou Station, there are various hot spring resorts, including long-established hot spring hotels, modern hot spring resorts, and, of course, affordable hot spring parks with outdoor baths. Most operators will provide resort packages that include hot springs, accommodation and dining, which make an excellent choice for 2-day trips on weekends and holidays.
If you want some privacy, you can also book a hot spring room or bathhouse, where you can relax and enjoy the hot springs with your partner before a delicious meal.
Location: Daye Rd., Beitou District, Taipei, Taiwan 11268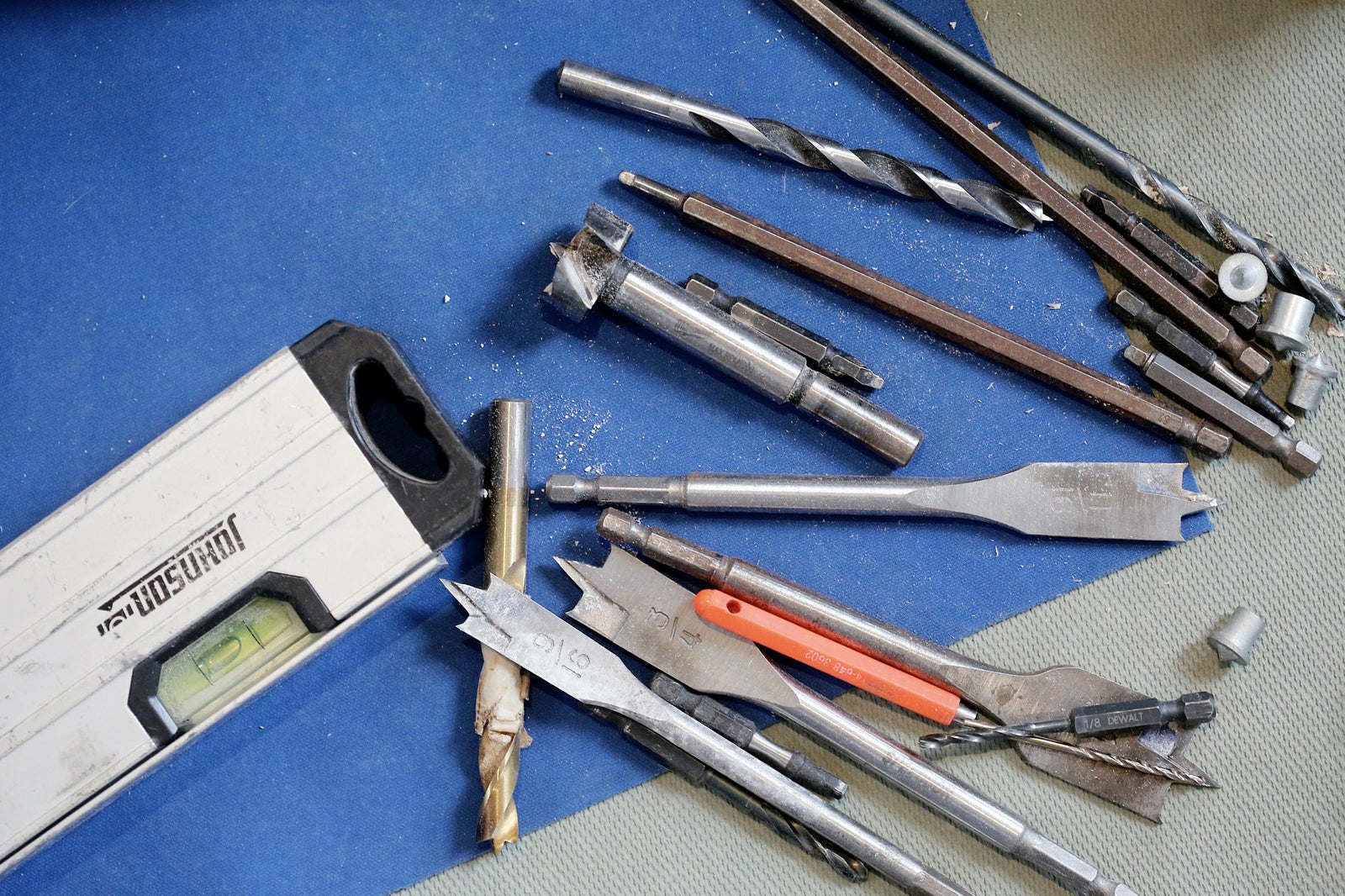 Metalwork workshops for couples
Come and try out a metalwork workshop, where you and your partner can work together to create unique pieces of jewellery for each other, including rings, necklaces and bracelets. There's a variety of metalworking courses to choose from, all led by professional instructors. You get to choose the colour, style and material and design a special piece of jewellery for your partner. You can also engrave your piece with a special message to create a unique and unforgettable memento of your visit.
If you want to surprise your partner, you can reserve your place in advance. It makes a wonderful romantic date. There are professionals with all the required tools and equipment on hand to provide guidance, so you don't need to have any jewellery-making experience. You and your partner will be delighted with the finished product.