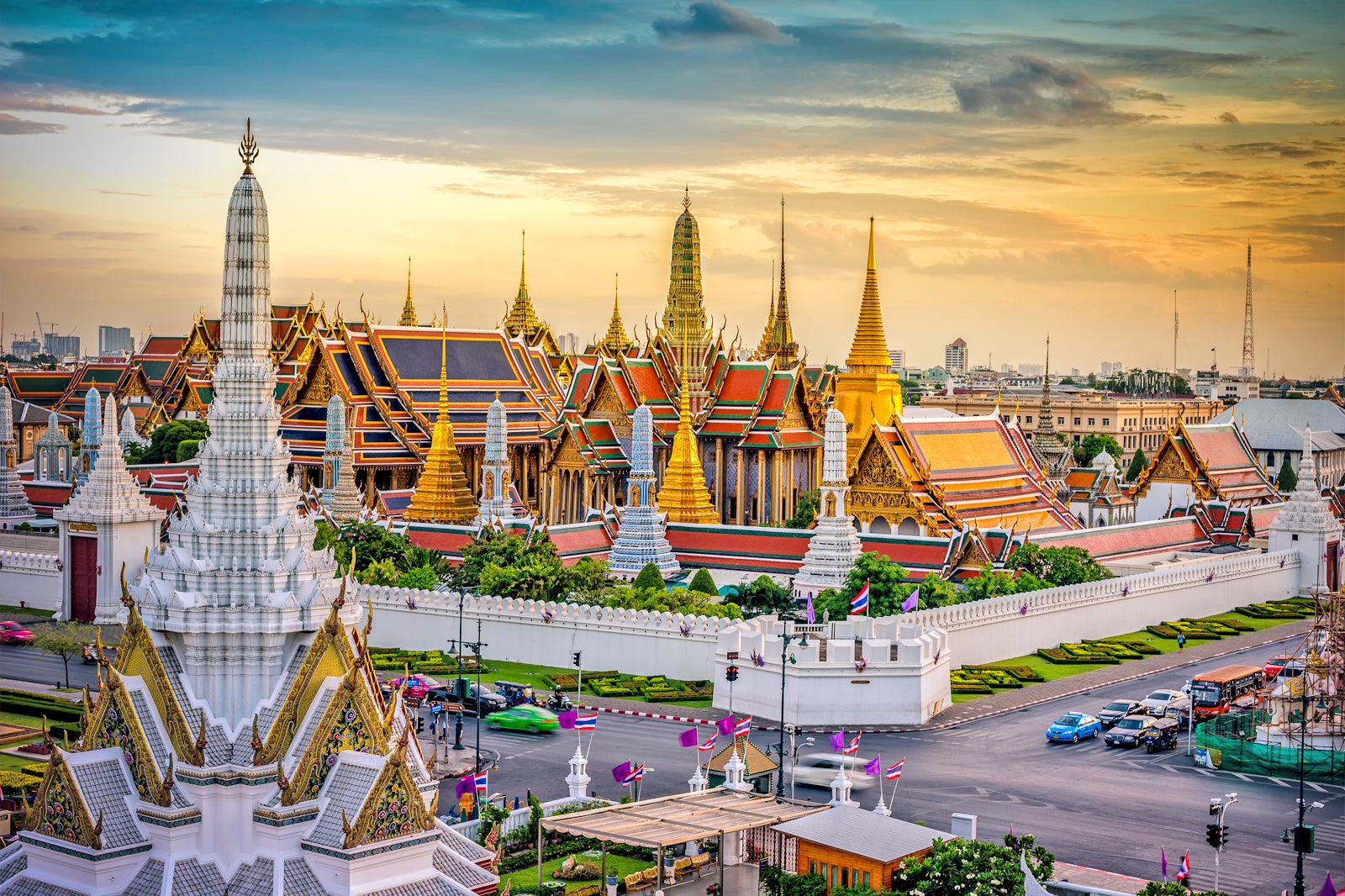 Bangkok
What you need to know before you go
Bangkok welcomes more visitors than any other city in the world and it doesn't take long to realise why. Bangkok is a city of contrasts with action at every turn. Marvel at the gleaming temples, catch a tuk tuk through bustling Chinatown or take a longtail boat through floating markets. Food is another Bangkok highlight, from local dishes served at humble street stalls to haute cuisine at romantic rooftop restaurants.
Luxury malls compete with a sea of boutiques and markets, where you can treat yourself without overspending. Extravagant luxury hotels and surprisingly cheap serviced apartments welcome you with the same famed Thai hospitality. And no visit to Bangkok would be complete without a glimpse of its famous nightlife. Be it nightclubs, cabarets or exotic red-light districts, Bangkok never ceases to amaze.
What to see & do in Bangkok
Featured stories & fun stuff
Bangkok is as intoxicating as it is diverse; a melting pot of exotic aromas, interesting sights and visual delights. It's a city with infinite layers which you need to explore to reveal its hidden secrets. If you're planning a trip to Bangkok, make sure to allow enough time to see some of the treasures that have given this city iconic status. At least 3 to 5 days to get a... Read more
Where & what to eat in Bangkok
Bangkok restaurants cater to all price ranges and are open all hours, proving that this city is certainly heaven for food lovers. A sensational culinary journey and taste experience awaits in Bangkok. Apart from renowned Thai cuisine with its blend of spicy, sour, bitter, sweet and salty, the array of options includes practically every other famous type of cuisine found in the world. Eating options are limitless, night or day... Read more
Where to shop & what to buy in Bangkok
Shopping in Bangkok is an experience to thrill and delight the most discerning of shoppers – whatever it is you're looking for. From the gleaming chrome of modern, air-conditioned mega malls, to the hustle and bustle of its famously buzzing street markets, Bangkok has all kinds of places to blow your baht. With everything from antiques to the latest pair of trainers to designer jewellery available, Bangkok has an equally... Read more
Where to go & what to do at night in Bangkok
Nightlife in Bangkok has evolved over the years, with the emphasis now firmly on swanky rooftop bars, lively nightclubs and hip cocktail lounges. The Thai capital has so much more to offer than just the adult-themed fun of Patpong, Nana and Soi Cowboy. Any discussion of nightlife in Bangkok can't ignore the party scene at Khao San Road, or the more laidback Soi Rambuttri next door, while Thonglor across... Read more
Bangkok certainly lives up to its reputation as a travel hot spot in Southeast Asia. The 'City of Angels' has funky markets, upmarket malls, a riverside full of surprises, a vibrant nightlife scene, many fabulous sights and attractions that reflect its unique heritage, and much more. Say goodbye to traffic jams by utilising the city's modern Skytrain and underground systems that cover a large area. Or explore the Riverside area... Read more
More information about Bangkok
Most people find planning a trip to Bangkok confusing. There are so many strange foreign words to learn and contradictory advice. Sound familiar? If you're a first-time visitor or just someone curious about Thailand's enigmatic capital, we are here to help.
What to do in Bangkok
Bangkok is a city that is alive for 24 hours a day. You can see well-dressed groups eating early morning noodles after the nightclubs close their doors, while market traders are just setting up for the day and orange-robed monks make their daily alms rounds. From Thailand's most revered temples and shrines to fantastic shopping and party hot spots, Bangkok is what you want it to be. Take some time to indulge every face of Bangkok to try and make sense of this gnarly yet charming city.
Where to go at night in Bangkok
Nightlife is one of Bangkok's specialities and the city really comes alive after dark. The options span a wide range of tastes, styles and budgets. Dance parties, rooftop bars, chilled-out lounges with live music, cultural shows, street shopping and an electrifying gay scene all sum up the gist of what's available. Explore Bangkok by night and get a taste of what it's all about.
Where to go shopping in Bangkok
Shopping in Bangkok is an experience everyone should try. The sheer variety of shopping options is enough to make your head spin. The city is rightfully famed for its collection of markets, but there's a growing number of air-conditioned megamalls and ancient retail enclaves, so whatever you're looking for you have a good chance of finding it in Bangkok.
Hop on the BTS Skytrain to Siam for the city's best collection of shopping malls or find antiques and handicrafts shops in Bangkok Old Town. For great bargains, try Chinatown, around Sampeng Lane, as well as Pahurat Textile Market. Pratunam Market is also great for ready-to-wear clothing.
What to eat in Bangkok
Thai food is bold and flavoursome, but the best restaurants and food stalls also understand the importance of balance and subtly. From the first-timers favourite of pad Thai to more complex flavours of curries and salads found in Bangkok, we encourage everyone to trust your eyes and nose and jump into Thai cuisine whenever the opportunity presents itself. Savour seafood at a local restaurant perched over the river, enjoy exquisite food from a swish hotel restaurant overlooking the city, or grab a quick snack in a shopping mall food court.
Back to top