10 Best Things to Do on a Honeymoon in Bangkok
What to See and Do in Bangkok for Couples
If you're looking for romantic things to do in Bangkok, you have plenty of choices. Depending on your interests and the amount of time you have, you could be enjoying a cruise along the Chao Phraya River, cooking up a storm in a Thai kitchen, or exploring the charming traditions of the city and its people.
The most important thing is that both of you are together and enjoying your time in Thailand's capital, which is what these handpicked tours and activities are intended to do. Take a look at what we believe to be the best things to do for couples in Bangkok.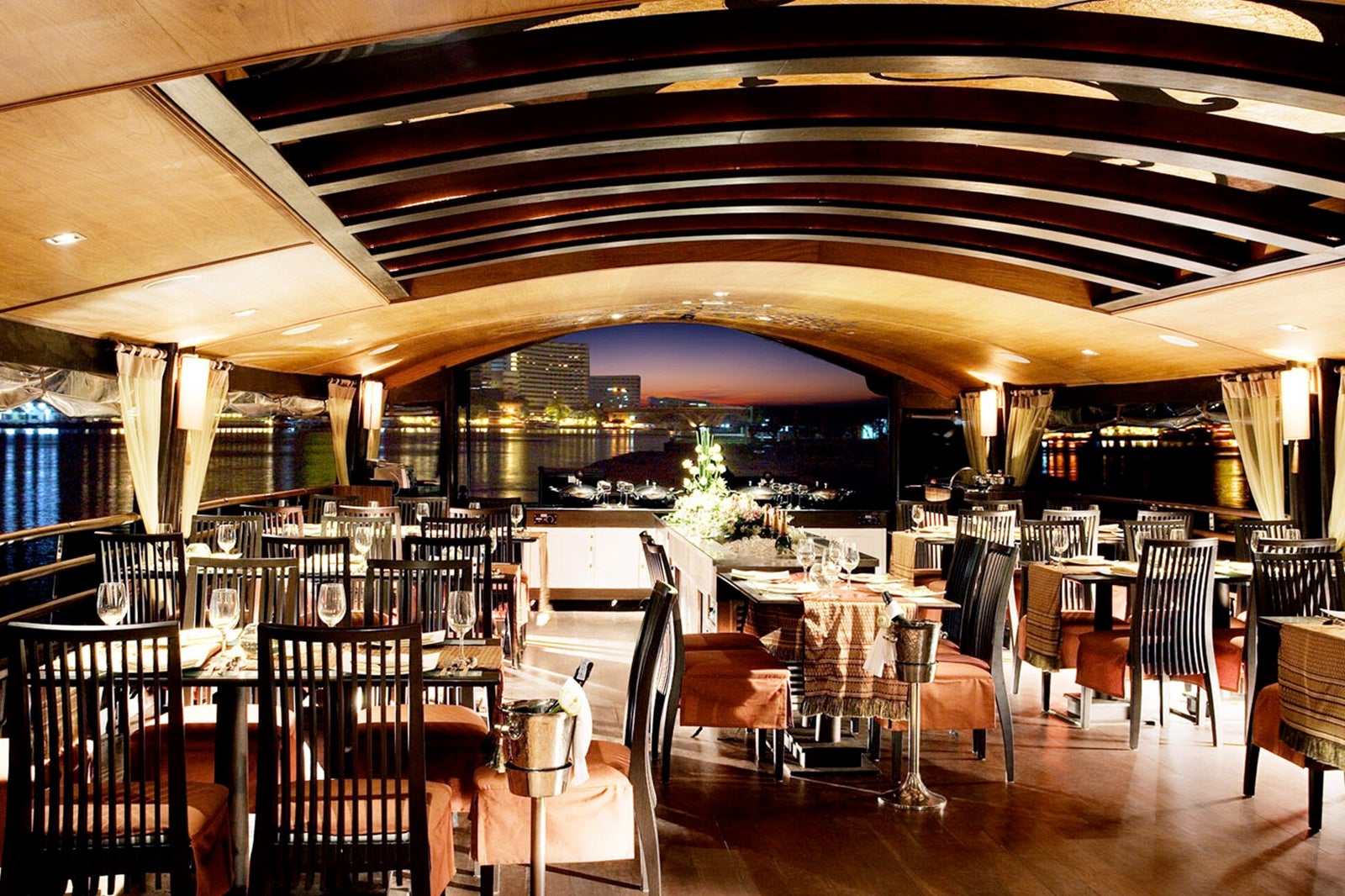 Couples
Photo
Food
Nightlife
The Apsara River Cruise is one among the plenty of cruises to choose from, but it offers a delicious menu and overall luxury that is truly a cut above the majority of the boats travelling this well-worn tourist trail.
Sailing softly down the Chao Praya River, with temples and palaces on either bank, is one of the most romantic things you can do in Bangkok. Taking time to pause in front of the famous sights, passengers are treated to a delicious 5-course Thai feast – not a hectic buffet – on a romantic converted rice-barge. Read more...
Location: River City Shopping Complex, 23 Trok Rongnamkhaeng, Charoen Krung 30, Si Phaya Pier, Yota Road, Sampantawong, Bangkok 10100, Thailand
Open: Daily from 8 pm to 9.45 pm
2
Rooftop dinner at Vertigo
Couples
Photo
Food
Nightlife
Luxury
There is no lack of rooftop bars in Bangkok, but Vertigo has always been among the favourites. With an unusually narrow and elongated shape, the entire top of the building is occupied by both the restaurant and Moon Bar. It also gives the impression of being aboard a spaceship in the sky.
Dinner at Vertigo can be incredibly romantic, with a small table illuminated by candlelight, and all of Bangkok with its dramatic cityscape spread out below. Read more...
Location: 61st Floor, Banyan Tree Bangkok, 21/100 South Sathon Road, Sathon, Bangkok 10120, Thailand
Open: Daily from 5 pm to 1 am (dinner from 6 pm to 10 pm)
Phone: +66 (0)2 679 1200
3
Private Blue Elephant cooking class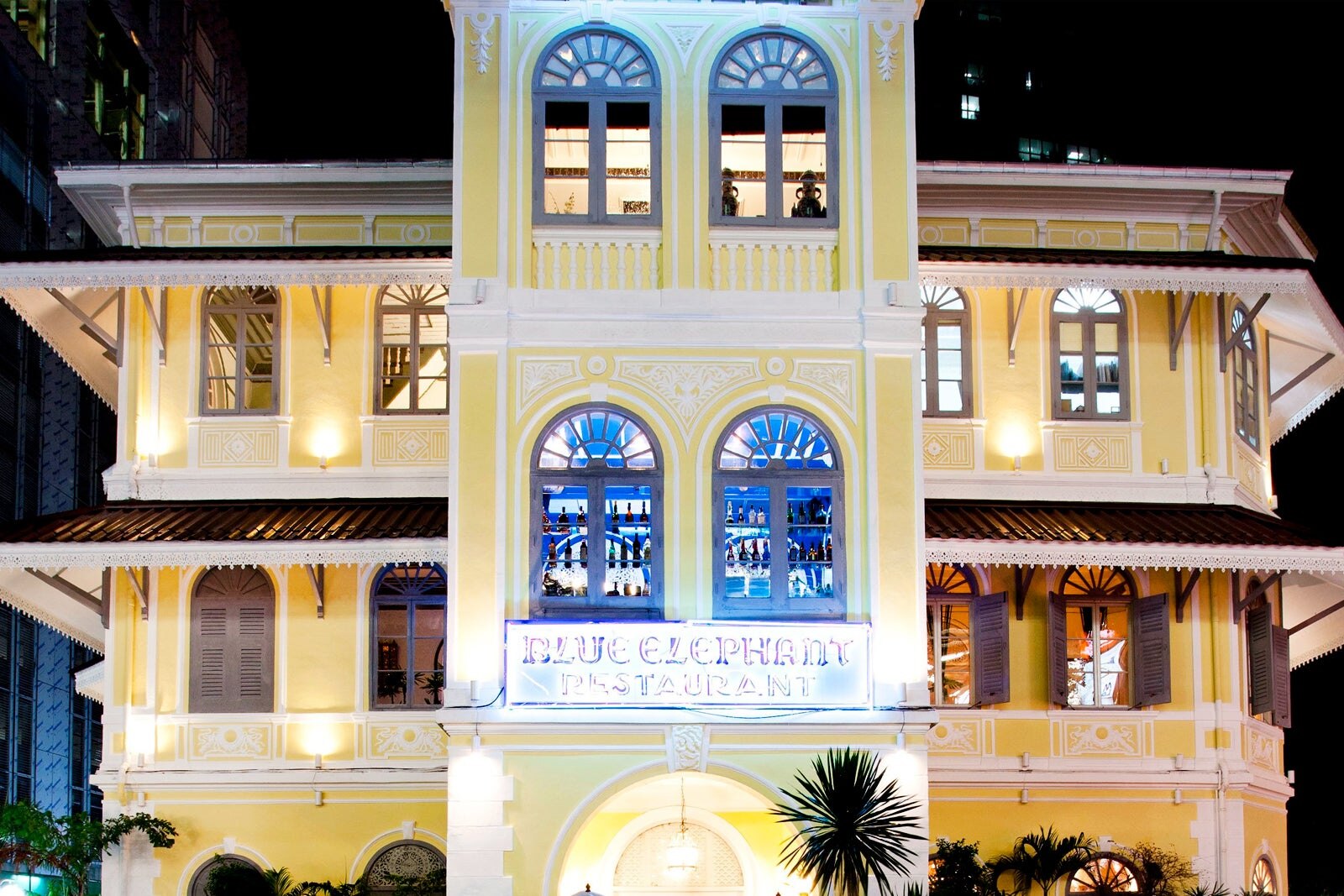 Blue Elephant is one of the best cooking schools in Thailand and is located on the top floor of their stunning heritage restaurant in Silom. You and your loved one can have your very own cooking class here with a master chef, so you can be as silly or romantic as you like without worrying about other students.
Whether you're an amateur or a professional chef, the instructors here are passionate about their work and sharing their knowledge in the culinary arts. Read more...
Location: 233 S Sathorn Rd, Yan Nawa, Sathorn, Bangkok 10120, Thailand
Open: Daily from 11.30 am to 2.30 pm and from 6 pm to 10.30 pm
Phone: +66 (0)2 673 9353
4
Bang Kra Jao cycling adventure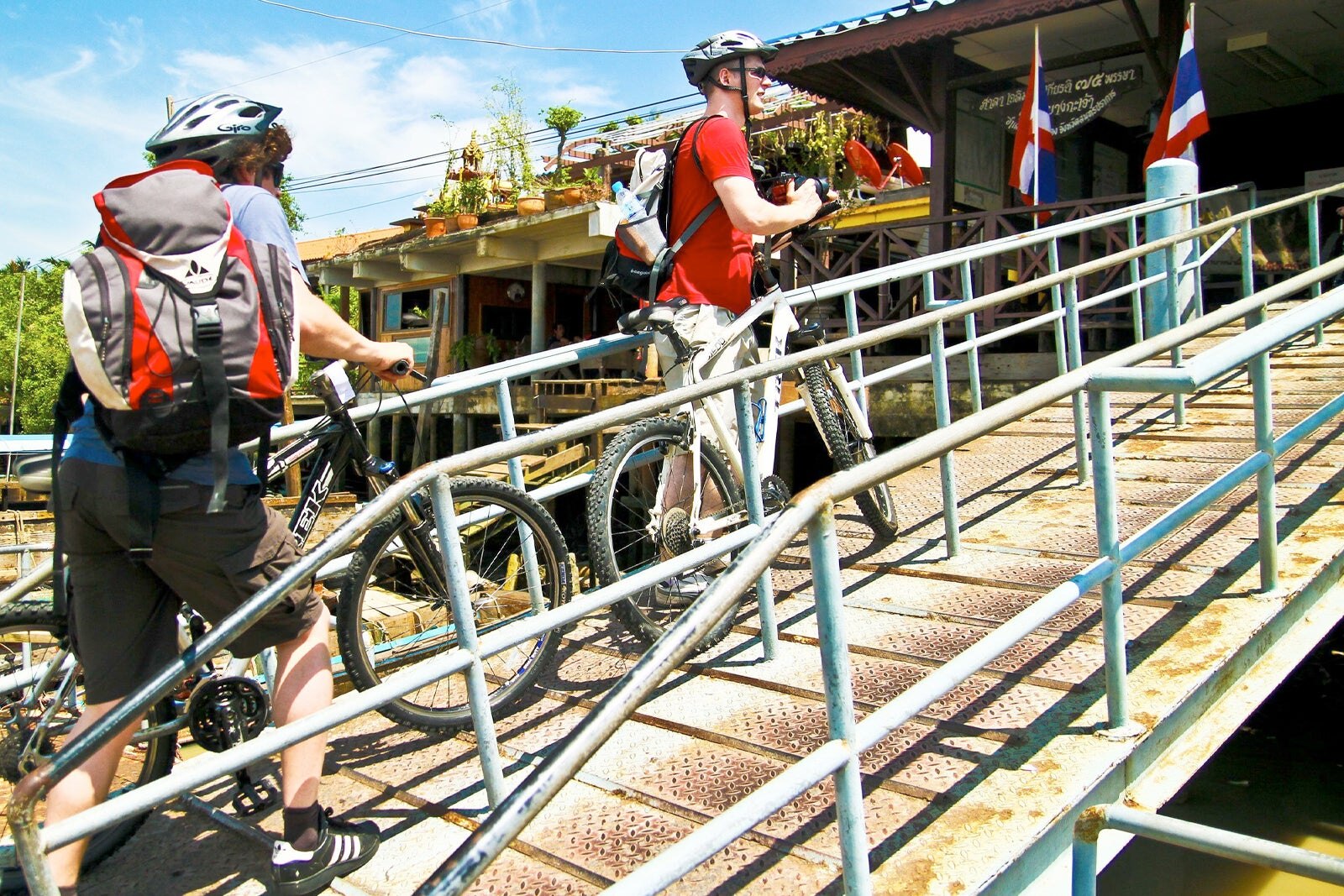 Enjoy an afternoon bicycle ride in Bang Kra Jao, an undeveloped wilderness area just a short ride from downtown Bangkok. Take in the scenery along paths and walkways, cycle along canals and through the jungle and pass quaint local villages.
After a short stretch riding in the city, take a serene ferry ride across the Chao Phraya River. Once you reach the other side, you'll find yourself in the Bangkok of old – wilderness, waterways and jungle. Here, you continue your guided 25-km cycling experience. Pedal along paths, minor roads and walkways, taking in the verdant surroundings as you go. Read more...
Location: Bang Kra Jao, Phra Pradaeng, Samut Prakan 10130, Thailand
5
Overnight river cruise to Ayutthaya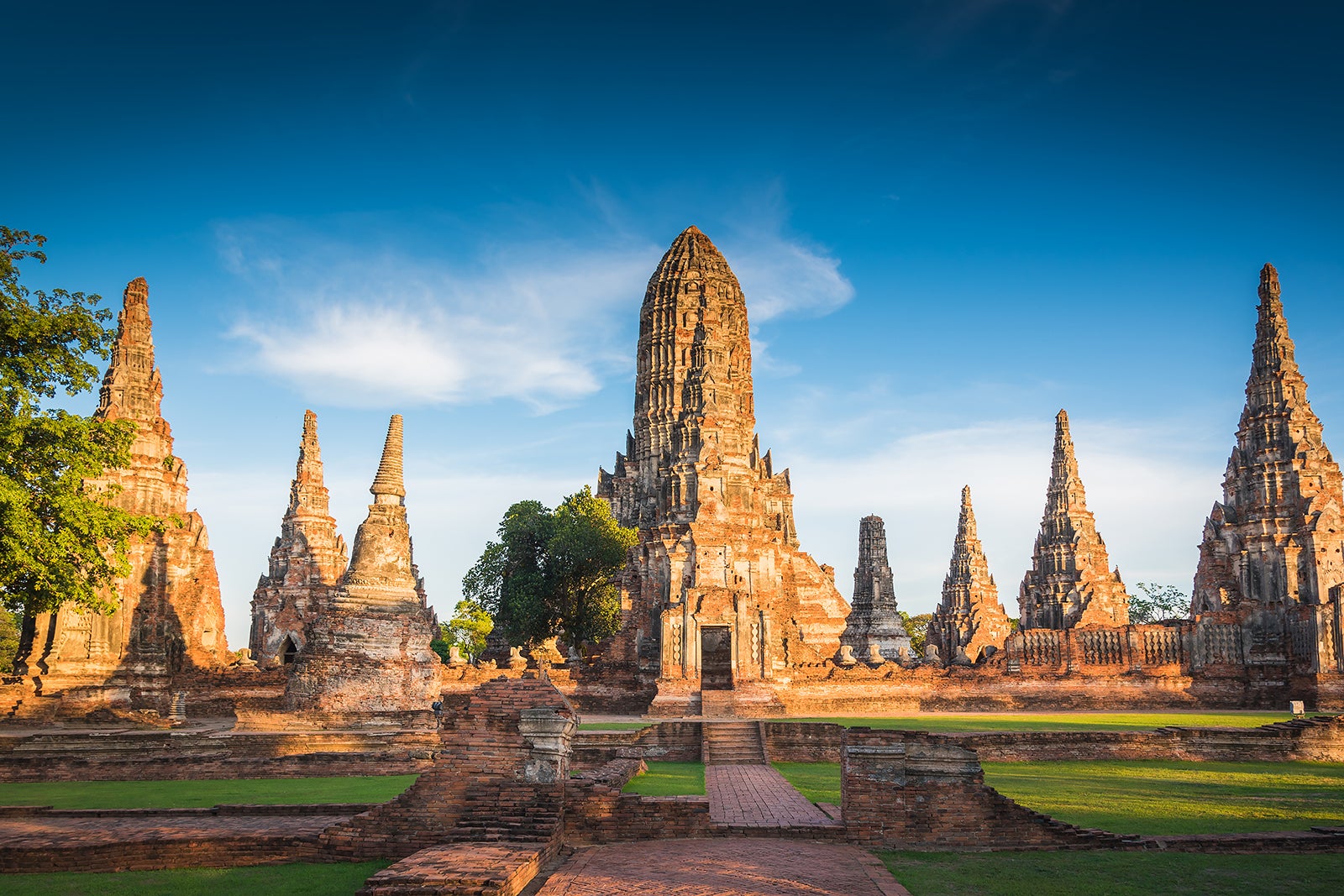 For something truly special for you and your partner, consider joining an overnight cruise on a traditional teak barge upstream to the ancient capital city of Ayutthaya. Sailing slowly along the river and seeing lesser-visited temples is quite unforgettable.
Trips can take between 24 and 48 hours, depending on the package you select. Several overnight cruises sail from Bangkok to Ayutthaya, but we think the most romantic ones are either the Anantara Riverside's cruise aboard the Anantara Dream or the Mekhala River Cruise. Dimensions on board are small on both boats, but the living quarters are lovingly designed, with high-end bedding, hot showers, and traditional Thai furnishings.
6
Couples' treatment at Away Spa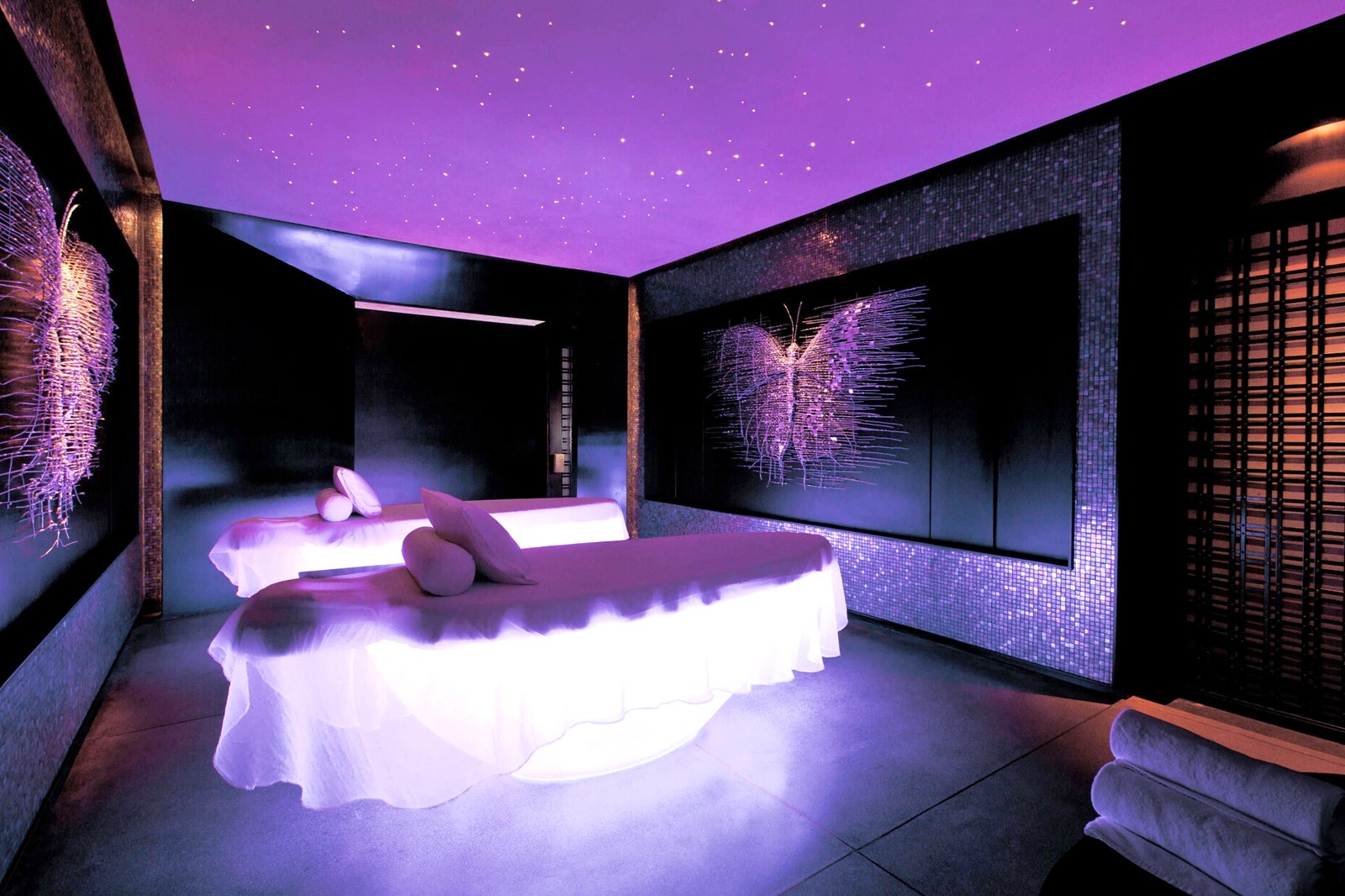 A couples' spa is probably the most popular activity for lovebirds to enjoy together, and Bangkok has no shortage of options. From cutting-edge hydrotherapy and the classic, age-old Thai massage, there's something for every tired muscle in the city's many spas. For dedicated couples' treatments in Bangkok, a worthy mention is Away Spa at W Hotel Bangkok. The spa's interiors are like something out of a dream and the treatment packages are unique.
Location: North Sathorn Road, Silom, 106, Bangkok 10500, Thailand
Open: Daily from 10 am to 10 pm
Phone: +66 (0)2 344 4000
7
Jim Thompson's House and palace tour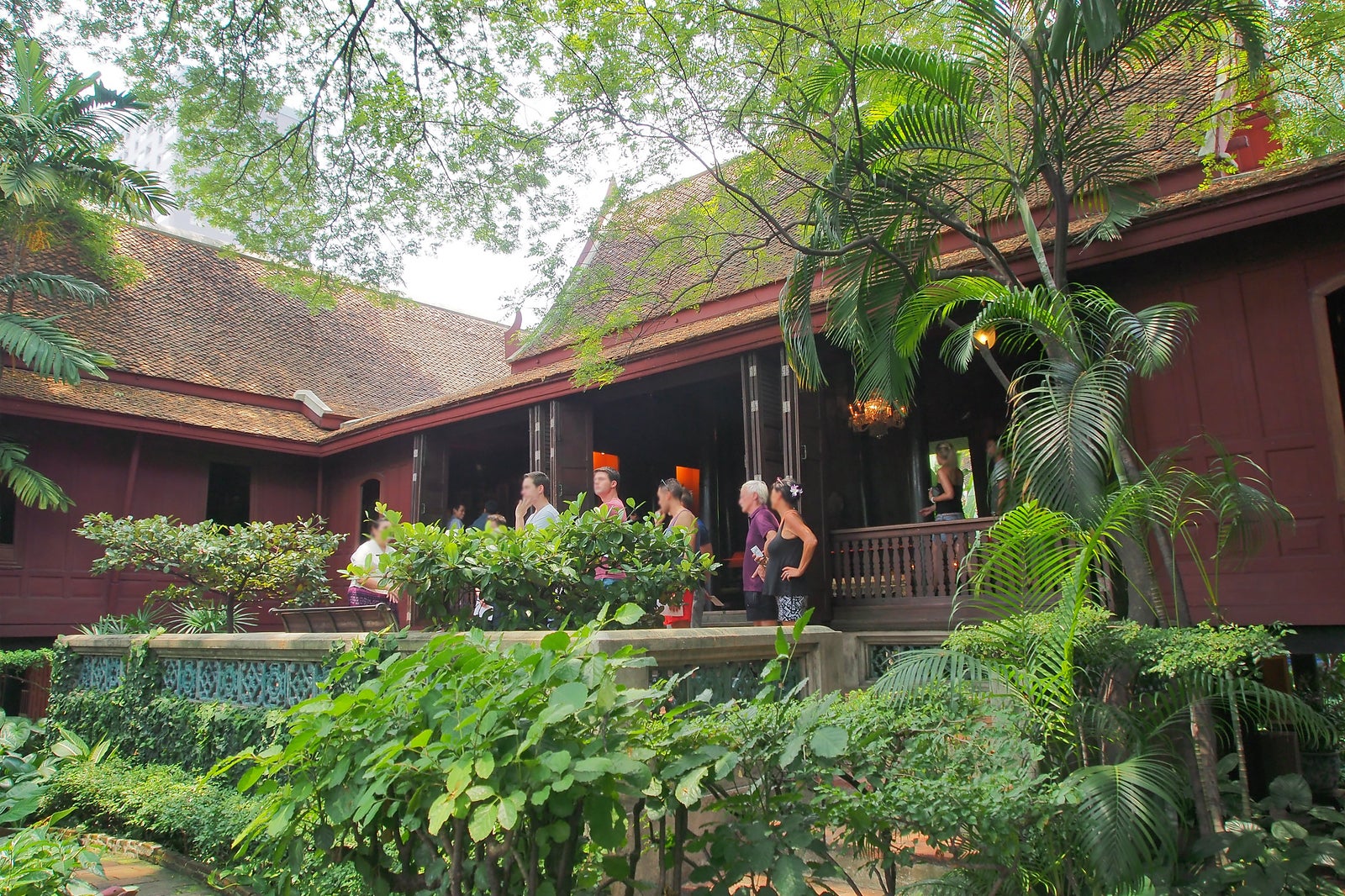 Visit the house of Jim Thompson (founder of the Thai Silk Company), as well as the magnificent Vimanmek Mansion or Suan Pakkard Palace – the former home of Prince Paripatra. Upon pickup from your hotel, enjoy a scenic drive to the former house of the famous silk merchant and wander through the impressive collection of Thai artwork and cultural artefacts that fill the rooms.
Learn from your informative guide about the entrepreneur who founded the Thai Silk Company, and how he revolutionised the workforce of his era. From there, you can move onto one of Bangkok's most loved period buildings and the former seat of a Thai prince! Read more...
Location: 6 Soi Kasemsan 2, Rama 1 Road, Wang Mai, Pathumwan, Bangkok 10330, Thailand
Open: Daily from 9 am to 6 pm
Phone: +66 (0)2 216 7368
photo by Clay Gilliland (CC BY-SA 2.0) modified
8
Private Damnoen Saduak Floating Market tour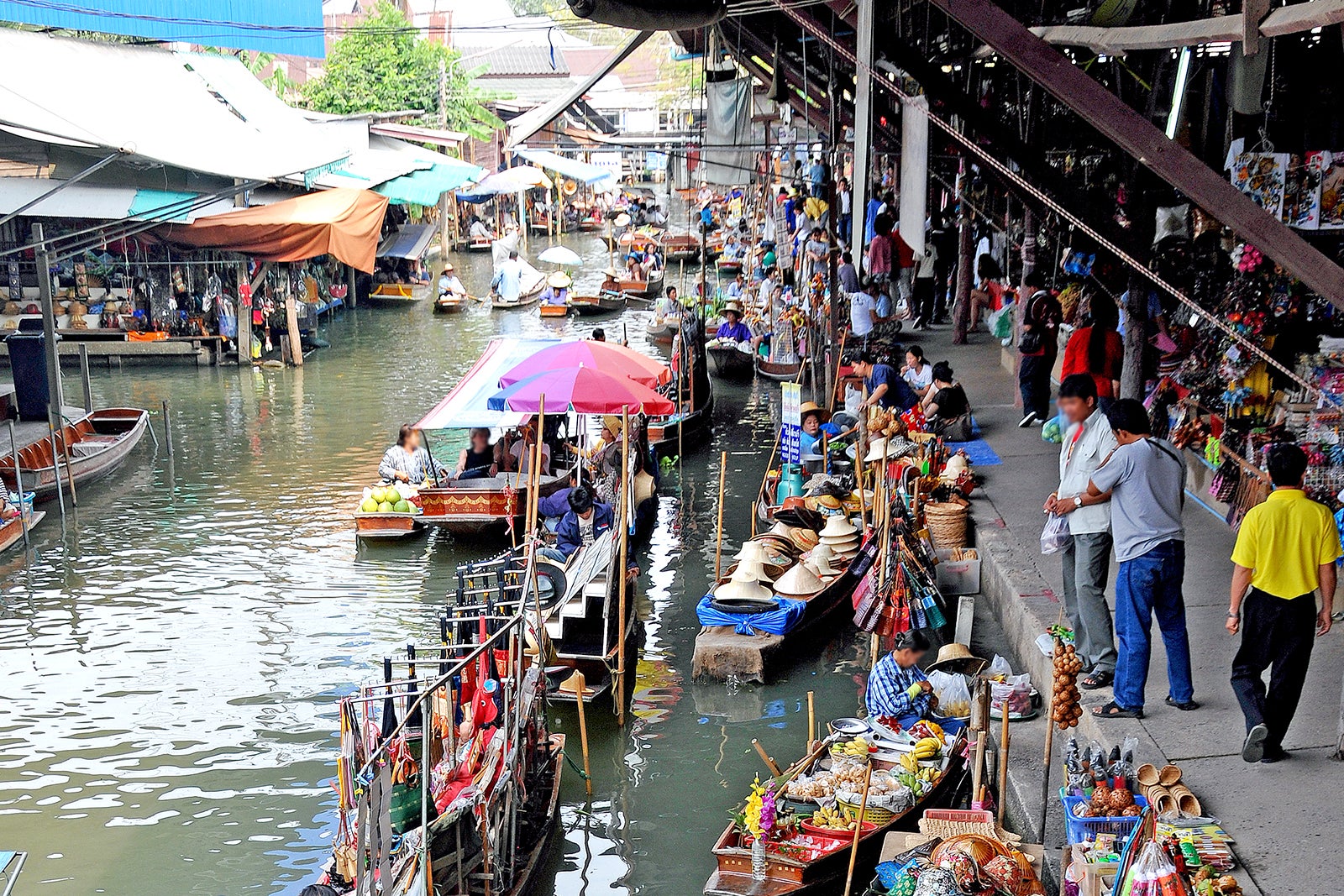 On this private tour, you can get to know the world of Thai culture and food at the Damneon Saduak Floating Market. The merchants, on small self-paddled boats, hold an array of colourful tropical fruits, coconut sugar candy, prawns, and sticky rice. Located in the countryside west of Bangkok, you can watch the market in full swing, admire the bustle among the calm serenity of the countryside, and see the gorgeous colours of the tropical fruits that range from Malacca grapes and Chinese grapefruit to coconuts, mangoes and bananas. Read more...
Location: Damnoen Saduak, Ratchaburi 70130, Thailand
photo by Dennis Jarvis (CC BY-SA 2.0) modified
9
Private Grand Palace tour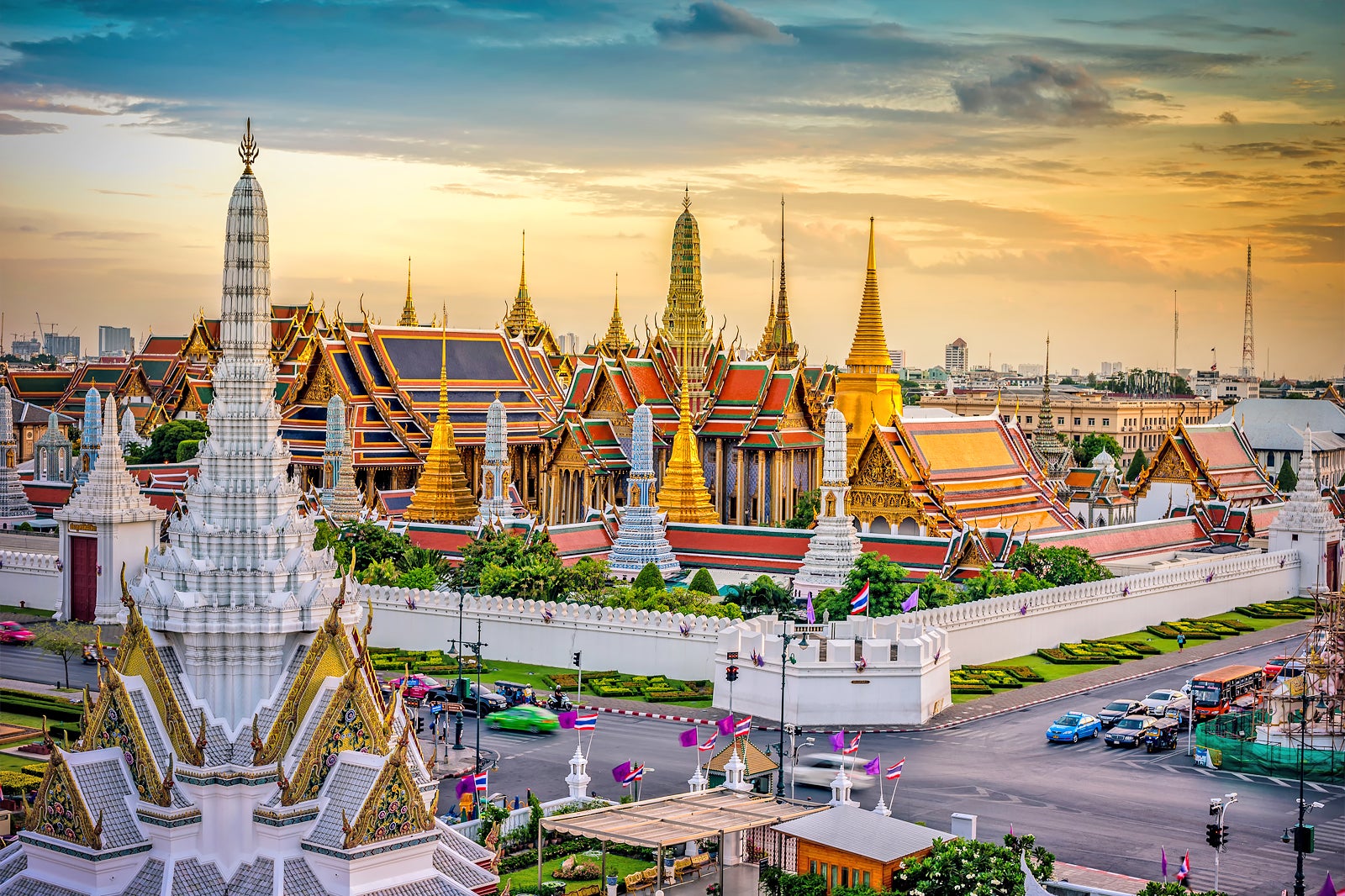 For your first couple's trip to Thailand's capital, we highly suggest you head into the heart of Bangkok with a private guide as you explore the temples and royal buildings near the Grand Palace.
Head inside the Grand Palace to see the carved emerald statue of the Buddha in a traditional pose in the Temple of the Emerald Buddha, admire the gilded interior that surrounds the statue. Continue on to the Temple of the Reclining Buddha, where you can see Thailand's largest collection of Buddha images. Read more...
Location: Na Phra Lan Road, Old City (Rattanakosin), Phra Nakhon, Bangkok 10200, Thailand
Open: Daily from 8.30 am to 3.30 pm
Phone: +66 (0)2 623 5500
10
Afternoon tea at the Mandarin Oriental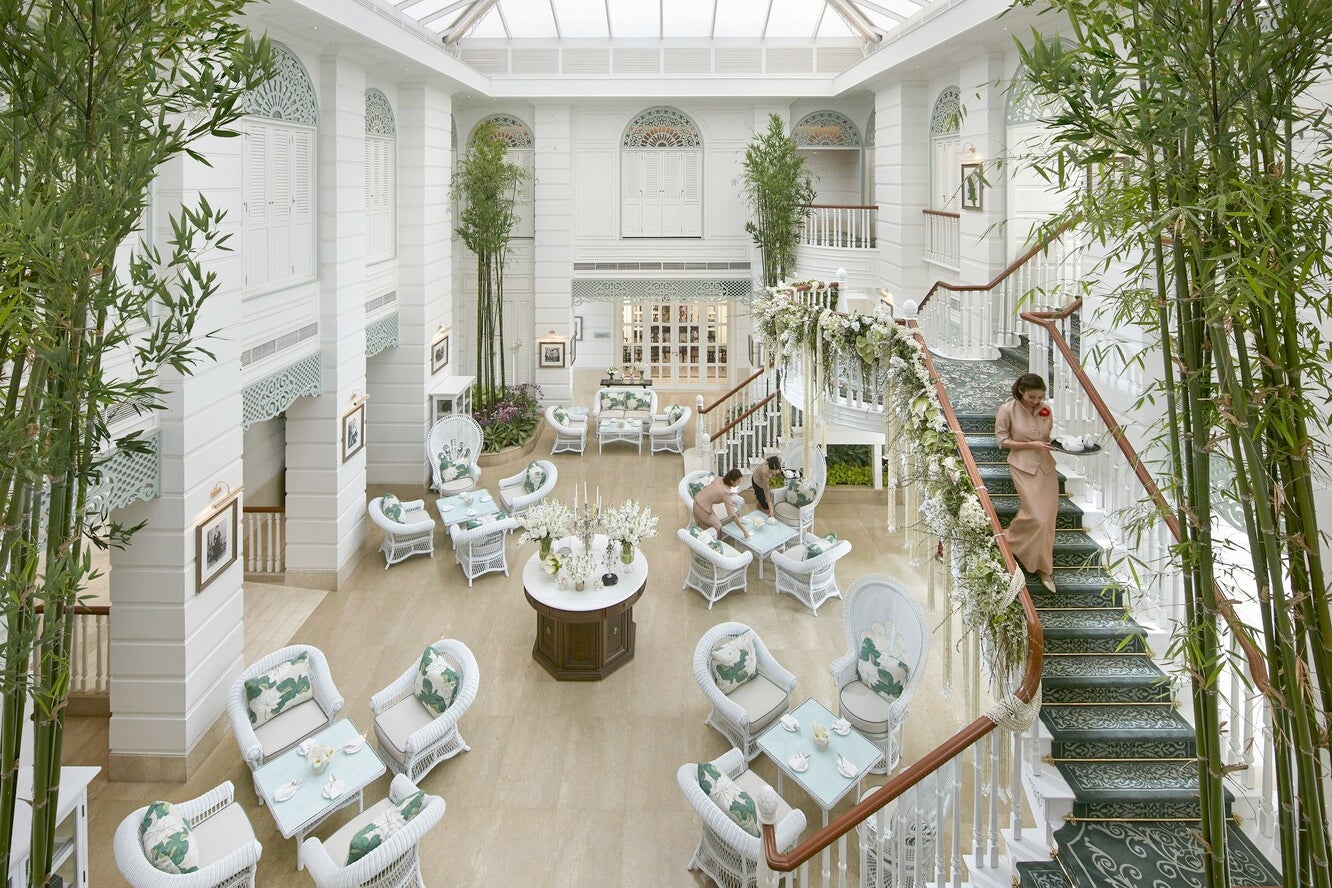 Afternoon tea at Author's Lounge, located within Mandarin Oriental Bangkok Hotel, is like taking a stroll through history. This 5-star hotel has hosted some of the most famous dignitaries and celebrities of the 20th century, and you can imagine just what they would have seen as the lounge has managed to maintain its period charm to this day.
Author's Lounge is decorated with turn-of-the-century-style wicker furniture with handpainted fabrics. It's a lovely space to spend a few hours together as a couple. The afternoon tea set comes with sandwiches, scones, real clotted cream, and a great choice of teas.
Location: Mandarin Oriental, 48 Oriental Avenue, Bangkok 10500, Thailand
Open: Daily from midday to 6 pm
Phone: +66 (0)2 659 9000