On the Rock is one of the oldest established restaurants in Phuket and is rightly regarded as an institution on the island – a place where families, lovers and friends can count on eating expertly prepared seafood in an attractive setting. You'll find a full range of Thai dishes and a smattering of western dishes to choose from too.
As the name suggests, the restaurant is at the end of a rocky promontory in the grounds of Marina Phuket Resort.
Where is On The Rock restaurant?
On the Rock is situated at the far, northern end of the cape jutting out between Kata and Karon beaches. There's ample parking space in the resort grounds.
Just follow the signposts through the Marina Phuket Resort (on the Karon Beach Road) along exotic walkways and bridges, through the well-maintained gardens. Follow the sound of the surf and you'll find your destination.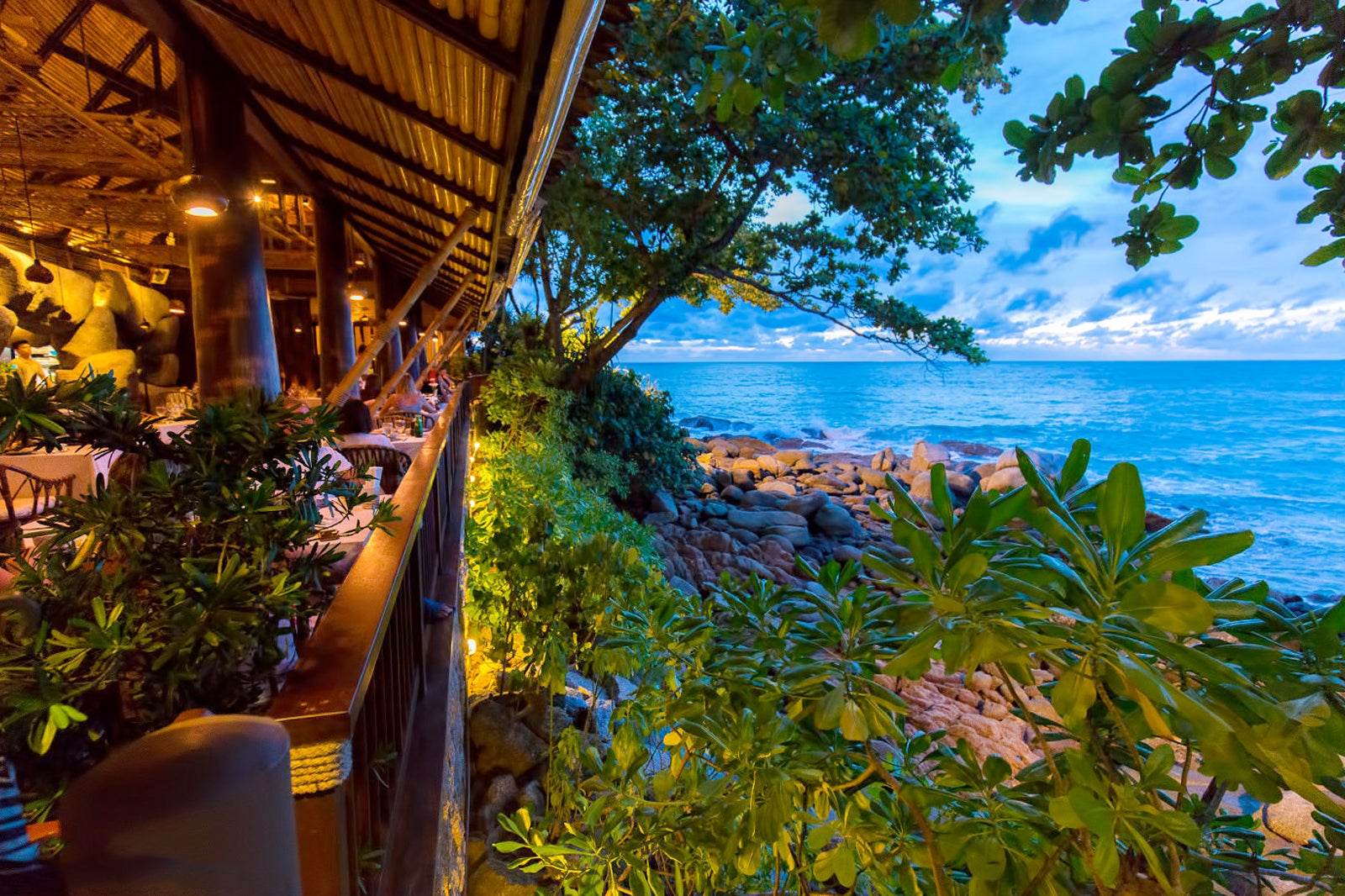 Decor
This 2-tiered restaurant has a rock-based theme in that, apart from the natural granite southern walls and the boulders it's built on, it features a stone-age looking bar, similar to Dino Park – its sister restaurant in the same grounds. The effect is light-hearted and the sea views are seriously beautiful.
The overall decor is reminiscent of a large beach cottage, with latticed ceilings and an A-shaped roof over the main dining area.
Atmosphere
Romantic dining personified. Who wouldn't feel special, dining out with a fresh sea breeze rippling the table cloth and the ebb and the flow of the Andaman Sea hissing and bubbling through huge granite boulders 3 metres below? More than this; On the Rock commands a sweeping northerly facing view of Karon Beach and the sparsely lit hills beyond. For this reason alone it is a great location by day or by night but especially at sunset.
At night, table lamps underline the personal touch even though the restaurant is bustling (120 covers) and is one of the more popular eateries in the Kata/Karon area. Of course, seaward tables are in great demand and in high season you'll have to book at least 2 days in advance to obtain one. Diners inside are cooled by overhead fans while background music meanders from the extremely tasteful to the somewhat bland. The clientele is mostly European and family orientated with a casual but smart dress code.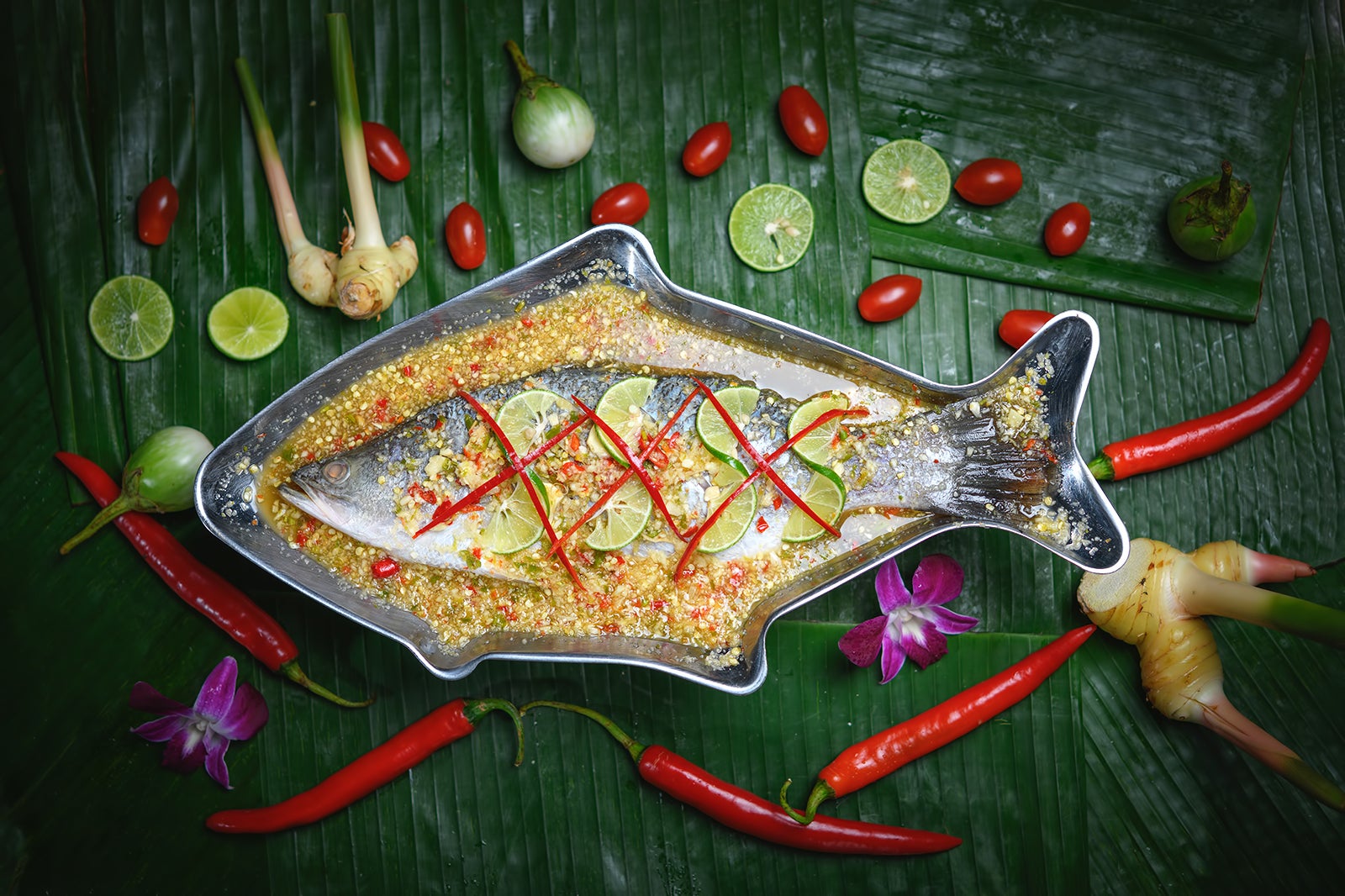 Food
At On the Rock it's seafood all the way, and decidedly Thai-style in its delivery. The success of the restaurant could be said to lie in its seemingly everlasting reliability to serve up unpretentious dishes in such a great location and atmosphere. It's hard to think of another establishment on the island that has stuck so tenaciously to its winning formula.
For starters, mussels Café de Paris are a butter-and-garlic treat with fresh bread as is another typical On the Rock entrée; tod mun pla (fish meat patties) with pickled and slightly spiced cucumber mash.
As for main courses, we sample fried fish in a sugary rich tamarind sauce along with king prawns, sautéed with garlic and pepper, that are so big they could be mistaken for crayfish. Desserts are generous and swift in arriving. All in all, an evening here – while not a culinary revolution – is satisfying and comfortable
On The Rock Restaurant Phuket
Location: 47 Karon Road, Karon, Mueang, Phuket 83100, Thailand
Open: Daily from midday to 11.30pm
Phone: +66 (0)7 633 0625