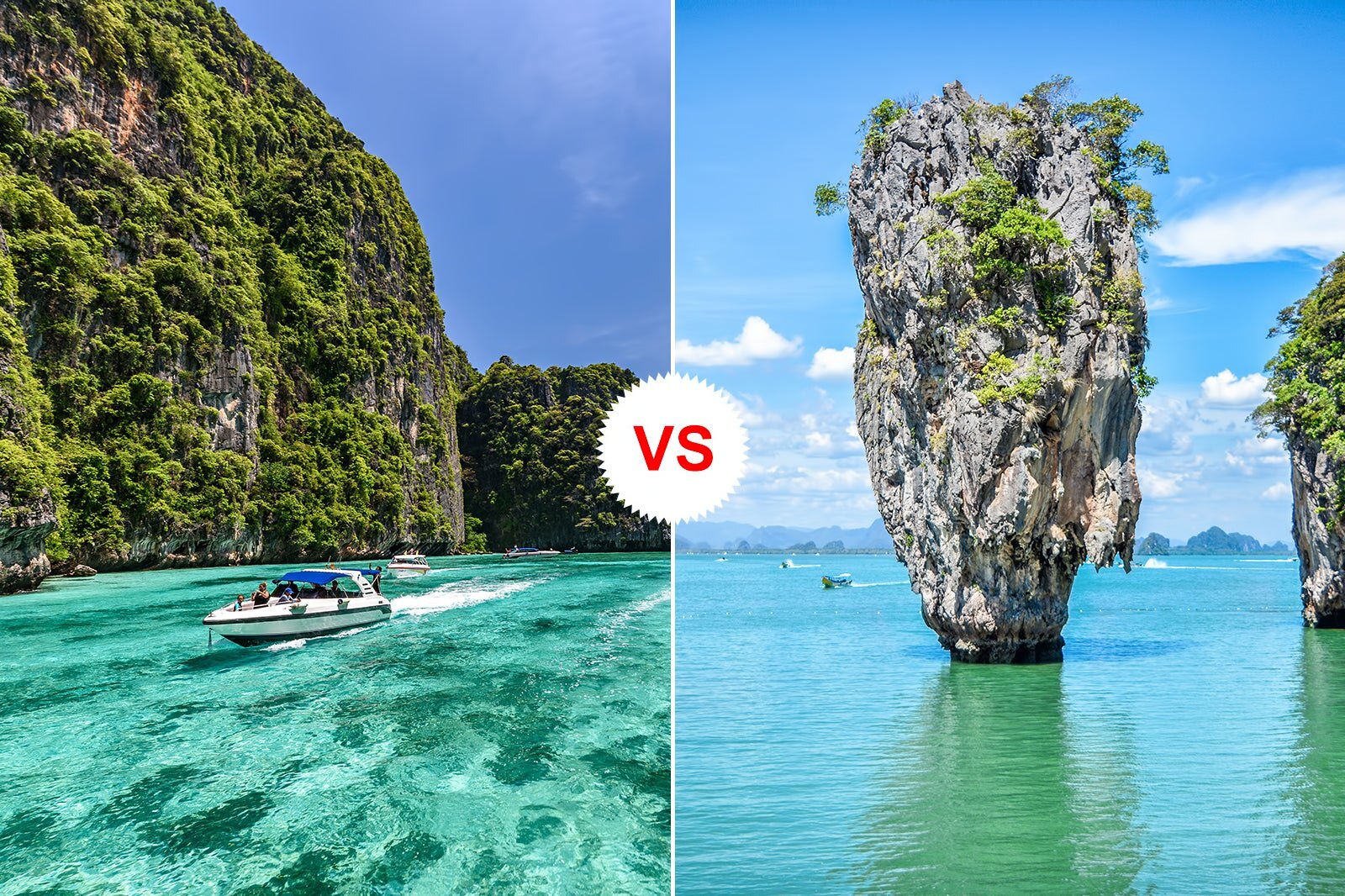 Phi Phi or Phang Nga – Which is Better?
5 Points to Help You Make the Right Holiday Choice
Phi Phi or Phang Nga? Both are amazing places and should be seen at least once in your life, but what if you don't have time to see both? You only have enough spare time for one day trip, and you've never been to either before; which of these world-famous places do you commit your limited time to? We get asked that question a lot, and our answer is always the same: "It depends on what kind of things you like."
To give a more detailed answer and to help you pick the right one, we've broken the 2 choices down into 5 important points to consider. Ultimately, the decision still comes down to one of personal taste but, if you know what to expect from either Phang Nga Bay or Koh Phi Phi, you'll know which will better suit your preferences. That will help you to pick the tour which will ensure your valuable holiday time is time well-spent.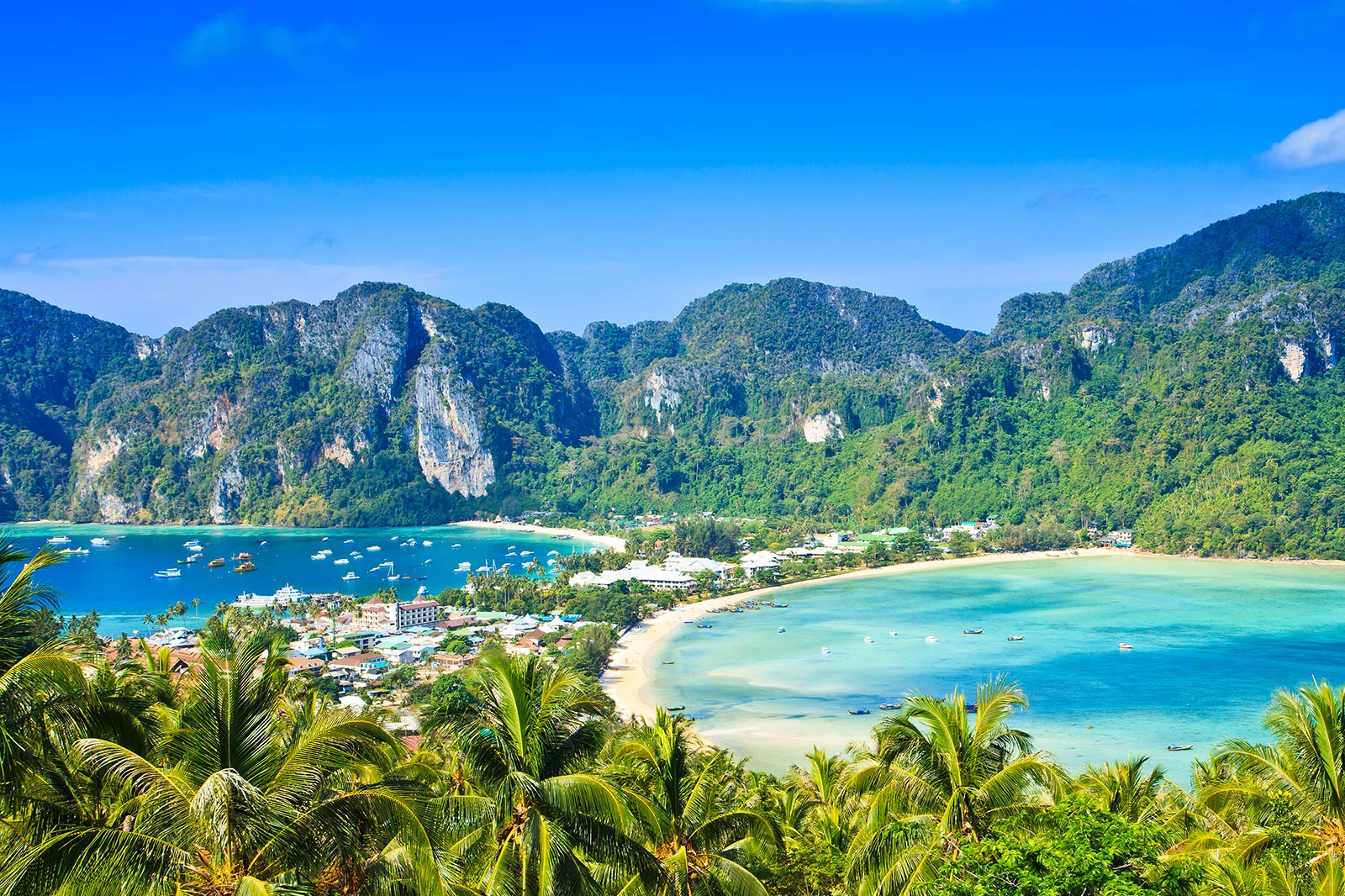 Phi Phi Islands
If you're the kind of person who likes lazing on a sandy beach or swimming in sparkling seas, Koh Phi Phi is definitely the place for you. The Phi Phi crowd tends to be mostly young backpackers, particularly around Tonsai Village and the island's main beaches. With lots of fun activities to do and a wider choice of restaurants and shops around the town, this is a good choice for families and larger groups.
Phang Nga Bay
Phang Nga Bay will particularly appeal to those who like to experience wild nature. There's always something to see around the striking limestone islands, so there's comparatively little time to relax and unwind on a day trip here. With sunset cruises available, this is the more romantic choice – a good one for couples. Tours of the area mostly include a visit to the floating village on Koh Panyee, making this the best option for those who want to see some local culture. This sort of landscape is very hard to find around the world, making this a better option if you want to see something really different.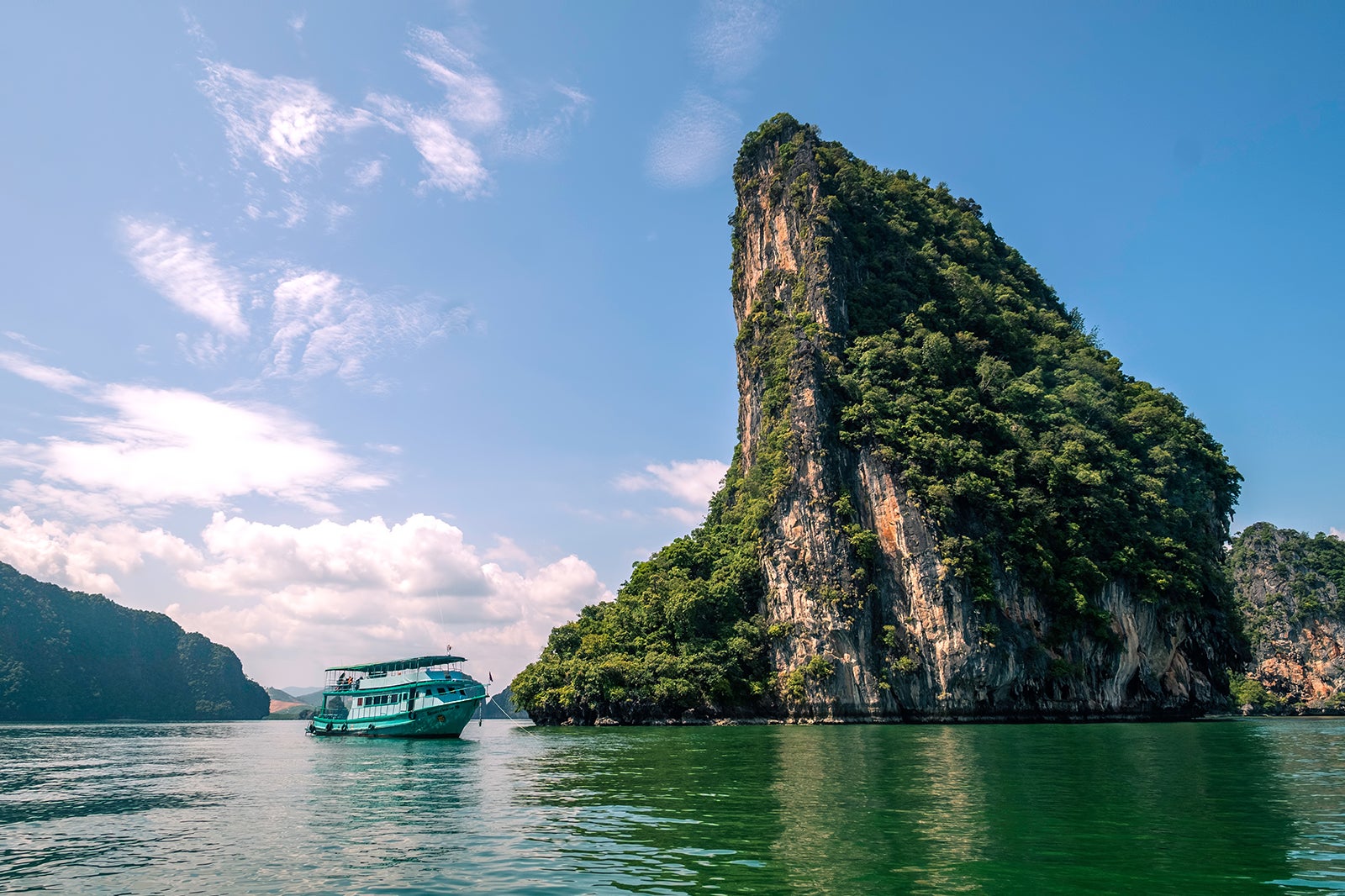 Phi Phi Islands
The Phi Phi Islands are roughly half-way between Krabi and Phuket – a distance of about 40 km from the piers of Phuket Town. There's a fast ferry service available, which can make the journey in about 90 minutes. A speedboat can do it in half the time, but the cost for the journey is higher. Many of the organised tours from Phuket use speedboats, which will then also travel around the islands to show you the star attractions. If you take the ferry, you'll be taken directly to the pier, though you can arrange sightseeing tours from there.
Phang Nga Bay
Phang Nga Bay is just to the north of Phuket, on the Thai mainland, but is still about the same distance from the main piers in Phuket Town – roughly 40 km. As such, a boat ride there will also take about 90 minutes for a slow boat and less for a speedboat. An alternative is to drive to one of the local piers near Phang Nga Bay and arrange a tour with a long-tail boat, though this can be difficult to negotiate if you don't have a Thai-speaker in your party. Unlike with Phi Phi, there's no public ferry service to Phang Nga Bay, so you'll have to arrange a tour to get there.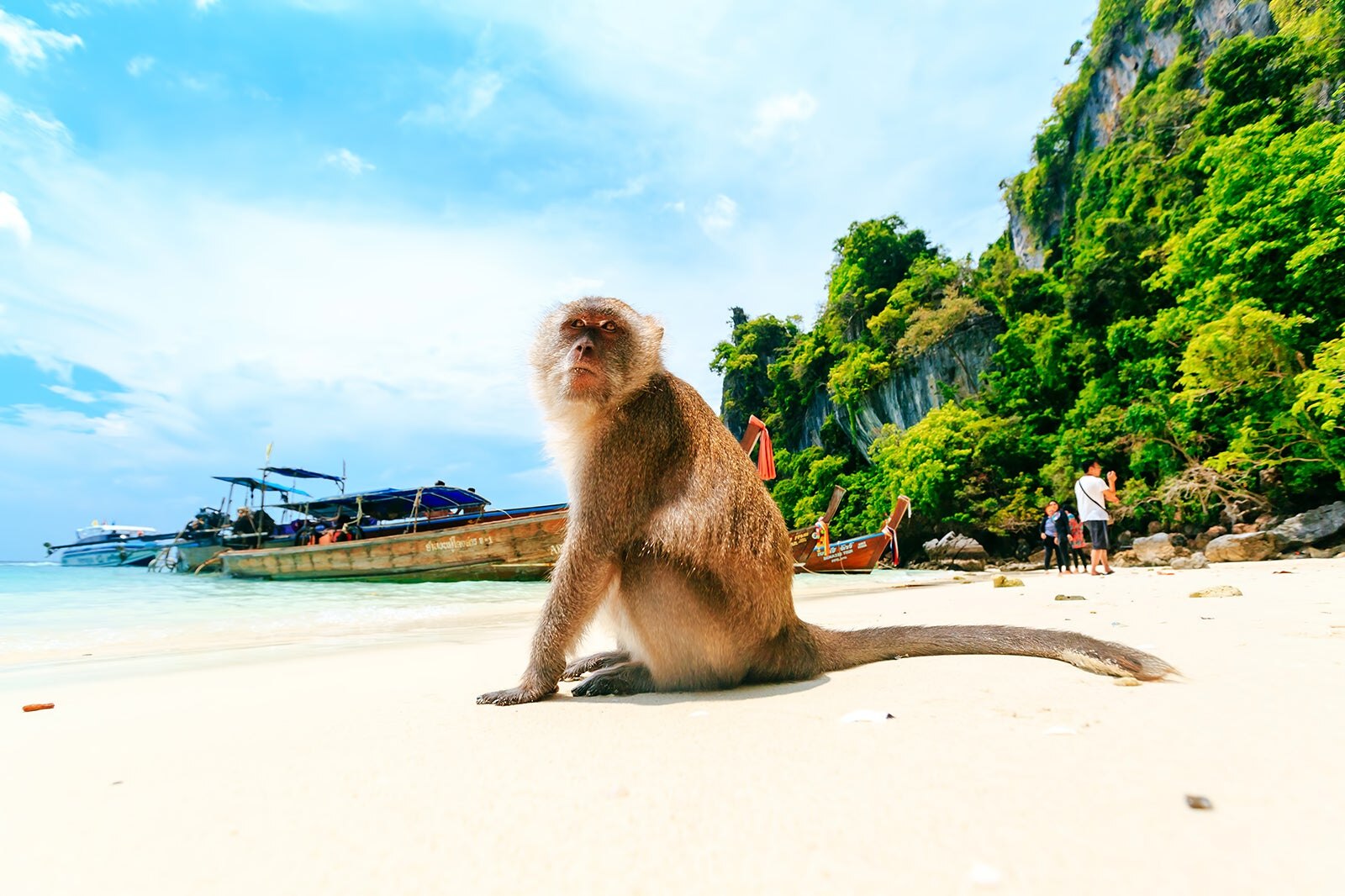 Phi Phi Islands
The beaches are certainly the main attraction of the Phi Phi Islands. This is one of the major deciding factors when it comes to choosing between Phi Phi or Phang Nga Bay, as there are no beaches in Phang Nga. Popular spots include Monkey Beach, Bamboo Island and Viking Cave. One disadvantage of this focus on beaches is that bad weather will significantly impact your experience.
Phang Nga Bay
Compared to Phi Phi, there's more variety in the things to see in Phang Nga Bay. One of the top attractions is another Hollywood movie set, this time Koh Tapu – nicknamed James Bond Island because of its role in the 1974 James Bond film The Man with the Golden Gun. There's also the floating village of Koh Panyee and the mysterious lagoon of Koh Hong. The many striking islands create a beautiful scene, similar to Vietnam's Ha Long Bay, though with significantly less fog.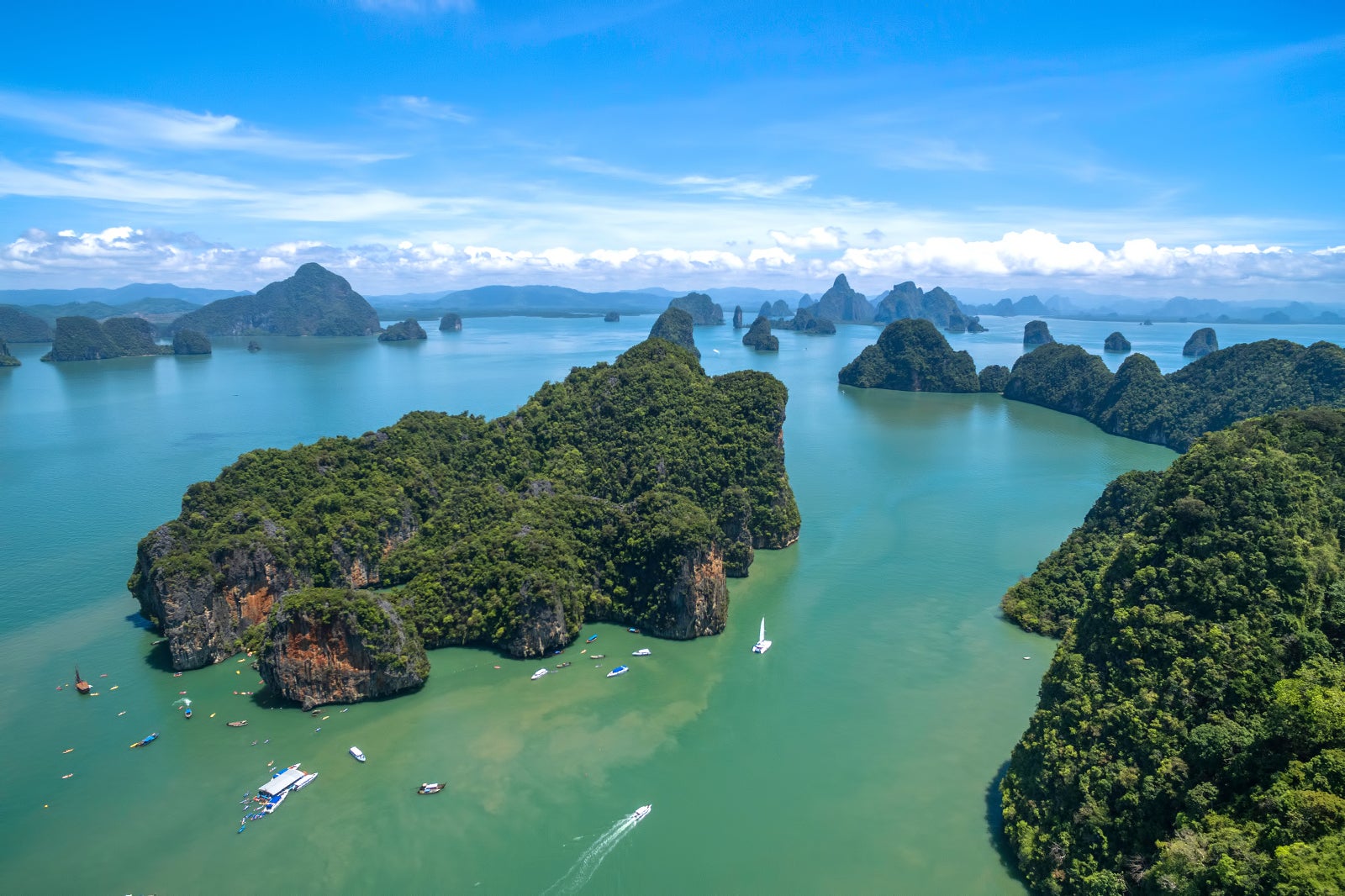 Phi Phi Islands
The Phi Phi Islands are as beautiful under the sea as they are above. The snorkelling and scuba diving there are both fantastic, with chances to see turtles, sharks and other beautiful marine animals in the crystal-clear seas. On land, Tonsai Village offers souvenir shopping, a wide variety of restaurants and a choice of hotels and guesthouses, in case you want to turn your day trip into a short stay. You can even do some light trekking up to the Phi Phi Viewpoint if you've got time.
Phang Nga Bay
One of the best ways to explore Phang Nga Bay is in a sea kayak. Many of the available tours offer experienced guides to do the paddling for you, but there are some self-paddling trips available. Using these smaller seacrafts allows you to get into the smaller nooks around the bay, often through dark and mysterious caves. There's some souvenir shopping to do on Koh Panyee, but the choice of restaurants is severely limited and there are no guesthouses, so you can't extend your stay.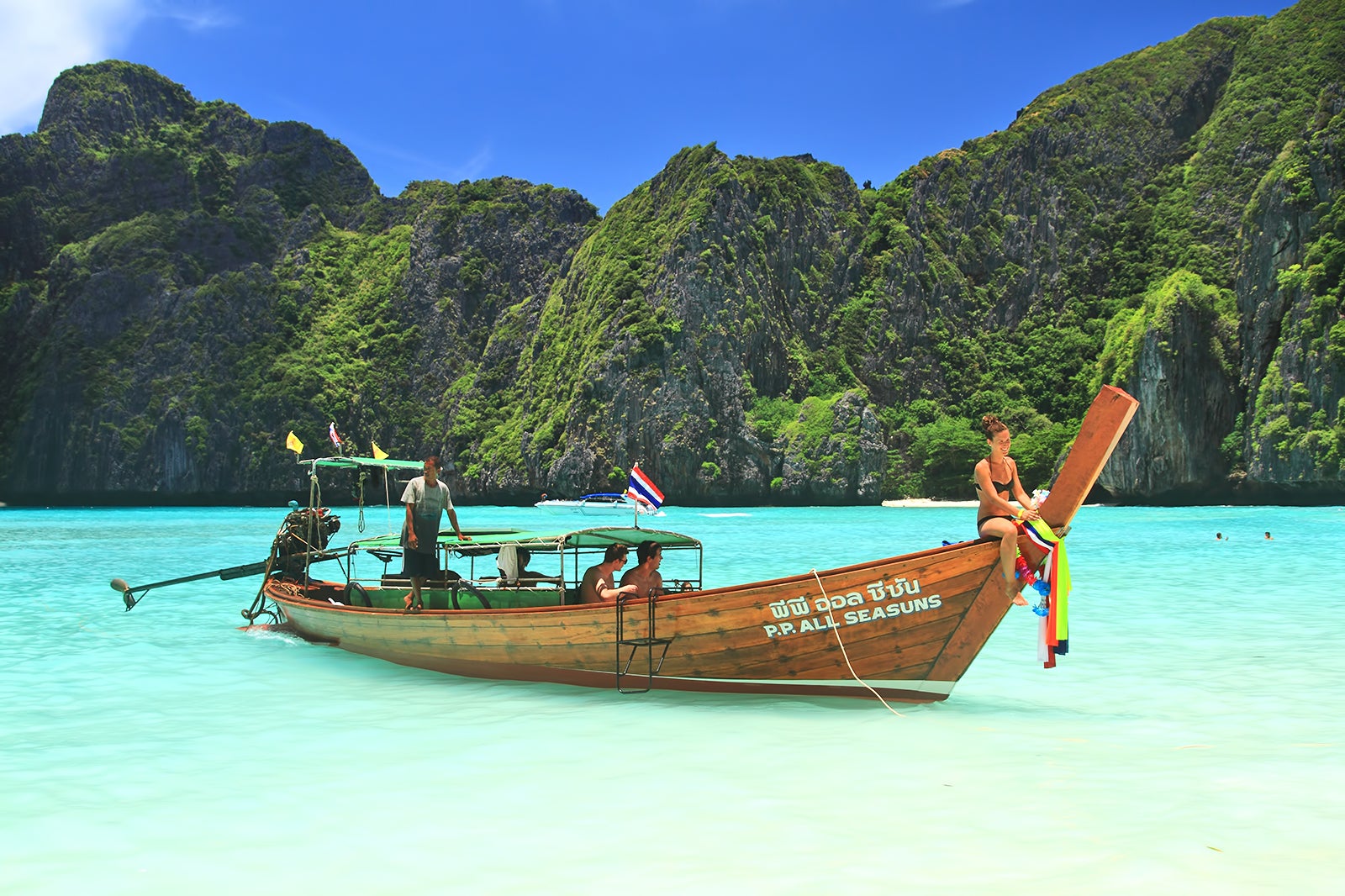 The prices for tours to Phi Phi or Phang Nga are very similar, starting at about US$50 per person. The costs rise as you add more interesting elements to the trip, including faster and more luxurious boats, expert guides, different activities and different start/finish times to incorporate sunrise or sunset. Take a look at our selection of tours below to see which fits your budget and preferences. Please note that both the Phi Phi Islands and Phang Nga Bay are in national parks, so paying a small entry fee will be required in both cases. This is usually included in the price of the tour.
Back to top