Thailand Backpacker Trail
Best Backpacker Destinations in Thailand
Thailand is widely regarded as an essential stop for backpackers visiting Southeast Asia. It's famous for its outstanding scenery, culture and cuisine, as well as a wonderfully friendly atmosphere and a low cost of living. We've picked out the top places to see, which form a convenient Thailand backpacker trail from north to south, featuring a wide variety of different attractions. While our list is not comprehensive (new places are being discovered all of the time, even in a country as well-explored as Thailand), it lists the absolute must-sees.
We have provided basic information on the cheapest available methods of getting from one destination to the next, including estimates of how long the journey should take you. However, it should be noted that the train times given are very much best-case scenarios, as Thai rail services are notoriously slow and unreliable; timetables tend to be more of a general suggestion than a strict schedule. If you don't mind the delay, they're a cheap and pleasant way of getting around in Thailand.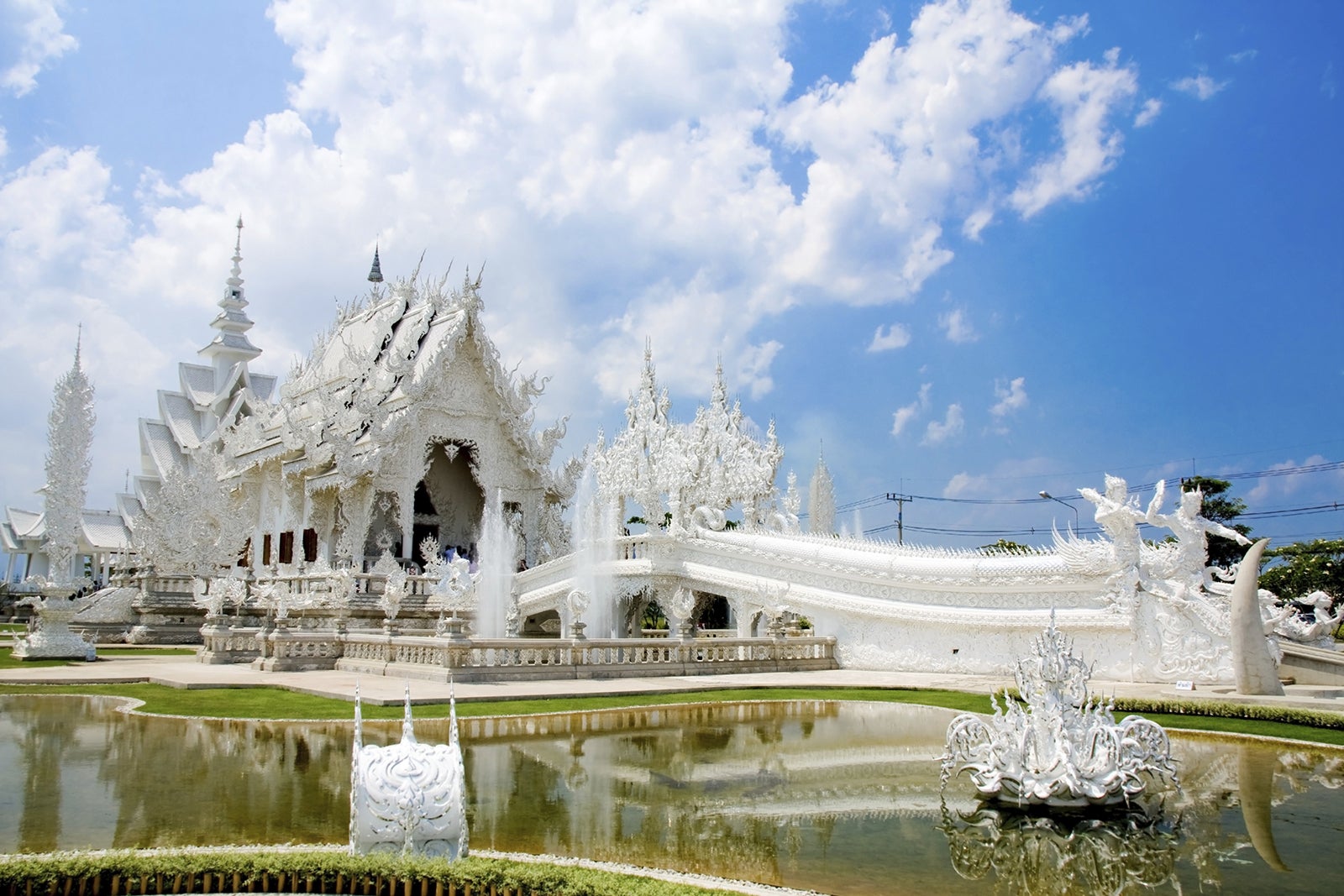 Chiang Rai
...for the famous White Temple
Chiang Rai, Thailand's most northern major city, still has a very local feel and a strong regional identity. It's home of the famous White Temple (Wat Rong Khun), with the Golden Triangle (the point where Thailand, Laos and Myanmar all meet) nearby and beautiful mountainous scenery throughout the surrounding province. The city itself has a good selection of cheap hotels and hostels and great night markets. While it has few major attractions and a very subdued nightlife, it gives you a glimpse into the real Thai way of life.
Getting here: Fly into Chiang Rai Airport or arrive by bus from Laos or Myanmar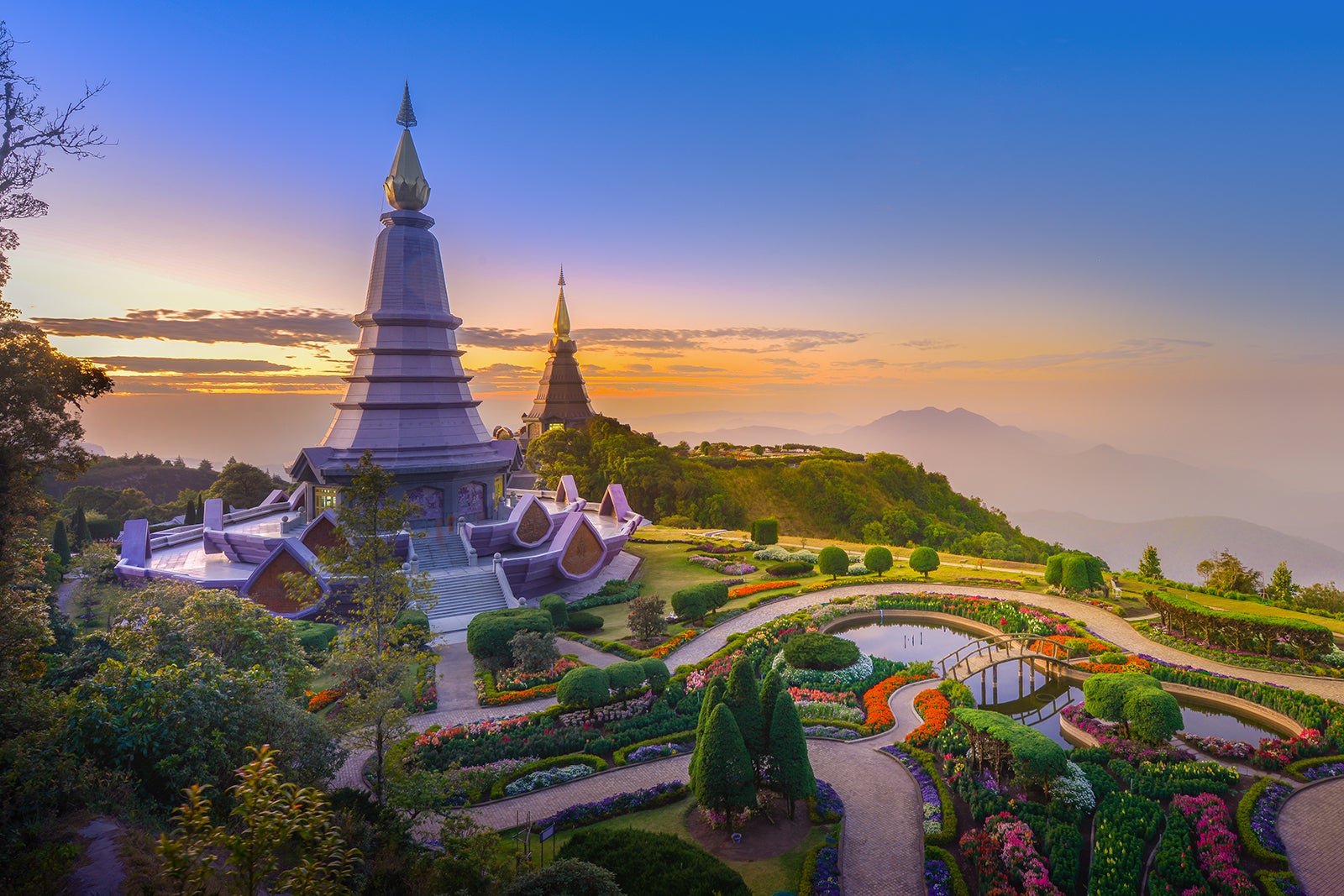 Chiang Mai
...for the Old City and its temples
The capital of the north (and one of the former capitals of Thailand), Chiang Mai really showcases its delightful Lanna traditions. It's one of the country's most beautiful and friendly cities, and one of the best places to experience Songkran. The moat and ancient walls of the Old City surround many beautiful temples, as well as hostels and cheap hotels, with a backpacker-friendly nightlife scene nearby. The city is famous for its temples, including Wat Chedi Luang, Wat Phra That Doi Suthep and Wat Phra Singh. There's also a fascinating Karen Hill Tribe village nearby.
Getting here: Take the bus from Chiang Rai to Chiang Mai (3-4 hours)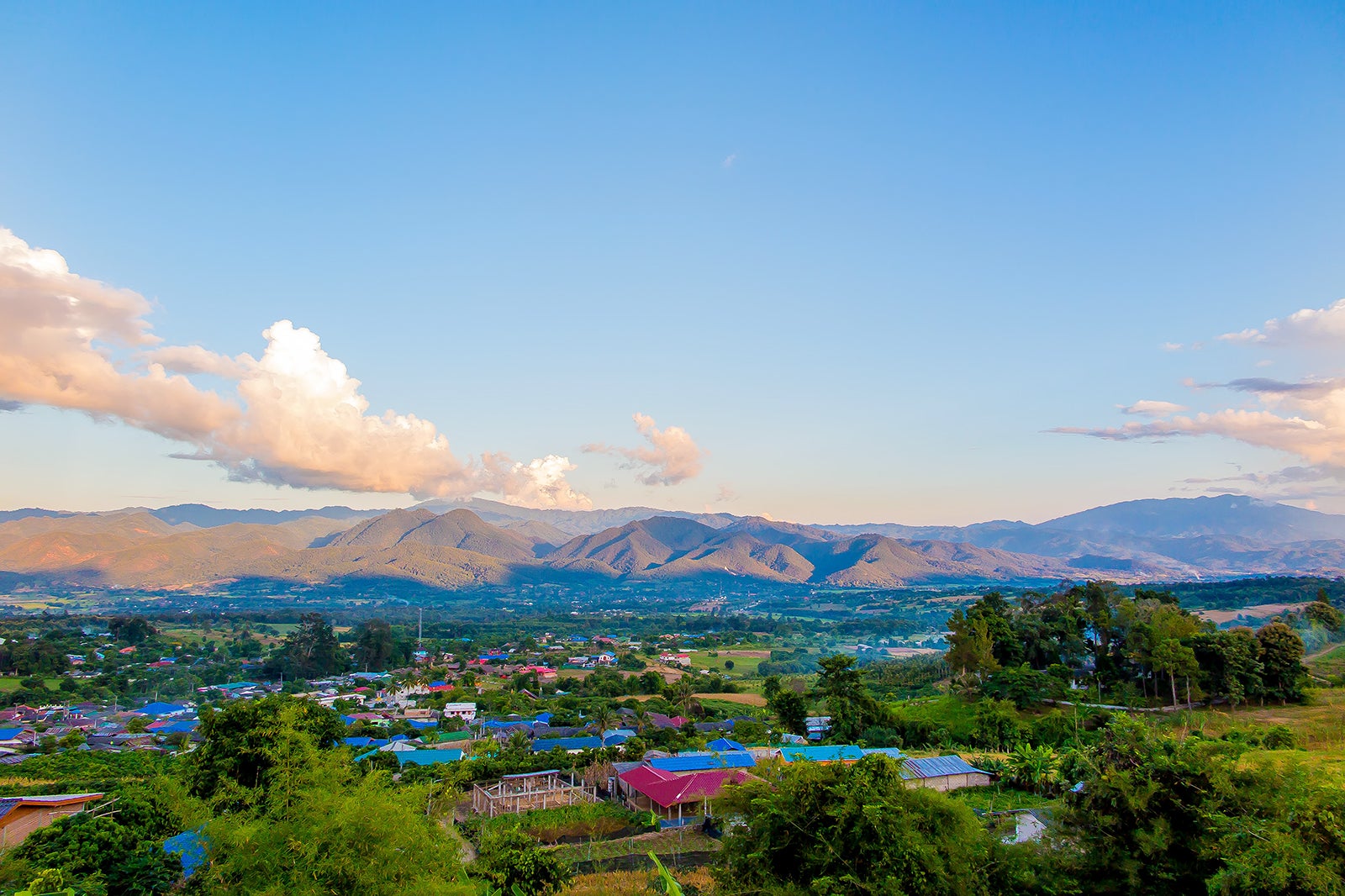 Pai
...for the beautiful landscape
Pai has a delightful small-town rural feel, having a population of just 3,000. It's surrounded by the striking hills and verdant countryside of Mae Hong Son province, with waterfalls, natural springs and white-water rapids nearby. As well as the famous long-neck Karen hill tribe villages, you'll also find a Yunnanese hill-tribe that fled Communist China in the mid-20th century. As it has become a popular stop on the Thailand backpacker trail, there are many budget-friend places to stay, eat and drink in Pai.
Getting here: Take the bus from Chiang Mai Arcade Station to Pai (3-4 hours)
photo by Shinsuke Ikegame (CC BY 2.0) modified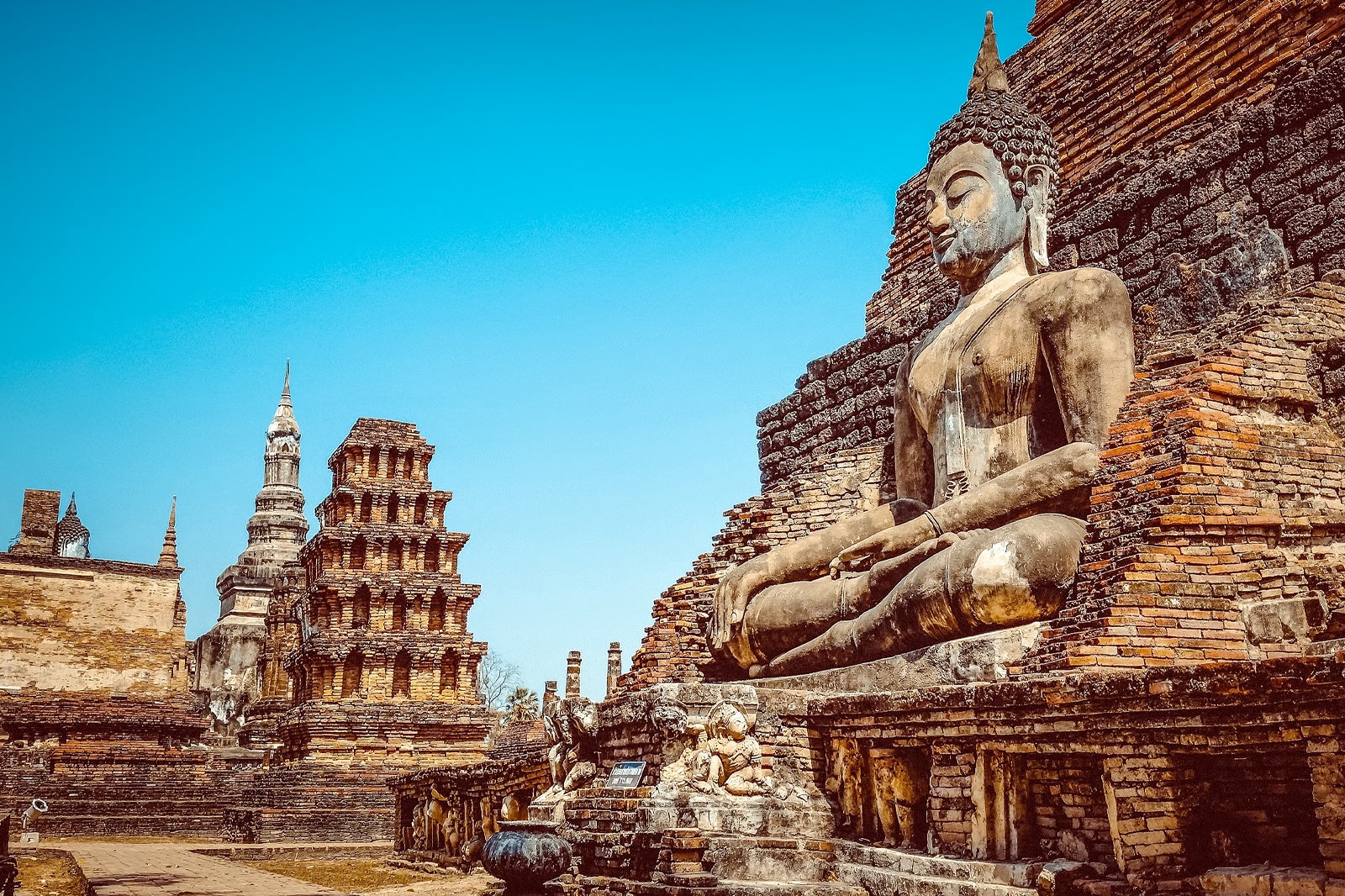 Sukhothai
...for the ancient temples and statues
Sukhothai is one of Thailand's ancient capitals (in fact, it was the first of the Kingdom of Siam), so it's home to many beautiful old temples and statues. The majority of these can be found in the Sukhothai Historical Park – a UNESCO World Heritage site. The small city is still relatively undiscovered by the larger tourism industry, so retains its local charm. It has a good choice of budget accommodation options, but nightlife is rather limited. Don't forget to try Sukhothai noodles while you're there.
Getting here: From Pai, return to Chiang Mai and then take either the bus from Arcade Station directly to Sukhothai (5-6 hours) or the train to Phitsanulok (6-8 hours) and a bus on to Sukhothai (1 hour)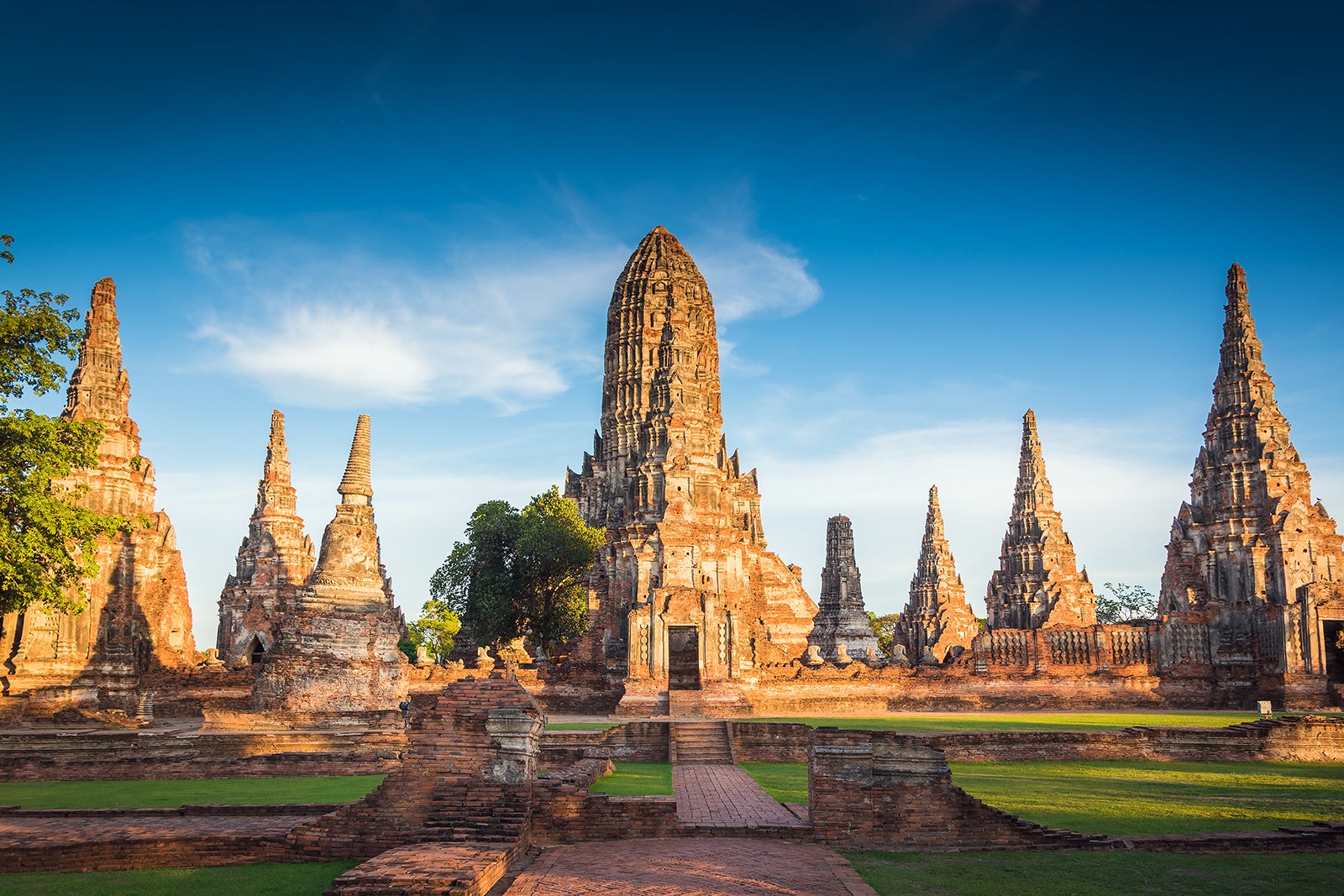 Ayutthaya
...for many more temples and statues
Ayutthaya is known for its closely-packed selection of beautiful ancient temple ruins. The old heart of the town is on an island formed by surrounding rivers and is home to the large Wat Phra Si Sanphet, a Buddha head surrounded by tree roots at Wat Phra Mahathat, and the beautifully restored Wat Ratcha Burana, with many others nearby. The small town has plenty of cheap places to sleep, but very little nightlife.
Getting here: There's a regular bus service between Sukhothai and Ayutthaya (6 hours) and a train from Phitsanulok (4-6 hours)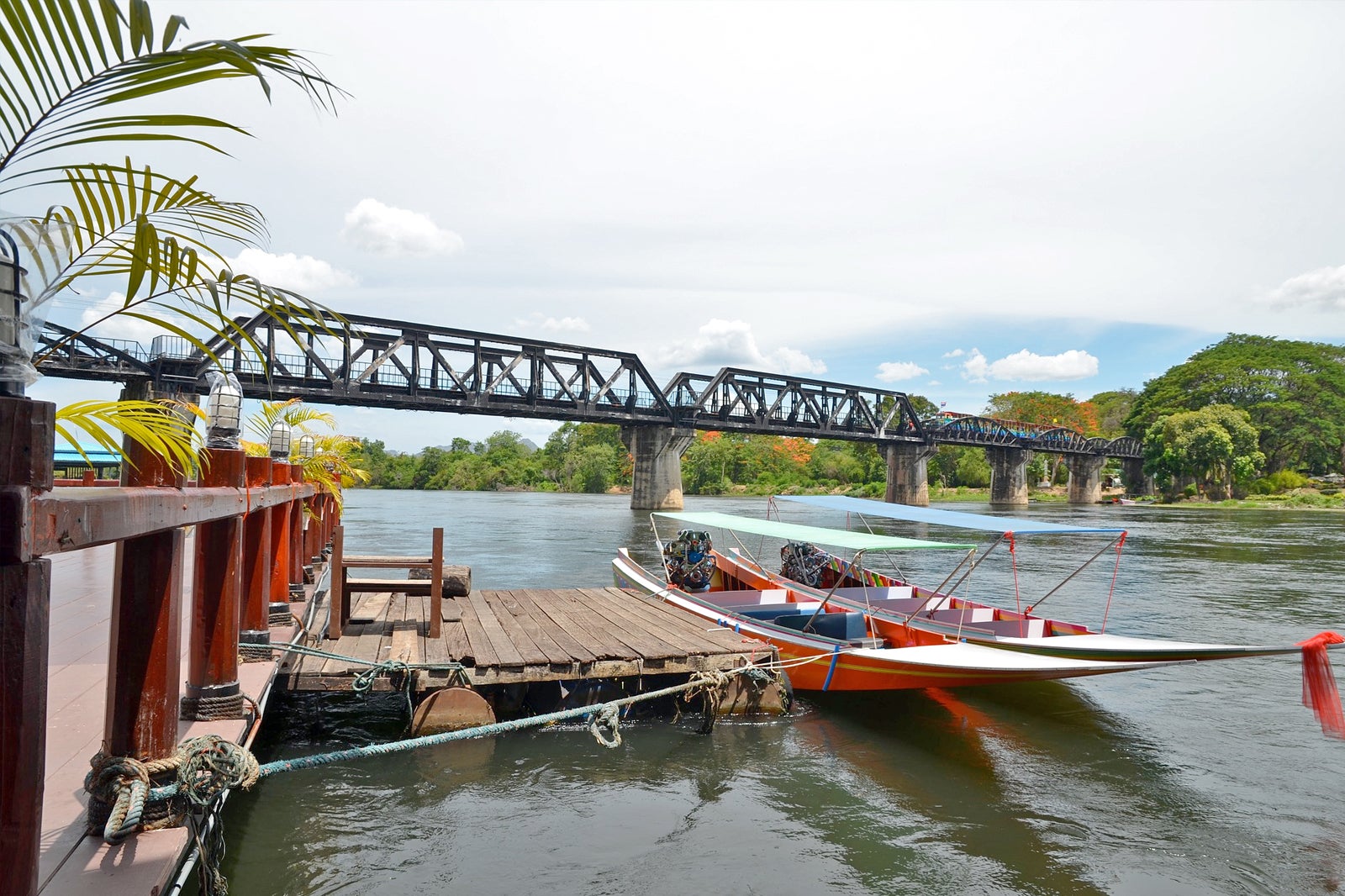 Kanchanaburi
...for the famous bridge and wild nature
Kanchanaburi is most famous for the "Bridge on the River Kwai" – part of the World War II Death Railway to Myanmar. The city has a thriving backpacker scene, thanks to its generally relaxed atmosphere and beautiful surrounding scenery. That naturally means you'll find plenty of cheap hotels and hostels, as well as a good nightlife. Riding the railway itself lets you see the stunning riverside scenery, while visiting Hellfire Pass is a very spooky and moving experience. The area's also home to the Erawan Falls – among the most beautiful waterfalls in Thailand.
Getting here: There's a regular minibus service from Ayutthaya to Suphanburi (1.5 hours) and from there to Kanchanaburi (another 1.5 hours)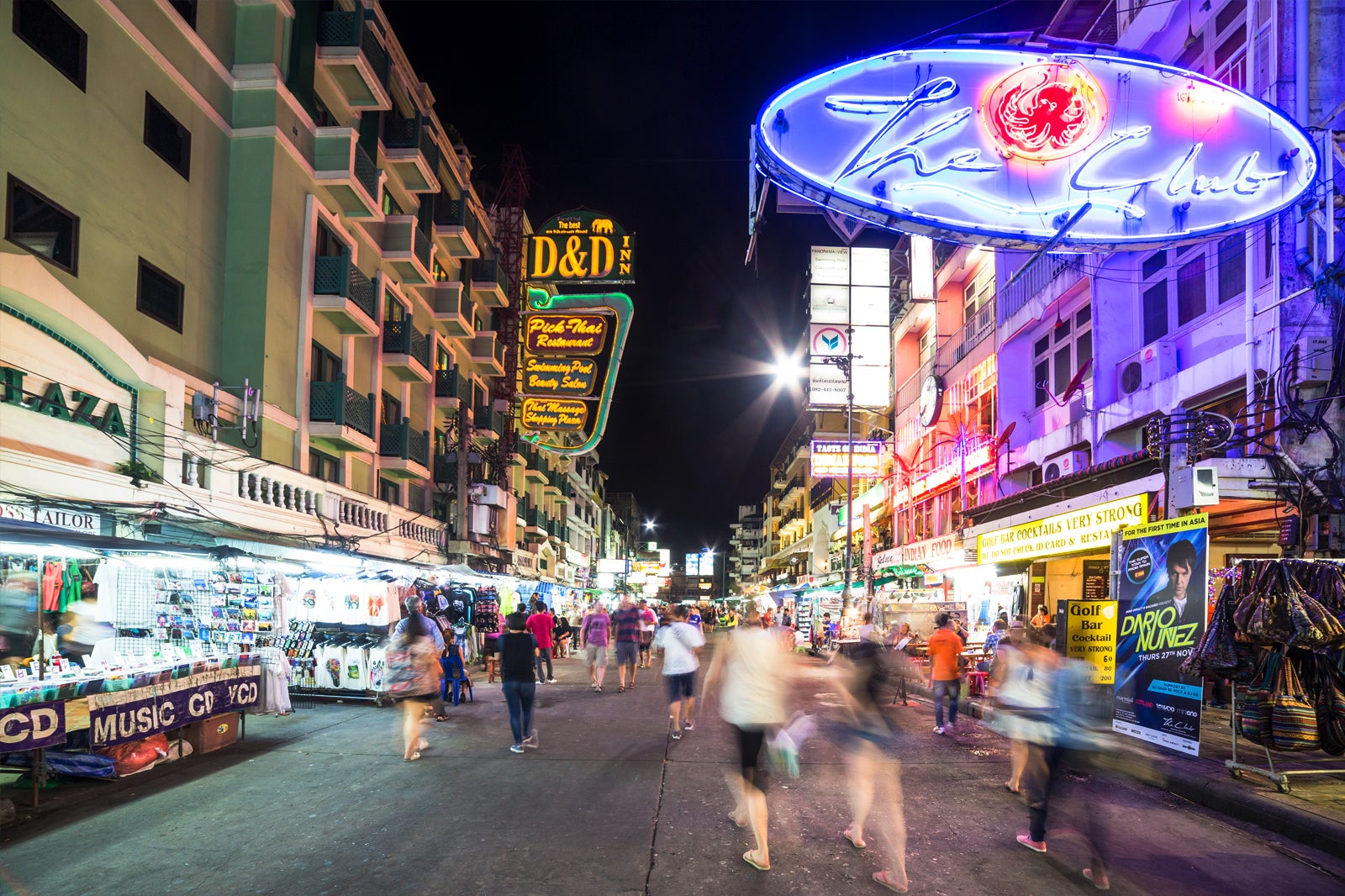 Bangkok
...for Khao San Road. Enough said
The exciting metropolis of Bangkok has a massive variety of things to see and do. The absolute musts on the Thailand backpacker trail include partying on Khao San Road (where you'll also find plenty of cheap accommodation and a great, friendly atmosphere) and visiting Wat Pho, the Grand Palace, Chinatown and the floating markets. Ideally, you should visit on a weekend to see the huge Chatuchak Market, too.
Getting here: There are regular buses from Kanchanaburi to Bangkok (2-4 hours, depending on which terminal you arrive at) and 3rd class trains to Bangkok's Thonburi Station (3+ hours)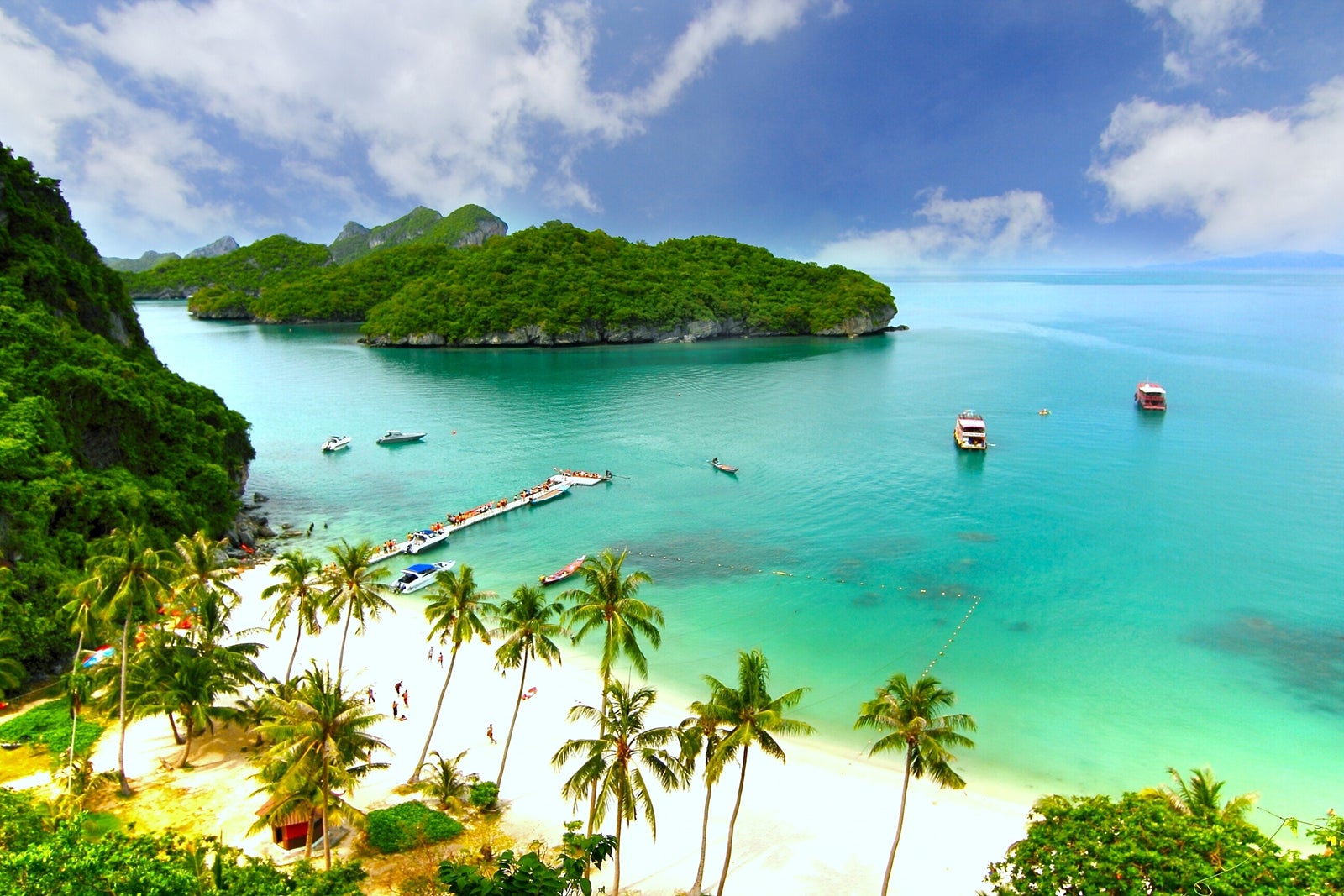 Koh Samui (and surrounding islands)
...for the Full Moon Parties
As we head into the southern end of Thailand, we enter the beautiful beach section of the backpacker trail, with Koh Samui as the gem of the Gulf of Thailand. Nearby Koh Phangan is a must-visit, being home to the famous Full Moon Parties on Haad Rin Beach, while Koh Tao is a particularly great place for scuba diving and snorkelling. Samui itself is the ideal main base for exploring the area, having the best choice of accommodation, beautiful beaches as well as a fun nightlife in Chaweng.
Getting here: Take the train (8-12 hours) or bus (12 hours) to Surat Thani and then a ferry (3-7 hours, depending on which service you use) to Koh Samui, or fly direct from Suvarnabhumi Airport to Koh Samui Airport (1 hour)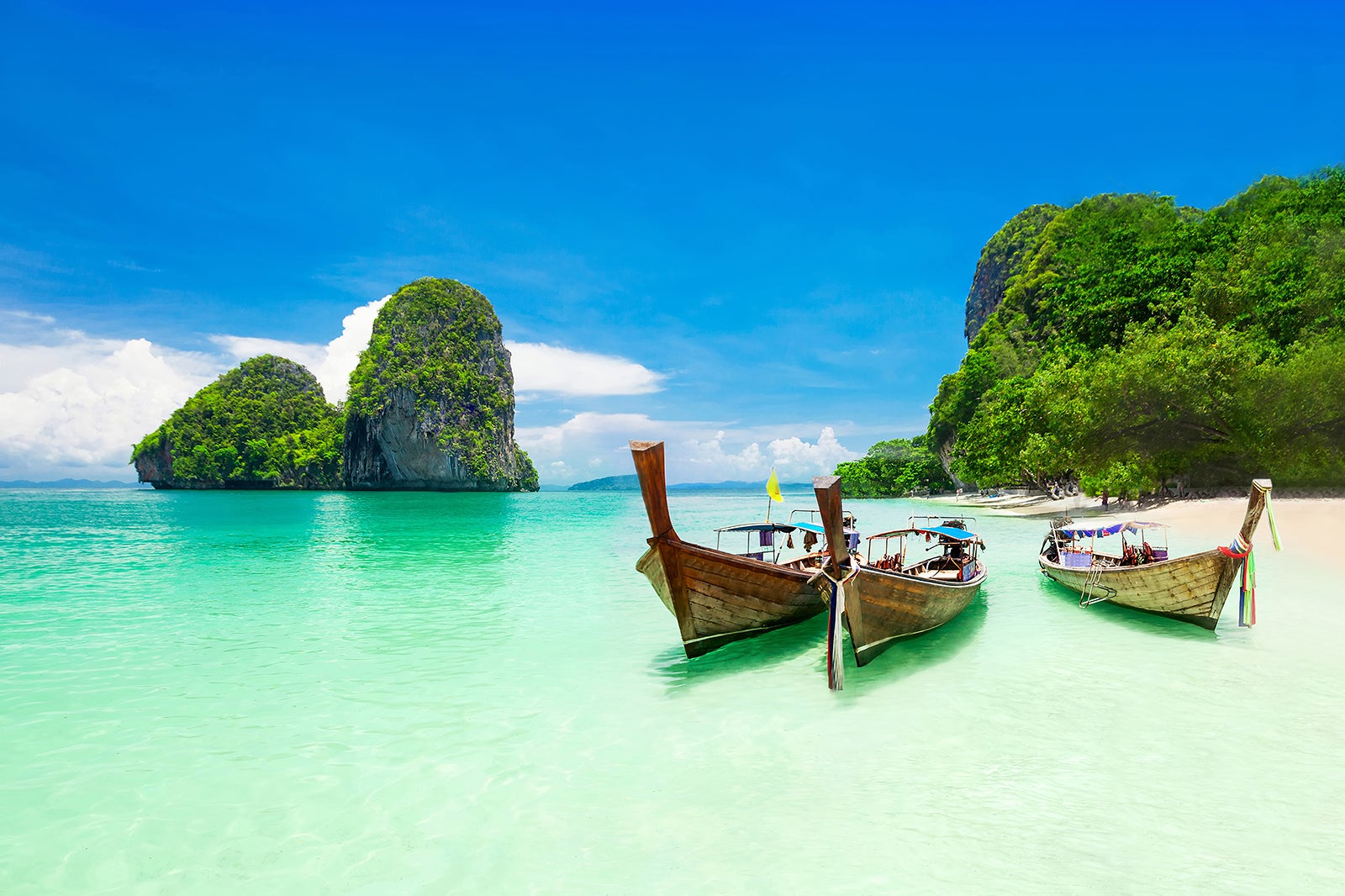 Krabi
...for the unspoilt beaches and landscape
Krabi is still relatively undeveloped as a destination, which means you get to enjoy a striking natural beauty, including a wealth of nearby pristine desert islands. As it's yet to be "spoilt" by the mass tourism industry, it remains a backpacker's paradise. Names like Ao Nang and Railay Beach (which is, in fact, a peninsula with 4 beaches) speak of blissful days on peaceful shores, while the rugged landscape makes a great playground for those who enjoy adventure sports. There's plenty of budget-friendly hotels and hostels to choose from.
Getting here: Take the ferry back to Surat Thani and the bus to Krabi (3 hours) or fly direct from Koh Samui Airport to Krabi Airport (1 hour)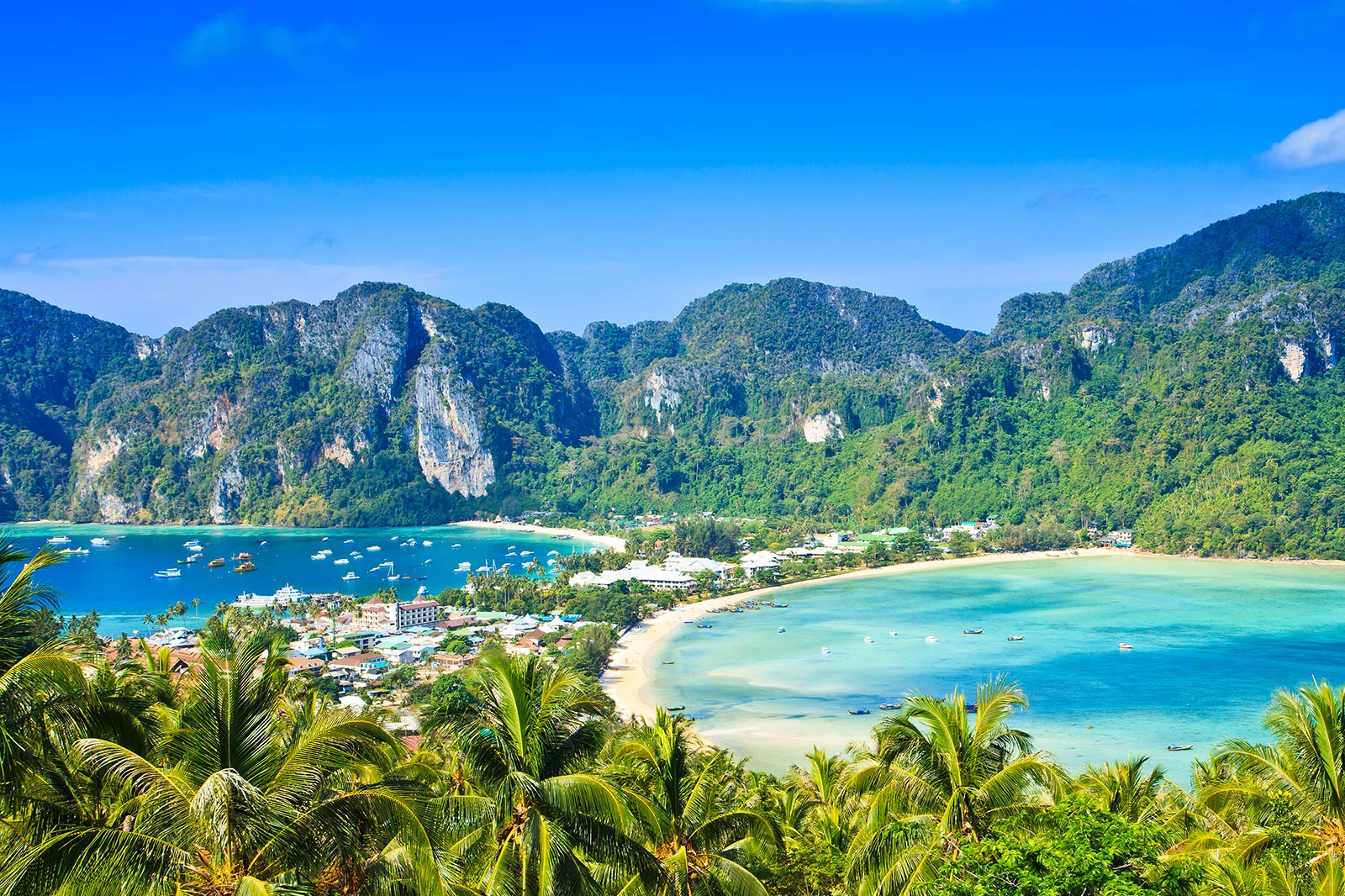 Phi Phi
...for The Beach""
Phi Phi is at the heart of Thailand's largest marine national park and home to Maya Bay, made famous by Leonardo Di Caprio's 2000 movie The Beach. Tonsai Village is the main town on Phi Phi Don (the only populated island in the archipelago of 6) and is almost exclusively populated by backpackers. As such, it has plenty of cheap hotels, hostels, restaurants, massage parlours, and bars. There are plenty of places to go diving and snorkelling and, of course, wonderful beaches.
Getting here: There's 1 daily ferry to Koh Phi Phi from Ao Nang (2 hours, including a stop at Railay Bay) and 5 from Krabi Town's Klong Jilad Pier (1.5 hours)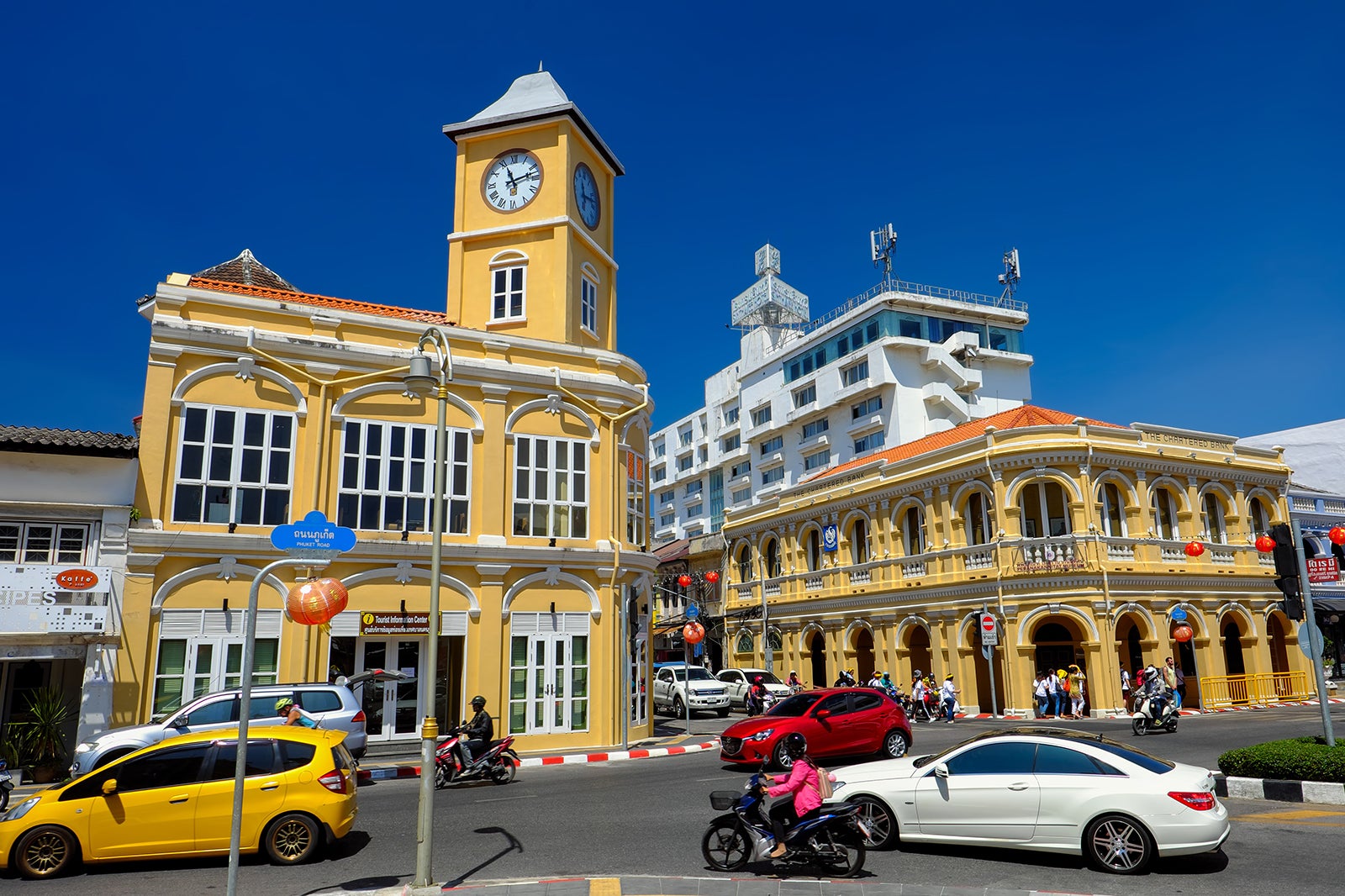 Phuket
...for the charming Old Town
As one of the more expensive destinations in Thailand, you would not ordinarily think of Phuket as being a part of the Thailand backpacker trail, but it remains a popular destination. The charming Phuket Old Town and the party town of Patong have plenty of cheap hotels and hostels. With over 30 beautiful beaches, stunning nearby islands (including the world-famous Phang Nga Bay and the stunning Racha Islands), a wealth of interesting attractions and an international airport with flights to nearby nations, it's a lovely place to end your adventures in the Land of Smiles.
Getting here: There are several daily ferries from Koh Phi Phi to Phuket (1.5-2.5 hours)
Families
History
Photo
Budget