10 Best Things to Do in Scottsdale
What is Scottsdale Most Famous For?
There's no shortage of things to do in Scottsdale, a gorgeous desert city in Arizona with almost 300 days of sunshine a year. This southwestern city is more than just luxury resorts and world-famous golfing. In fact, its historic old town and large community parks offer outdoor adventure with the beautiful Sonoran Desert as a backdrop.
Scottsdale's climate makes it an amazing destination to visit any time of the year. Brimming with a bustling art scene, epic shopping, and preserved wild west cultural experiences, this desert oasis has plenty to offer. Here are our top picks for what not to miss when visiting Scottsdale.
What are the best things to do in Scottsdale?
1
Old Town Scottsdale
Explore the culture of a western American city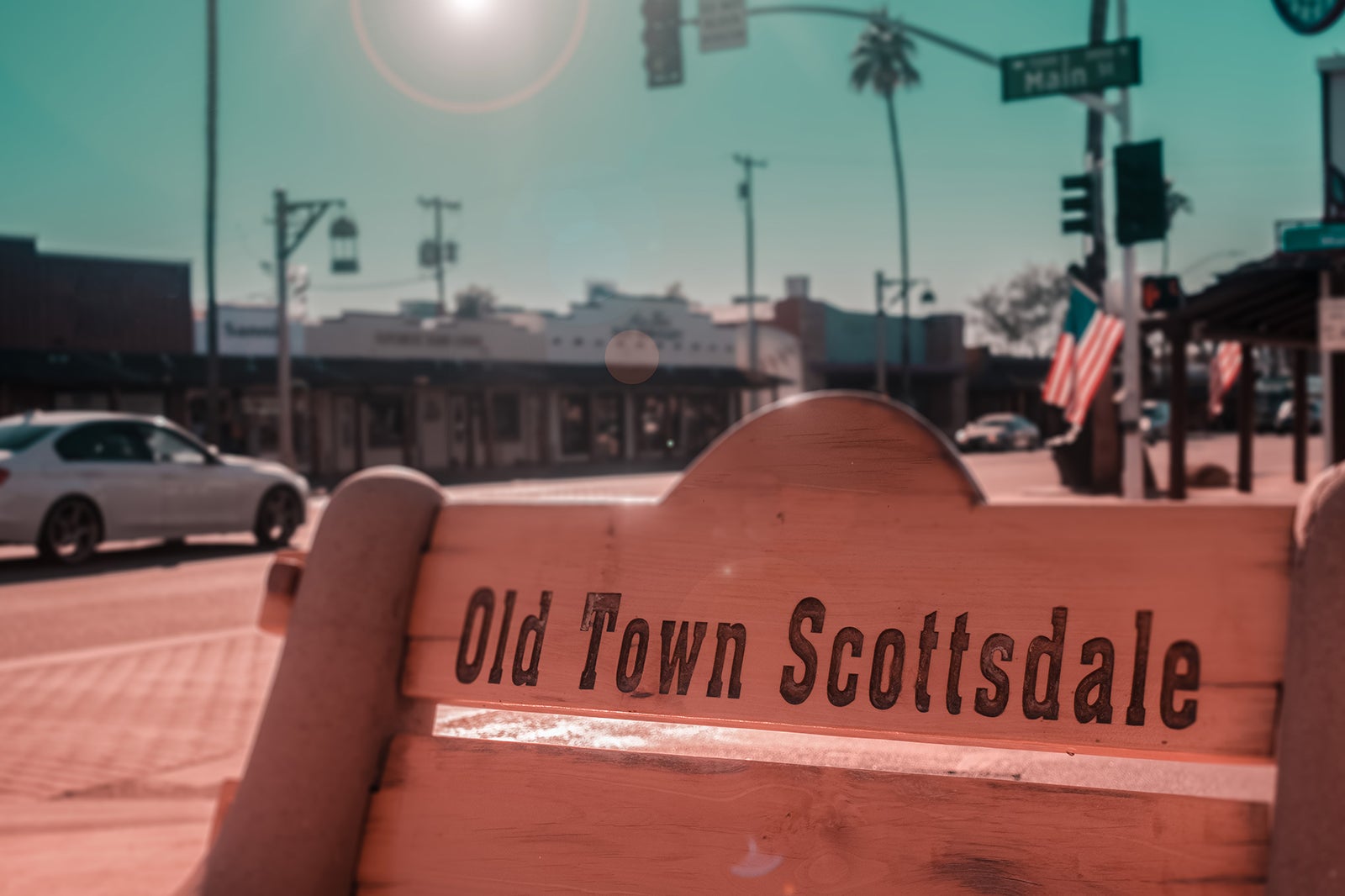 Historic Old Town Scottsdale is a great place to experience the preserved charm of America's Wild West. Wander the distinct neighbourhoods on foot or take a ride on the free Scottsdale Trolley for a great way to explore at your own pace.
If you're looking for the perfect photo op, stop by the Scottsdale cowboy on the corner of Scottsdale Road and Main Street. Enjoy art galleries and murals in the arts district, souvenir and boutique shopping on Fifth Avenue, and great local eats at one of the many vibrant cafés and restaurants. If you're visiting on a Thursday night, make sure to walk through the arts district to experience the excitement of Scottsdale's free ArtWalk.
2
Western Spirit: Scottsdale's Museum of the West
Experience the spirit of the American Southwest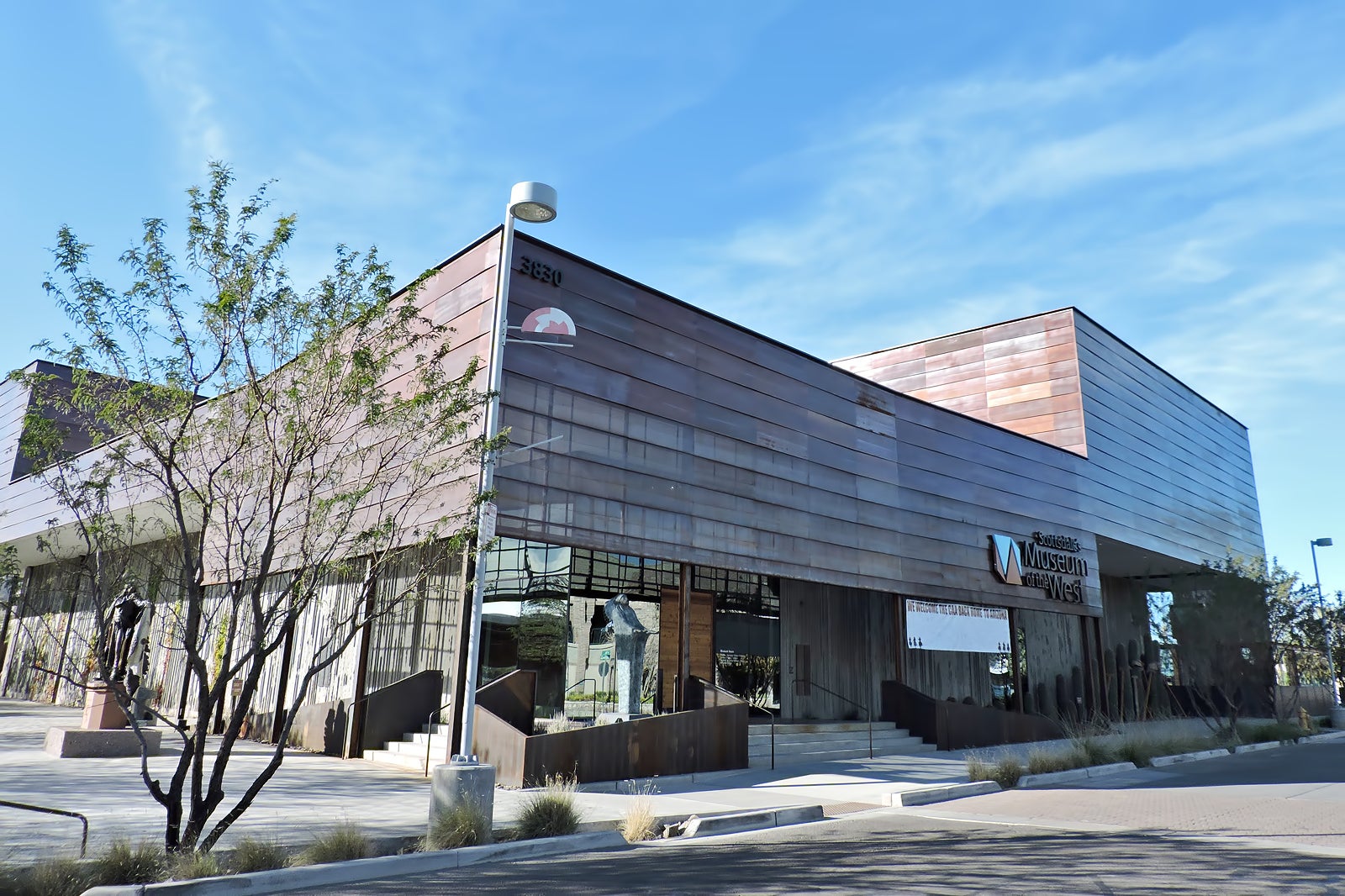 Western Spirit: Scottsdale's Museum of the West is a must-see if you want to learn about the rich history, culture, and heritage of Western America. Located in the city's arts district, this museum is a great combination of both Western and Native American art through interactive events and a large collection of exhibits. The museums' main exhibits include rare historic artefacts, cultural treasures, and fine art all dedicated to the 19 states in the American West.
Make sure to check out the sculpture courtyard on your way out to see how local artists use the landscape as their inspiration. If you're here on a Thursday in winter or spring, you can enjoy extended hours – the museum closes at 9 pm as part of Scottsdale's popular ArtWalk.
Location: 3830 N Marshall Way, Scottsdale, AZ 85251, USA
Open: Tuesday–Saturday from 9.30 am to 5 pm, Sunday from 11 am to 5 pm
Phone: +1 480-686-9539
photo by PamMcP (CC BY-SA 4.0) modified
3
McDowell Sonoran Preserve
Hike through desert landscapes in this massive park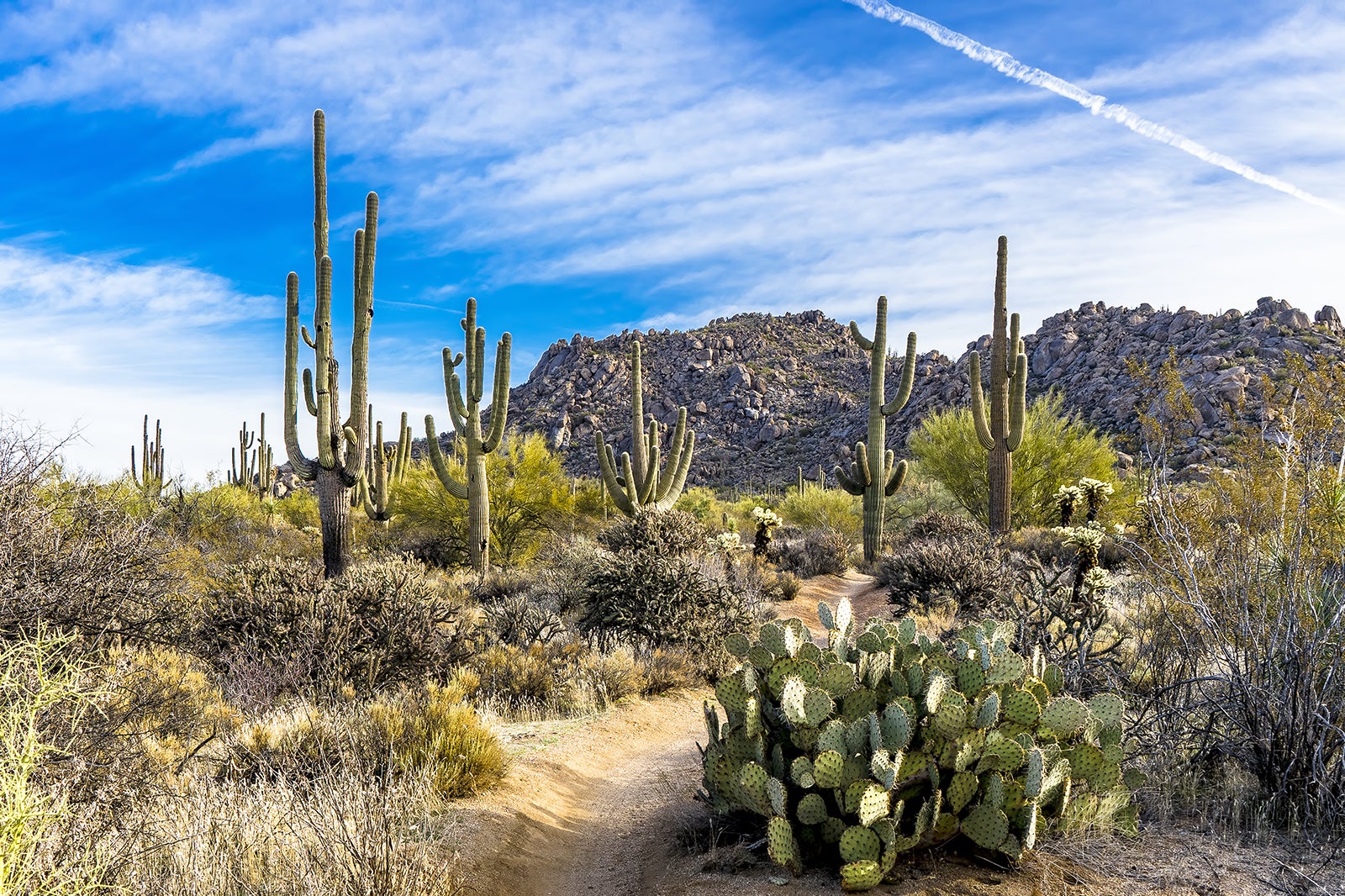 Experience the true beauty of desert landscapes at the McDowell Sonoran Preserve. Located just 20 minutes north of downtown Scottsdale, this park is a great place to spend your day outside. This large preserve is permanently protected and has over 200 miles of trails to explore.
Enjoy a wide variety of outdoor activities from mountain biking and horseback riding to hiking and outdoor picnics. There are trails for every skill level from the tricky Gateway Loop for experienced hikers to serene nature walks. Arizona summers can get extremely hot, so make sure to bring a bottle and refill regularly at water stations.
Location: 18333 N Thompson Peak Pkwy, Scottsdale, AZ 85255, USA
Phone: +1 480-312-7013
4
Taliesin West
Experience Frank Lloyd Wright's desert lab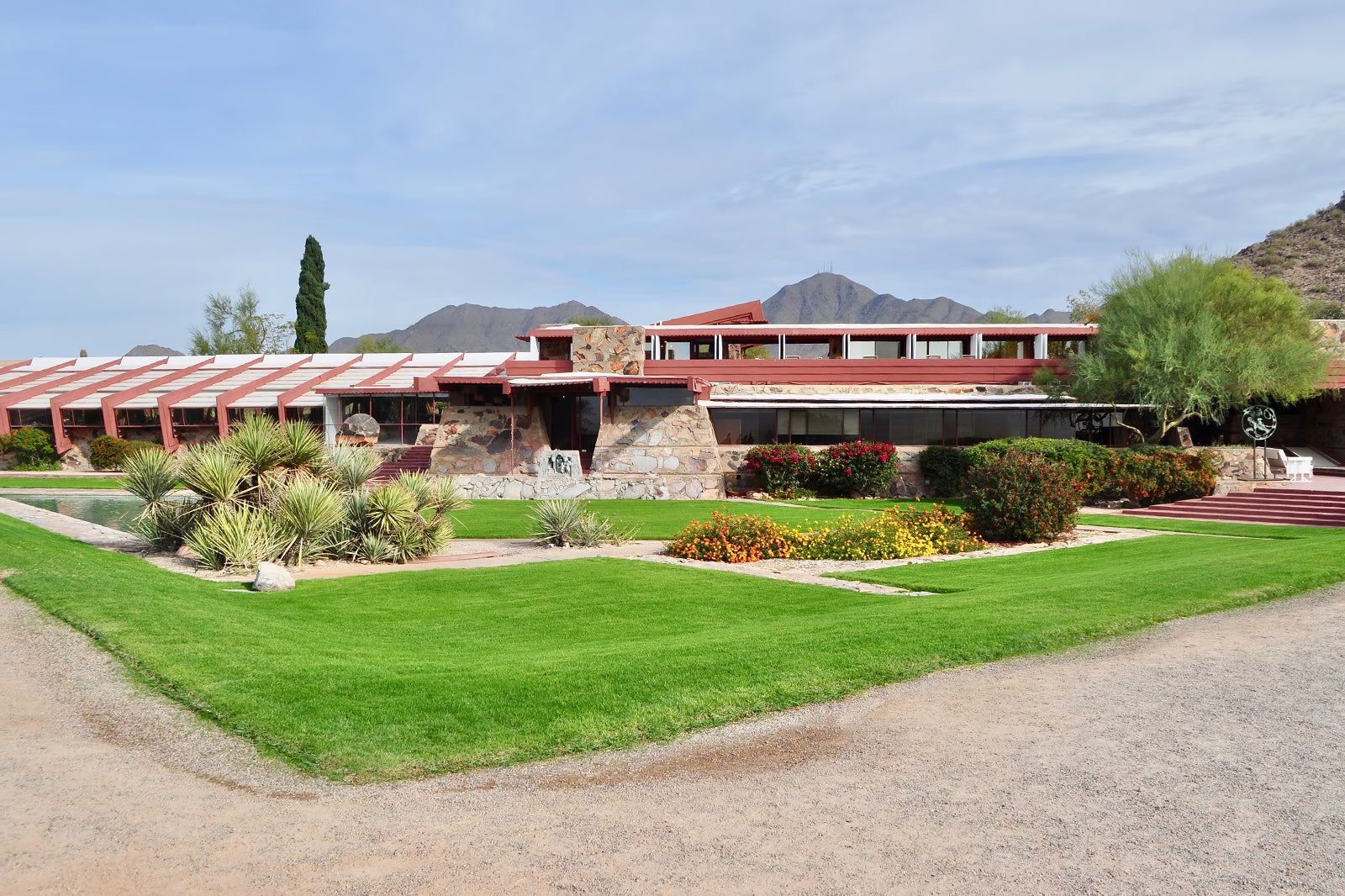 Famous architect Frank Lloyd Wright fell in love with the Sonoran Desert and created Taliesin West as his winter home and architectural school. Located just 20 minutes northeast of downtown Scottsdale, in the foothills of the McDowell Mountains, this 600-acre home and landmark is now considered a UNESCO World Heritage site.
Explore the grounds on one of their guided tours or make your own way to experience the magic of Wright's architectural style. During busy seasons, the tours tend to sell out so make sure to book in advance.
Location: 12621 N Frank Lloyd Wright Blvd, Scottsdale, AZ 85259, USA
Open: February–May and September–October: daily from 8.30 am to 6.30 pm (open till 9.30 pm on Fridays). January: daily from 8.30 am to 6.30 pm (open till 9 pm on Fridays). June–August: Monday, Thursday, Sunday from 8.30 am to 3 pm, Friday–Saturday from 8.30 am to 9.30 pm
Phone: +1 480-860-2700
5
Fashion Square
Shop at the largest shopping mall in Arizona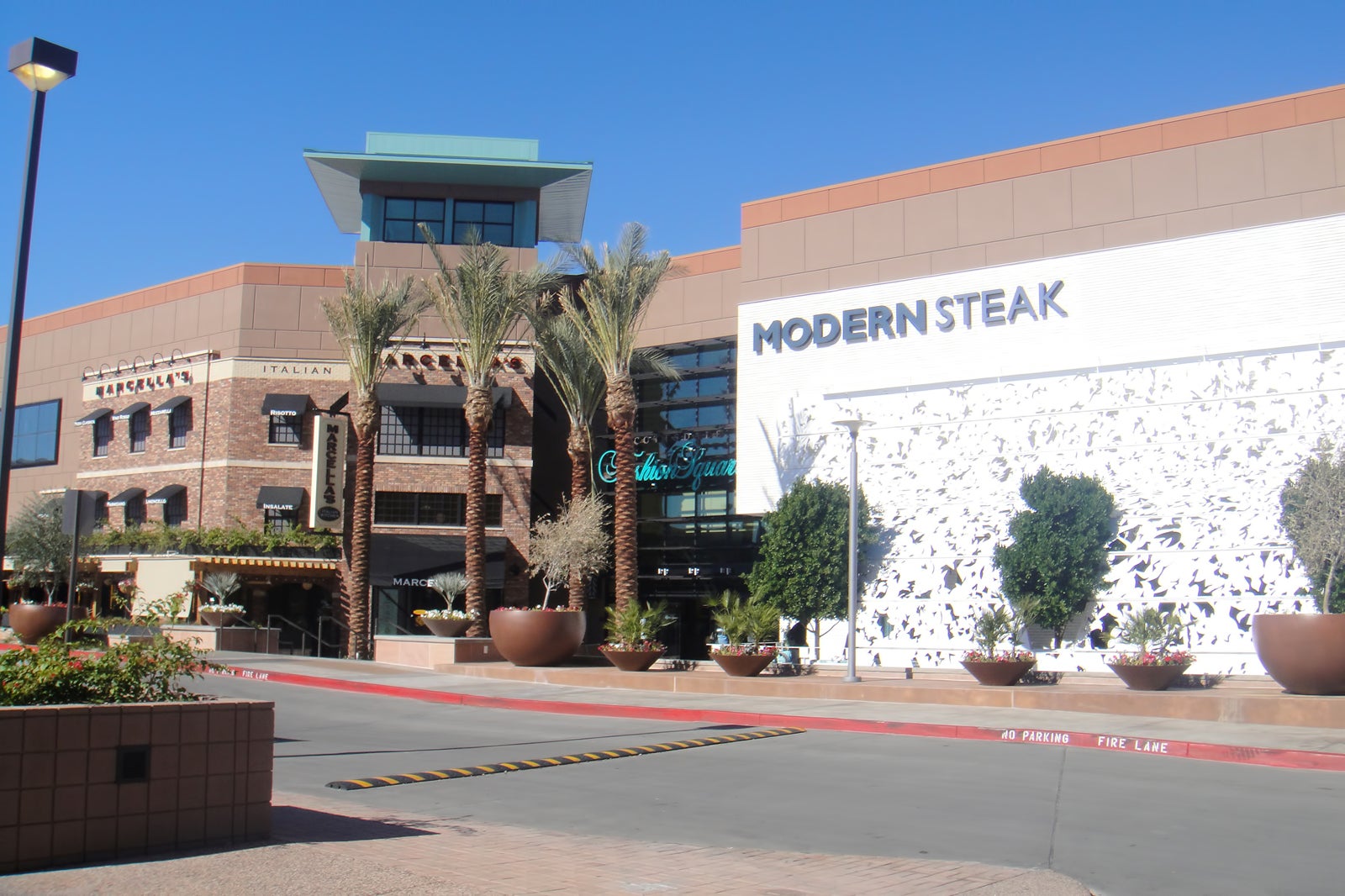 Fashion Square is one of the top 30 largest malls in the USA, and the largest in the state of Arizona. Located in downtown Scottsdale, just 2 blocks from the waterfront, Fashion Square has a movie theatre, restaurants and over 200 stores.
Escape the desert heat while walking through the mall and enjoy some of the best shopping in town for anything from luxury brands to small boutiques. If you're riding the free Scottsdale trolley, there's a stop right off Camelback Road in front of the mall for easy access.
Location: 7014 E Camelback Rd, Scottsdale, AZ 85251, USA
Open: Monday–Saturday from 11 am to 7 pm, Sunday from noon to 6 pm
Phone: +1 480-941-2140
photo by Cygnusloop99 (CC BY-SA 3.0) modified
6
Wonderspaces Arizona
Experience interactive art installations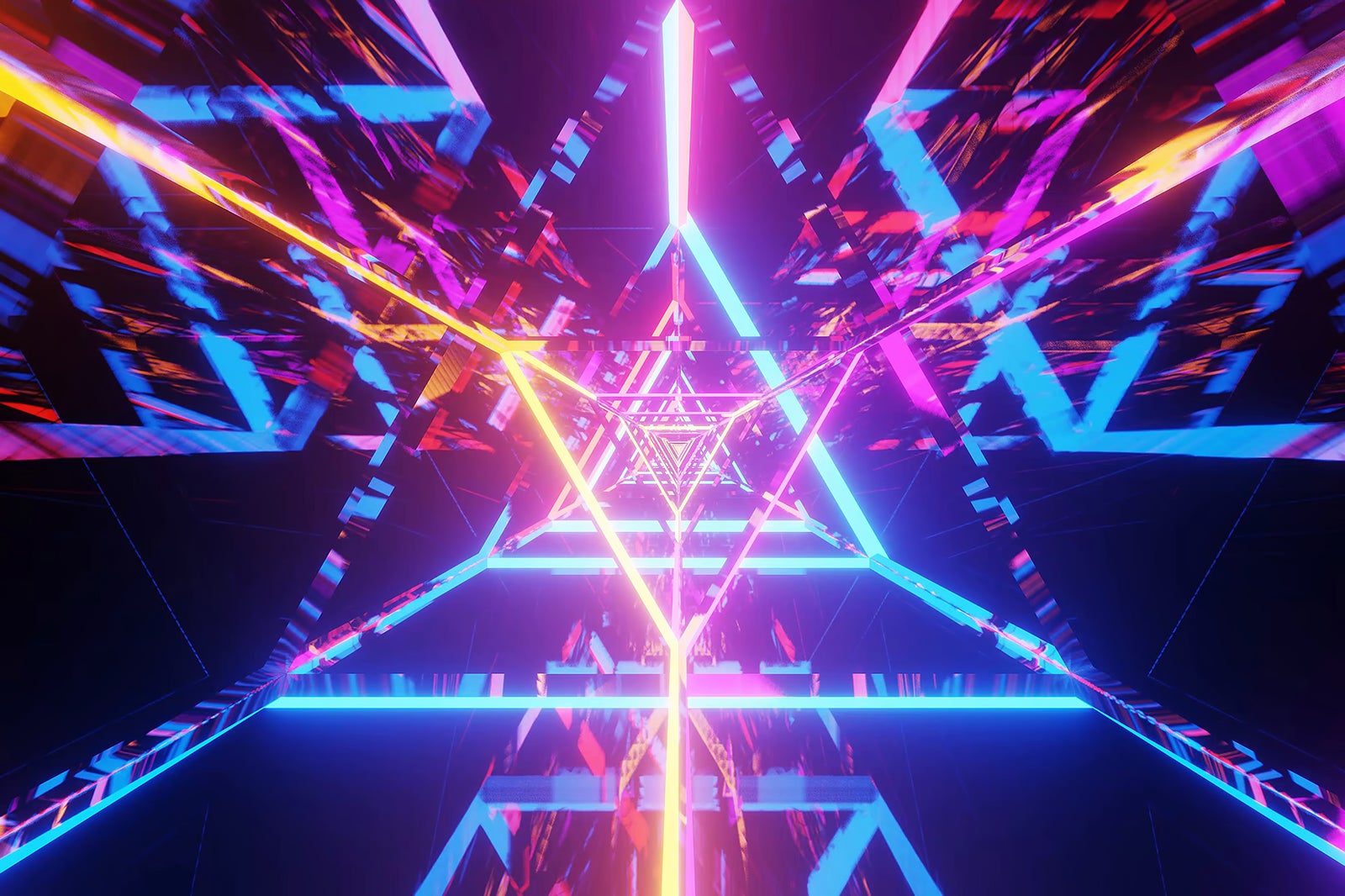 Wonderspaces is a creative art space that displays art in a modern way, with sight, touch, sound, movement and virtual reality in mind. Located in the Fashion Square mall, near the food court, it is innovative and offers interactive art experiences through each of their exhibits.
With 13 total art exhibits that change frequently, the experience is always different. You can take pictures throughout the exhibits making it an awesome place for a unique photo op. Grab a drink or snack at the bar and revisit your favourite exhibits for a great way to spend an hour or 2.
Location: 7014 E Camelback Rd #584, Scottsdale, AZ 85251, USA
Open: Tuesday–Thursday from 10 am to 10 pm, Friday–Saturday from 10 am to 10.30 pm, Sunday from 10 am to 8 pm
Phone: +1 480-718-2156
7
McCormick-Stillman Railroad Park
Wander through this expansive urban park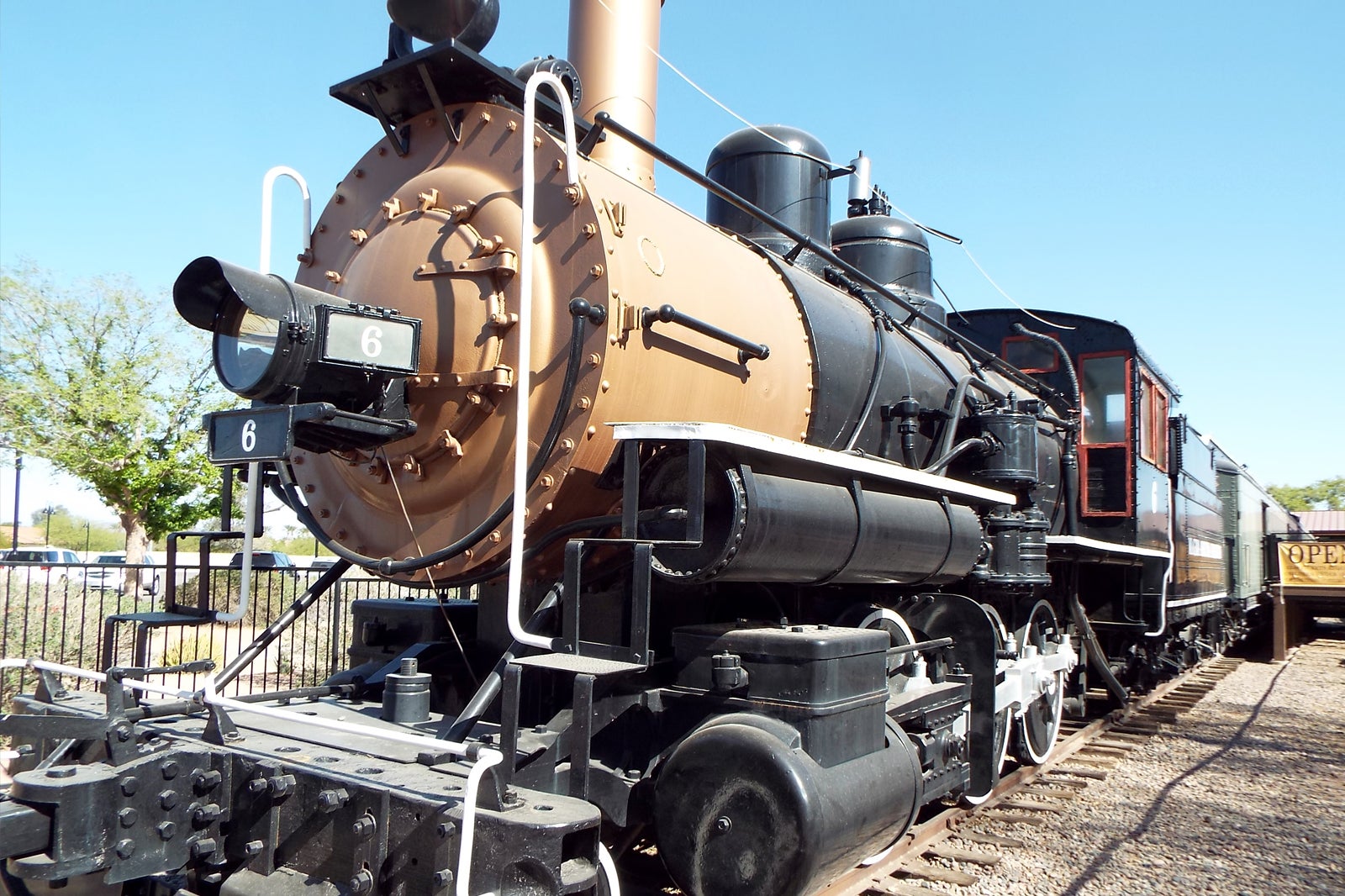 Couples
Families
History
Photo
Budget
Enjoy a truly unique experience at this 30-acre park dedicated to the history of the American railroad. Located on the corner of East Indian Bend Road and North Scottsdale Road, this massive park offers activities for guests of all ages. Enjoy an interactive railroad museum, take a short train ride, or hop on the 1950s vintage carousel for a one-of-a-kind experience.
This railroad park is a great place to enjoy an afternoon outside on the playgrounds or for a family picnic. There's no admission to visit the park but you can buy tickets to ride the train or carousel. If you're here on a Sunday during summer, make sure to take advantage of one of their free outdoor concerts.
Location: 7301 E Indian Bend Rd, Scottsdale, AZ 85250, USA
Phone: +1 480-312-2312
photo by Marine 69-71 (CC BY-SA 3.0) modified
8
Scottsdale wine trail
Enjoy local wineries on this self-guided trail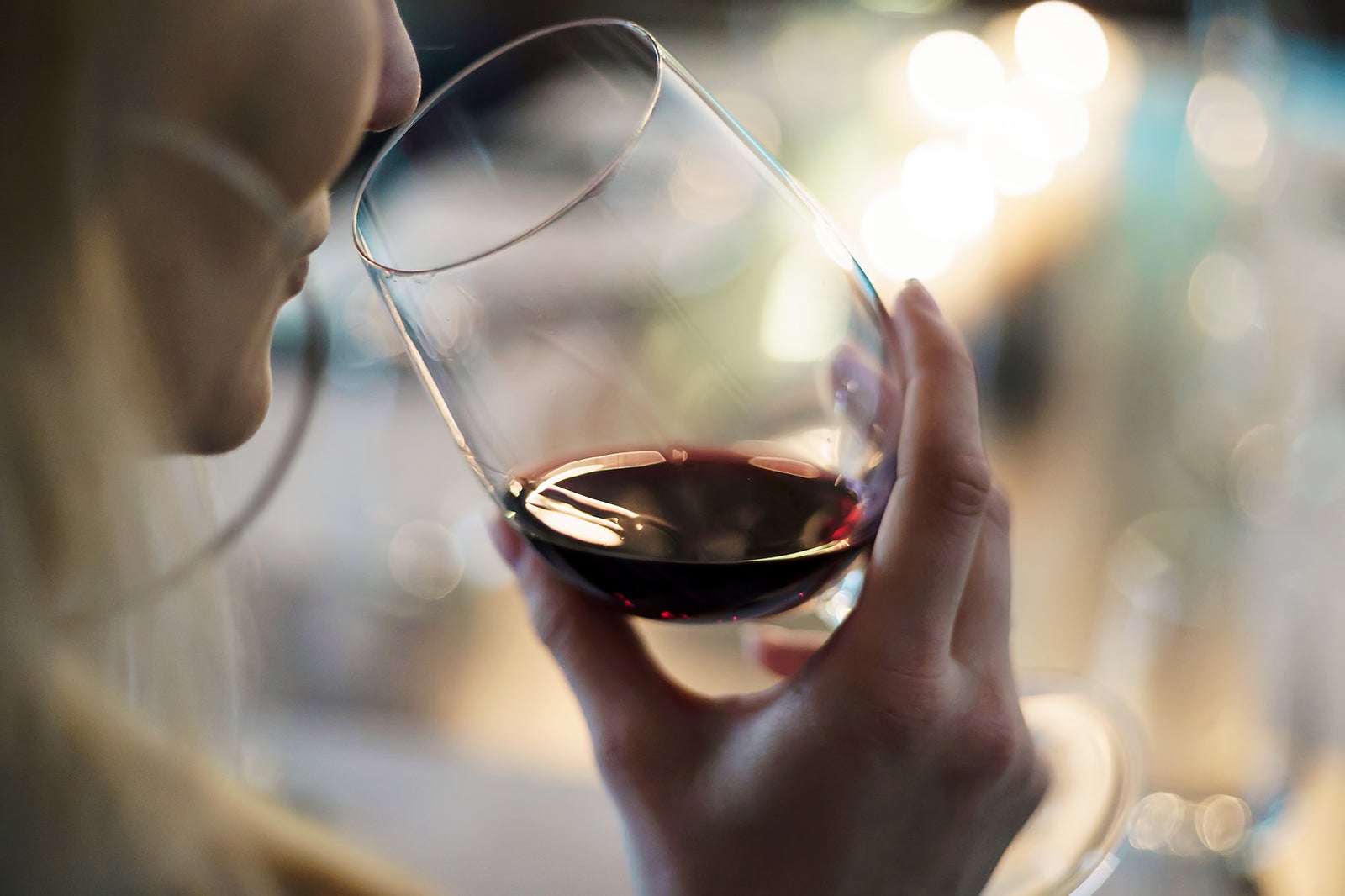 The Scottsdale wine trail is a great option if you're looking to sample some of the best wines from the region. Explore 5 popular tasting rooms on the wine trail, all located within walking distance of each other in downtown Scottsdale.
Spend an afternoon sampling delicious, award-winning local wines at some of the top tasting rooms in town. Must-visits include Aridus Wine Company, Carlson Creek Vineyards, LDV Winery, Salvatore Vineyards, and Su Vino Winery. Each tasting room is unique and offers wines from across Arizona.
9
Coach House
Grab a drink at the oldest dive bar in Scottsdale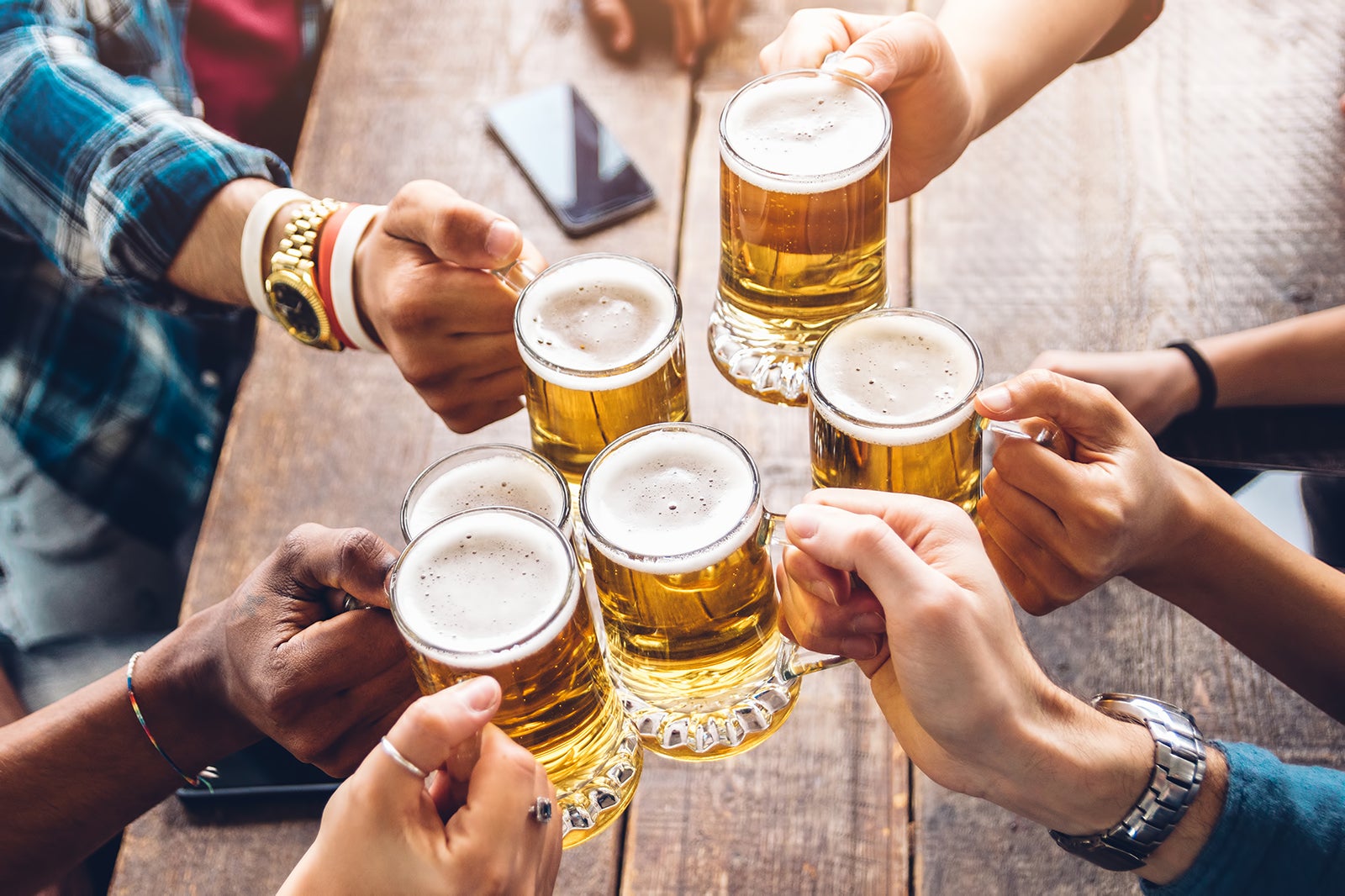 Established in 1959, Coach House is Scottsdale's oldest tavern. Located at the corner of North Goldwater Boulevard and East Indian School Road, it's right in downtown and easy to get to from all the major sights. Play darts inside or enjoy the desert heat on their outdoor patio for an awesome place to spend a few hours.
If you're looking for a festive holiday experience, they take decorating to the next level with their Christmas lights. The lights stay up for over half the year, so you can get into the holiday spirit from October to March. While Coach House doesn't often serve food, they serve free BBQ out front when you buy a drink on Sunday afternoons.
Location: 7011 E Indian School Rd, Scottsdale, AZ 85251, USA
Open: Daily from 6 am to 2 am
Phone: +1 480-990-3433
10
Jade Bar
Enjoy craft cocktails with one of the best views of Paradise Valley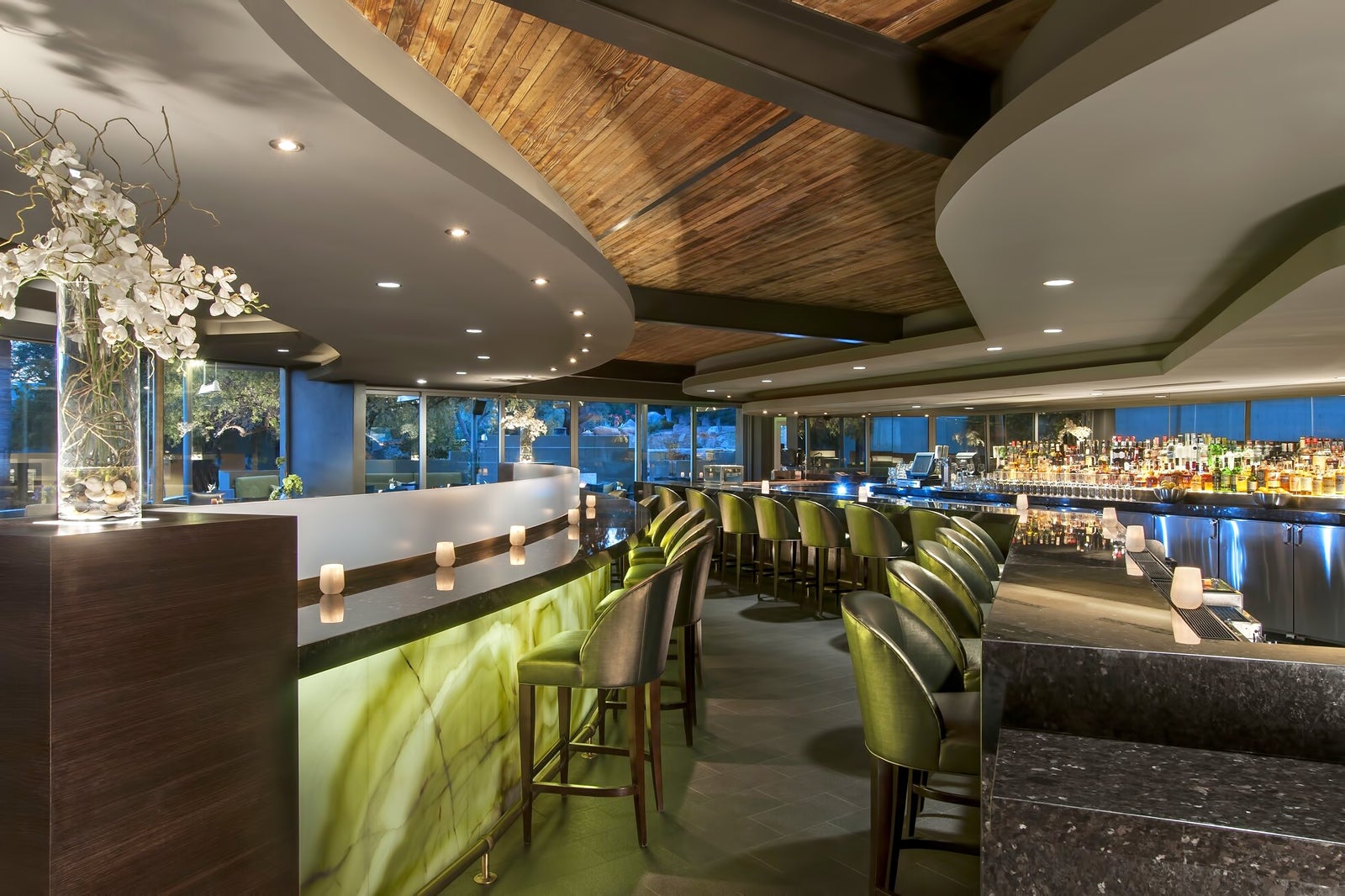 Nightlife
Couples
Photo
Luxury
Jade Bar is a great place to enjoy live music and craft cocktails with a view. Located in the Sanctuary Camelback Mountain Resort, just 10 minutes northwest of downtown, the views of the valley are unbeatable and it's an awesome place to watch the sunset. Spend cool Arizona nights on their outdoor patio by the fireplace or bring your friends for happy hour at this stylish bar.
The cocktails at Jade Bar are innovative and made with farm-fresh local ingredients. Try a classic cocktail or get adventurous with their weekly libations while taking in impressive views of Camelback Mountain and the Praying Monk. For a truly unique experience, stop by on Thursdays for Latin night or sign up for a mixology class.
Location: 5700 E McDonald Dr, Paradise Valley, AZ 85253, USA
Open: Daily from 11 am to 11 pm
Back to top