10 Places to Enjoy the Great Outdoors in Scottsdale
Awesome Outdoor Things to Do in Scottsdale
Scottsdale, AZ, is a lot of things – a lovely place to live, a great place to find drinks and dining, and even somewhere you can shop until you drop. However, did you know that it's also a prime jumping-off point for excursions into pristine nature?
Whether you're interested in hiking, biking, exploring the area's untamed natural history, or just getting off the beaten track, you'll find it here. Bring your sense of adventure and we'll walk you through some of the best places to enjoy the Great Outdoors in and around Scottsdale.
1
Pinnacle Peak Park
Hiking and rock climbing close to Scottsdale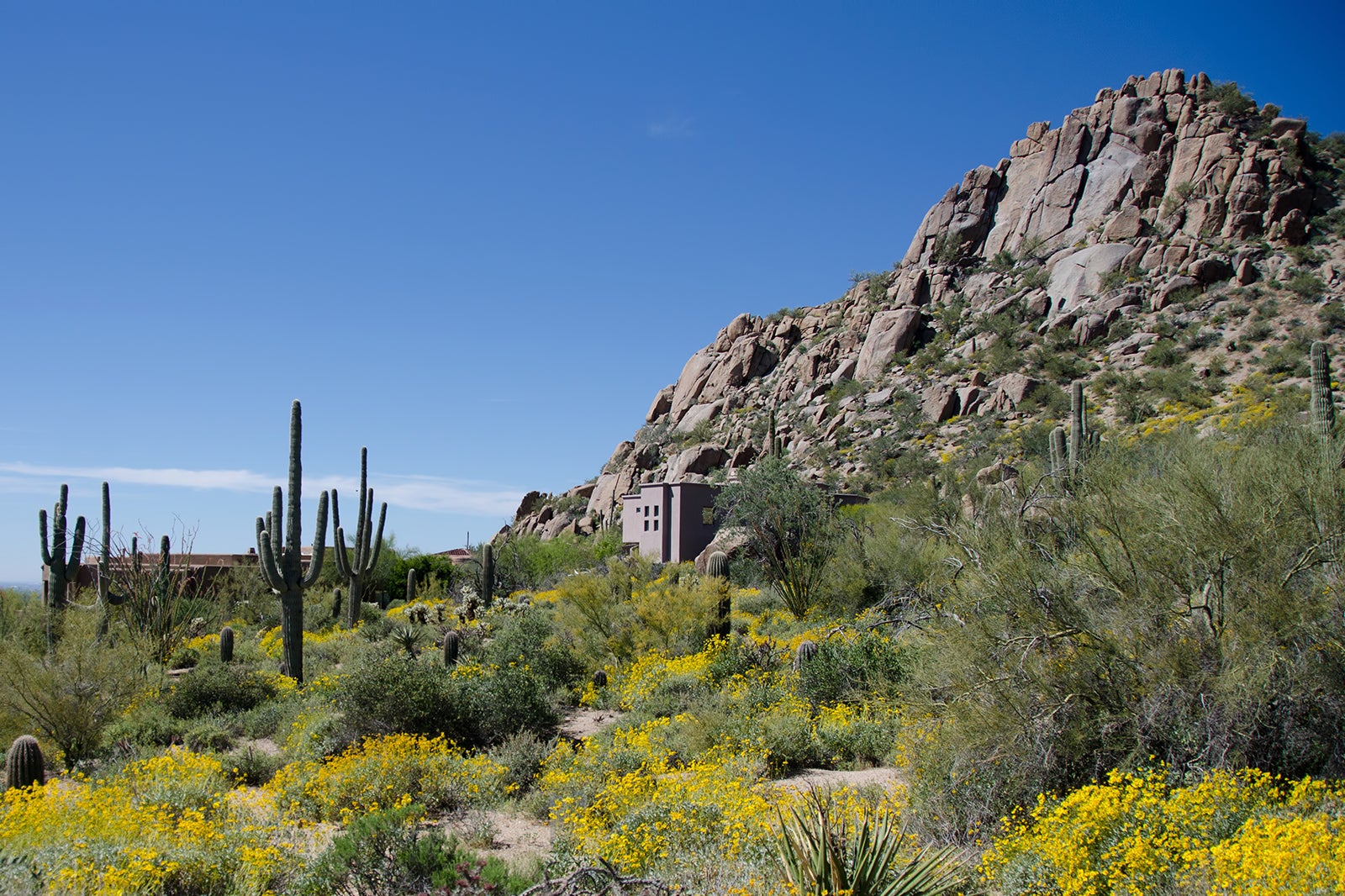 Pinnacle Peak Park is located just outside of Scottsdale proper and covers 150 acres. It's a great place to enjoy hiking – the one-way trail runs 1.75 miles – but you can also get your rock-climbing fix, or simply enjoy the stunning vistas of the surrounding desert.
There's a trailhead office available with information, maps, and other materials, and the trail also features several interpretive displays. There are restrooms available, as well as drinking fountains, although if you're going rock climbing, it's recommended that you carry your own water. Picnicking facilities and a shade ramada are also offered here.
Location: 26802 N 102nd Way, Scottsdale, AZ 85262, USA
Open: Daily from sunrise to sunset
Phone: +1 480-312-0990
2
Lost Dutchman State Park
Camping, hiking, and a lost gold mine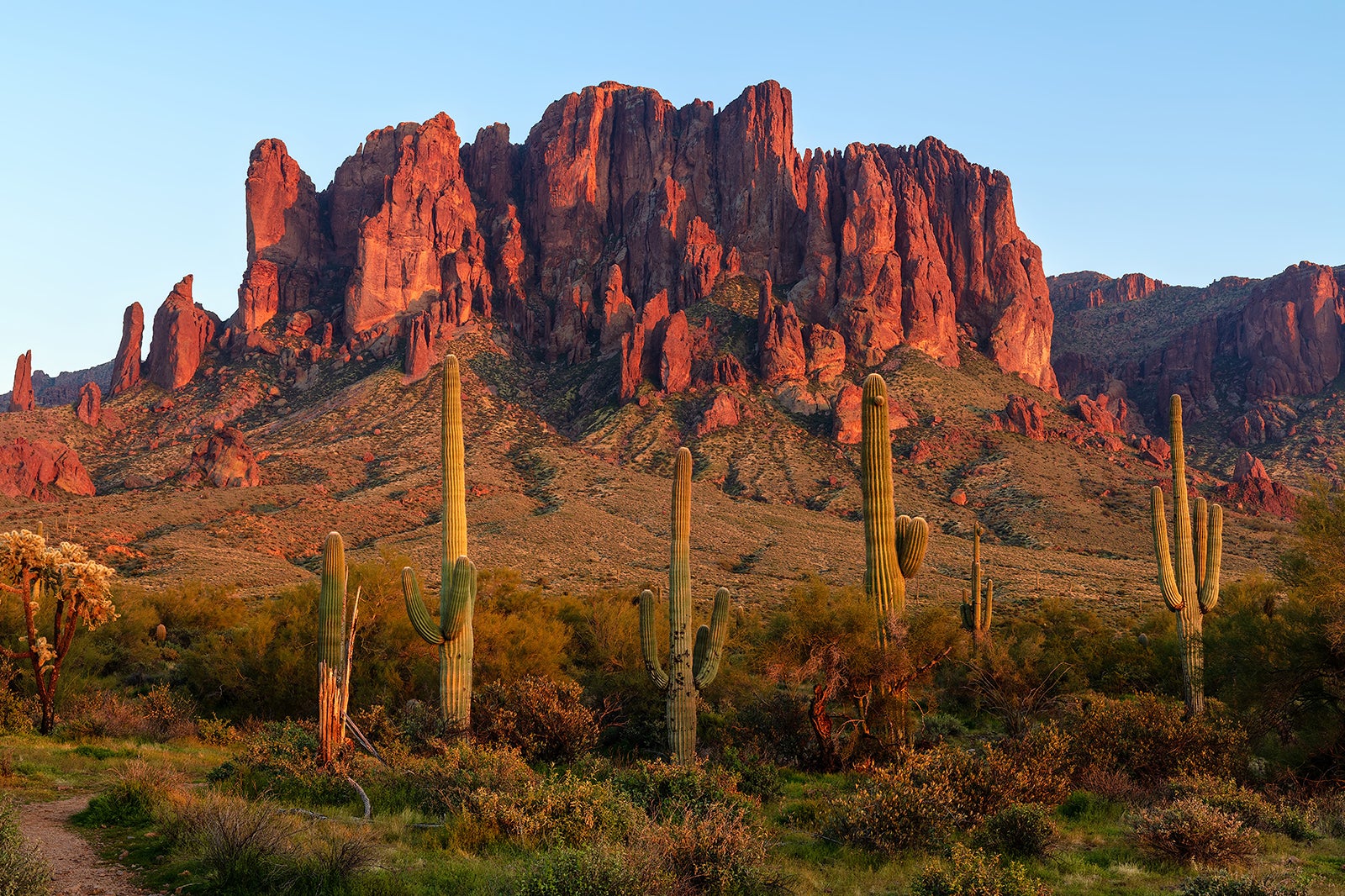 Located at the base of the Superstition Mountains, Lost Dutchman State Park offers 350 acres of desert and mountain landscape to explore. You'll find many hiking opportunities, as well as chances to climb a variety of rock faces. There's also a visitor center and park store for necessities and souvenirs.
Some of the most popular activities here include hiking the Native Plant Trail, where you can learn about the area's flora through interpretive displays, as well as taking the Siphon Draw Trail to the top of the Flatiron. Note that this is a challenging trek, though. You can also reach the Tonto National Forest via several of the trails within the park, or explore the adjacent Superstition Mountain Wilderness.
Location: 6109 N Apache Trail, Apache Junction, AZ 85119, USA
Open: Daily from 6 am to 10 pm
Phone: +1 480-982-4485
3
Fossil Creek Wild and Scenic River Recreation Area
Experience one of just 2 "wild and scenic" rivers in Arizona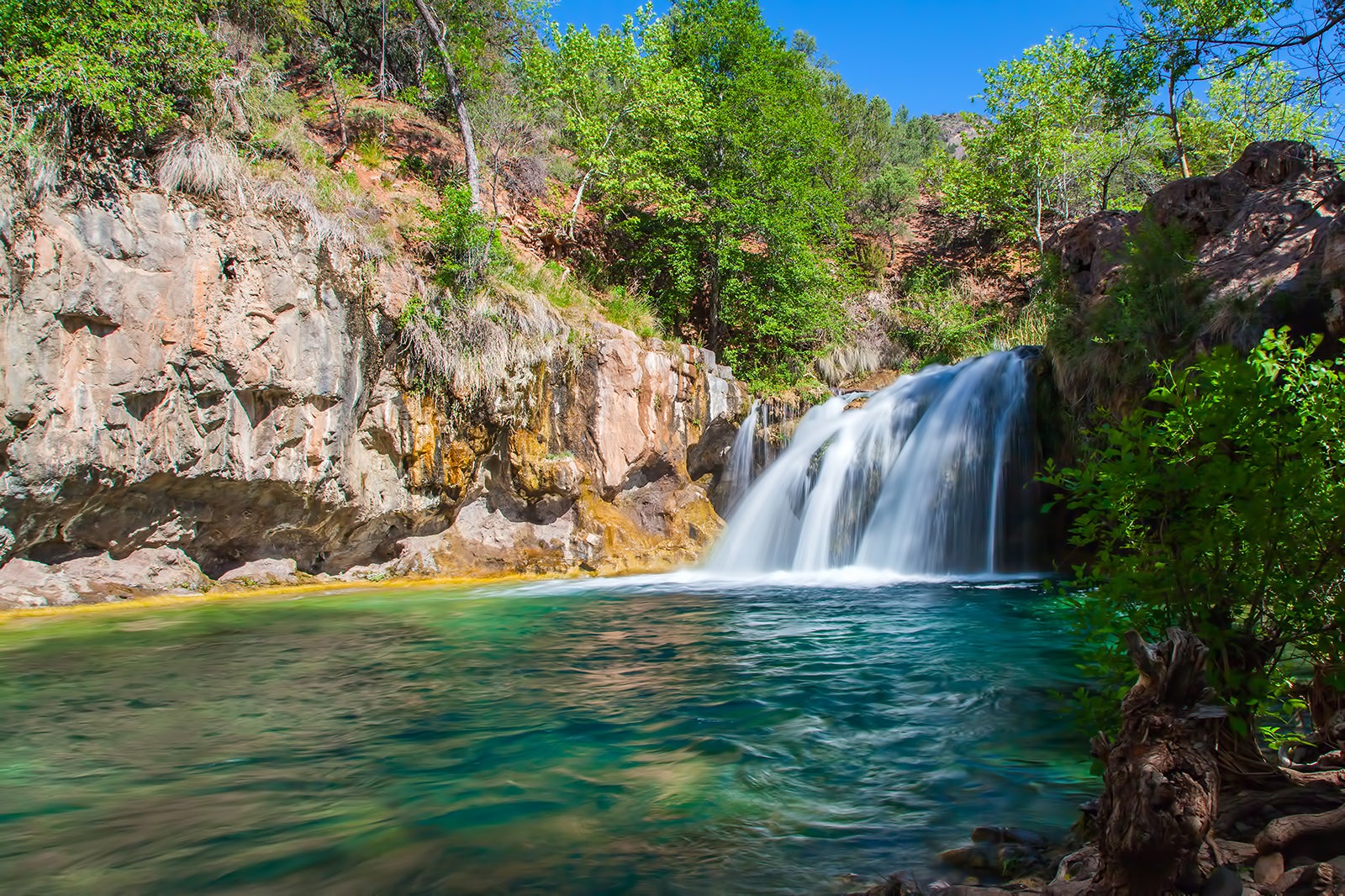 Fossil Creek pours 20,000 gallons of water per minute down a 1,600-feet-deep canyon from a series of hidden springs. Visitors flock here to sunbathe, frolic in the water, hike, and enjoy birdwatching, among other activities.
However, one of the most iconic things about this area is the incredible diversity of fossils. The minerals in the water encase anything it falls on, creating travertine-entrapped fossils that date back millions of years. Note that reservations are required and you must purchase a printed pass off-site. They cannot be purchased on-site. Restrooms are available, but there are limited amenities.
Location: Fossil Creek Rd, Pine, AZ 85544, USA
Open: March–September: daily from 8 am to 8 pm. October–February: 24/7
Phone: +1 928-226-4611
4
Eldorado Park
Get your fun on in the heart of the city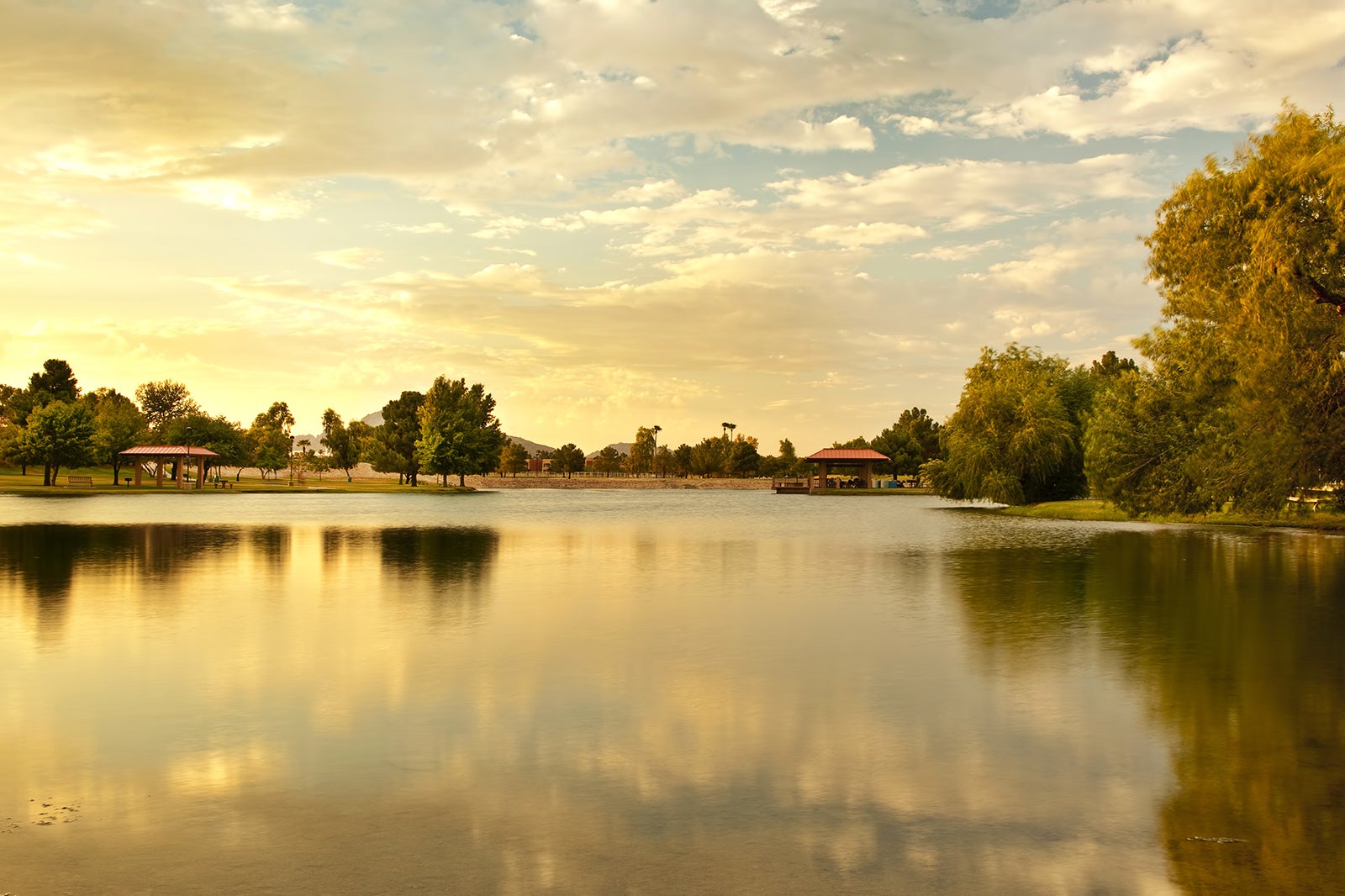 Adventure
Couples
Families
Photo
Budget
The Eldorado Park and Community Center spans 60 acres right in the heart of Scottsdale. It offers access to many different activities, including the 1-mile, greenbelt, multi-use path for walking, jogging, and biking. There's also numerous picnic areas and acres of grass and trees to enjoy.
Fishing is one of the most popular activities here, and Eldorado Lake is stocked with fish by the Arizona Game & Fish Department. Anglers of all ages will enjoy fishing for bass, catfish, and other species. Note that a license is required. It's also possible to reserve picnic areas, as well as ramadas.
Location: 2311 N Miller Rd, Scottsdale, AZ 85257, USA
Open: Daily from sunrise to 10.30 pm
Phone: +1 480-312-2483
5
Brown's Ranch Trailhead
A great way to start a Sonoran Desert adventure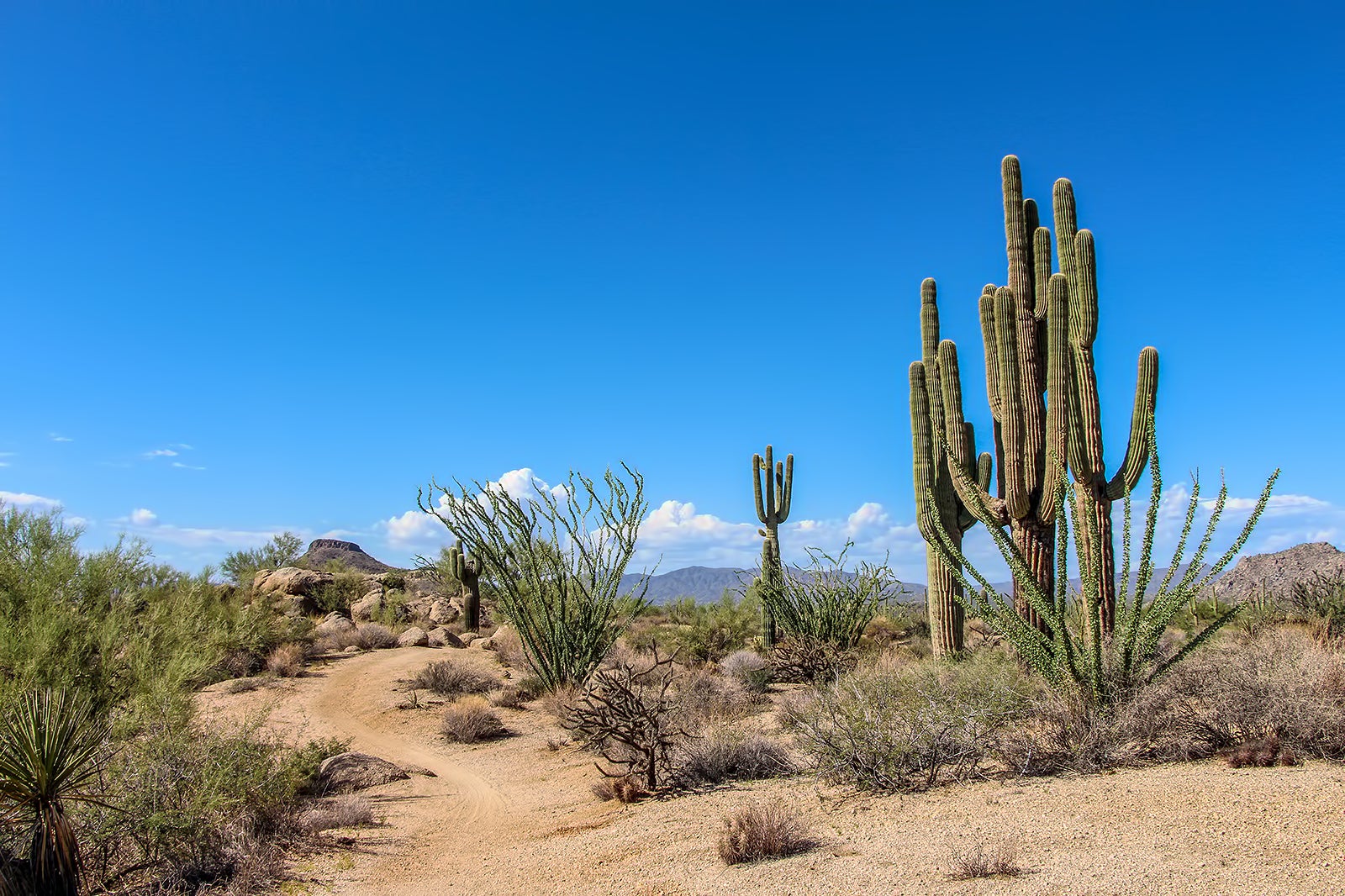 Brown's Ranch Trailhead is one of several access points to the McDowell Sonoran Preserve. However, there's more here than just parking and access to the trails or Brown's Mountain – it's a destination in its own right.
Visitors will find restrooms available, as well as shade ramadas where they can relax and cool off. Several interpretive displays help you learn more about the area's history, as well as its native flora and fauna. Water is available, and there are amenities for horses, including hitching rails and a water trough. Pathfinders from the McDowell Sonoran Conservancy are available here from 8 am until noon.
Location: 30301 N Alma School Pkwy, Scottsdale, AZ 85262, USA
Open: 24/7
Phone: +1 480-312-7013
6
Camelback Mountain
Get to know one of the top hiking destinations in the US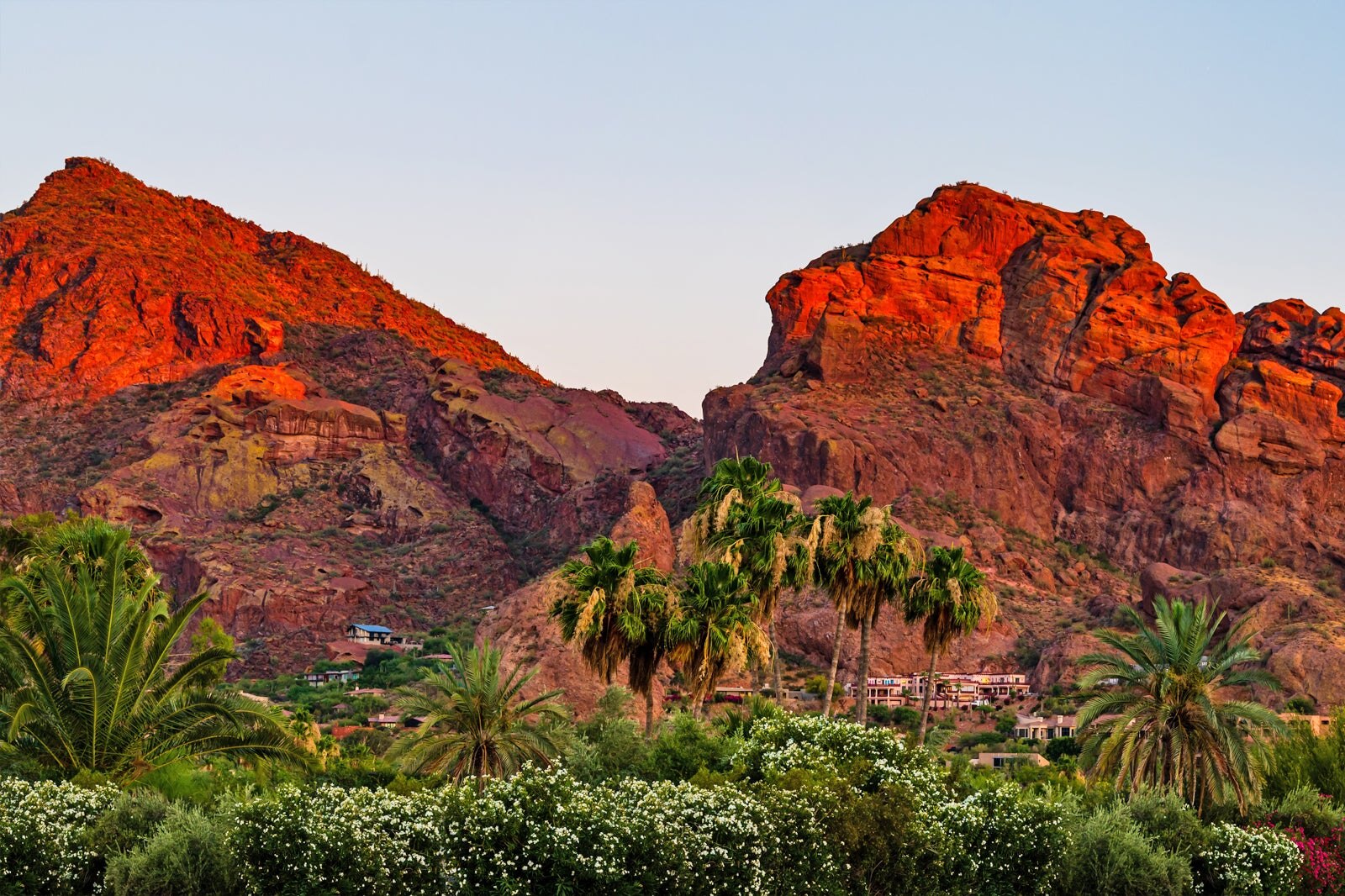 Camelback Mountain is part of the Phoenix Mountains and is located between Phoenix and Scottsdale. It gets its name from the humpbacked silhouette it creates, and the mountain presents a challenging hike that takes you up 1,300 feet in 1.25 miles (depending on your point of access). The hike is considered pretty challenging and many people recommend allotting a couple of hours for a round trip.
You can access Camelback Mountain from Cholla Trailhead or Echo Canyon Trailhead. There is no on-site parking, and both trailheads have limited parking. Be prepared to take pictures, as well, as the peak rises over 2,700 feet above sea level and offers panoramic views over the surrounding area.
Open: 24/7
Phone: +1 602-534-5867
7
MacDonald's Ranch
Horseback riding and more in a Wild West environment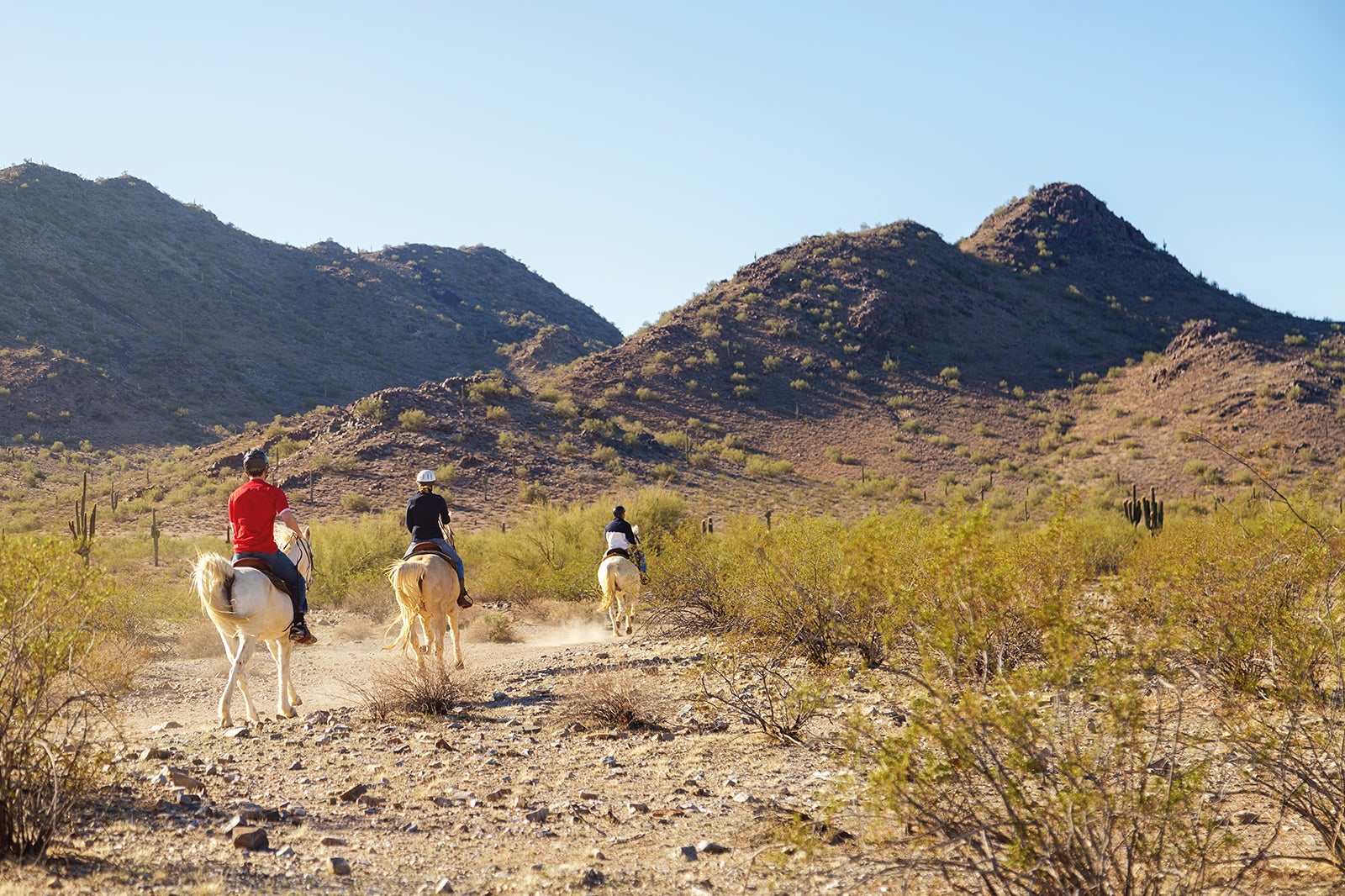 Adventure
History
Photo
Budget
MacDonald's Ranch has been an iconic attraction in Scottsdale since 1956. It remains true to its vision, offering horseback riding, stagecoach rides, and more in an authentic Wild West environment. Horseback riding is one of the more popular attractions here. Visitors can take a guided ride out into the beauty of the Sonoran Desert, with rides available in 1, 1.5, and 2-hour durations. Moonlight rides are a fun way to experience the desert at night, as well.
Stagecoach rides let you experience an authentic transport method and lasts 45 minutes. Those interested in a chuckwagon experience can sign up for a "cowboy cookout", which includes a horseback ride and then dinner around the campfire as the sun sets.
Location: 26540 N Scottsdale Rd, Scottsdale, AZ 85255, USA
Open: Wednesday–Monday from 7 am to 10 am and from 5.30 pm to 7.30 pm (closed on Tuesdays)
Phone: +1 480-585-0239
8
Four Peaks Wilderness Area
Explore one of Arizona's most recognised landmarks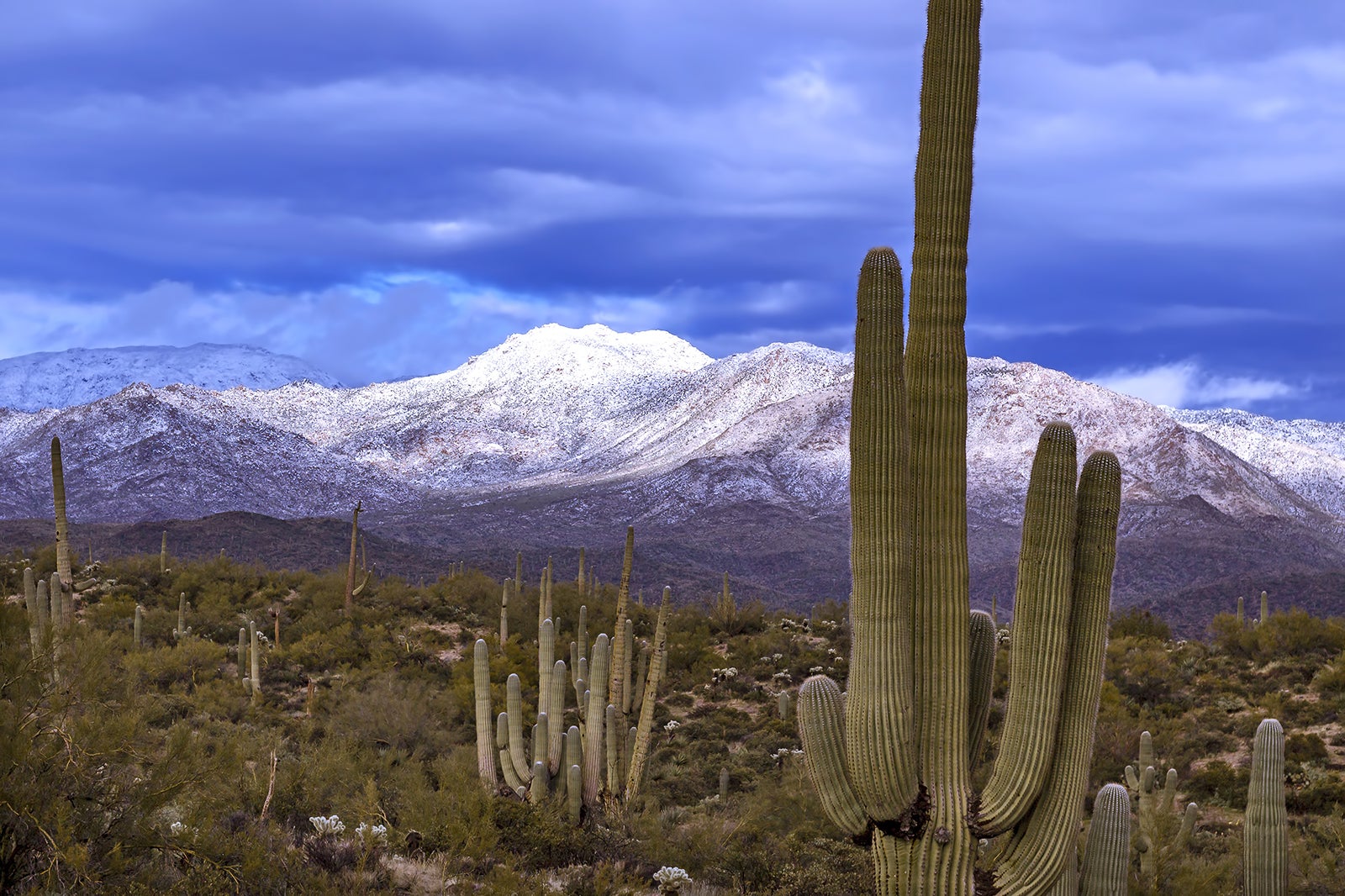 Spanning over 60,000 acres, the Four Peaks Wilderness area focuses on the namesake Four Peaks, which constitute one of the most recognisable landmarks in the entire state. Whether you're a novice hiker or an experienced outdoorsperson, you'll find lots to explore here.
While there are hundreds of miles of trails, one of the more popular is the Butcher Jones to Beeline OHV Route, which starts at Lake Saguaro. The Four Peaks OHV Road #143 to Route 188 offers scenic driving, as well as access to multiple hiking trails. Arizona Trail from Roosevelt Lake to Pigeon Spring Road runs 18.4 miles and gives access to several hiking trails.
Location: 4 Peaks Rd, Fort McDowell, AZ 85264, USA
Open: 24/7
Phone: +1 602-225-5200
9
Hellsgate Wilderness Area
Pristine beauty in a remote location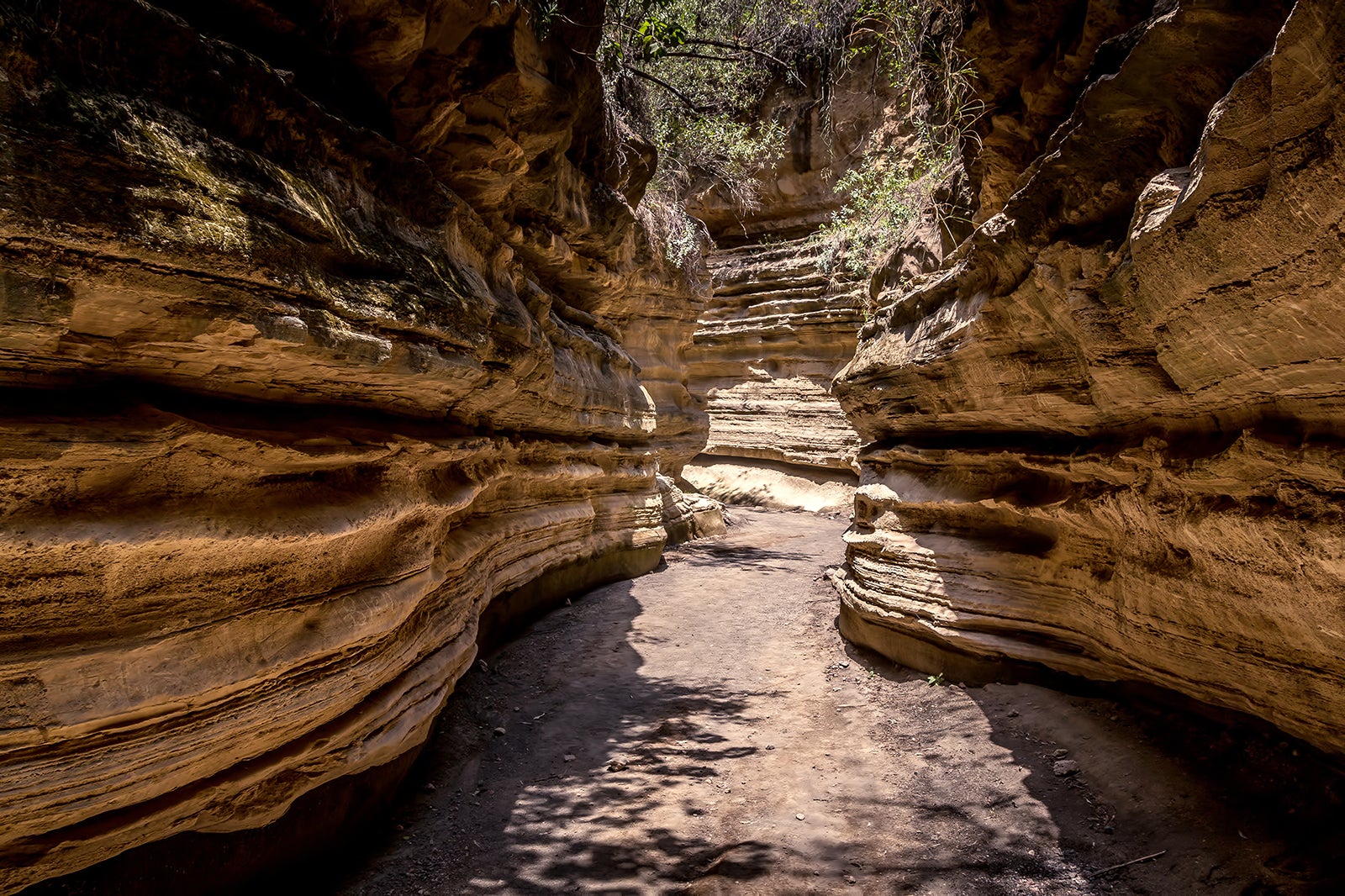 Looking for a real challenge? Consider exploring Hellsgate Wilderness Area. Inaccessible without a 4-wheel-drive vehicle, this area is home to rich wildlife, including black bears, mule deer, foxes, beavers, and more. The waters teem with trout, smallmouth bass, and catfish, too, making it an attractive destination for anglers.
While the Hellsgate Wilderness Area is undeniably beautiful, it can be hard to reach and get around. All hiking trails are rated as challenging. However, there are numerous trails, as well as camping spots for those with an adventurous streak. Note that the area sees only light usage throughout the year because of its remoteness and the difficulty in accessing it.
Location: Young Hwy, Young, AZ 85554, USA
Open: 24/7
Phone: +1 602-225-5200
10
Sunrise Peak Trail
Get the best view in the house
Take the Sunrise Trail to Sunrise Peak if you want a way to experience Scottsdale and the surrounding area that doesn't involve driving. It's a 3.6-mile trek (rated as moderate) that offers challenges but plenty of rewards. Of course, most visitors come for the view over Scottsdale from the top of Sunrise Peak. Make sure you have a camera handy.
Throughout your hike, you'll get to see Arizona wildlife, but depending on what time of year you go, the trail is also lined with wildflowers nodding in the breeze. The trail is accessible all year round, though, and you're welcome to bring your dog, as long as it's leashed. Note that the trail is not designed for biking but hiking and running are allowed.
Location: 12101 N 145th Way, Scottsdale, AZ 85259, USA
Open: 24/7
Phone: +1 480-619-7974
Back to top