Kraken® is a floorless rollercoaster located at SeaWorld® Orlando that swoops and rolls to the delight fans of fast and frantic rides. The coaster features 7 inversions, including 2 vertical loops, a dive loop, a zero-g roll, a cobra roll, and a corkscrew.
The ride is one of the longest floorless coasters in the world and reaches 65 mph, is 4,177 feet long, and stands 149 feet tall. Each car has retractable flooring to make boarding safe and easy. Once everyone is secure, the floor is retracted and the front gates open. The open-air trains have seats that leave your legs dangling above the track, but safety is ensured thanks to an over-the-shoulder restraint system on each seat. There's a minimum height requirement of 54 inches to ride the Kraken rollercoaster.
Kraken Rollercoaster at SeaWorld Orlando - one of the highlights of 9 Best Rollercoasters in Orlando (Read all about Orlando here)
The name Kraken comes from the mythological sea monster, kept caged by Poseidon, God of the Ocean. The ride is themed after the underwater beast being unleashed from the sea. There are 3 subterranean dives, 1 at full speed into the Kraken's lair, drenching bystanders with water. Eels are known to be Kraken's young, so keep an eye out for them while waiting in line. SeaWorld keeps you near the sea, even when waiting in line for a thrilling rollercoaster.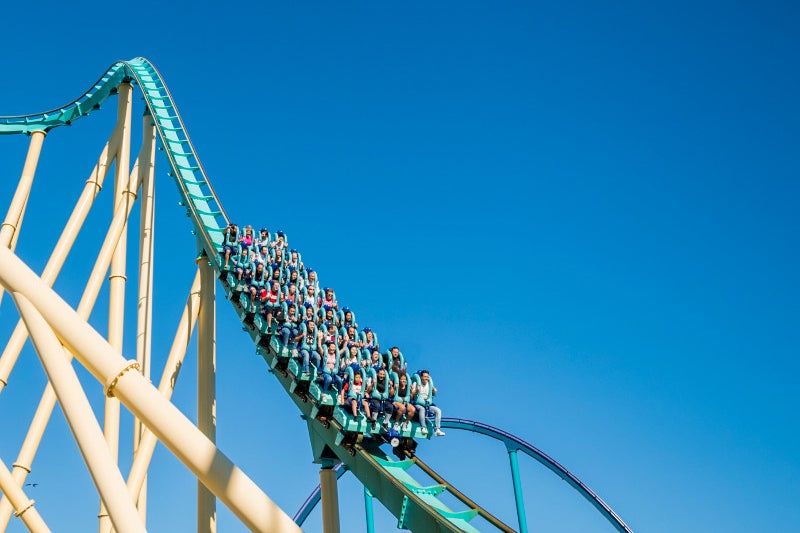 Kraken Rollercoaster at SeaWorld Orlando
Location: SeaWorld Orlando, 7007 Sea World Dr, Orlando, FL 32821, USA
Phone: +1 407-545-5550
Back to top