Madame Tussauds is an internationally known museum where you can see and take photos with lifelike sculptures of historic and current celebrities cast in wax. The museum opened in 2014 and is located at the mouth of Fisherman's Wharf along the bay. It's one of many Madame Tussauds museums all over the world.
From past superstars like Alfred Hitchcock and Jimi Hendrix to modern A-listers like Peter Dinklage, you'll find figures and settings here that are so lifelike you'll swear they're the real thing. These are combined with a Spirit of San Francisco exhibit celebrating the area's history.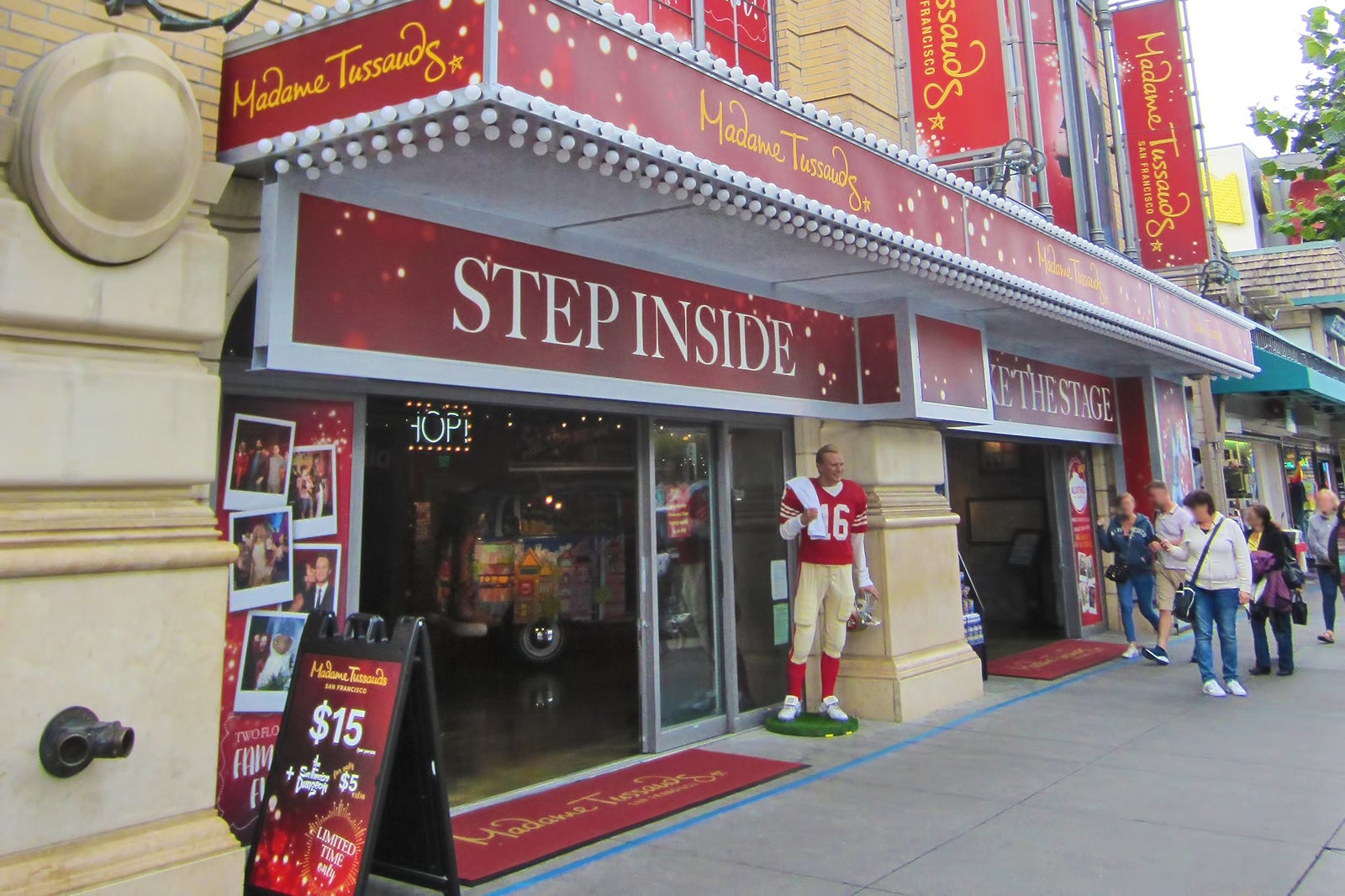 Highlights of Madame Tussauds
The celebrities are by far the biggest attraction and include such figures as Serena Williams, Jennifer Aniston, Morgan Freeman, Neil Patrick Harris, and Leonardo DiCaprio, amongst others. In the Music Zone, you can get up close to such notable figures as Michael Jackson, Rihanna, Lady Gaga, and Madonna.
The Spirit of San Francisco exhibit allows you to walk alongside such notable local celebrities as Janis Joplin, Jerry Garcia, Robin Williams, and Jimi Hendrix as you stand on the Golden Gate Bridge. It's a tribute to the celebrity and pop culture history of the city in all its quirky grandeur.
What to know before you go to Madame Tussauds
To avoid the lines, visitors can book their tickets ahead of time. The event is cashless, so make sure you have your cards ready to go when you visit. Discounts are available to active and retired military members. The attraction is accessible for those with disabilities. The museum takes about an hour to go through.
Eating and drinking are prohibited on-site to protect the wax figures, which can be quite fragile and prone to contamination and damage. Likewise, large bags and luggage are not permitted, nor are pets except service animals. Cameras are not only allowed, but encouraged.
Madame Tussauds in San Francisco
Location: 145 Jefferson St, San Francisco, CA 94133, USA
Phone: +1 415-757-2707
Back to top