New Orleans Travel Essentials
Useful Information to Help You Start Your Trip to New Orleans
Our New Orleans Travel Essentials lays out the essential information you need to help planning your trip to one of the most popular destinations in the USA. No matter how frequently you travel, some questions will always need answers: What's the weather like? How can I get from the airport to my hotel? What currency and type of plug do I need? We have all these answers plus other basic info about the best time to go, getting there, getting around, and a few useful travel tips.
It's all compiled in this New Orleans Travel Essentials. After reading this short and easy-to-read guide, you will be a little more prepared to start your trip in New Orleans, Louisiana.
1
When is the best time to travel to New Orleans?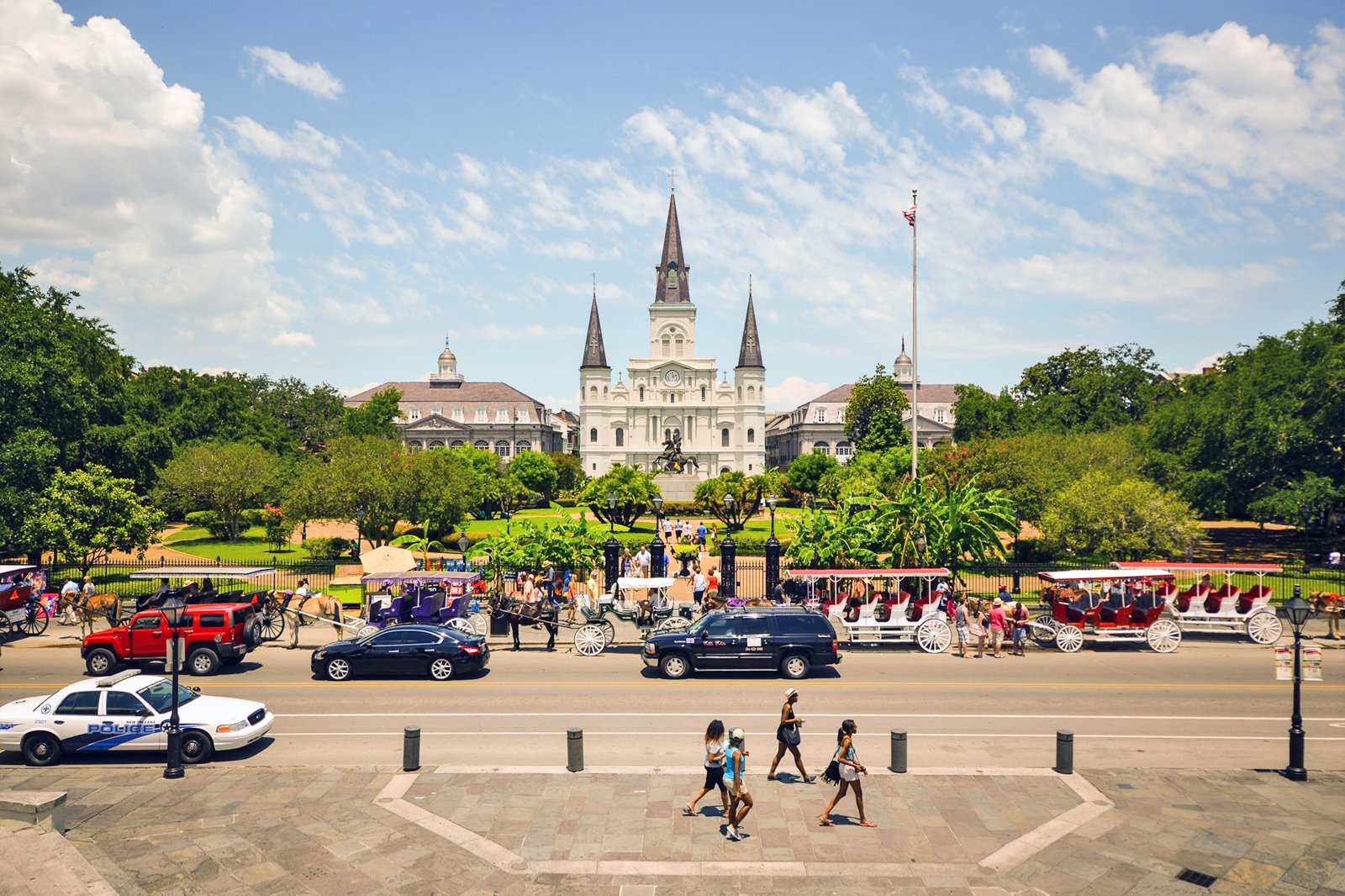 New Orleans has a humid subtropical climate, with average temperatures ranging from 53ºF in winter to 83ºF in summer.
Most rainfall occurs from June to August, with an average of 12-13 rainy days, yet you can expect 7-9 rainy day per month the rest of the year.
The warmest time of the year is from April to October.
February-May is the most popular time to visit but also peak tourist season, when hotel and flight prices rise accordingly.
September-November is also a great time to visit, but this is still the season of hurricanes so the weather can be unpredictable. The upside of this period is that you'll avoid the summer's crowds, and flight and hotel prices are more affordable.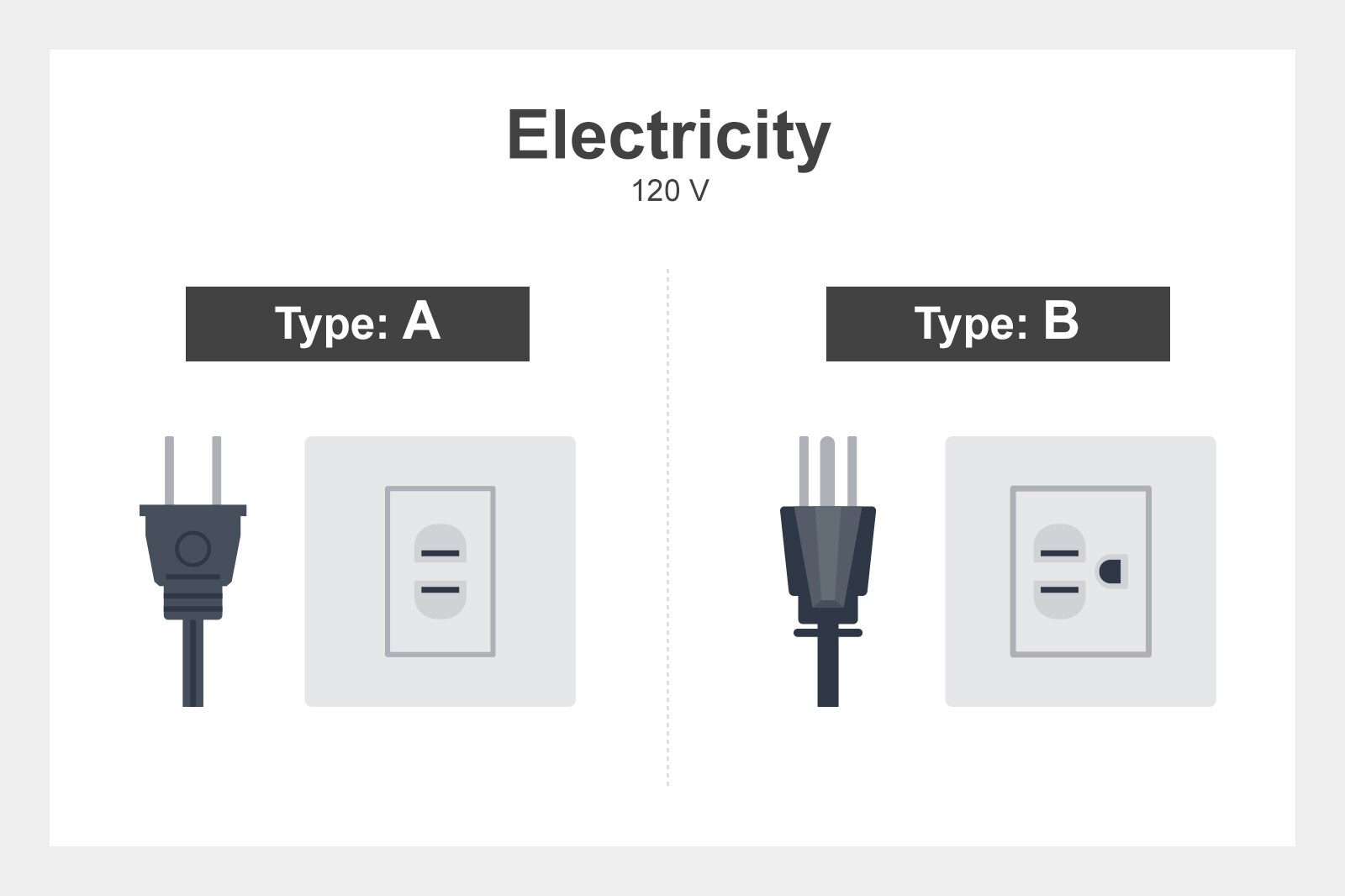 Primary Languages: English, Louisiana Creole
Plug types: A and B
Electricity: 120 V
Currency: United States Dollar (US$)
International dialling code: +1 504
Emergency telephone number: 911
3
How to get to my hotel in New Orleans?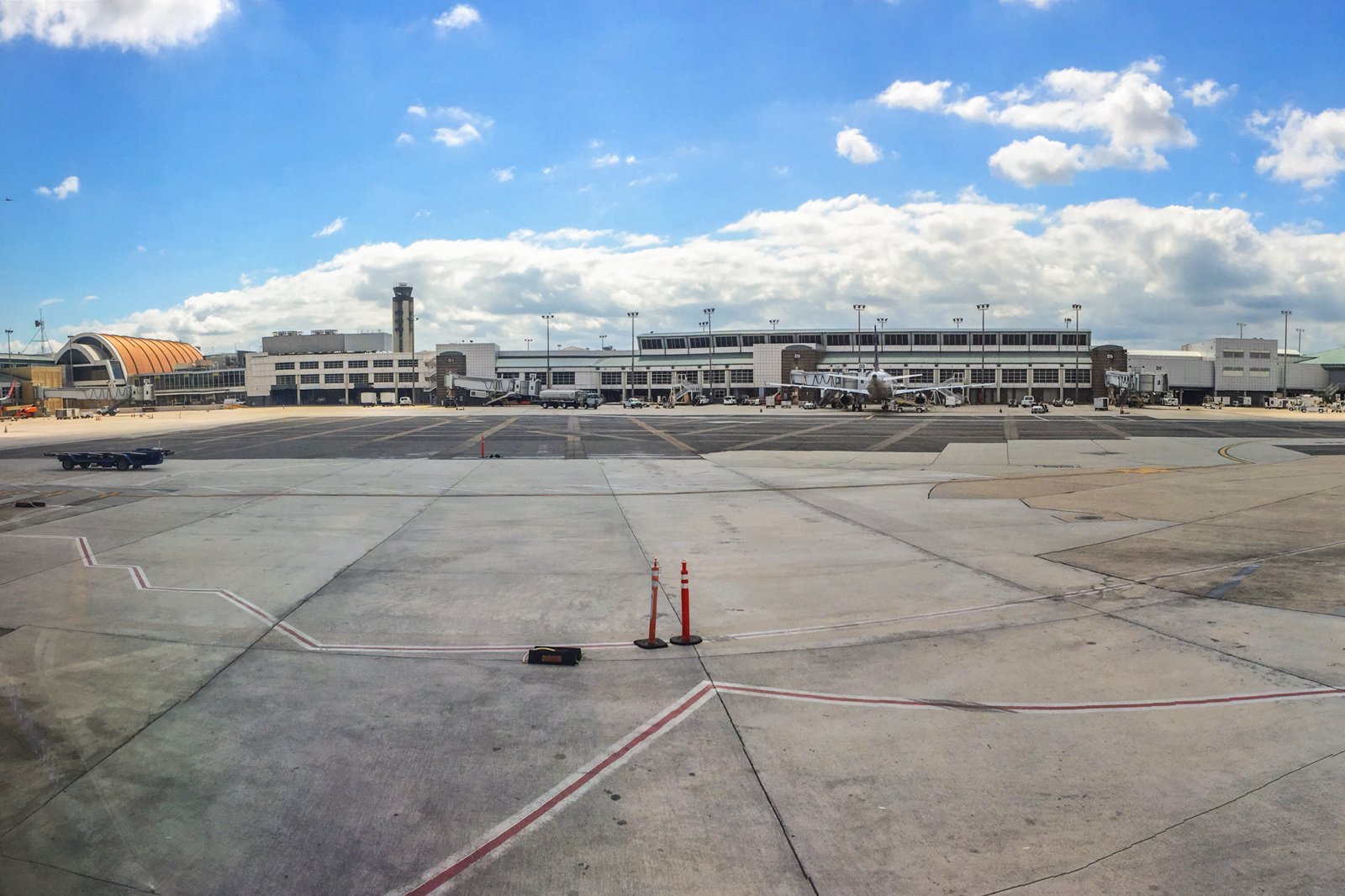 Named in 2001 after one of the most popular Jazz trumpeters of the 20th century, Louis Armstrong New Orleans International Airport sits 11 miles west of the city centre. The primary airport in southeast Louisiana, it features 2 passenger terminals. The airport has a good choice of dining and shopping options as well as facilities including banking and currency exchange services. There are several transfer options to reach central New Orleans:
A taxi takes around 30-40 minutes. Taxi ranks can be found on the first level of the terminal, just outside of the baggage reclaim carousels 1 and 14.
You can also use Uber and Lyft apps from Louis Armstrong Airport.
Shared shuttle minivan services are at hand to get you downtown. It takes around 35-45 minutes. Booths can be found in the baggage claim area.
The Airport-Downtown Express Bus (E2) takes between 40 and 50 minutes depending on traffic. It's the cheapest way to reach central New Orleans. The bus stop is on the 2nd floor, just outside Concourse C.
If you want to hire a car, just walk to the Consolidated Rental Car Facility (CONRAC) located roughly 60 metres outside Concourse C.
If you come to New Orleans by train or by bus
New Orleans main railway and bus station is known as Union Passenger Terminal. It's served by Amtrak trains and Greyhound buses. Union Passenger Terminal sits in the city centre, 1 mile south of the French Quarter. From here, you can get to your hotel by RTA (Regional Transit Authority) bus, taxi or hired car (the closest car rental agency can be found 350 metres from the terminal, on Baronne Street).
photo by Oleg Brovko (CC BY-SA 2.0) modified
4
How to get around New Orleans?
New Orleans is a North American city apart in the collective imagination. Founded by the French early 18th century, it has a rich cross-cultural heritage that blends Creole cuisine, Spanish architecture, voodoo and Jazz music. The best way to explore the famous French Quarter and Bourbon Street, 2 iconic areas of the city centre, is on foot. For longer journeys, a good range of convenient and affordable public and private transport services are available.
photo by Phil Roeder (CC BY 2.0) modified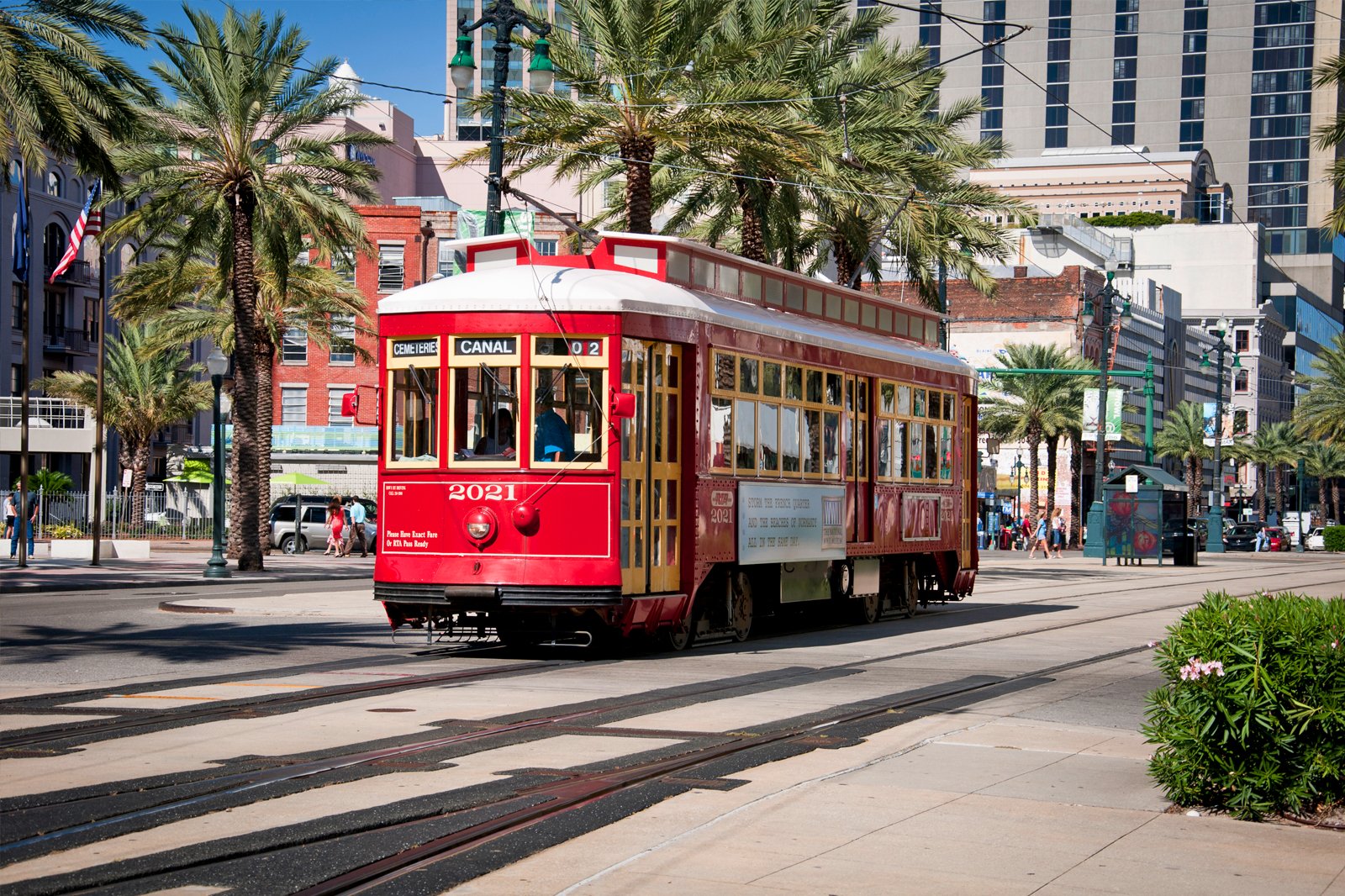 New Orleans RTA (Regional Transit Authority) operates bus, streetcar (historical tram) and ferry networks throughout the city.
You can also purchase a 1-, 3- or 5-day Jazzy Pass for buses and streetcars.
Tickets and passes are available on the GoMobile app, in RTA ticket vending machines, at designated vendors (Walgreen Pharmacies, for instance) or online.
Read more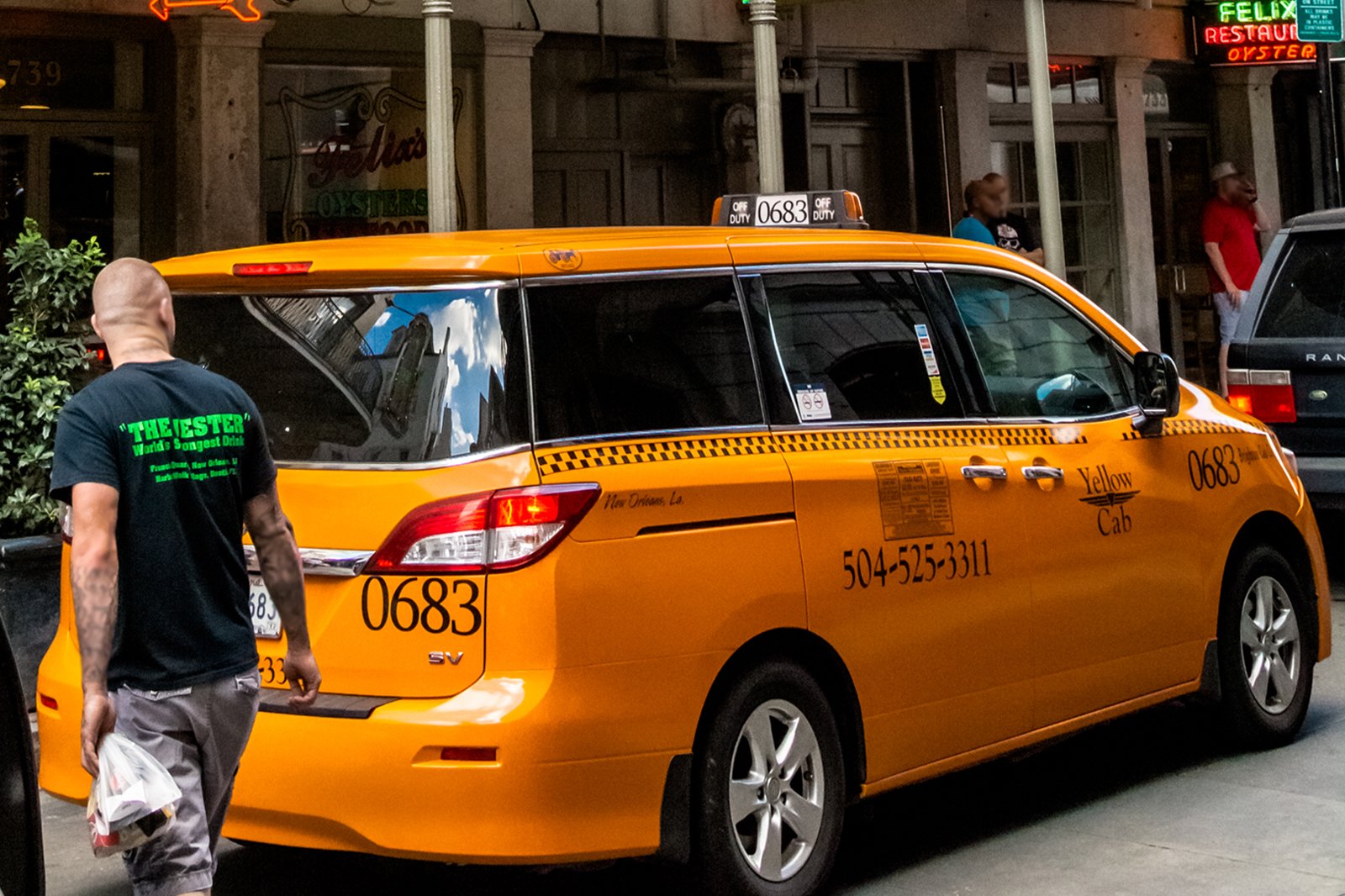 You'll easily find taxi ranks near the main transport hubs, attractions and hotels.
You can call taxi companies such as United Cabs (504-522-9771 or 504-524-9606), New Orleans Carriage Cab (504-207-7777) or NOLA Pedicabs (504-274-1300).
Payment of the fare by credit card is usually possible but it's better to ask the driver before you get in.
It's common to give a 10-15% tip to the taxi driver.
You can also use Uber, Lyft or a local taxi apps.
photo by dconvertini (CC BY-SA 2.0) modified
7
Cycling around New Orleans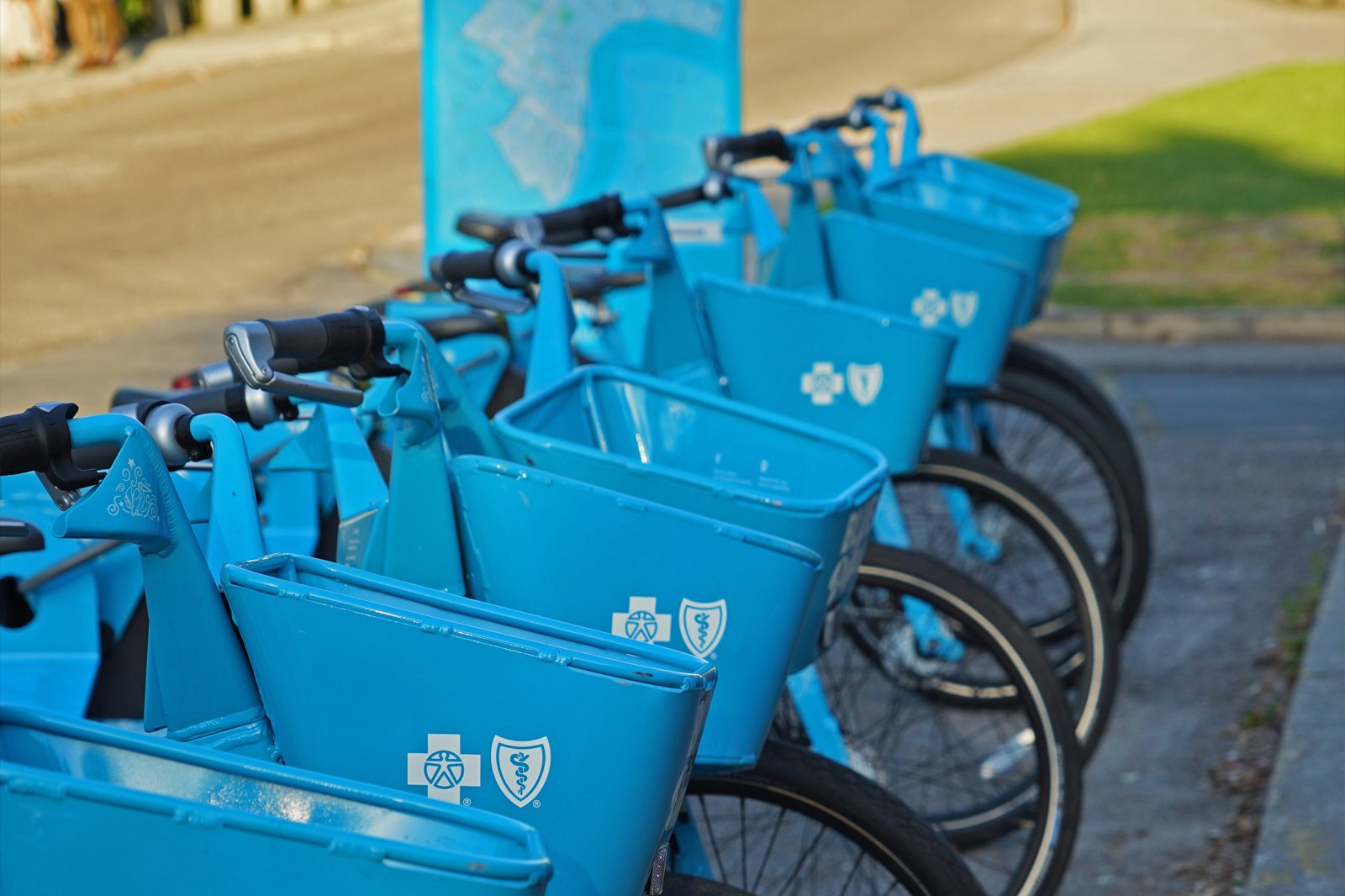 The main bike sharing scheme in New Orleans is named Blue Bikes. It offers a cool way to explore the city. All you need to do is to download the free app in your mobile phone or register on their site.
8
What are the main annual events in New Orleans?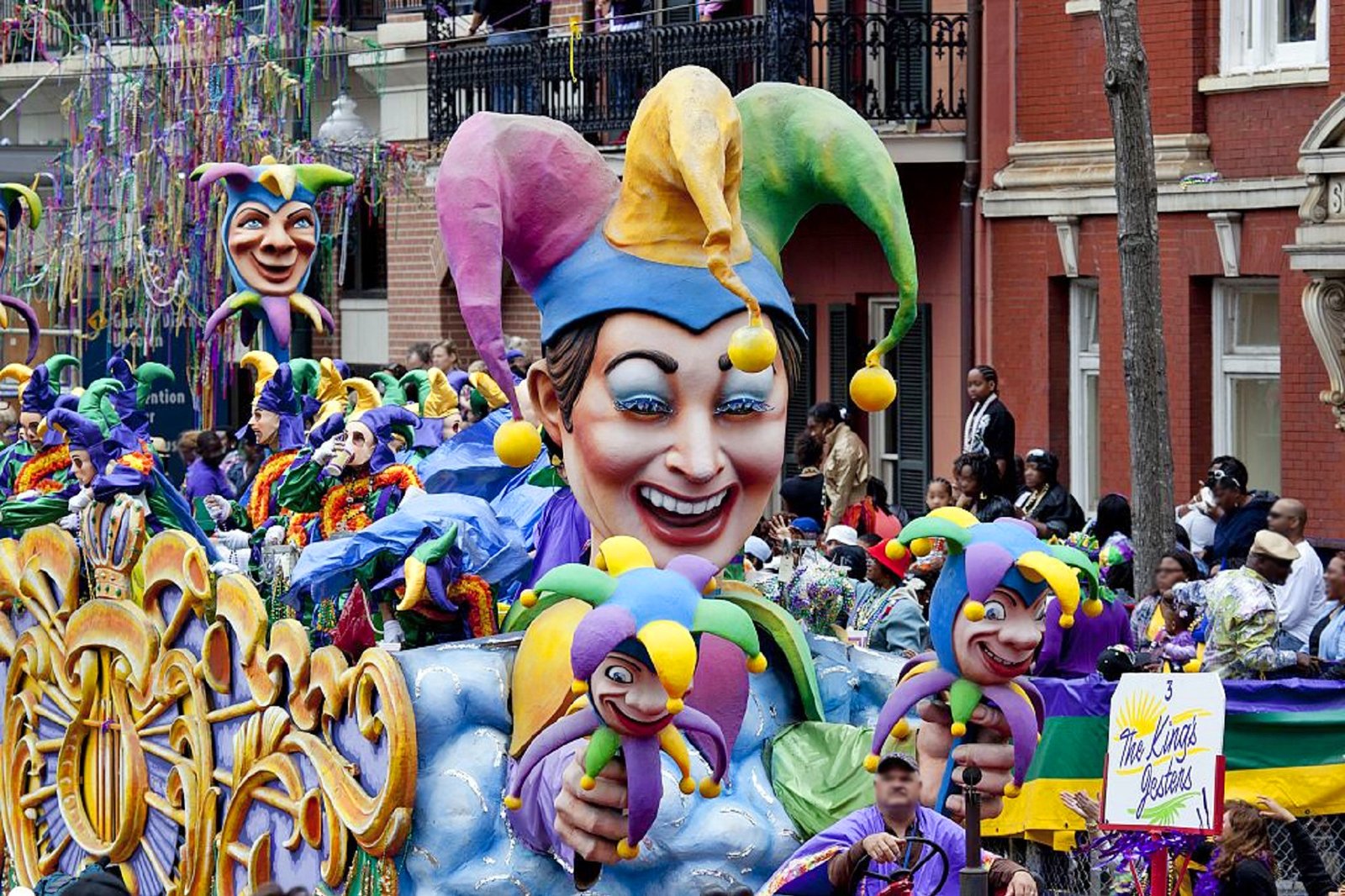 New Orleans Mardi Gras
What: Colourful, festive parades are held every day for 2 weeks during the vibrant New Orleans Mardi Gras. Spectacular floats and highly creative costumes take the street of the French Quarter and the Downtown area. Dress in gold, green and purple – the colours traditionally associated with the festival – and join the cheerful crowd.
When: 2 weeks in March
Where: All around the city
French Quarter Festival
What: Known as "the largest free festival in the United States." and as "the world's largest showcase of Louisiana music", the French Quarter Festival celebrates the spirit of the New Orleans with Jazz and Blues musicians taking the streets for performing.
When: April
Where: Throughout the French Quarter
New Orleans Jazz & Heritage Festival
What: Locally known as the Jazz Fest, the New Orleans Jazz & Heritage Festival is an annual celebration of the music and culture of New Orleans and Louisiana. Besides the live music performances, expect vendors selling local foods and crafts.
When: April-May
Where: At the Fair Grounds Race Course and in many night spots
Voodoo Experience
What: Held on Halloween weekend, Voodoo Experience describes itself as a music, art, community, cuisine and all the mystery and adventure festival.
When: Late October
Where: New Orleans' City Park
Back to top