Orlando International Airport (Airport code: MCO) is the main point of access for international guests coming to the city and its countless attractions. It's located 6 miles southeast of the city and, with 40 million people passing through its 2 terminals each year, it's the second-busiest airport in Florida (after Miami) and even ranks among the busiest airports in the world.
Originally a military airfield, Orlando International is now a fantastic modern facility. It's a major hub for Silver Airways and a focus city for Frontier Airlines, JetBlue Airways and Southwest Airlines, the last of which is the airport's largest carrier by passenger load. There are also regular international services from Aer Lingus, British Airways, Emirates, Lufthansa and others, flying to destinations across Europe and North, Central and South America.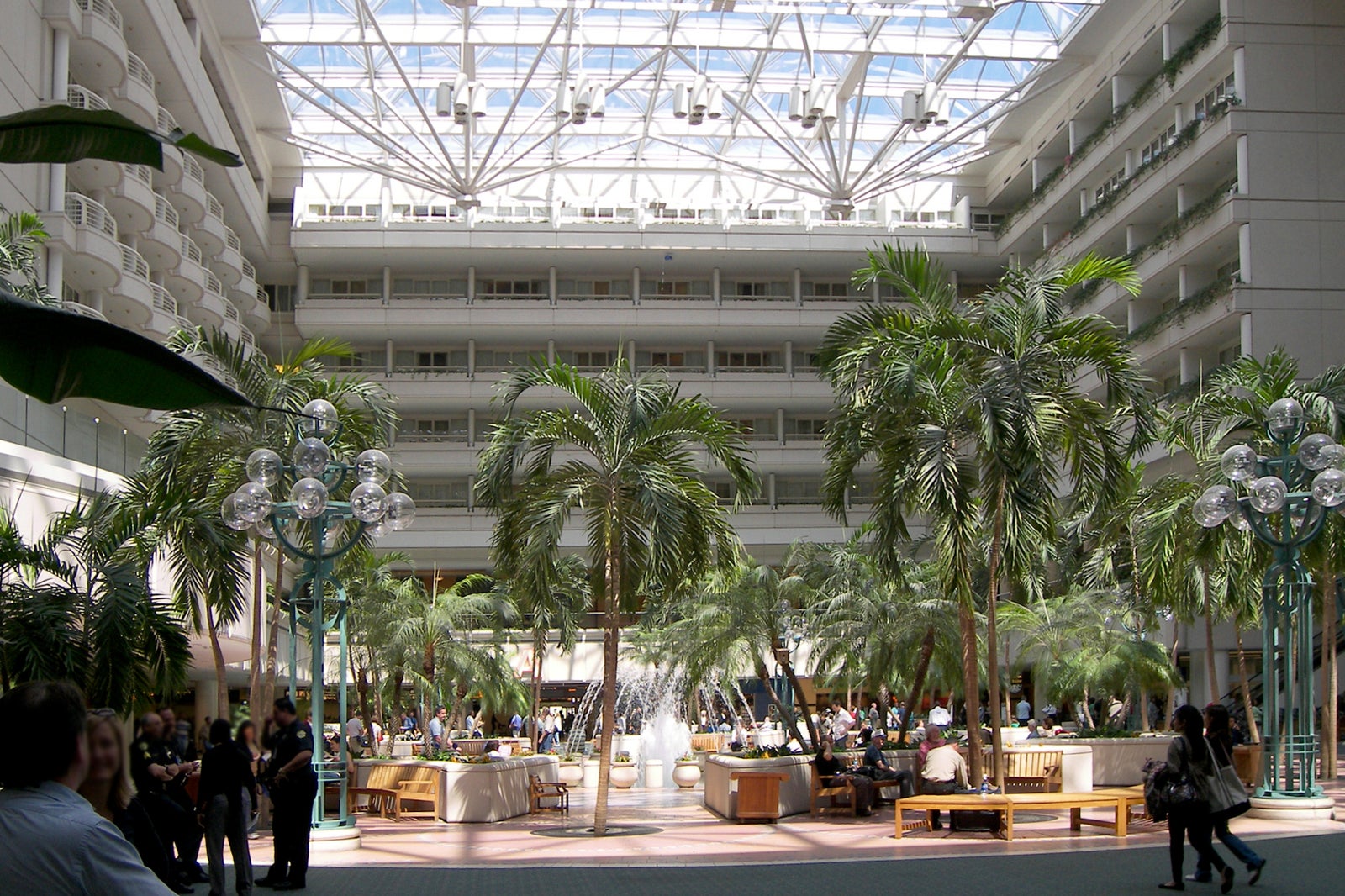 After landing on 1 of the airport's 4 runways and taxiing to 1 of the 4 gate buildings, you'll need to take a 1-minute train ride to the main terminal which, in the case of international arrivals, will be after you have cleared Immigration and Customs. You'll pass through a grand atrium with a number of restaurants and bars available before making your way to the exits.
There are several options for getting from Orlando International Airport to the city itself. The favourite is to rent a car, which is why Orlando is the world's largest vehicle rental market. Some of the big names – such as Avis, Budget, and Enterprise – have outlets in the airport while you can find many others by taking a free shuttle bus to their offices.
The main routes out of the airport are SR 528 (Beachline Expressway) and SR 417 (Central Florida GreeneWay), both of which are toll roads costing about $2 each. It's important to note that the gasoline pumps near to the airport are known to charge significantly more than those elsewhere, so make sure you top off your tank in town. Other methods of getting from the airport include free shuttle services provided by some hotels, shared shuttle vans, buses and taxis. Signs directing you to all of these can be found by the exits.
Orlando International Airport has an impressive range of facilities for the convenience of travellers, not least of which is the on-site Hyatt Regency hotel, which is located on the eastern side of the atrium in the main terminal building. The grand, 445-room hotel has an outdoor swimming pool as well as 2 restaurants, one of which is on the terminal's rooftop, offering great views of the airport runways.
There are plenty of other restaurants around the airport, including numerous fast-food offerings in the centrally located food court of the main terminal building and in the 4 gate buildings around it. There's an extensive selection of duty-free stores as well as ATMs, mobile device charging stations, currency exchange and convenience stores available throughout.
Orlando International Airport
Location: 1 Jeff Fuqua Blvd, Orlando, FL 32827, USA
Phone: +1 407-825-2001
Back to top