Orlando's theme parks re-open: New Guidelines to keep visitors safe
Universal Orlando's theme park and resorts are welcoming guests and working to keep them safe.
Florida has announced the reopening of several cities and businesses across the state, which means that Orlando is ready to welcome back visitors! Before anyone can travel to the city known for its dazzling theme parks, there are some key health and safety measures to follow and precautions to keep in mind.
Orlando's theme parks re-open: New Guidelines to keep visitors safe - one of the highlights of 10 Best LGBT-friendly Places in the USA and 10 Best Places to Celebrate Christmas in the US (Read all about Orlando here)
What has reopened in Orlando?
Most counties in Florida are in various phases of re-opening. Bars and restaurants are following local guidelines, and beaches and parks are all welcoming back visitors. The state also okayed the reopening of theme parks, which means Universal Orlando Resort is now open.
Which hotels are open in Orlando?
Universal Orlando Resort's hotels are ready to welcome back their guests (with health and safety restrictions, of course). Visitors can stay in the value hotel Universal's Endless Summer Resort, prime value hotels Universal's Aventura Hotel and Universal's Cabana Bay Beach Resort, preferred hotel Loews Sapphire Falls Resort or book a stay at one of the premier hotels: Hard Rock Hotel, and Loews Royal Pacific Hotel. (Loews Portofino Bay Hotel and Universal's Endless Summer Resort – Dockside Inn and Suites will be opening at a later date.)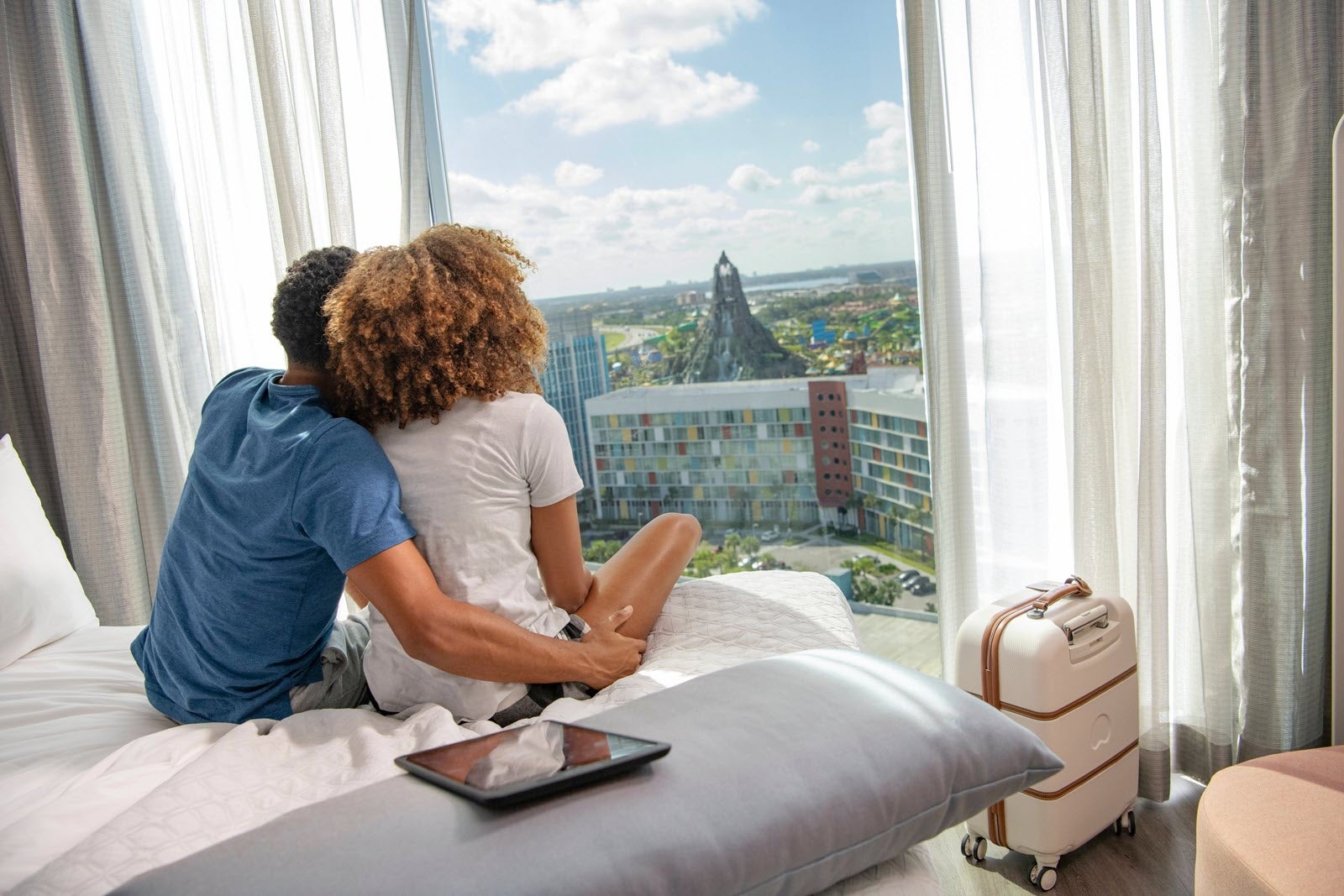 How are hotels prioritising cleanliness and safety?
All hotels in Florida have specific guidelines that must be followed to make sure that guests have an enjoyable and safe stay. Florida Restaurant & Lodging Association lists general operating restrictions and guidelines for hotels to remain open. Here are a few ways that Universal Orlando Resort's hotels and are keeping guests safe during your stay:
Touchless Temperature screenings: Upon arrival, guests (along with team members and vendors) will have their temperatures checked. If a person's temperature is 100.4 degrees or higher, they will not be allowed to check-in or stay. If the guest's temperature registers below 100.4, guests they will be issued a wristband. This wristband will indicate that they will not need their temperature checked again when entering the theme parks or re-entering their hotel until the following day.
Personal Protective Equipment (PPE): All guests and team members are required to wear face coverings throughout their stay, except when in their hotel room, lounging by the pool, swimming or eating..
Social distancing: In highly trafficked areas (such as hotel lobbies), guests must practice social distancing by remaining 6 feet or more from others. But don't worry—each hotel has signs and easily marked areas to remind guests of these new procedures.
Sanitizing and cleaning: There will be hand sanitizing stations in hotels' public spaces All high-touch areas will be cleaned more frequently with EPA-approved cleaner and disinfectant. After checkout, guest rooms will be left vacant for 24 - 48 hours between guests, when possible, before thoroughly cleaning and disinfecting the room and checking in a new guest. Housekeeping services will only occur upon request
Contactless services: Contactless and stress-free hotel texting services and express checkout are available. Fresh linens and towels will be delivered to a guest's door in sealed bags, when requested. Guests should check with their hotel's front desk for information on what restaurants and amenities (such as pools, fitness centers, and bars) will be open during their stay.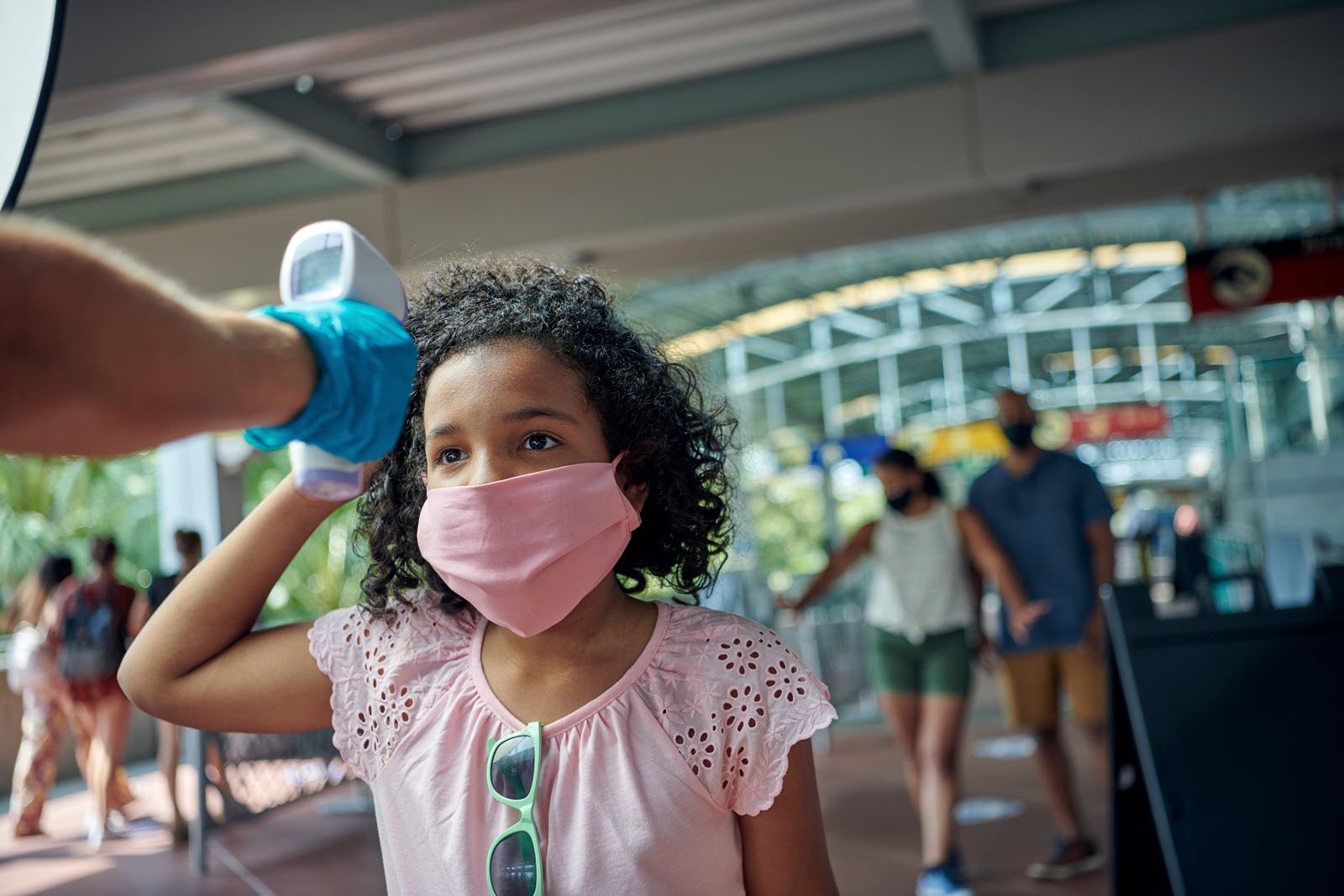 What are the health and safety measures at Universal Orlando theme parks?
Theme parks have easy-to-follow, mandatory safety guidelines to keep everyone safe. That means guests can worry less about their health and more about which ride they're going to visit next. Here are some key measures that will keep guests safe at the parks:
Temperature screenings: Similar to the Universal hotels, the theme parks require temperature screenings before entering. Though, if guests have already had their temperature checked at their hotel and are wearing a wristband, they don't need to go through the screening process again.
PPE: Guests and team members must wear face coverings at the theme parks. If you don't have a mask, don't stress! Guests can purchase themed face masks upon arrival.
Social distancing: Daily park attendance will be limited, as well as ridership of certain attractions, to avoid overcrowding. Guests will find staggered parking to create distance between travel groups in the garage and social distancing measures in lines to attractions and at eateries.
Contactless services: Leave your extra cash at the hotel. Most shops and restaurants offer cashless payments and "no touch" policies where possible. And at Volcano Bay, every ride features a Virtual Line experience, where guests can secure a ride time on their TapuTapu wearable.
Early entrance: All Universal hotel guests are encouraged to use their Early Park Admission benefit to either Universal Studios Florida or Universal's Islands of Adventure and Universal's Volcano Bay Water Theme Park one hour before the parks open Valid theme park admission required. Select attractions.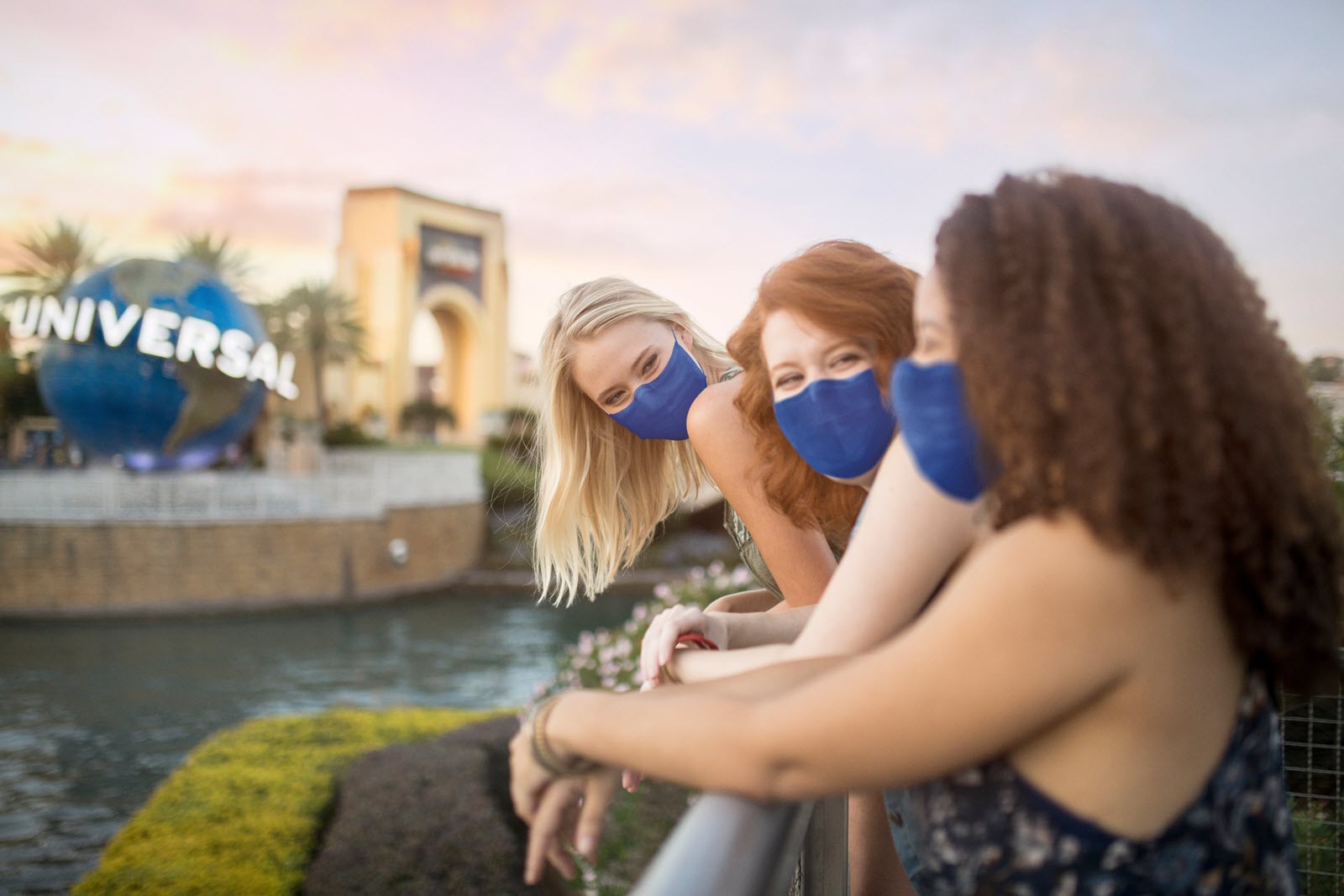 What else do I need to know before going to Orlando?
Universal Orlando asks that international travellers and visitors from states with travel restrictions comply with government guidelines regarding travel and mandatory quarantines before visiting the hotels or theme parks. Enjoying a trip to Orlando is easy as long as all guidelines and social distancing measures are followed.
Please be sure to check official CDC guidelines, as well as official Universal Studio Resort guidelines before visiting parks so that you can be sure you're armed with the most up-to-date information.
Back to top