The Mob Museum in Las Vegas
The Las Vegas Attraction It Would Be Criminal to Miss
The Mob Museum in Las Vegas, also known as the National Museum of Organised Crime and Law Enforcement, is a unique, multimedia archive of the mob's history in the US and the reach of their criminal activity, including involvement in gambling at casinos and the production and distribution of alcohol during Prohibition. Here, you can delve deep into the world of famous gangsters like Al Capone and learn about major crime events, such as the Valentine's Day massacre of 1929. The museum opened its doors on Valentine's Day in 2012, and it was accredited by the American Alliance of Museums (AAM) in 2017.
For older children and adults alike, the museum is the perfect afternoon activity and takes an average of 2 hours to explore. If you're visiting with an adult crew who would enjoy some libations after the tour, you might choose to visit in the late evening.
The Mob Museum in Las Vegas - one of the highlights of Las Vegas for People Who Hate Casinos and 10 Unique Museums near Las Vegas (Read all about Las Vegas here)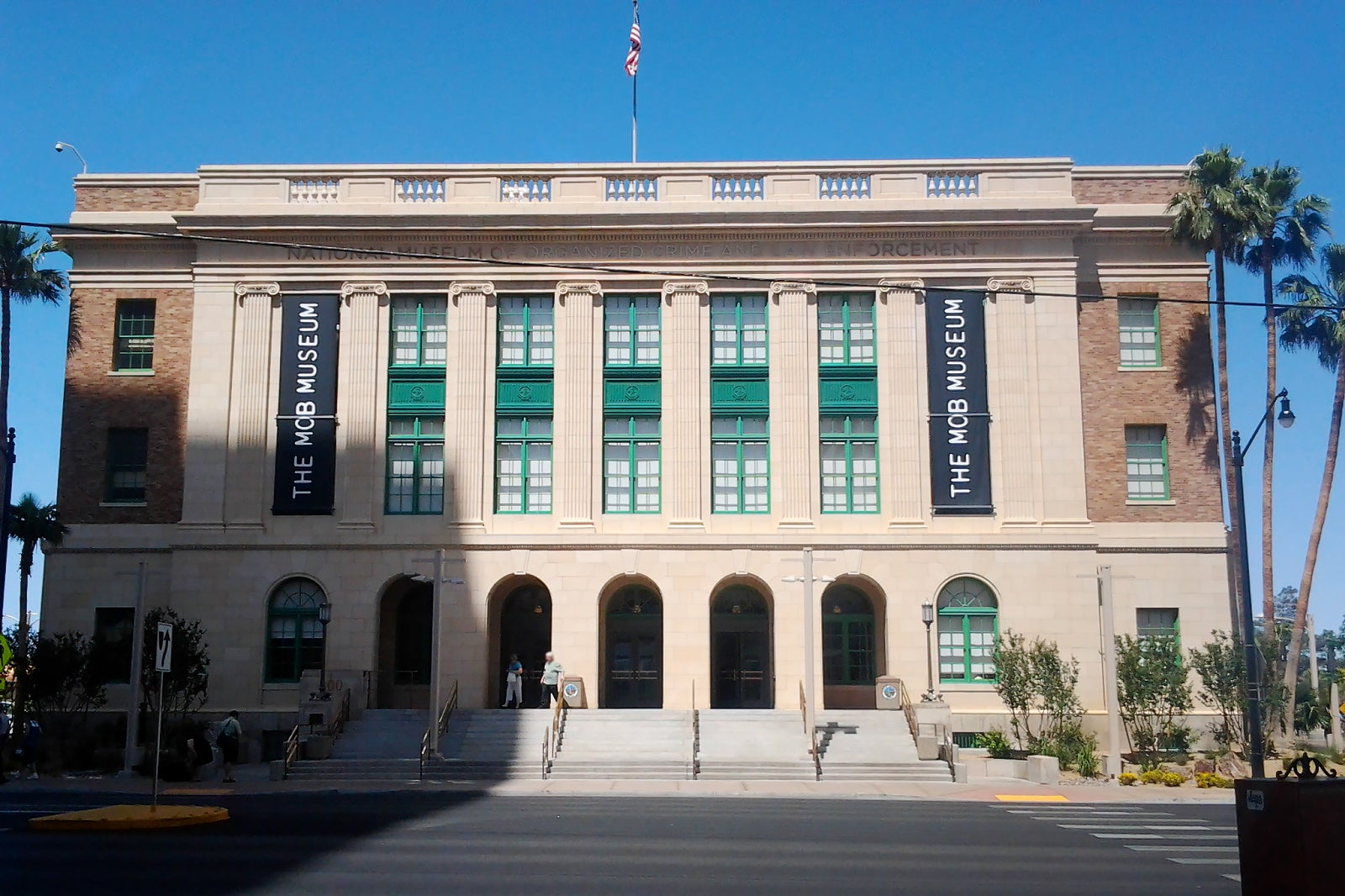 The Mob Museum highlights
At the Mob Museum, you'll have the opportunity to learn about the history of organised crime and have a little fun in interactive exhibits. You can get up close and personal with real evidence from crime scenes throughout the decades of conflict between the mob and the police, including wire-tap recordings. You can also have a souvenir photo taken of yourself in a police line-up from behind a one-way mirror.
Besides the regular exhibits on the upper floors of the museum, you can also add to your day by purchasing tickets for additional experiences. You can choose between a firearm training simulator, a moonshine distillery tour and tasting, and a crime lab experience where you will participate in fingerprinting and DNA sampling.
Nightlife at The Mob Museum
Nightlife within a museum? If you're looking for something unique for a grown-up night out, complete your Mob Museum experience with a visit to the underground speakeasy for some Prohibition-era fun. Admission to the speakeasy is free, but you will need to visit the museum's website in advance to get the password. The password changes every week, so make sure you do this on the day of your visit.
The speakeasy's menu boasts over 20 different craft cocktails, named appropriately with colloquial phrases from the Roaring '20s, and 73 different whiskies for tasting. The museum produces and sells their private line of spirits, including vodka and moonshine, so you can take home a few of your favourite bottles as a souvenir.
Good to know
While you can buy admission at the door, it is recommended to buy your tickets ahead of time, especially if you plan on visiting any of the exhibits that require an additional fee. These experiences are limited to a small number of guests per hour, and you don't want to be disappointed. Alternatively, you can get Happy Hour pricing, available after 5 pm each day, to get a discount off your general admission fee.
If you're travelling with a group, you may want to consider booking one of their Mob Mystery challenges. Perfect for fans of escape rooms or murder-mystery dinner parties, these challenges immerse you in a role-playing scenario where you must identify the suspect to prevent the crime from being committed before time runs out.
The Mob Museum in Las Vegas
Location: 300 Stewart Ave, Las Vegas, NV 89101, USA
Open: Museum: Daily from 9 am to 9 pm; The Underground: Sunday–Thursday from noon to 9 pm, Friday–Saturday from noon to midnight
Phone: +1 702-229-2734
Back to top