10 Best Things to Do in California
What is California Most Famous For?
These are the best places to visit in California – tried-and-true hotspots to make your travel planning checklist a bit easier. But this isn't just covering Hollywood and beaches.
The Golden State is known for its vast, abundant land that is the envy of many other US states, with its beautiful Pacific coastlines, robust forests, modern arts and technology, as well as the breezy Mediterranean weather. However, it's always a safe bet to have spare layers of clothing for the changing temperatures throughout the day, and a pair of reliable walking shoes is highly recommended for your California journey.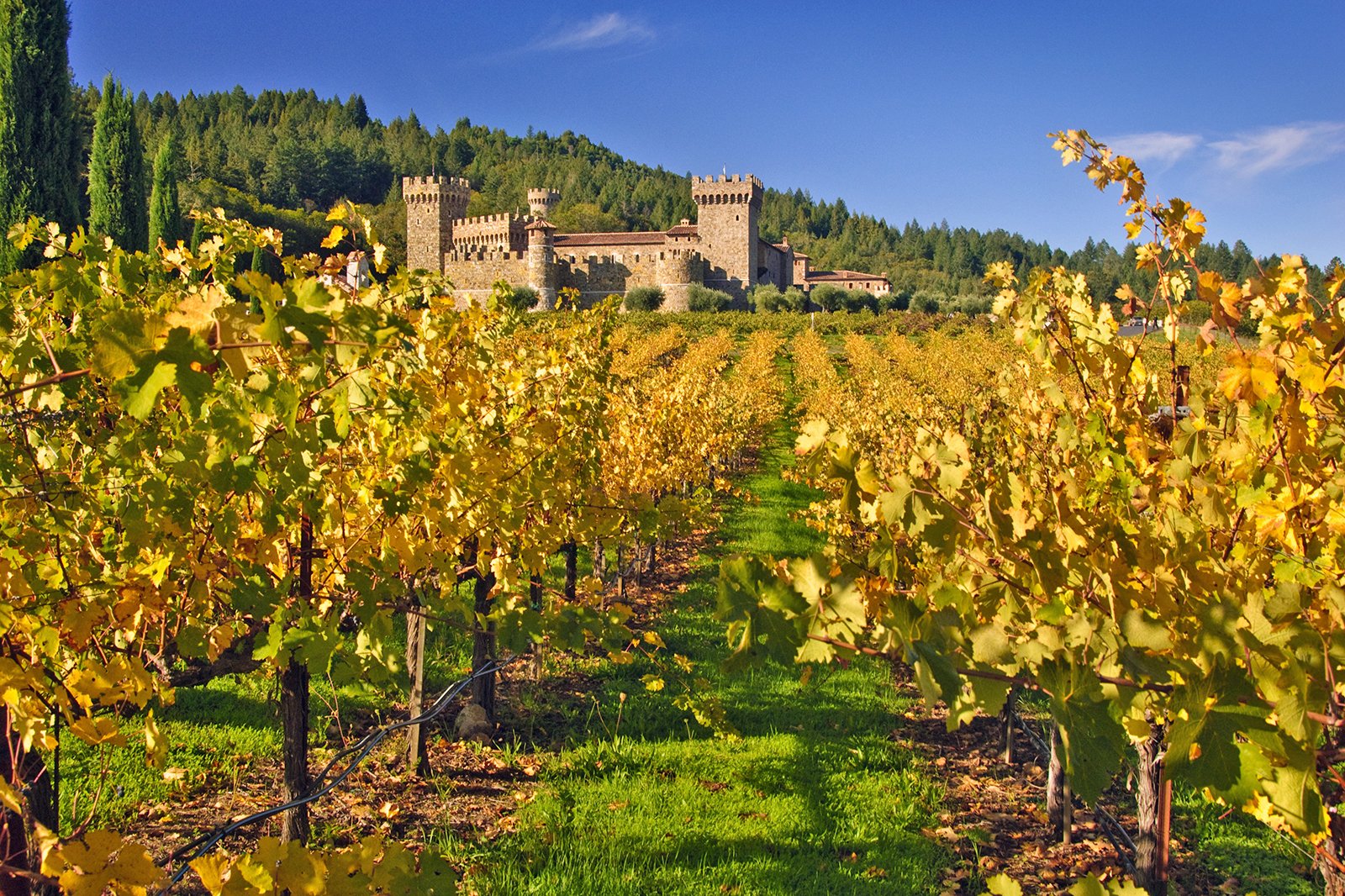 Napa Valley wine tasting
Sample your way through a variety of elite red wines
There are about 500 vineyards in this Napa region to choose from, but how many you sample depending on your alcohol threshold. You can find some of the world's finest award-winning wines here, such as the cabernet sauvignon from the Castello di Amorosa as well as from the Opus One winery.
Napa Valley is about an hour's drive north of San Francisco. Because of its location above the bay, this area is blessed the morning fog that comes in from the bay, and the altitude that keeps the soil cool all year round. However, people don't come here just for the wine, but for events and parties in this gorgeous countryside with unique weather. The climate and soil are ideal for grapes to flourish with romantic wineries like the Del Dotto Historic Caves and Silverado Vineyards.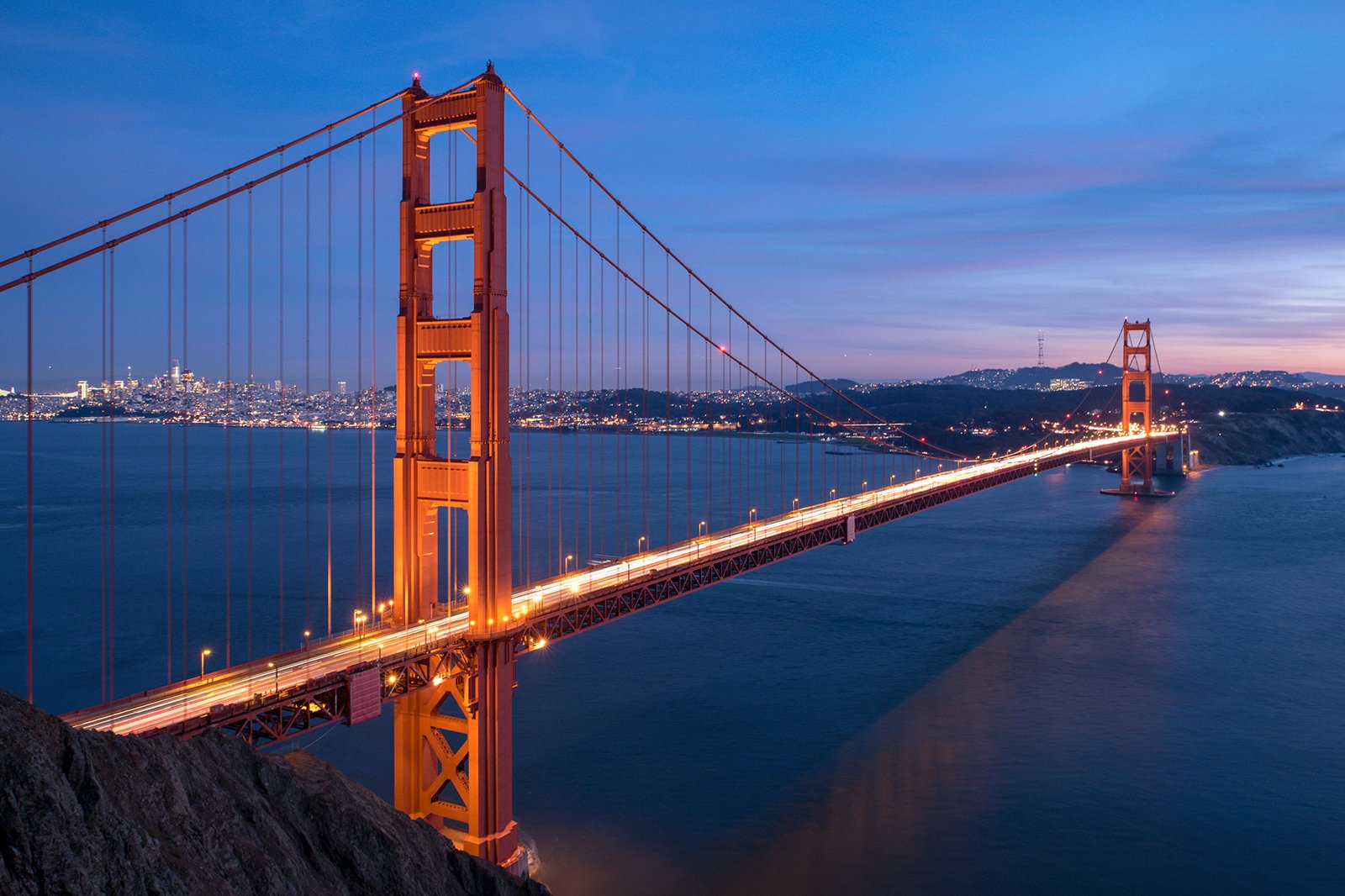 Cross the Golden Gate Bridge
Enjoy panoramic views from California's most famous crossing
At 1.6 miles, visitors can walk, bike or drive across San Francisco's Golden Gate Bridge. The walk would take about 50 minutes to the midpoint and back, or a 30-minute walk to and from the bridge tower to capture some panoramic views. Parking spots are plentiful around the area.
From the same cable makers of the Brooklyn Bridge, the colour of this suspension bridge has always been orange-red. Why not gold? The Golden Gate Bridge earned its name from the Golden Gate Strait, a few years before the Gold Rush frenzy. A few minutes' drive towards south of the bridge is the Japanese Tea Garden where you can enjoy some zen with green tea and rice cakes at this compound, founded by early Japanese-American immigrants.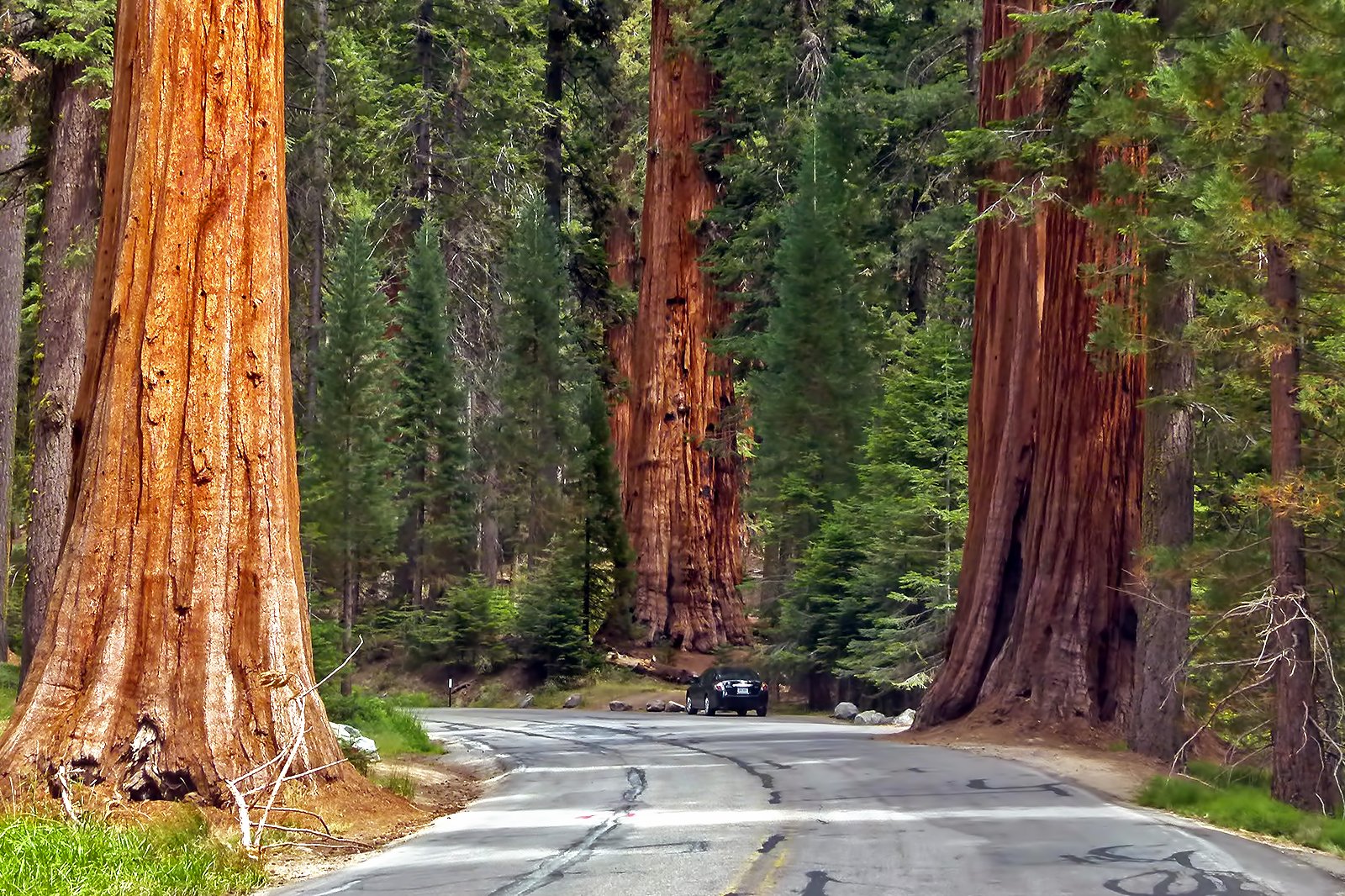 Trek and camp at Sequoia National Park
Hug the world's largest tree (but don't try to climb it)
This park is a 4-hour drive east of San Francisco and 3 hours south of Yosemite National Park. It is highly recommended that visitors rent a car to access the camp site and the parks. The forest spans 316 square miles of majestic redwood trees and sequoias. One of the giant sequoia trees is also one of the largest trees in the world named the General Sherman at 31.3 meters circumference.
This landmark tree is about 30 minutes' drive from the entrance, and the roads twist and turn the whole way. Summer months from June to August can get busy, so call to check and reserve camping space in advance. There are 14 camping sites, with one that is first come, first serve. If not a big fan of camping, Three Rivers is west of this site and about 15-minute drive that has restaurants, hotels and motels.
Couples
Families
Budget
Adventure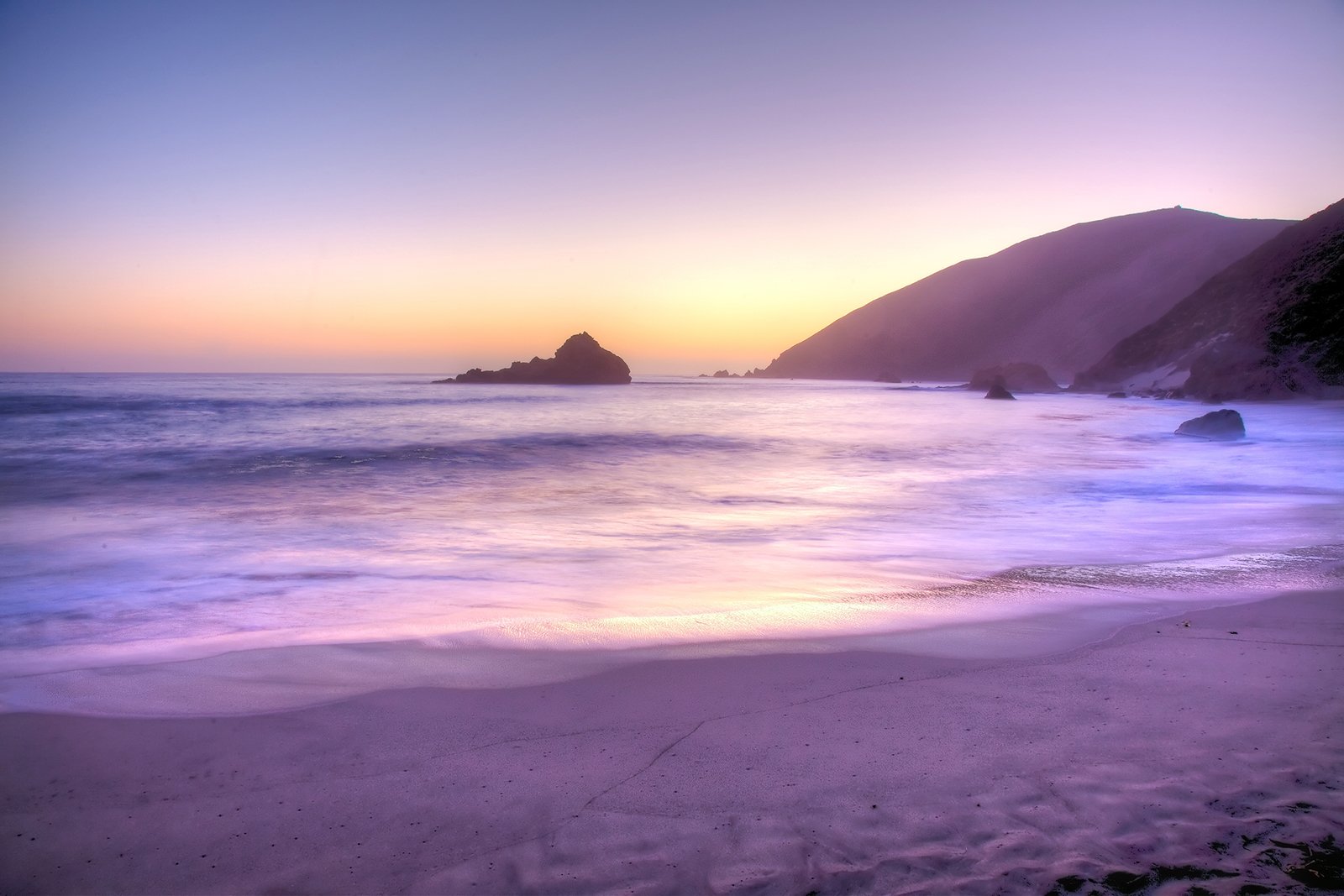 See the dramatic waves at Pfeiffer Beach
A highlight of Big Sur National Park
Pfeiffer beach seems to be the perfect "emo" beach for sad music videos. This part of the coast is a blend of dramatic hazy oceans and rock formations, along with windy shores and lavender-coloured sand.
The water is not a swim-friendly environment with its strong tides and brisk wind, but a hike along the shores is worth the picturesque walk at the Vicente Flat Trail, about 10 miles long. Fair warning – those who are not accustomed to camping might find this location a bit less than cosy, with night temperatures that fall into the 'chilly' category. For those travelling with kids and the elderly, there are lodges, motels and restaurants along the Cabrillo highway, approximately 15 minutes north.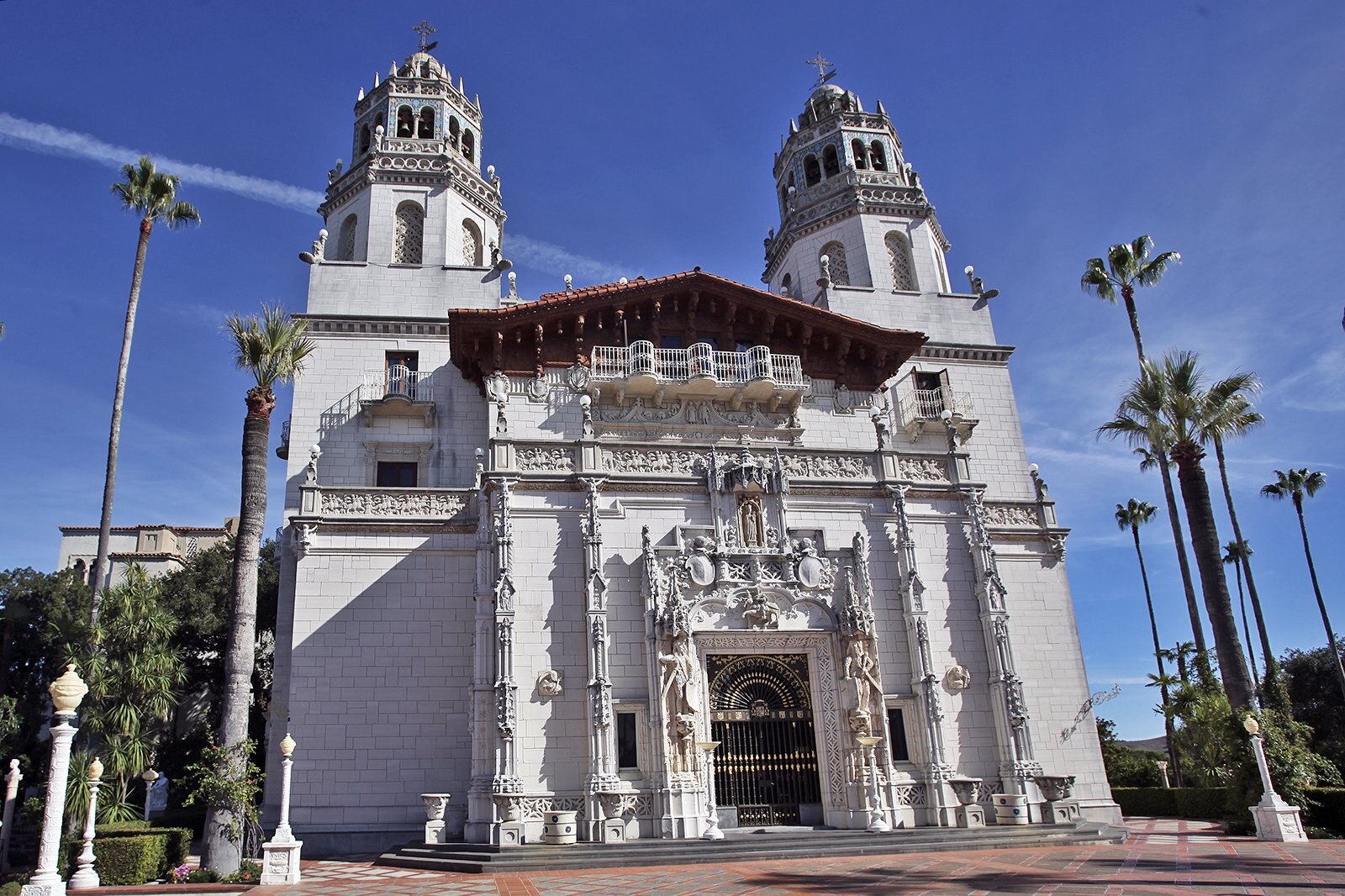 Visit the opulent Hearst Castle in San Simeon
Hearst Castle is like Great Gatsby's mansion, but on the Central Coast California. The location is a 4-hour drive south of San Francisco, built by the print and media mogul of Hearst Publications, William Randolph Hearst, in the 1920s.
Hearst Castle is a place of decadence, with rose gardens, Roman temple façades, reflecting pools, and the famous Azure Blue indoor pool. The entrance fee is about $30 for adults, depending on the tour programme. With 4 main complexes that overlook the ocean, the estate has palatial, over-the-top architecture and spectacular interiors. The Casa Grande hosted many Hollywood royalties that held a live performance here, from Charlie Chaplin to Clark Gable. While there, ask the staff about the unfinished gargoyles at the Casa Grande exterior.
Location: 750 Hearst Castle Rd, San Simeon, CA 93452, USA
Open: Daily from 8.30am to 5pm
Phone: +1 800-444-4445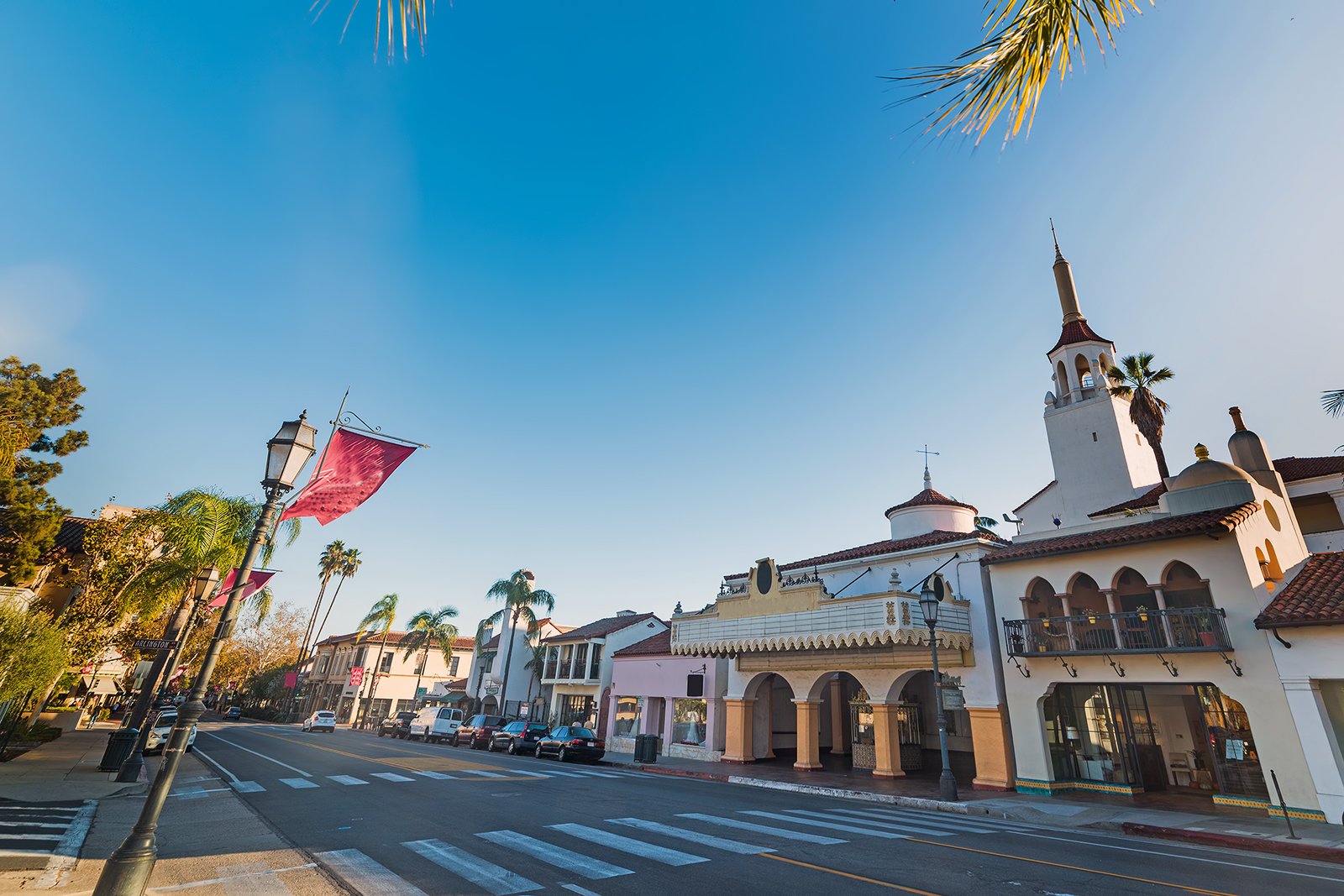 Enjoy the crisp blue skies over Santa Barbara
There's a reason why so many celebs live here
Santa Barbara is an idyllic town with fragrant gardens overlooking the ocean. Because of the perfect year-round weather at 75°f, celebrities have made this place home in the town of Montecito. To name-drop a few, there's Oprah Winfrey, Natalie Portman, Ellen DeGeneres and a few others. The Arroyo Burro Beach, partly contributed by actor Michael Douglas, is a coastal land accessible to the public.
Although the air temperature is balmy, the water temperature is a bit cold. Nonetheless, you can sunbathe while enjoying dogs, seagulls, pelicans, swans and cheery people all around. In a similar atmosphere nearby, the Stearns Wharf is also an oceanfront attraction with freight and trade history. The area is now a visitors' favourite landmark with restaurants, whale watching tours, wine bars and fishing spots.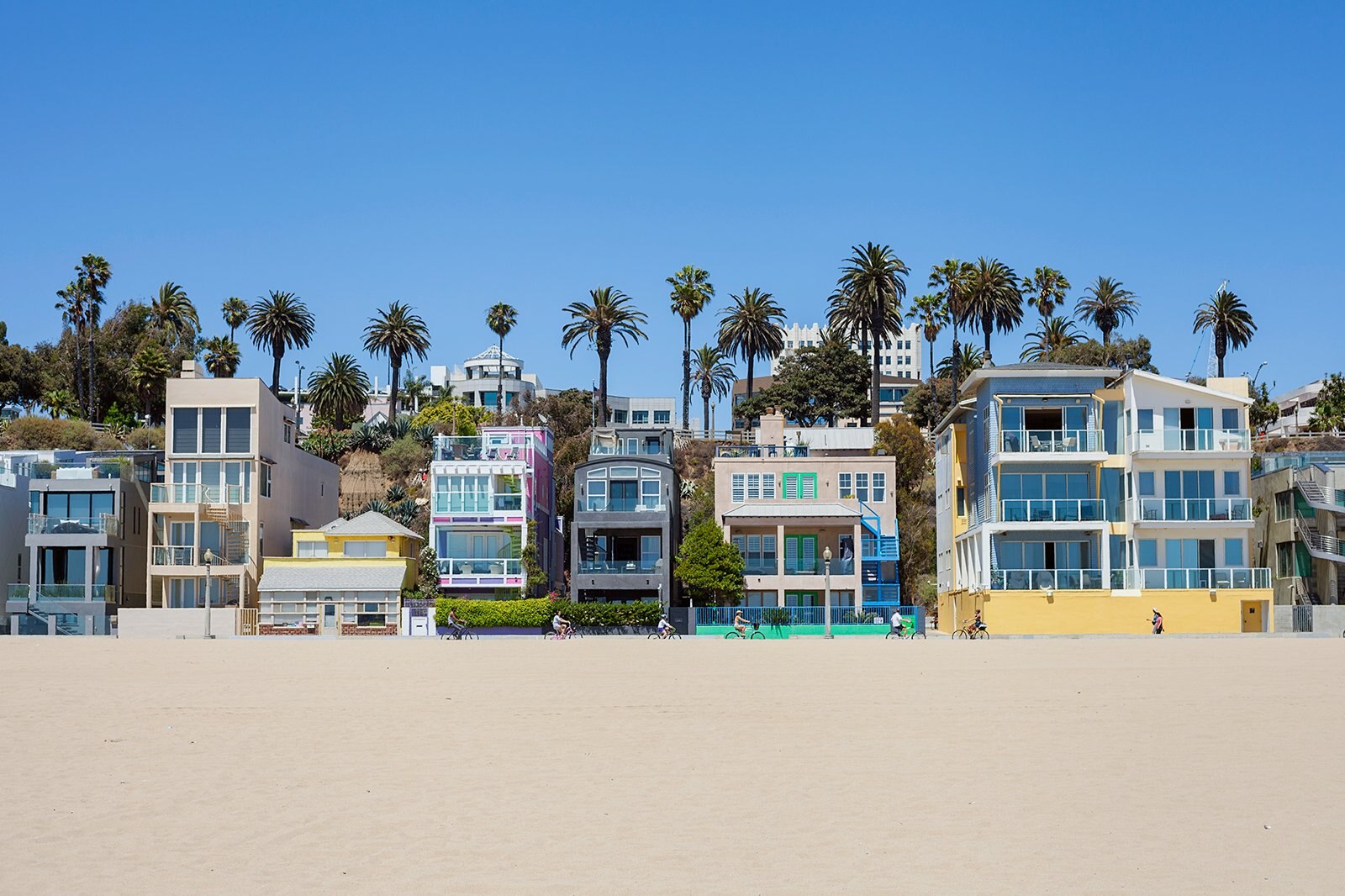 California dreaming in Santa Monica
Stroll along the promenade and soak up the views
Santa Monica is the California dream that comes to life. Beach bodies, surfers, street performances, carnivals and a 24-hour pier make this place lively. To enjoy Santa Monica is to plan on a lot of walking in both sand and on pavement. Therefore, comfortable shoes are a must. It can take up a whole day to enjoy from sunrise to sunset. Visitors can start the day early from the promenade for downtown shopping and breakfast.
Then, head towards Ocean Avenue, it's the bike/walk path that's 26 miles long right alongside the beach. As for parking, drivers may have to mind the timing for a meter refill. Otherwise, it's a $200 fine. Despite being a top beach destination, the water temperature is still not that warm and swimmers are often seen wearing wetsuits. Stay around for the sunset while enjoying dinner from the fancy food trucks that range from mahi-mahi sushi to waffles and chips.
Location: Santa Monica Pier, 200 Santa Monica Pier, Santa Monica, CA 90401, USA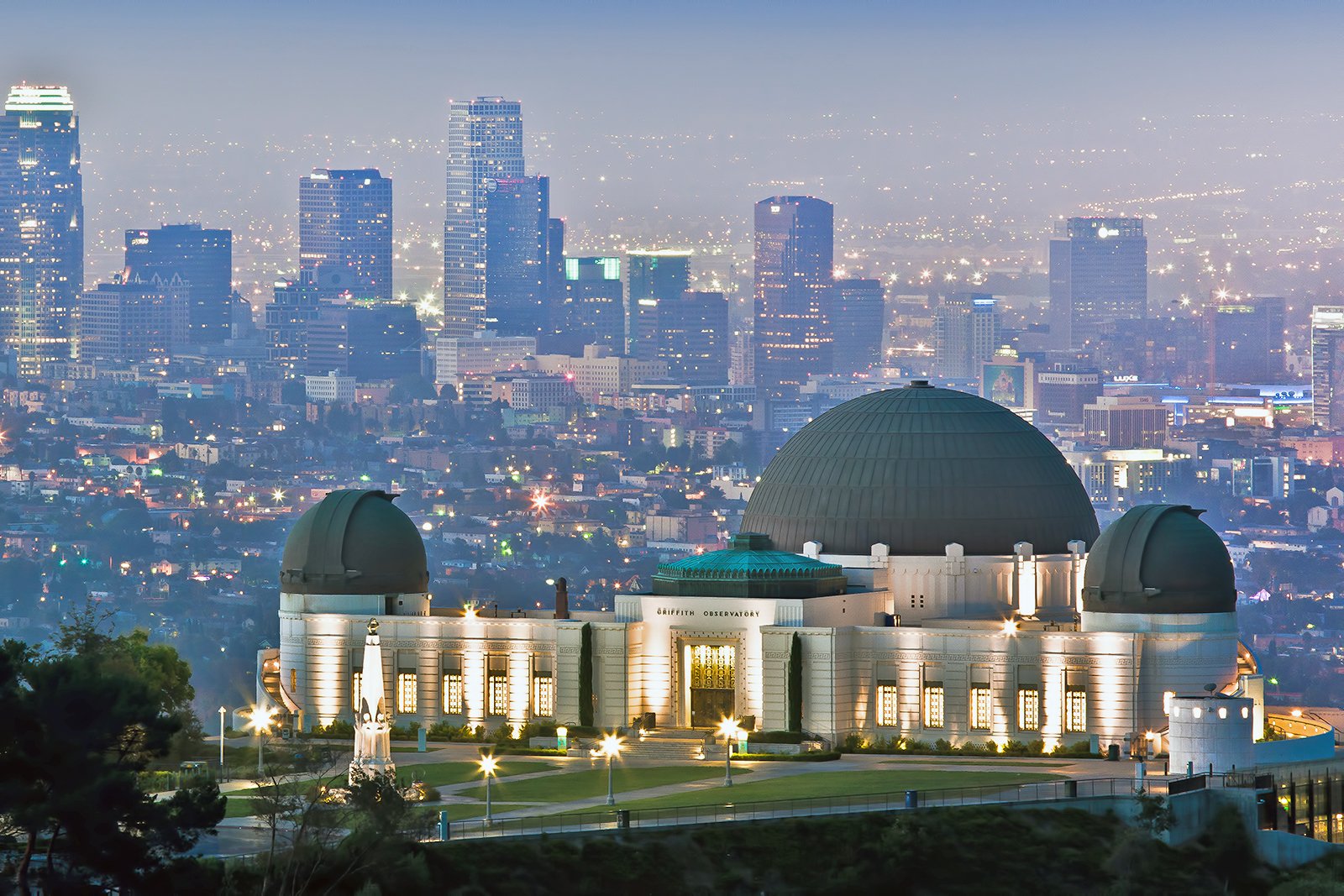 Skyline views at Griffith Observatory
Check out the Getty Museum next door
The Griffith Observatory was built as a planetarium for the public. The Edge of Space room is a cool collection of meteorites that have hit homes and injured earthlings, which some are claimed to have come as far as from Jupiter. Although this place is closed at 10pm, the light pollution makes it a bit difficult to see space at night, but the light pollution itself makes a pretty night sky. Meanwhile, visitors enjoy daytime viewing of the entire Los Angeles, from the ocean horizon to the famous Hollywood sign. Fees are $7 for adults. Rideshares are preferred, as parking can cost $6-10 per hour.
The J. Paul Getty Museum, a 25-minute drive to the east, also has spectacular views. The panoramic view can be seen from its Cactus Garden. The museum's exterior is made of stones from many quarries from around the world, primarily from Italy. It's also one of the very few places that has its own permanent art collection. The Getty Villa and the museum area combine garden spaces, architecture, arts and sculpture, performance space and restaurants. The entrance cost is free, and the museum closes at 5:30pm on weekdays. So depending on the day, visiting the Getty Museum before going to the Griffith may be the better option.
Location: Griffith Observatory, 2800 E Observatory Rd, Los Angeles, CA 90027, USA
Open: Tuesday–Sunday from midday to 10pm, (closed Mondays)
Phone: +1 213-473-0800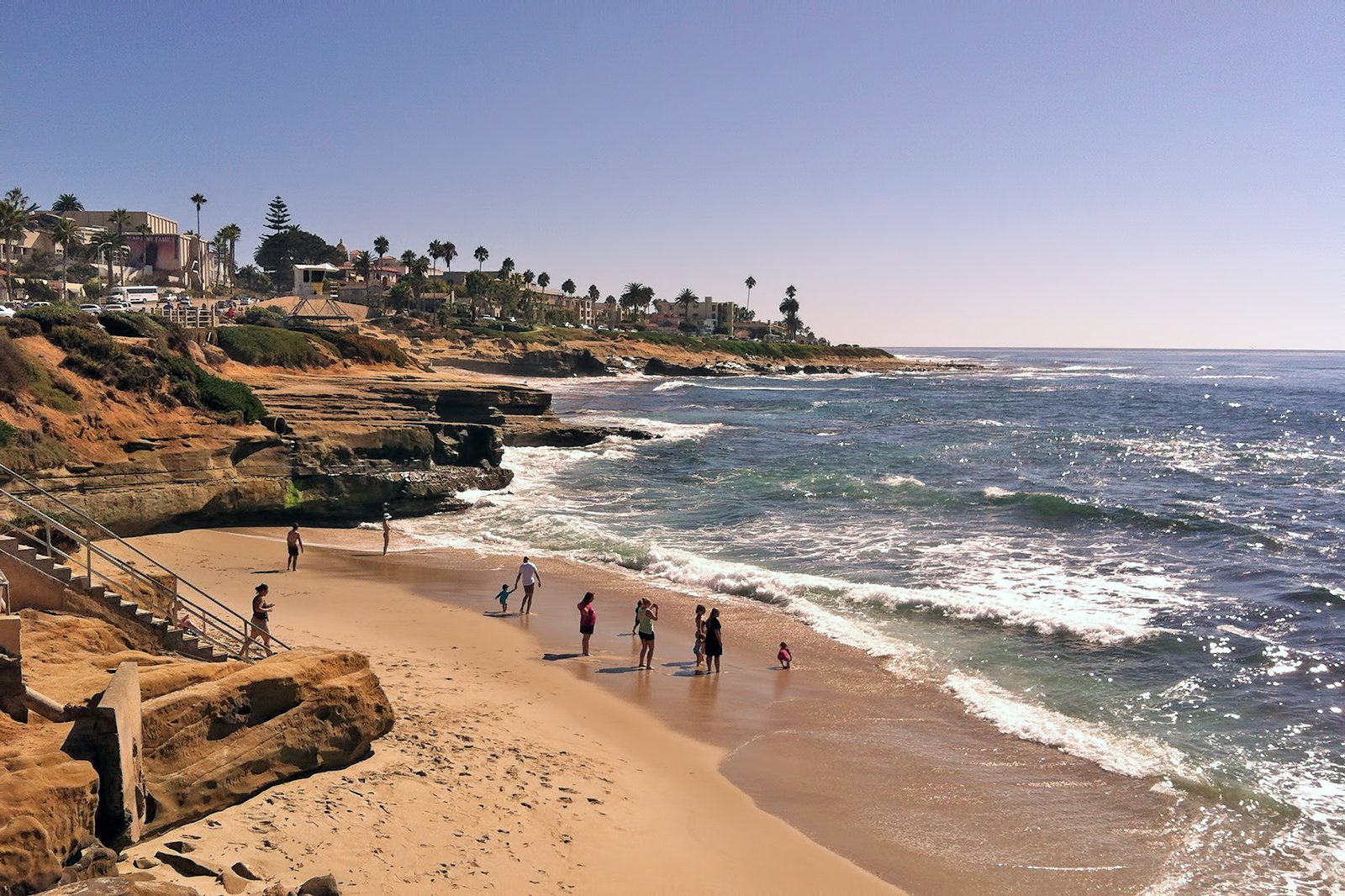 Surfing at La Jolla Shores and La Jolla Cove
A beautiful beach with clean waves
Home to the UC San Diego, La Jolla Shores is San Diego's sunny spots where seals, huge and small, congregate. The Children's Pool Beach is not really a kids' pool but a shallow snorkelling spot that have recently been taken over by sea lions. Visitors are asked to not go near the sea lions as they rest, while some tourists tried to catch selfies with the seals.
This beach has flat shores and calm waves that are perfect for boogie boarding and surfing for beginners. La Jolla Cove, 10 minutes south, is a bit more for adults and strong swimmers, as these are deeper waters for snorkelling, kayaking and weaving in and out of sea caves.
As for seasoned surfers, a ten-minute drive north from La Jolla Shores will get you to Black's Beach that has big swells of waves for both surfing and kayaking. Also, nudity can be the norm here on Black's Beach.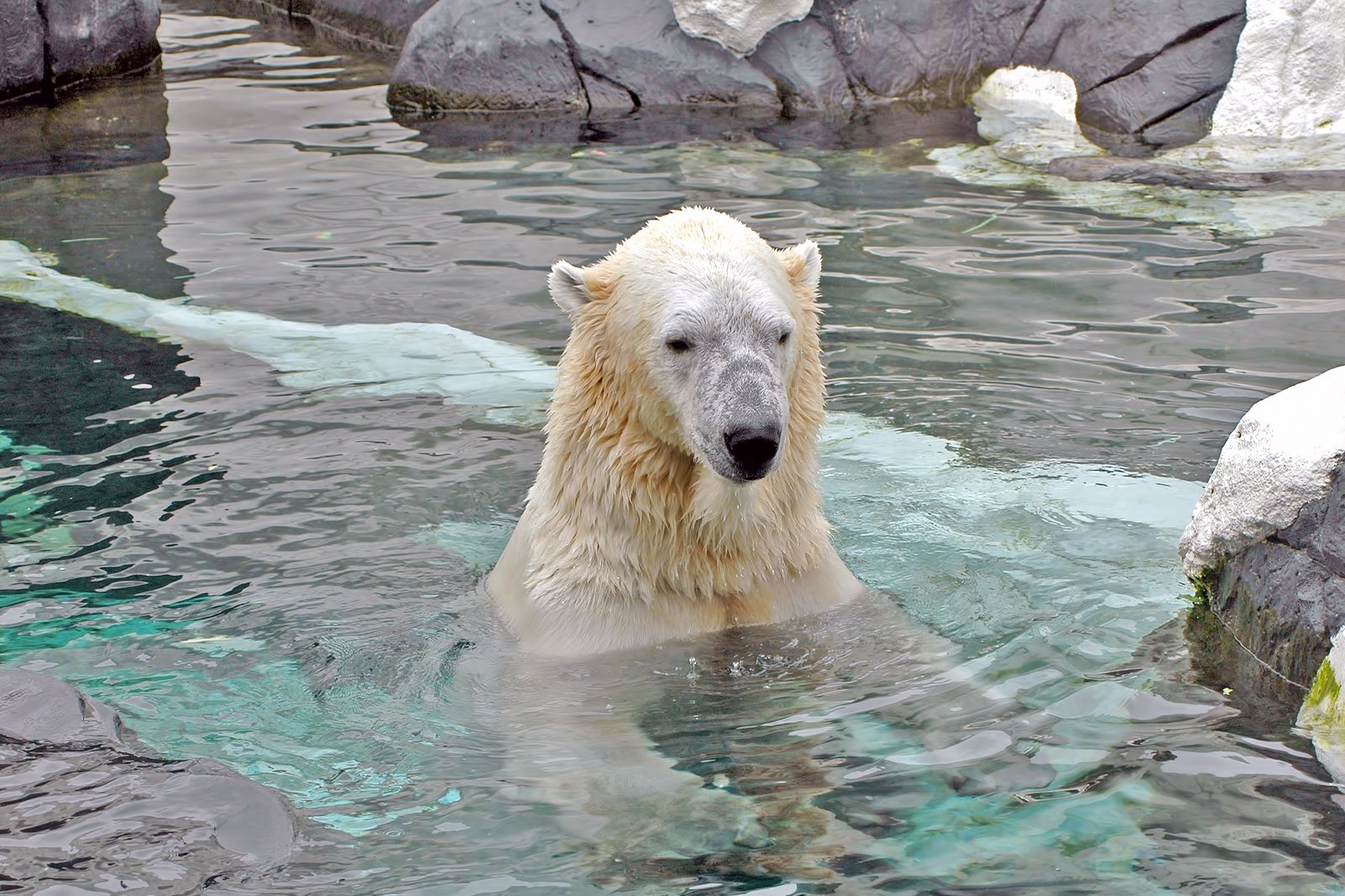 Learn something new every day at the San Diego Zoo
See sloths, pandas, gorillas, and more
This zoo is huge and is home to more than 3,500 animals in large and generous enclosures. If you're too exhausted for the walk around the loop, there is a bus tour that will take visitors for a 50-minute ride with guided information along the route that can be very educational. Who knew that recycling cell phones can help save a gorilla habitat due to Coltan mining?
Highlights are the giraffes at Safari Park, the Discovery Zone with petting zoos, hippos eating watermelons, the polar bears of the Northern Frontier Zone in the underwater viewing room, Kenny the sloth bear who is chill and sweet, and the cute giant panda bear. The whole place would take about 4 hours to complete on foot. Tickets cost around $60, so do take your time exploring this 100-acre space.
Location: 2920 Zoo Dr, San Diego, CA 92101, USA
Open: Daily from 9am to 6pm
Phone: +1 619-231-1515