9 Best Things to Do in Phoenix
What is Phoenix Most Famous For?
Phoenix, Arizona, boasts year-round warmth and sunshine, earning it the nickname of the Valley of the Sun. The city is a desert metropolis with equal parts cacti, sandstone, historical sights and modern architecture.
Sports fans, history lovers, partygoers and those wanting to be at one with nature will all find something to whet their appetite on a visit to Phoenix. Whether you're heading there soon or planning a trip for the future, you'll want to start thinking about all the best things to do in Phoenix. Luckily, we've done all the hard work for you with these top things to do.
What are the best things to do in Phoenix?
1
Desert Botanical Garden
Experience the desert in full bloom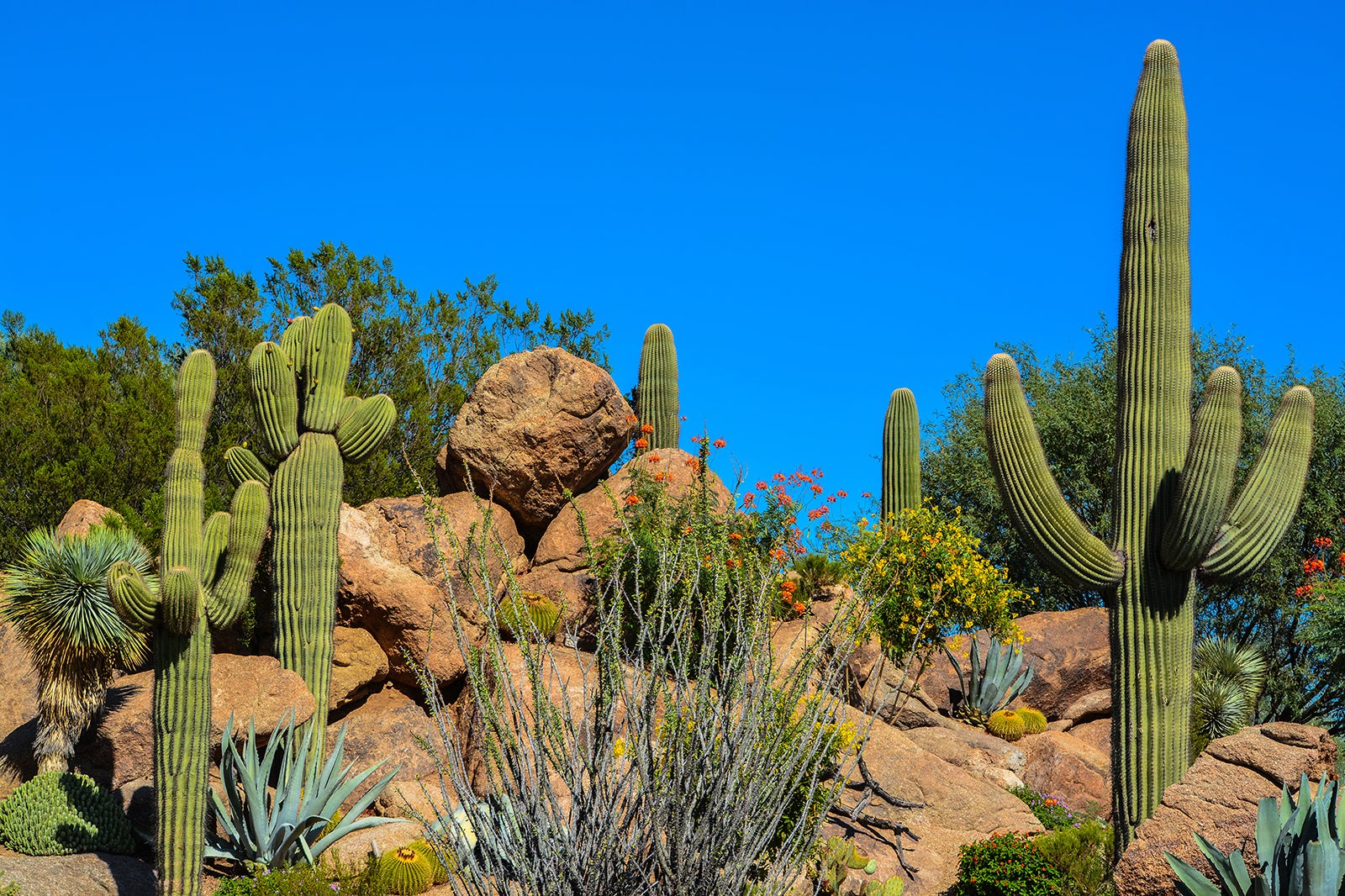 Not your typical botanic garden, the Desert Botanical Garden is located in the Sonoran Desert and showcases thousands of species of cacti, flowers and trees. There are 5 different trails for you to follow, so take the time to walk 1, 2 or maybe all of them. They range from desert trails with stunning mountain backdrops to others featuring beautifully fragranced wildflowers and ones which teach you all about how desert plants have been used for food, medicine and even building materials.
Aside from the trails, there are exhibits and regular events, tours and activities taking place at the gardens, so be sure to check out what's on when you're visiting. It goes without saying, it can get pretty hot here, so make sure you've got plenty of sun cream and water on hand for your visit.
Location: Desert Botanical Garden, 1201 N Galvin Pkwy, Phoenix, AZ 85008, USA
Open: Open daily from 8 am to 10 pm (until 11 pm Thursday–Saturday)
Phone: +1 480-941-1225
2
Hot air balloon rides
A spectacular way to see the desert and the city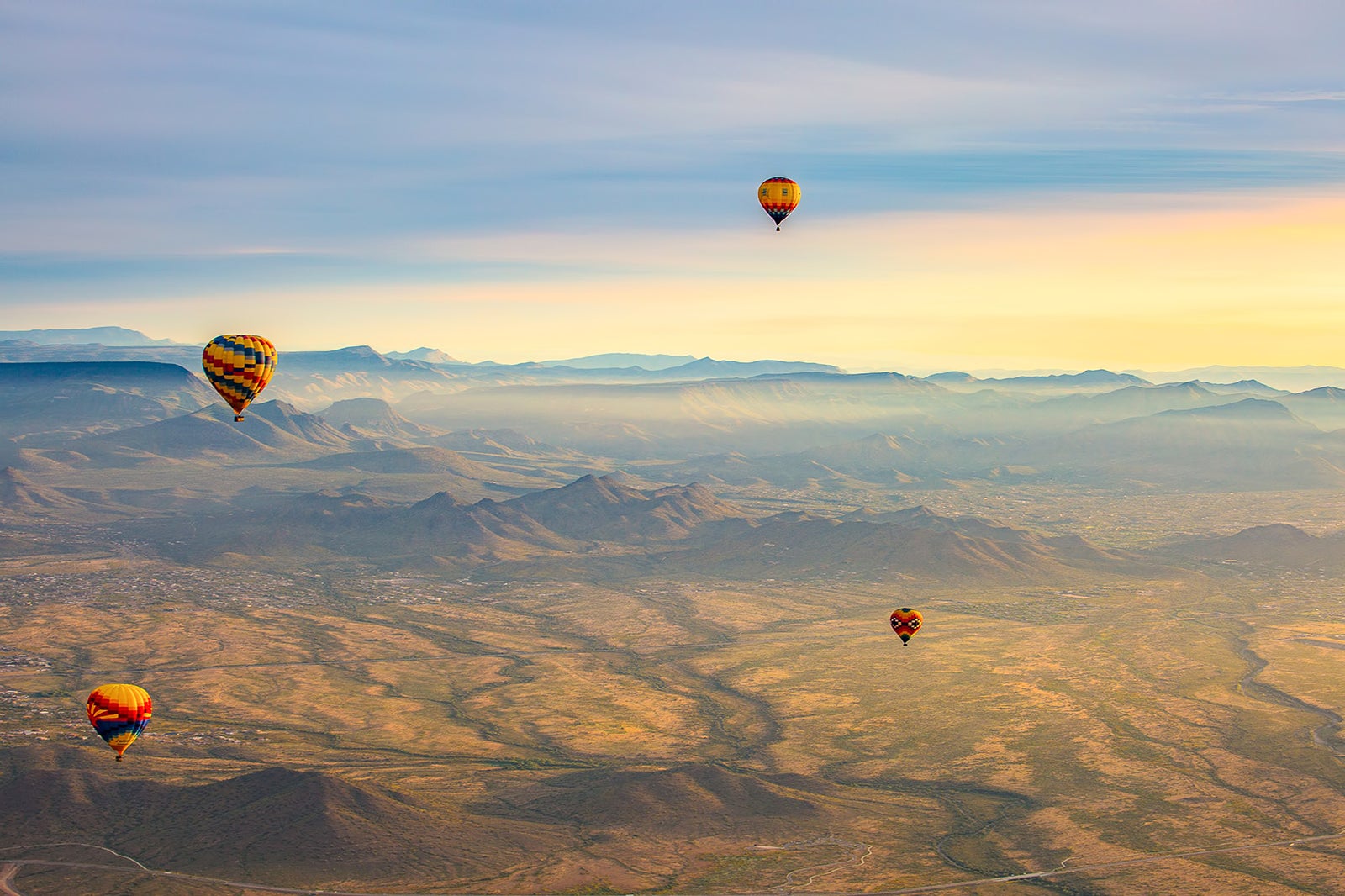 Take to the skies in a hot air balloon and be rewarded with breathtaking views of Phoenix and the surrounding Sonoran Desert. What better way is there to see the sights than on an unforgettable ride, soaring high above the city? Float peacefully among the clouds as you pick out landmarks below and soak up the captivating panoramic scenery.
There are plenty of companies offering magical hot air balloon rides from Phoenix, some in the early morning and others just in time for sunset. All you need to do is decide which one is right for you. Many offer return transfers from your hotel and include champagne and hors d'oeuvres after your flight, to make the occasion extra special.
3
Scottsdale Civic Center Plaza
The gateway to Scottsdale Old Town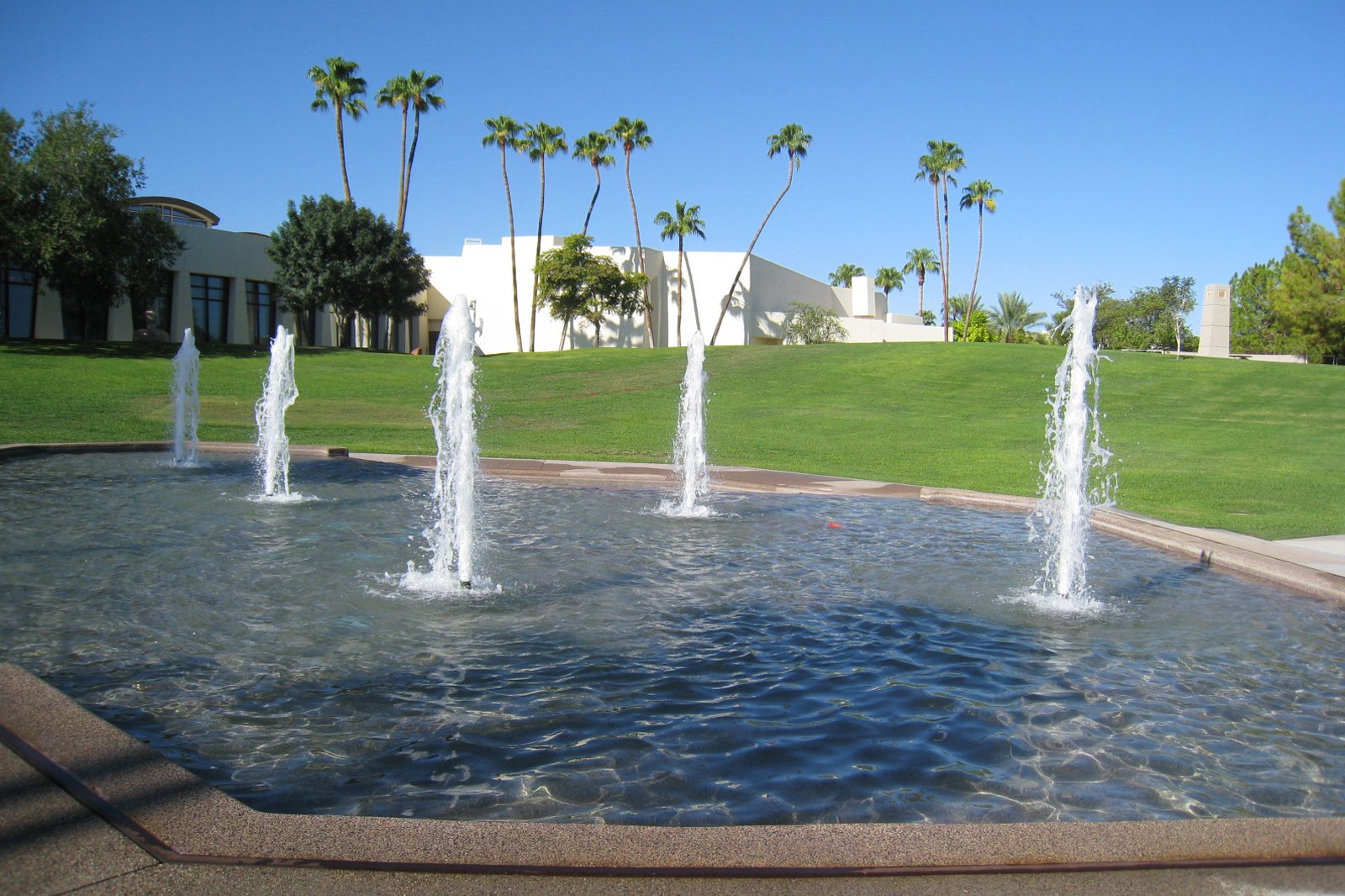 In a prime position right at the start of Main Street in Old Town Scottsdale, the Scottsdale Civic Center Plaza is the ideal place to begin exploring Phoenix. Here, you'll find the Scottdale City Hall, a library, a performing arts centre and an outdoor amphitheatre, among other attractions. Its colourful, well-kept gardens are great to wander round and capture some photos by the fountains and LOVE sculpture. Just bear in mind that you won't be the only people with the same idea!
From here, head out and explore the quirky, southwestern village of Old Town Scottsdale. The area is a popular shopping spot, home to high-end boutiques as well as countless gift and souvenir shops. Art enthusiasts will love it here, too, with impressive sculptures and wonderful galleries lining the Main Street, along with many bars, lounges and restaurants.
Location: Scottsdale Civic Center Mall, 3939 N Drinkwater Blvd, Scottsdale, AZ 85251, USA
photo by Dru Bloomfield (CC BY 2.0) modified
4
Musical Instrument Museum
The only one of its kind in the USA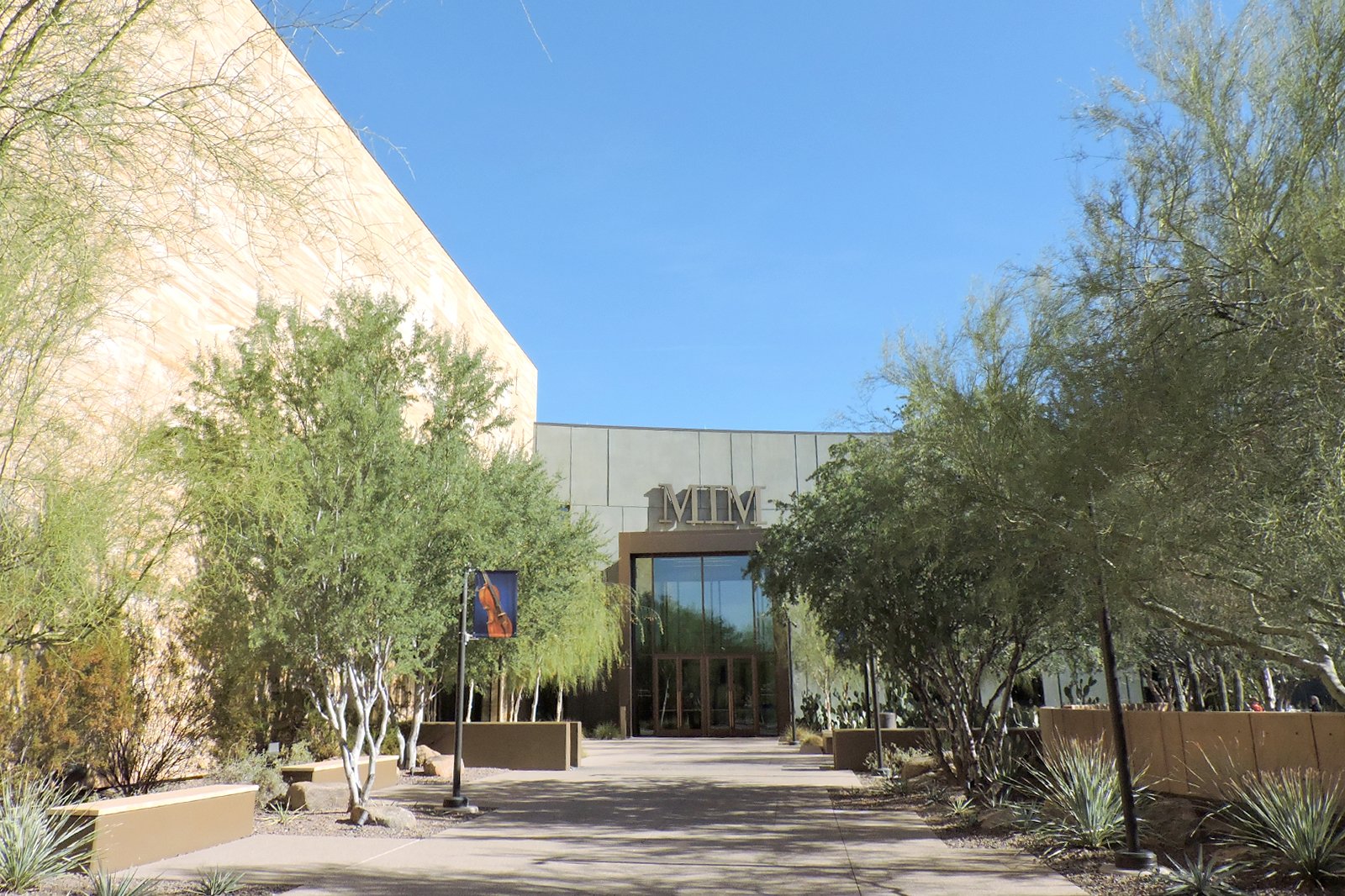 Housing more than 6,000 different instruments, the incredible Musical Instrument Museum takes you on a musical journey across the world. You'll discover all there is to know about the history of music and all the thousands of varieties of unique and obscure instruments.
The upper floor of the museum is divided into geographical locations, with accompanying videos showing the instruments in action. The lower floor of the museum, however, is perhaps most people's highlight. It contains the instruments, concert footage and even clothing of world-renowned artists, perfectly preserved for your viewing pleasure. Be sure to check out John Lennon's 'Imagine' piano. Plan ahead and try and time your visit to be on a day when a live show's taking place at the on-site theatre.
Location: Musical Instrument Museum, 4725 E Mayo Blvd, Phoenix, AZ 85050, USA
Open: Daily from 9 am to 5 pm
Phone: +1 480-478-6000
photo by PamMcP (CC BY-SA 4.0) modified
5
Heard Museum
A fascinating look into Native American history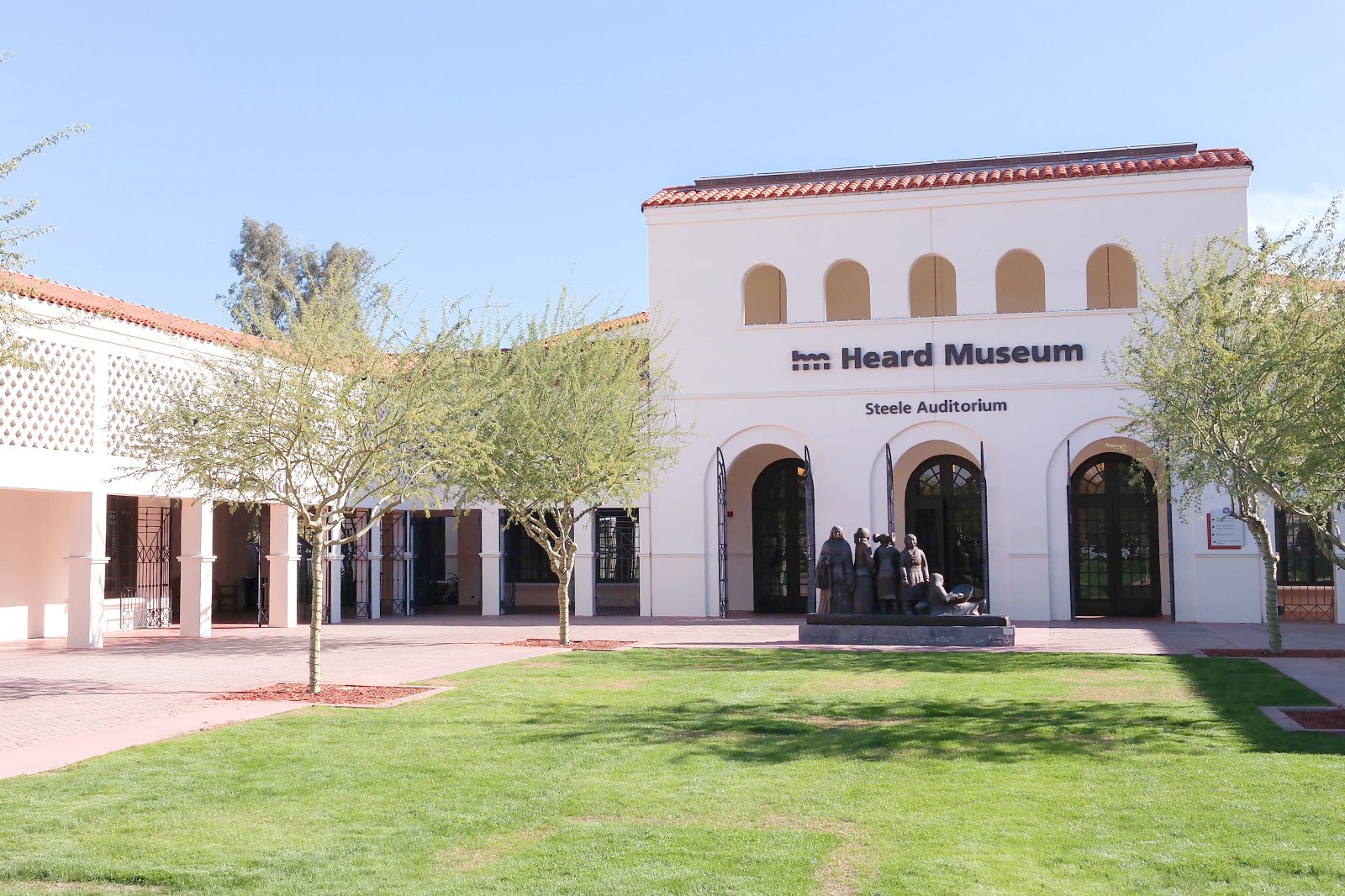 Since opening in 1929, Phoenix's Heard Museum continues to grow in size and has become one of the best showcases of Native American art in the country. Its vast collections and world-class exhibitions offer an unrivalled insight into the history and culture of the American Indian people. The Heard is more than just a museum. The way that the art tells a story gives visitors a 1st-person perspective of what life was really like in American history. It brings the past to life.
When you visit the Heard Museum, you'll get access to 12 exhibition galleries, as well as the outdoor sculpture gardens and a contemporary art gallery. Take advantage of the free guided tours while you're there and make sure you grab a bite to eat at the excellent Courtyard Café.
Location: Heard Museum, 2301 N Central Ave, Phoenix, AZ 85004, USA
Open: Daily from 9.30 am to 5 pm (Sundays from 11 am)
Phone: +1 602-252-8840
photo by Visitor7 (CC BY-SA 3.0) modified
6
Papago Park
Step inside the Hole in the Rock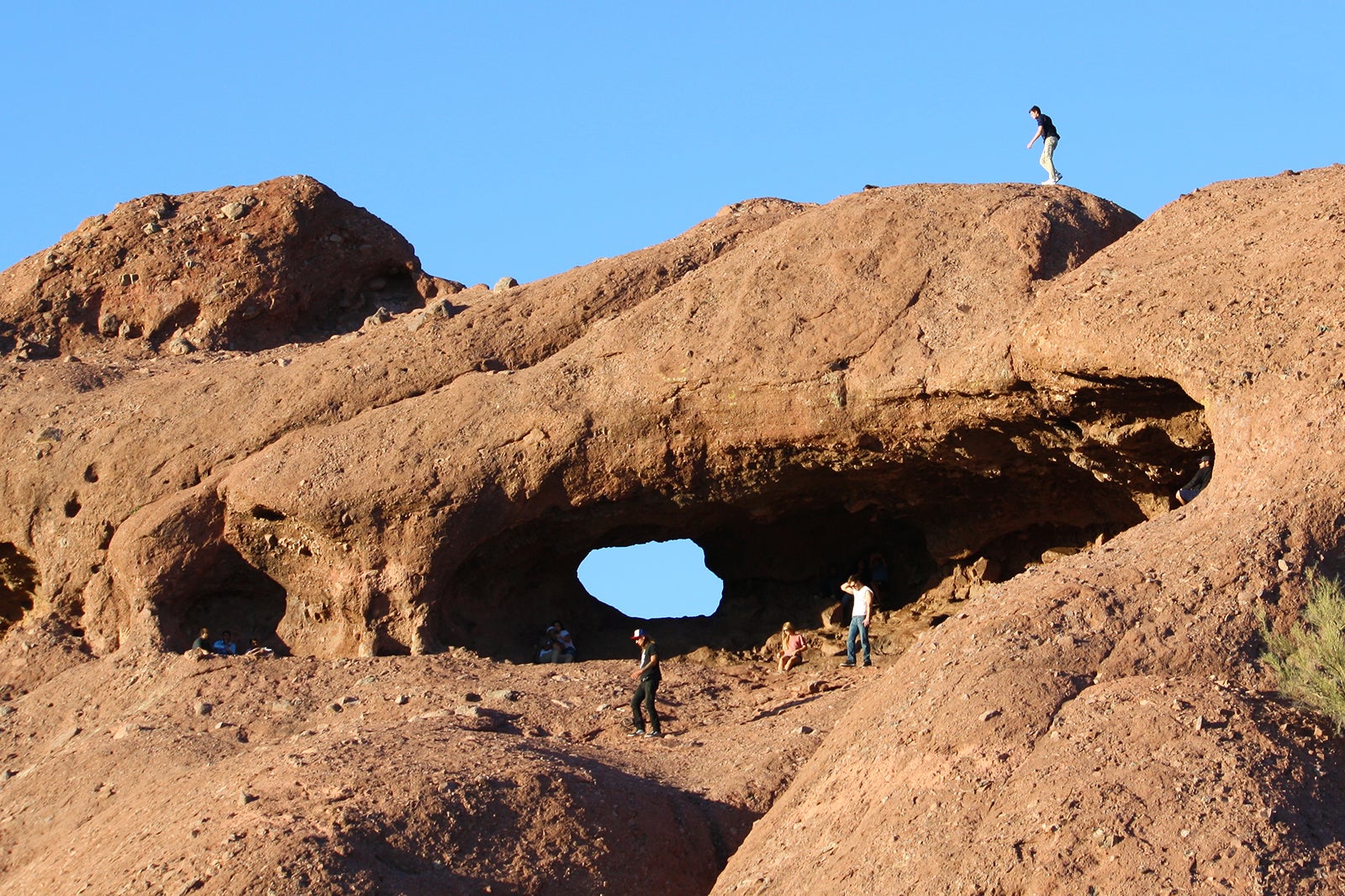 Step away from the hustle and bustle of city life and enjoy a moment of calm from inside the Hole in the Rock at Papago Park. The red sandstone buttes and desert terrain of Papago Park are easily accessible from Phoenix, as it's just a short distance from downtown. The park is home to the Desert Botanical Garden and the Phoenix Zoo, but its most iconic landmark is the unique Hole in the Rock.
Take the short walk from the car park and climb up to the natural rock formation, creating a cave pass-through in the rock face. Cool off in its shade while taking in the amazing views of the surrounding desert and Downtown Phoenix. Don't forget to carry plenty of water with you, and your camera, of course.
Location: Hole in the Rock, 625 N Galvin Pkwy, Phoenix, AZ 85008, USA
Open: April–October: daily from 7.30 am to 7.30 pm. November–March: daily from 8 am to 5 pm
Phone: +1 602-495-5458
7
Chase Field
Home of the Arizona Diamondbacks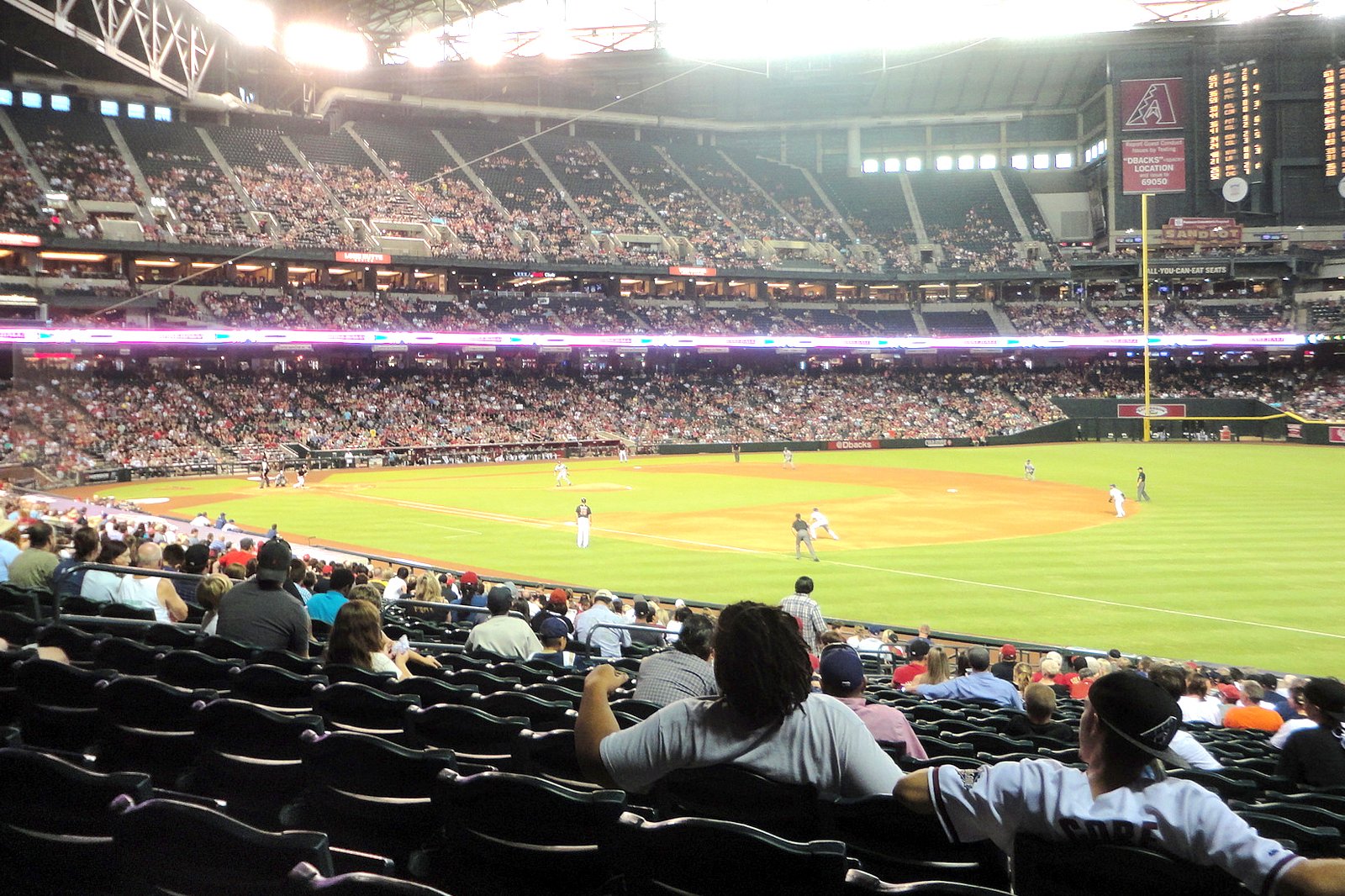 Get into the spirit of America and experience a fast-paced baseball game at the home of the Arizona Diamondbacks. Even if you've never watched the game before in your life, you can't help but get swept away by the infectious, fun atmosphere at Chase Field and it won't be long before you're joining in with the chants, too.
Despite there being numerous baseball fields across the city, many of which play host to colder cities' teams for spring training, Chase Field is by far the most popular. Famous for being the first stadium in the USA to feature a retractable roof (and who can blame them with the Arizona heat), it also hosts different live events other than baseball, so be sure to check what's on before you go. Even if your visit doesn't coincide with a game day, it's well worth doing one of the regular stadium tours instead.
Location: Chase Field, 401 E Jefferson St, Phoenix, AZ 85004, USA
Open: Hours vary according to season and events
Phone: +1 602-514-8400
8
Tempe
The city's university quarter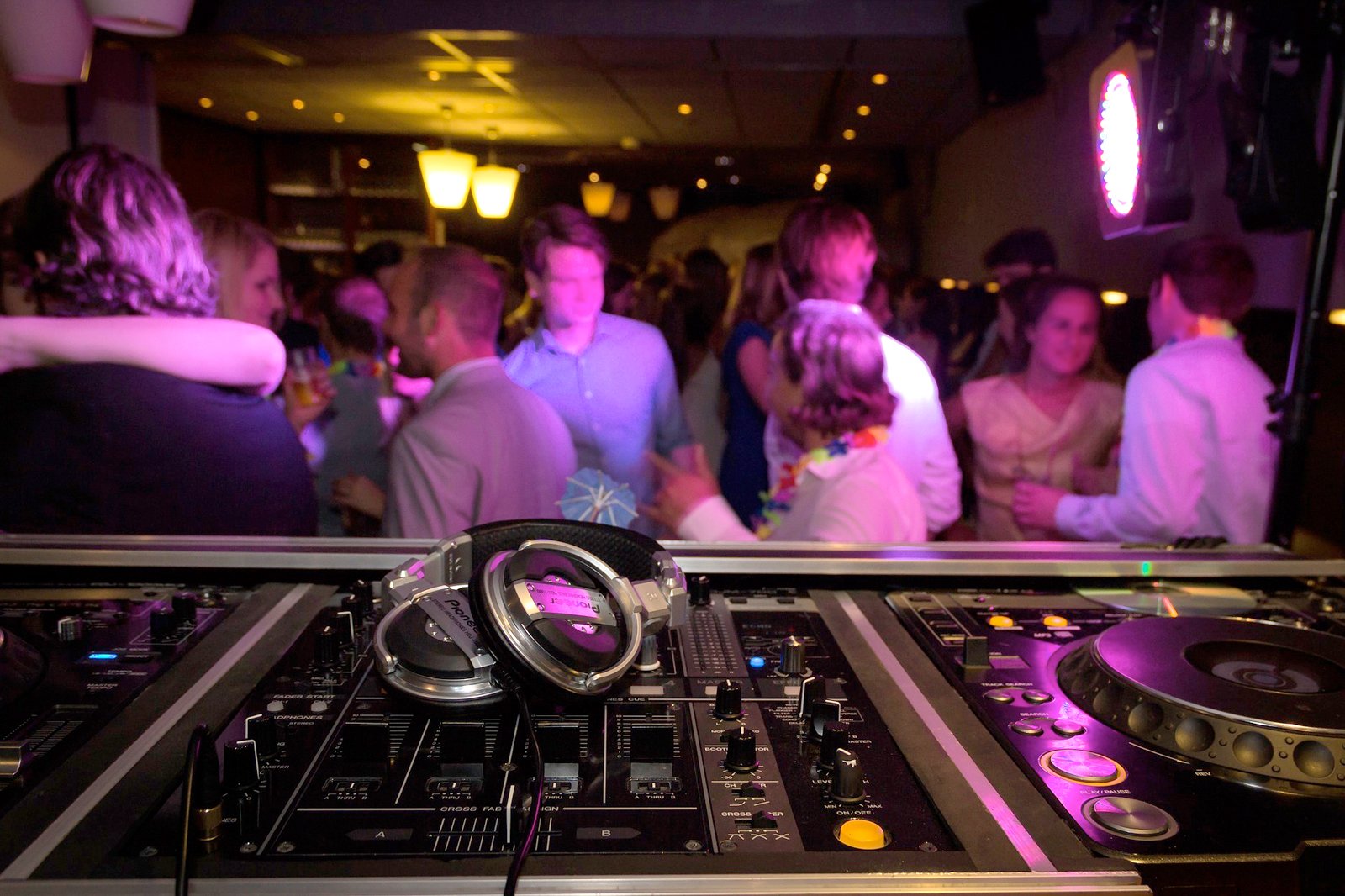 After an action-packed day exploring all the sights and attractions of Phoenix, there's no better place to keep the mood going strong than the lively area of Tempe. Home to the Arizona State University, Tempe is a thriving student neighbourhood, so the general vibe here is that of good times and positive energy.
With its large student population, it'll come as no surprise that Tempe is where you'll find some of the best bars, clubs and lounges in Phoenix. Head to Eighth Street and sample some freshly-brewed craft beer on tap at Four Peaks Brewery, enjoy some live music at the Yucca Tap Room and end the night at the trendy Devil's Advocate Bar & Grill. Unsure of where else to head? You'll find an endless choice of bars along the iconic Mill Avenue.
9
Mexican food
Phoenix's leading cuisine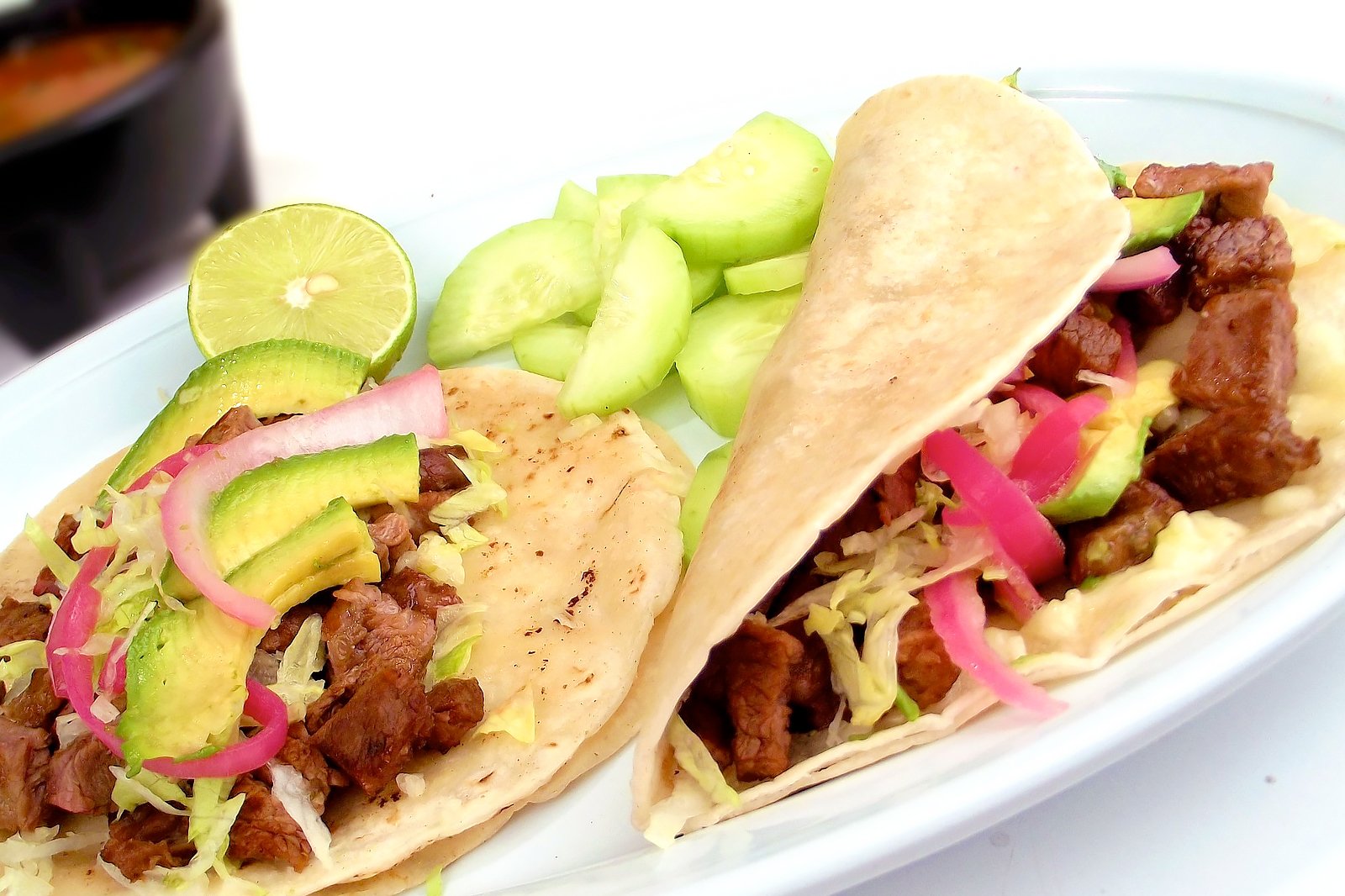 With Arizona being on the border with Mexico, it's no wonder that Phoenix is home to some of the best Mexican food in the US. The flavoursome and colourful cuisine dominates the city's dining scene, so it can be hard to know where to go to sample the most authentic and tasty dishes.
Whether you're on the hunt for the best breakfast burrito, a succulent Sonoran hot dog or even some Mexican sushi, you'll find some of the best Mexican restaurants gathered around the centre of downtown Phoenix. From the upscale Barrio Cafe Gran Reserva to the no-frills, family-run Carolina's Mexican Food, you'll be spoilt for choice. For a truly unique experience, head out to the Mercado de los Cielos at the Desert Sky Mall in West Phoenix. It's one of the biggest indoor Latino markets in the city, with an authentic Mexican food court.
Back to top