A Brazil travel guide – Afro-Brazilian beats,jungle trips and vibrant heritage cities
A Brazil travel guide – Afro-Brazilian beats,jungle trips and vibrant heritage cities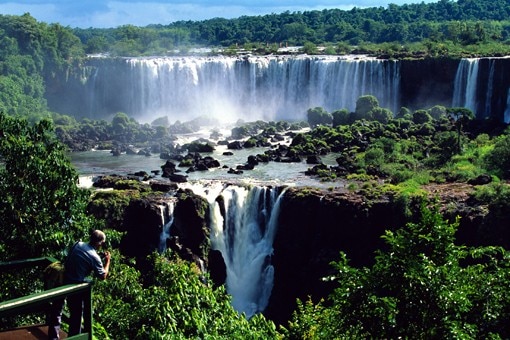 Visitors on carnival holidays in Brazil need to book well ahead to guarantee a hotel. Brazil is a fascinating destination any time for its Amazonian flora, colonial architecture and lively music scene.
Get your bearings
South America's largest country, Brazil protrudes east into the South Atlantic Ocean. Its two biggest cities, Rio de Janeiro and São Paulo, lie in the south-east, and its modern capital Brasília further inland. North-east Brazil's long sandy coastline becomes more equatorial passing Salvador and Fortaleza before Belém, at the mouth of the mighty Amazon River. The Amazon snakes 1,000 miles across north Brazil through tropical rainforest. To the south-west, Mato Grosso is a state of woodland and waterfalls. In Mato Grosso do Sul are the vast Pantanal wetlands.


Beach and surf
For sun-lovers, holidays in Brazil begin on Rio de Janeiro's famous beaches, where you might be drawn into a game of beach volleyball. In Bahia state, palm trees line the secluded sands, and Ceará is a relaxing paradise in which to book your Brazil hotel. Experienced surfers head to Fernando de Noronha archipelago for tubular waves, and divers to Abrolhos National Marine Park for coral reefs. Venture along the coast from São Paulo to Ilhabela archipelago for sailing classes or south to Brazil's sailing centre, Angra dos Reis. The area is dotted with islands and inlets.


Natural wonders
Amazon riverboat cruises reveal manatees, dolphins and rare flora. In the Pantanal wetlands you might catch sight of spotted leopards, and whales and turtles along the Pernambuco coast. Inland there is white-water rafting and jungle hiking trips through several national parks. Or stand in the spray of the powerful natural wonder, Iguaçu Falls, which stretches across the Argentine border.
Carnival and capoeira
Samba spills on to the streets at carnival time. In Recife you'll see frevo dance and hear manguebeat rap and rock. Crowds gather around capoeira martial arts dance performances on Brazilian beaches, and opera brings visitors to the jungle city of Manaus. Brazil's cities are full of museums of art, including the Oscar Niemeyer Museum in Curitiba, dedicated to Brazil's most celebrated architect. Festivals entice you to the Amazon and north-east Brazil to immerse yourself in indigenous and Afro-Brazil religion and culture.


Cave paintings and colonial past
Prehistoric paintings in the north-eastern Serra da Capivara National Park date back thousands of years. São Miguel das Missões in Rio Grande do Sol tells the story of the conversion of indigenous people by Christian priests. Portuguese colonial cities include Ouro Preto, where the gold-lined churches are a testament to the 18th-century gold rush. Pelourinho is the popular historic centre of Salvador with colonial mansions painted in vibrant hues. In contrast, Brasília marks 1950s optimism with futuristic architecture.
Discover
Find your perfect holiday in Sao Paulo
From 980 hotels.