A Minneapolis travel guide – glittering high rises along the Mississippi River
A Minneapolis travel guide – glittering high rises along the Mississippi River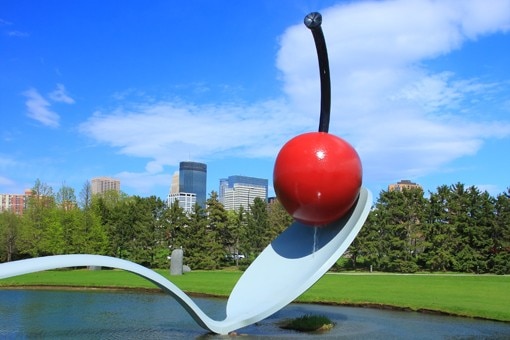 Discover Minneapolis on a vacation of cutting-edge galleries and avant-garde theater. On the other side of the Mississippi River, relax on strolls through St. Paul's historic neighborhoods. Settle into a Minneapolis hotel for a big city getaway unlike any in the American Midwest.
Get your bearings
Neighboring Minneapolis and St. Paul are called Twin Cities, yet the two could hardly be more different. Minneapolis, the larger and more sophisticated of the twins, has converted its Riverfront District into a center of contemporary theater and luxury condominiums. Travel south and west of the river to find the glittering office towers of Downtown, the neon Hennepin Theatre District and gentrified Uptown, where vintage clothing and vinyl records gain new life in chic shops. On the Mississippi's eastern bank, buttoned-down St. Paul is home to the Minnesota State Capital and the trappings of political life: men's haberdashers, furriers and darkly paneled supper clubs. Travel a few blocks north of the river to explore broad, leafy boulevards like Summit Avenue, where politicos and literati have resided for over a century.


Contemporary culture
Begin your Minneapolis vacation pondering room-sized art installations and pulsating video artworks at the contemporary Walker Art Center. Across the street in the Minneapolis Sculpture Garden Claes Oldenburg's delicately balanced Spoonbridge and Cherry sculpture is a Minneapolis landmark. The Guthrie Theater's glowing blue façade lights up the Mississippi in the Riverfront District. Inside, three stages feature plays ranging from Shakespeare to experimental.


Family adventures
Families ascend the eight-story Flour Tower to knead and bake their own bread at Minneapolis' best-smelling landmark, the Mill City Museum, showcasing Minneapolis' long history of milling grain. But it's all thrills and exhilaration at America's largest indoor theme park, Nickelodeon Universe. And roller-coaster riders inside the Mall of America feel as if they might touch the mall's dome as they race up and down on one of a dozen family-friendly thrill rides.


Eclectic dining
Over a dozen farm markets dot the Twin Cities. The St. Paul Farmers Market sells locally-grown McIntosh and honeycrisp apples and artisanal sheep's milk cheeses year-round, perfect for picnics. The scents of fresh curry and cumin compete for Minneapolis diners' attention on Eat Street, aka Nicollet Avenue. Slurp up homemade Chinese noodles or feast on slow-roasted kebabs at one of more than 50 ethnic restaurants in this neighborhood. Before returning to your Minneapolis hotel, have a chocolatini in Minneapolis' Warehouse District or Chivas on the rocks in St. Paul.
Megamalls and boutiques
In a country of massive shopping malls, the Mall of America tops them all, luring shoppers with 520 stores and so much more, including amusement rides. Boutiques reign supreme in Uptown. Shop for locally-designed dresses and beads at Drama, knee-high leather boots at Covered or bring home a little nostalgia from Urban Outfitters, including coasters made from recycled vinyl records or milk-glass pitchers.


Historic
Minneapolis' milling roots are the focus at the Mill City Museum, rising from the ruins of what was once the world's largest flour mill. In neighboring St. Paul, Fort Snelling recreates the founding of the Twin Cities. The Minnesota History Center broadens the history lesson, highlighting local authors like F. Scott Fitzgerald and recordings of local musicians Bob Dylan and Prince.
Discover
Find your perfect holiday in Minneapolis
From 230 hotels.