Short breaks in Lisbon – tram rides, custard tarts and bittersweet fado ballads
Short breaks in Lisbon – tram rides, custard tarts and bittersweet fado ballads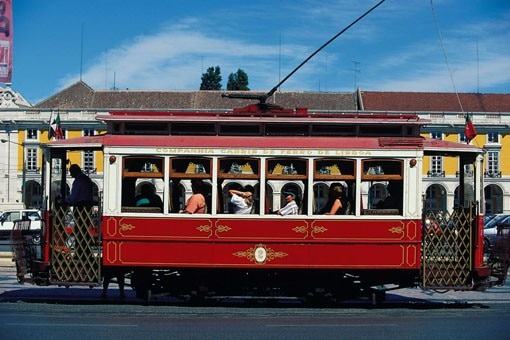 Lantern-lit fado bars, dreamy castle views and vintage trams are just part of short breaks in Lisbon. Use this inspirational two-day itinerary to get the most out of your stay in a Lisbon hotel.
Lisbon short break day one, morning
Start your Lisbon short break with a rickety spin of the sights aboard century-old tram 28. For the price of a ticket, you'll take in the Estrela Basilica's graceful dome, Baixa's monumental plazas and Romanesque Sé Cathedral. The tram crests the hill at Largo das Portas do Sol, where you can hop off for views over Alfama's mosaic rooftops to the glittering Tagus River. Standing sentinel above whole Lisbon on a nearby hill is St George's Castle, whose mighty ramparts mirror the city's turbulent history: from fifth-century Visigoths to Crusaders.

Start: Estrela Basilica
Nearest tram stop: Estrela.


Afternoon
Slightly downhill from the castle is the Moorish Alfama's tangle of narrow alleys and pastel-washed townhouses. A family-run tavern is an inviting spot for a pitcher of wine, grilled sardines and perhaps some impromptu fado vadio (amateur fado) by local singers. Work off lunch exploring the Alfama's labyrinth of sun-dappled squares and winding lanes full of neighbourly gossip and open-air barbecues. A few minutes' stroll west, Baixa's idiosyncratic shops tempt with everything from kitsch cockerels to vintage fashion.

Start: Alfama
Nearest tram stop: Largo das Portas do Sol


Evening
Sidling up to Baixa, Rossio square is magical at twilight when its dancing fountains and stately buildings are illuminated. Lisboetas from all walks of life squeeze into tiny A Ginjinha for a shot of its famous ginjinha (sour cherry liqueur). Follow lantern-lit streets east to Alfama to dine in the dimly lit vaults of Clube de Fado, filled with tremulous, melancholic fado song.

Start: Rossio
Nearest metro: Rossio.
Lisbon short break day two, morning
Rise early at your Lisbon hotel and take tram 15 west to Belém. Since 1837, the Antiga Confeitaria de Belém has been baking pastéis de nata – crisp custard tarts dusted with cinnamon – to a top-secret recipe. A few paces away is the fantastical Jerónimos Monastery, built by Manuel in 1501 to celebrate Vasco da Gama's discovery of India. The cloisters are a riot of lacy stonework and spindly turrets.

Start: Antiga Confeitaria de Belém
Nearest tram: Belém



Afternoon
Cross cypress-lined Praça do Império square opposite Jerónimos Monastery for a refreshing stroll along the riverfront. Here the shipshape Monument to the Discoveries and Belém Tower, a whimsical Manueline fortress, evoke the power of the Atlantic. If you're in the mood for art, nip into the nearby Berardo Collection, which displays Warhol portraits and Paula Rego's warped fairy-tale paintings for free.



Evening
Head back into central Lisbon for a shellfish feast and beer under the vaults of 13th-century monastery turned lively beer hall Cervejaria Trindade. Walking south through the Bairro Alto's bar-lined lanes brings you to the Santa Catarina viewpoint. Here steps lead down to Noobai Café, where locals meet for mojitos and knockout views over Lisbon's rooftops to the twinkling Ponte 25 de Abril bridge.

Start: Cervejaria Trindade
Nearest metro: Baixa-Chiado