Top 10 archaeological destinations in the world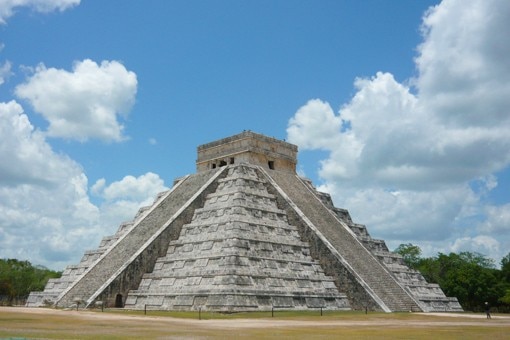 Ancient Egypt, China, Peru – this guide to the top 10 archaeological destinations in the world will show you where to book a hotel to take a walk through history.
Egyptian pyramids at Giza
They may have become encroached by Cairo's urban sprawl, but the Great Pyramid and its crouching guardian the battered Sphinx still have the power to astound. Take a tour and stay on till dusk to see Egypt's ancient monuments bathed in colour during the sound and light show.

See all hotels in Giza


Khmer temple at Angkor Wat
Cambodia's 12th-century Angkor Wat temple is an awe-inspiring mix of massive scale and delicate details. Platformed galleries lined with bas-relief sculptures of dancers and warriors lead to the 12th-century Hindu temple's inner sanctum of five spires. Visit at sunrise or sunset to see them reflected in the temple's moat.

See all hotels in Siem Reap


Incan majesty at Machu Picchu
The mountain-top "lost city of the Incas" in Peru was hidden for centuries by jungle and clouds, and its history remains shrouded in mystery. The 15th-century collection of terraces, gardens and temples is best visited at dawn from hotels in Aguas Calientes, a shuttle bus ride from the ruins.

See all hotels in Aguas Calientes


Ruined Roman city in Pompeii
With its ancient streets lined with well-preserved houses, shops and temples, Pompeii is one of the most popular archaeological destinations in the world. Frescoes and mosaics surround the tranquil gardens of Roman villas, and poignant plaster casts underscore the tragedy of Vesuvius' eruption in AD79.

See all hotels in Pompeii


Khajuraho sculptures in Madhya Pradesh
The 1,000-year-old Hindu temples of Khajuraho are known more for their amorous sculptural details than their spires and gardens. Astounding visitors with their detail and erotic frankness, the temples' friezes of passionately entwined couples celebrate the sanctity of life. Hire an audio guide to learn the symbolism behind the sculptures' gymnastic poses and unorthodox couplings.

See all hotels in Khajuraho


China's terracotta army in Xian
The forbidding clay army of Qin Shi Huang, China's first emperor, guards the ruler in death in Shaanxi province. Four pits have been discovered, but the breathtaking sight of more than 1,000 individually detailed warriors standing four abreast in battle formation makes Pit 1 the highlight.

See all hotels in Xian


Stone circle in Wiltshire
A mysterious circle of massive boulders, Stonehenge has stood in windswept isolation on England's Wiltshire plain for 5,000 years, attracting romantics, Druids and history-lovers alike. Visit the Neolithic site at sunrise or sunset to see the stones at their most dramatic.

See all hotels in Amesbury
Rock-hewn architecture at Petra
A narrow canyon winds through the cliffs at Petra to reveal a desert gorge, with Corinthian columns and triangular pediments carved into Jordan's rose-red rock. Built by the Nabataeans in 300BC, the exquisite palaces, temples and tombs are best seen at night on a candlelit tour.

See all hotels in Petra


Mayan mystery at Chichen Itza
Four stairways climb to the summit of El Castillo, the majestic pyramid dominating the Mayan site of Chichen Itza on Mexico's Yucatan peninsula. Temples, courts and platforms make up the 1,500-year-old site, whose geometric shapes are illuminated at night during the sound and light show.

See all hotels in Itza


Roman ruins at Ephesus
Turkey's most famous Roman site is Ephesus, near the town of Selcuk in Anatolia. Follow the Roman main street to the city's excavated theatres, baths, temples and a remarkably well-preserved two-storey library, or let yourself be sidetracked by steps leading to houses with their frescoes and mosaics intact.
See all hotels in Selcuk
Discover
Find your perfect holiday in Giza
From 150 hotels.