Kyoto Food and Dining Guide - Restaurants, where to eat, and more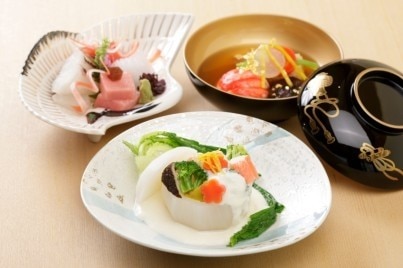 Kyoto's cuisine (Kyo-ryori) is traditional and highly refined; aimed as it was at the wealthy and powerful during Kyoto's days as the royal capital. A multi-course meal (kaiseki ryori) in the swishiest places is the epitome of Kyoto imperial eating, with plays on fish being particularly popular.
Noodles and rice dishes are, of course, regular staples in the old Japanese capital, while vegetarian (shojin ryori) set meals will please veggies. Home-based cooking can be had in standard Kyoto restaurants, which is wholesome and relatively cheap everyday food. Seafood is not the best in Kyoto due to the distance from the ocean, while green tea (macha) is a local favourite beverage.

There is good eating all over the city, with Central Kyoto having the best choice. You will also find good, cheap eating at the main subway stations, such as at Kyoto Station, while many of the major temples and shrines are ringed by markets with good, cheap food.


Central Kyoto
This is the main area for shopping and dining in Kyoto, and in particular Kawaramachi and Shijo Dori and their associated side streets. If you're here in the summer, be sure to check out the west bank of the Kamo River for open-air dining.


Kyoto Station
There are dozens of inexpensive places to eat at Kyoto Station. They can be found at the main exits, in underground arcades, and on the 11th floor of the Isetan department store. In addition, Hotel Granvia here also has some good eating.


Eastern Kyoto
Kiyomizu Temple is one of the star attractions in the city and also has a surprising amount of inexpensive places to eat nearby. In addition, you can also have a bowl of noodles within the temple grounds at one of the open-air tatami pavilions, where beer is also available.
Kyoto restaurants
Hyotei
35 Kusakawa-cho
Phone: +81 75 771 4116
Hyotei is one of the top eateries in Kyoto; a 300-year-old place which was originally a teahouse. The main eating is Kyoto cuisine (kaiseki) in little houses around the grounds. There is also a main annex area, while the food is delicious yet expensive.

Omen
74 Ishibashi-cho, Kyoto-Shi
Phone: +81 75 771 8994
For a traditional Japanese lunch, Omen is hard to beat. It is near to the Silver Temple in Ginkakuji and is good for a meal after taking in the cherry tree blossoms on Philosopher's Walk.

Gontaro
26 Miyafucho Hirano, Kyoto-Shi
Phone: +81 75 463 1039
Another of Kyoto's traditional-style restaurants, Gontaro has a delightful garden setting near Kinkakuji Temple. Japanese seafood and noodle dishes are the main complement here, and although prices are a tad high, it is a fascinating place to eat.

Ganko – Nijoen
484 Higashi-ikesucho Kiyamachi, Kyoto-Shi
Phone: +81 75 223 3456
This large restaurant is in the Meiji-era style and has a great location on the Takase River. The food is based on Kyoto cuisine, with raw fish, rice, and pickles being typical dishes. There is a main dining room at Ganko—Nijoen as well as private tearooms.

Find more information about Kyoto and hotels in the area:
Kyoto hotels | Japan hotels
Discover
Find your perfect holiday in Kyoto
From 2320 hotels.