Guilin Sightseeing Guide - Visit notable attractions and landmarks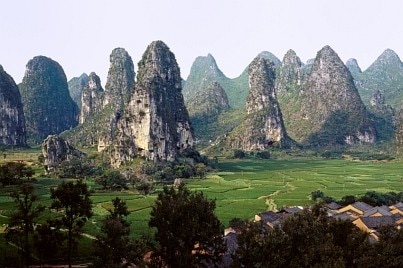 Guilin lies in a unique region of mountains, rivers, lakes and monoliths and, consequently, most of the top sights are a bit out of town. There are several beautiful parks to take in, which come with established pathways, as well as the chance to go on a river cruise.
The Li River cuts right through the town and leads into some of the most stunning landscapes you may ever see close to a major city. Seven Star Park and Elephant Trunk Hill are both on the river, while Reed Flute Cave is also near the town center and features an impressive cave system.

The city also has one or two decent museums worth checking out, namely that of the Jing Jiang Princes City Park, while several traffic-free streets feature an abundance of shopping and eating.


Folded Brocade Hill
Diecai Hill sits in the north of Guilin and is one of its main attractions. It is made up of several hills and affords an impressive view of urban China. You can climb to Bright Moon Peak, which is the summit where there is a pleasant pavilion aptly known as Catch the Cloud.
Solitary Beauty Peak
This chunk of rock, known as Duxiu Feng, juts up out of town and is the typical face of Guilin, with its jagged appearance akin to something out of Rio de Janeiro. You can walk the natural stairway, created from the action of centuries-worth of visitation, and take in the fine views over town. The start point is Wang Cheng, a Ming Dynasty palace, which is accessible on foot or by taking bus number 1 or 2.


Seven Star Park
Another of Guilin's natural sights, Seven Star Park, on the eastern bank of the river, features seven misty peaks that are said to resemble the Big Dipper constellation. This is no ordinary park and there are attractions for all, including the Seven Star Cave, Flower Bridge, and the lumpy Camel Hill.


Elephant Trunk Hill
This park also sits on the banks of Li River, and the natural arch, which is why the park is so named, is best seen by boat. Elephant Trunk Hill park can be combined with a cruise on the river.


Reed Flute Cave
Although a couple of miles out of town, Reed Flute Cave is a really beautiful cave that is really well lit. All sorts of animals and shapes will be excitedly pointed out to you by the English-speaking guides in among the array of impressive stalactites and stalagmites.


Jing Jiang Princes City Park
A major must-see Guilin attraction, Jing Jiang Princes City Park lies in the center of town and features a forbidden city that was home to the princes of the region. It is stunning and grand and the various buildings, four halls and four pavilions, have been turned into a museum.