Osaka Food and Dining Guide - Restaurants, where to eat, and more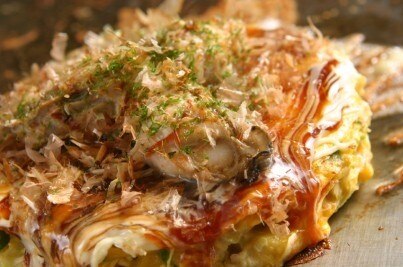 Although not quite on par with Tokyo, the eating in Osaka is excellent and there are numerous places to dine at. You will also find a large collection of cuisines, not just Japanese. They include great Chinese and Korean eats, as well as a glut of European cafés — especially French and Italian — and good old American fast food joints.
Popular and tasty local delicacies to try include the octopus dumpling dish takoyaki, udon noodles, and okonomiyaki pan-fried batter cake. Sushi is, of course, widely available and there are some great seafood restaurants down at the bay and along the river.


Tennoji
Tennoji is one of the nicest areas to eat in Osaka as there is also good shopping to be had here as well as a number of top attractions, such as Tennoji Zoo. Tennoji is in the south of the city and has many cafés and restaurants and a decent number of bars and pubs. The National Art Museum and Shitenno-ji Temple are also here.


Doyama-cho
Somewhat of a party area of town, Doyama-cho is where locals come to let their hair down of a night. There are also plenty of restaurants to go with the bars and clubs as well as popular, so-called love hotels. Doyama-cho is also a popular gay area and it is also home to the Hep Five entertainment complex at Hankyu Station.


Dotombori
This small, traffic-free lane in Namba district is another of Osaka's popular nightly hangouts and has plenty of bars and restaurants. It follows Dotombori River Walk, to boot, so the atmosphere is authentic and you have a range of styles, from pub grub to organic cafés and sushi bars.


Ikuno Ward
There is also a Korean section in Osaka which is home to over 90,000 Koreans in the Korean town (Tsuruhashi). Here, you will find all sorts of goodies to eat, from fast food to flash, Korean barbeque restaurants.


Osaka Bay area
For seafood and sushi, be sure to head for the Universal CityWalk in the Osaka Bay area, which has plenty of restaurants that are open all day. Bubba Gump's is one of the most popular seafood eateries and you will also find a Hard Rock Café with great burgers and steak sandwiches.


Hotel eating
Some of the best eating in Osaka can be had at the upscale hotel restaurants. There are many of them in the city center and they have a range of cuisines, including Asian, European and America. Prices are always a little on the high side but you get English menus and exceptional service.
Osaka restaurants
Harijyu
1-9-17 Dotonbori Chuo-ku
Phone: +81 6 6211 7777
Harijyu is touted as having the best shabu-shabu, or sukiyaki, in town. It is thin strips of beef, pork or chicken with greens and soy sauce and you can have it in traditional Japanese tatami rooms. It's best to get here early (around 18:00) as Harijyu gets super-busy.

Cui-daore
1-8-25 Dotonbori, Namba
Phone: +81 6 6211 5300
Cui-daore (meaning eat your way to bankruptcy) is one of the more affordable well known restaurants in Osaka. Opened in the 1950s, it is a bit of a buffet place with everything from sushi to delicious yakitori (grilled chicken) and Western treats. There are English descriptions and menus, too.

Kani Doraku
1-6-18 Dotonbori Chuo-ku
Well known through Japan as a nationwide chain of eateries, Kani Doraku in Dotonbori, Osaka, is the original. It does excellent seafood and there specialty is crab, as seen by the waving crab out front. Prices are a little on the high side.

Find more information about Osaka and hotels in the area:
Osaka hotels | Japan hotels
Discover
Find your perfect holiday in Osaka
From 2650 hotels.