Udaipur Shopping Guide - Find where and what to shop and buy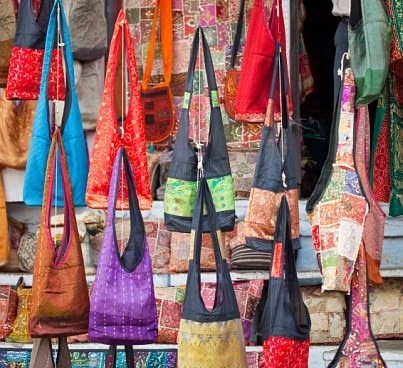 Udaipur is fantastic for traditional crafts and everything from wooden statues to silk ties and high-end fashions can be had. The best shopping is in the many bazaars that can be found all over Udaipur.
The bazaars have just about everything on offer, including sari silk-clad photo albums, and all items can be haggled for. The cooler, drier November to February months are the best months for shopping in the markets and when the main festivals are not on.

Udaipur also has popular shopping malls and department stores where you can pick up brand labels in relative comfort, although the main appeal of shopping here is to get into the bustle of a traditional bazaar.


Clock Tower
Udaipur's Clock Tower is one of the top landmarks in the old town center where there are excellent shopping options. It is one of typical winding alleys where all manner of exotic goods can be had, including gold and silver items. Copper goods churned out by master coppersmiths are particularly good and it is nice to shop here at night when the clock is lit up.


Lake Palace Road
Lake Palace Road is good for picking up all types of textiles, including embroidered and woven items. It is also good for wooden statues of Hindu gods. You will find loads of stores and gift shops either side of the street although it is best avoided during prominent religious festivals due to crowds.


Jagdish Temple Street
Jagdish Temple Street is known for its bustling shopping bazaar, which sells an array of local handicrafts. Prices here are among the most competitive anywhere in the city and it is also good for jewelry. Be sure to haggle.


Ghanta Ghar
Ghanta Ghar Road has the widest selection of fabrics in Udaipur. There are oodles of shops along here, and while it is a bit of a squeeze, it has bags of appeal and every color and style of fabric imaginable.
Ganjaur Ghat
The eastern side of Ganjaur Ghat is the best bet for shopping as it comes with several bazaars that stem out from the Clock Tower. Ganjaur Ghat is especially good for carpets, pottery, paintings, and anything made with cane and tends to be popular with locals. The earlier in the day you get here the better.


Shilpgram Museum
The Shilpgram Museum is a popular crafts village a few kilometers from the town center. It sits on the west bank of Lake Fateh Sagar and is easily visited by rickshaw. Handicrafts abound and there is a popular crafts fair held every December here. The other main attraction is the traditional Indian mud huts, many of which have been beautifully decorated inside.


Udaipur shopping tips
The main thing to remember when shopping anywhere in India's markets is to have a range of small notes to buy merchandise as it will generally be tough getting change for high value notes. Also, most places won't accept torn or overly scruffy banknotes. For authentic handicrafts, the government-run Rajasthali in Chetak Circle is a good bet.

Find more information about Udaipur and hotels in the area:
Udaipur hotels | India hotels