Best hotels in Sanya, China - Guide for all accommodation types in Sanya
Best hotels in Sanya, China - Guide for all accommodation types in Sanya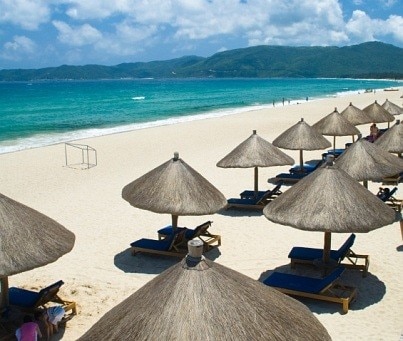 In spite of its upmarket image, visitors to Sanya can spend as much or as little on accommodation as suits their individual pockets. From five-star luxury to guest houses and inns, there's something for everyone on this tropical island.
The most economical district in which to stay is undoubtedly Sanya city centre, its Sanya Beach area and the area around the island's airport, with a few budget lodgings also to be had on and around Dadongdai Beach. Mid-range accommodation is available everywhere in Sanya and for ultimate luxury, at a price, the quieter area around Yalong Bay is the perfect destination.

A popular choice close to the airport and on the beach in Sanya Bay is theHoliday Inn Sanya Bay Resort. Its internationally trusted name is backed up here by a large, freeform outdoor pool, a health club, attractive guestrooms and a restaurant and lounge bar. In-room massages are part of the excellent service.

The four-starDays Hotel Suites Sanya Resortis a good choice for those travelling either en famille of with a group and needing extra space. It's good for business travellers as well, with a business centre and conference rooms, and the property is set close to the beach and within a short drive of the massive Hainan Guan Yin image.

For visitors heavily into watersports of all kinds, Dadongdai Beach is the best choice for beachside accommodation, with hotels, apartments and inns all close by or on the sands. TheMandarin Oriental, Sanyais as good as it gets, with its own private beach, easy access to the public beach, three outdoor pools, full-service spa, three restaurants, a 24/7 fitness facility and designer guestrooms equipped with every comfort and luxury.

For those who can't bear to miss their weekly game of golf, even on holiday, perhaps theMingshen Jinjiang Golf Resort Sanyais the answer. Located close to Dadongdai Beach and with its own private beach, this exotically decorated and pillared residence offers its very own golf course as well as a health club, three outdoor pools, a business centre, two restaurants, a lounge bar and a shuttle bus to theme parks and Sanya's shopping district. It welcomes families, has a children's pool and is smoke-free.



If you're looking to mix with the glitterati, Yalong Bay is the place. Here you'll find world leaders in the hotel sector, including theRitz-Carlton Sanya, a massive complex set around one of its four huge outdoor pools. Of, course, the hotel has its own private beach on Yalong Bay, and all its guestrooms and suites have furnished patios or balconies. Signature designer bedding, down comforters, deep bathtubs, designer toiletries, luxurious bathrobes and much more, including fine dining, are on offer.

A few mid-range options are available around Yalong Bay, including theCactus Resort Sanya, a four-star offering at a value-for-money price with a private beach, outdoor pool, fitness room and a full-service spa. Staff are multi-lingual and a business centre, conference rooms and a limo service will please business travellers. The guestrooms are attractively furnished and the restaurant offers a buffet service as well as a la carte. The covered terrace gives spectacular ocean views over the bay. Find more information about Sanya and hotels and resorts in the area:
Hotels in Sanya | China hotels