What to see and do in Algarve – a guide to notable attractions and activities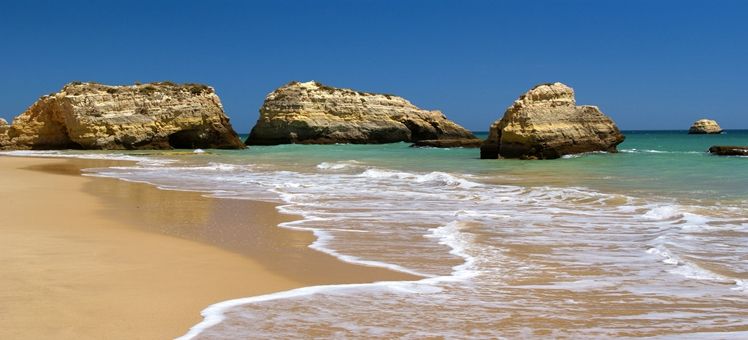 Whether you are interested in lazing on a warm golden beach, practicing your swing on a world-famous golf course or simply taking a hike through wild fields and woodland, Algarve has much to offer.
The small region on Portugal's southernmost tip possesses challenging inland trails, a large coastline full of pristine beaches, award winning wineries and unique diving opportunities, proving that a visit will never be dull. Algarve is a blend of old and new, featuring Roman ruins and Moorish castles all mixed with modern day comforts. History fanatics can marvel at the rustic architecture and rural surroundings without losing the luxuries of home.
Beaches
Algarve's beaches are a main attraction to the area. The golden sand is kept clean, as is the clear water fringing the coastline, making it an ideal place for water sports, such as snorkelling or sea-kayaking. Many of Algarve's beaches keep visitors' safety a priority, with lifeguards patrolling the shores. The region enjoys a Mediterranean-like microclimate, despite its Atlantic surroundings. Many beaches can be easily accessed from holiday towns; however with around 150 beaches in the area, you might find it hard to pick your favorite.
Golf
The Algarve is a well-known golfing destination that has been voted the best in Europe – and for good reason. There are a large number of varying courses, many of which have sweeping vistas of the Atlantic Ocean. It is not just the courses that attract visitors, but also the landscapes: at Vale do Lobo the particularly challenging 16th hole requires that the golfer hits the ball from one side of a cliff to another.
Via Algarviana Nature Trail
Keen hikers and nature lovers will enjoy Via Algarviana's long distance trail. The inland path is sheltered by dense forests which can be a welcome escape from the midday sun. The route is full of brightly colored flowers and spans from Alcoutim in the East of Algarve to the region's western tip at Cape St. Vincent. On the trail you will pass countryside views and rivers and climb to Algarve's highest point of 902m at Foía. The rural route is around 330km long and is a popular biking course.
Ocean Revival Underwater Park
Ocean Revival Underwater Park is an artificial reef full of ex-navy ships purposely built for scuba divers to explore and learn about bio-regeneration. The park is a non-profit community project supported by recognised diving organisation PADI. It is free for visitors and is accessible to anyone with diving training. Visitors are recommended to join a club or diving school so that they can enjoy the wrecks safely and with a guide.
Adega do Cantor Winery
Award winning wineries are an informative and delicious way to spend an afternoon. Adega do Cantor produces Vida Nova wines and is found on top of Quinta do Miradouro. It holds the title as one of Algarve's most prestigious wineries and happens to be owned by world famous singer Cliff Richard. Visitors can take in views of the coast and surrounding vineyards on a guided tour, or browse the wide selection of wines on a tutored tasting.
Chapel of Nossa Senhora da Rocha
The Chapel of Nossa Senhora da Rocha is a charming white stone building that is often used as a romantic wedding venue. The site is perched on top of a cliff that slices between two of Algarve's beaches and points towards the Atlantic Ocean. The chapel was built in the 8th century, its quaint and rectangular architecture preserving the area's medieval influence. Whether you are looking for a wedding venue or just browsing the region's historic sites, a visit to the Chapel of Nossa Senhora will ensure spectacular views of the Atlantic Ocean from the needle-tipped cliff top.