Where to shop in Brussels – where and what to shop and buy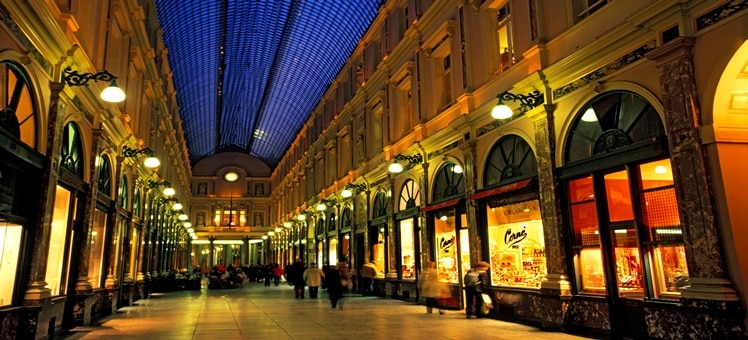 Brussels has been built upon marketplaces since the 10<sup>th</sup> century and to this day, the tradition remains strong. It boasts fashion labels big enough to rival London and Paris for the honor of the best shopping experience in Europe. However, this city also offers real charm in small scale shopping from browsing through antique stores, exploring street markets, and sampling local produce. Several well-known events occur frequently throughout the week and there is something to entice in all seasons. Famous for its beer, chocolate and lace, there are plenty of places to find your souvenirs.
City Center
Usually the tourist center of Brussels and its surrounding streets are filled with overpriced souvenir shops. Look closer and you'll find bargains in quality lace and chocolate shops. The shopping mall of Galeries Royales Saint-Hubert has many boutique fashion designers who have designed clothes for the Belgian Royal Family and the famous handbag designer flagship stores. If you are looking for collections, head south from the center to Rue du Midi, known as Collector's Alley, where you find this bohemian street filled with artists, musicians and antiques to enhance your experience.
Antoine Dansaert
If you are a keen fashionista, head to Antoine Dansaert. This area of the city center is full of designer boutiques. It is the area known for true fashion lovers to discover one off pieces to add to their wardrobes. Its wide streets open up a mammoth amount of shops with a variety of fashion styles. This street is also a historic landmark, dating back to the early 19th century as an extension of the Exchange District.
Grand Place Sablons
Brussels is built upon the marketplace since its founding and this tradition is as strong as ever as many street markets have sprung up across the capital. For antiques, the 'Marche des Antiques et du Livres' or the 'Marche aux Puces' are the places to go. If you want to find second hand bargains ranging from books to crockery and furniture this is an excellent place to spend a day roaming around the markets.
Saint Gillies
If you are on the hunt for food, there are plenty of markets in Brussels to visit. If it's chocolate you're after, this is the right place. Head to 'Marche du midi' on a Sunday, which seems to be made especially for the chocolate lovers and has the best chocolates. It sells delicious delicacies of a wide variety of foods from 450 enticing food stalls including tropical fruit, seafood and Belgian chocolates.
Christmas Market
Brussels is one of the best European cities to shop in at Christmas. Starting the last weekend of November and running until New Year, the Christmas market begins at the Grand Place, decorated with Christmas trees to La Bourse where there is a variety of stalls selling handcrafted Christmas wares. The Christmas market leads into the main market on Quai aux Briques where there is an open-air ice rink, fairground rides and pop-up restaurants with mulled wine and sausages.
Shopping Tips
Most shops open at 10am or afterwards, don't be surprised if some open at 11am. Often, shops will be closed on Mondays and Sundays. Some shops stay open till 9pm on a Friday evening.