Where to eat in Cairns – a food and dining guide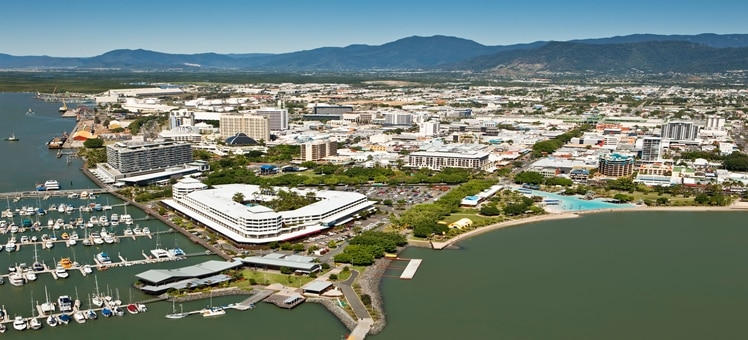 Australians are known around the world for their love and expertise when it comes to lighting up the barbie and throwing a few snags on; here in Cairns it's no different. Whether you are looking for first class dining or simple pie and chips, Cairns has something to suit every taste. Its perfect location, being right next to the blue ocean, provides visitors with an unprecedented selection of fresh sea food; some say the best sea food in all of Queensland.
The lush tropical climate provides the perfect environment for the production of local ingredients, something which many restaurants and eateries are proud to integrate into their food. Here in Cairns, you have the chance to sample some of Australia's famous wildlife like the kangaroo, emu and wallaby. So why not get adventurous and dig into some authentic bush tucker?
Restaurants
Visitors will be spoilt for choice when it comes to restaurants in sunny Cairns. Its location in Australia means it has been really influenced by the taste buds of international cuisine. Dozens of fantastic Asian restaurants have popped up all over town providing a great fresh taste on Indian, Chinese and of course Indonesian, which is a popular choice in this part of the world. Many restaurants here have a fantastic view over the ocean, providing the perfect setting to celebrate a special occasion.
•
The Salt House
, 6/2 Pierpoint Road, Cairns, 4870.
Markets
Australians love a good market and here in Cairns, they really put on a show. Every Saturday here the Cairns Esplanade Markets come to life and provide a great opportunity to indulge in a variety of different street food. The markets are always a great chance to try something different, chat to some of the store owners and find out their favourites and recommendations. Rusty's Market is a three day extravaganza (Friday to Sunday) where colourful stalls and lively atmosphere make shopping for fruit, vegetables and crusty loaves, chocolate and coffee a delight. Non-food items are also available with bric-a-brac and jewellery thrown into the mix.
•
Cairns Esplanade Markets
, The Lagoon.•
Rusty's Market
, between Grafton and Sheridan Streets.
Barbecues
It wouldn't be a true Australian experience if you didn't indulge in the national pastime! Thousands and thousands of Aussies light up the barbie every day to enjoy a very social eating experience. Aussies like to take their barbies seriously, so the city of Cairns council has built a large number of free and easy to use purpose-built barbecues all along the Esplanade walkway and at various spots along the Northern Beaches. Why not take a break from the restaurants, grab some mates and kangaroo steaks and head down to the beach to light up the barbie? It is the perfect way to end a day in the tropics.
Sea Food
You can't visit the famous Great Barrier Reef and not sample in a bit of fish food. Cairns has some great choices of seafood restaurants, many of which are on the marina. Take your pick and try some of the freshest seafood in all of Australia. Pesci's on the Water is the only seafood restaurant that looks out over Marlin Marina and serves up a combination of fresh fish and seafood dishes as well as modern Australian cuisine. Dundees Restaurant is found on Marina Parade and throws up all kinds of ordering dilemmas with a variety of mouth-watering dishes from reef fish, mussels and garlic yabbies' to a whole split rock lobster from the bbq.
•
Pesci's on the Water
, The Pier, Marina Pierpoint Road, Cairns, 4870.•
Dundees
, Shop 4, Harbour Lights, Marina Parade, Niagara, 4870. Tel: (+617) 4051 0399.
Discover
Find your perfect holiday in Cairns
From 380 hotels.