A guide to Oman – desert forts, shimmering cities and green oases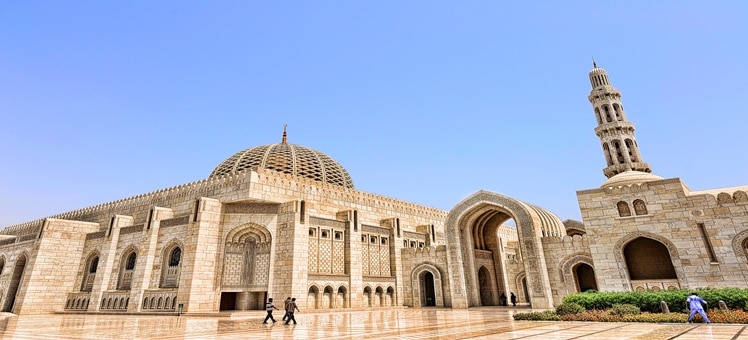 A land of mirages and mysticism, all in Oman may not be as it first appears. Seemingly barren deserts hide lush wadis, or oases, where camels drink from palm-fronded pools. Fishing dhows haul in the freshest seafood from the open sea, while ancient ruins swelter under a desert sun, miles from water. Mountains, usually brown and dry, become green and lush overnight in the monsoon season. In the cities, grand mosques dazzle with mesmerizing patterns. In every sense, Oman is a beguiling place worth discovering.
What to see and do
Oman's capital, Muscat, has ceded little to modernity. Be entranced by the Grand Mosque, with its soaring prayer tower, get lost amongst the treasures of the souq and relax on the gentle curve of the beach. The city of Sur, south of Muscat, offers a chance to see traditional Dhow building on the beach and makes a good base for trips into the Wahadi Sands. Further inland, in Oman's desert landscapes, the city of Nizwa offers dramatic forts and traditional crafts, while Salalah, in the far southeast of the country, is like entering a completely different world – its tropical climate offers lush forests, waterfalls and frankincense.
Where to stay
Between orange desert sands and turquoise-blue sea, Muscat is the ideal place to experience the essence of Oman. Grand, luxury resort hotels abound for a true Arabian Nights stay. Sohar, to the north, is a well-developed city with beautiful, clean beaches. Upscale resorts and mid-range hotels are both in plentiful supply. Further north still, you'll find Kashab and its dramatic fjords – the 'Norway of Oman'. There are several seafront resorts to choose from. If you'd prefer the dry wilds of the desert, then spend a night under canvas at a Bedouin camp in the Wahadi Sands, or for a little more comfort, stay in one of the desert camps around Nizwa.
Where to eat
Traditional Omani food is humble, though always served with great hospitality. Staple dishes of rice and meat, and fish in coastal areas; have been supplemented over time with spices from India and fragrant herbs from Lebanon. Muscat and Sohar both have a good selection of Indian and Lebanese restaurants, as well as some more traditional Omani eateries. Nizwa's cuisine is more heavily influenced by Lebanon – slow-cooked kebabs and hummus-based mezze are popular dishes. It's also the prime rosewater region, so halwa pastries are a common sweet dish. Salalah, with its more tropical climate, offers a greater abundance of fresh fruit and aromatic, Indian-inspired fish platters.
Where to shop
Muscat is a great shopping destination. Expensive boutiques sell some of the most exquisite perfumes and precious metal goods in the world, while bargains can be picked up in the souq. Western-style malls are numerous and vast. Salalah is the frankincense capital of the country, and its pungent souq is the place to purchase some of this perfumed treasure. For the best traditional shopping experience, visit Nizwa. Its labyrinthine souqs offer beautiful handicrafts, from ceramics to woven carpets. In the city of Sur, pick up a unique souvenir – the carefully-crafted model Dhows are miniature replicas of the traditional boats being built on the beach.