A Prague city guide – iconic architecture, romantic walks, culture and nightlife
A Prague city guide – iconic architecture, romantic walks, culture and nightlife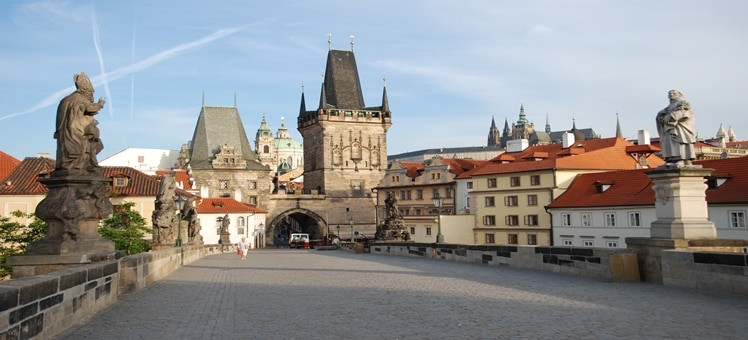 Oozing culture and history, the capital city of the Czech Republic, The Golden City, is full-to-bursting with museums and galleries for the tourist who fancies a cultural retreat. Few first-timers should leave without seeing Prague Castle, the Old Royal Palace or the Old Town Hall, and yet, the city now attracts a hoard of young people with the promise of a well-priced, emerging party hotspot.
Architecture
Everyone visiting Prague must take a look across Charles Bridge. But be warned. By 9am it's a 500m long gauntlet as tourists and bulky cameras ricochet off each other and the usual host of hawkers and buskers that set up camp there each day. If you want to visit at its most scenic (and sleepy) try sunrise instead. Also the Old Town Hall in Staroměstská is every architecture lover's dream. Founded in 1338, it features an enormous Gothic tower and striking astronomical clock that is virtually unmatched in the entire of Europe. Prague's right bank owes its intriguing charm, bizarrely, to the Vltava River, which was responsible for the unique underworld of flat Staré Město (literally, Old Town). These innumerable vaulted, stone-walled spaces once sat at street level, but constant flooding of the Vltava during the 13th century prompted the city to raise the streets to the level at which they lie today. Ordinary-looking doorways lead to underground labyrinths; small frontages hide surprisingly expansive buildings.
History
Hradčany's Prague Castle is, or at least should be, first on any visitor's list of things to see. Centered on the Gothic spires of St Vitus's Cathedral, it is flanked by the futuristic early 20th-century architectural accents of Josip Plečnik. Elsewhere, the various courtyards, chapels and famous Old Royal Palace show off every significant early period of Prague's architecture, from the Romanesque Basilica of St George onwards. It's difficult to think of a more ironic site for The Museum of Communism – in an 18th-century aristocrat's palace, between a casino on one side and a McDonald's on the other. The museum tells the story of Czechoslovakia's years behind the Iron Curtain in photos, words and a fascinating and varied collection of other items. The empty shops, corruption, fear and double-speak of life in socialist Czechoslovakia are chillingly conveyed, and there are rare photos of the Stalin monument that once stood on Letná Terrace – and its spectacular destruction.
Entertainment and nightlife
For the wine guzzler in you, Prague boasts a stunning open-air wine garden, Viniční Altán, located a short walk from Jana Masaryka, which was established by Emperor Charles IV himself. Locally made white and red is available, best drunk overlooking the vineyards as the sun slowly creeps into the earth. Just down the road from Wencelas Square and located in the Lucerna shopping complex, Lucerna Music Bar is a local watering hole which hosts Czech bands during the week and turns into a fantastically cheesy 80s and 90s themed nightclub on the weekend. Popular with locals and travelers alike, this bar is the best place to go to on a Friday or Saturday night if you want to throw some old school shapes. An industrial club in every sense of the word, Cross Club is set in one of Prague's industrial zones. The thumping, hedonistic music and the interior - an absolute must-see jumble of gadgets, shafts, cranks and pipes - make this club a must. The eclectic programme includes live music, theatre performances and even art shows.