What to see and do the best sites and attractions in Reykjavik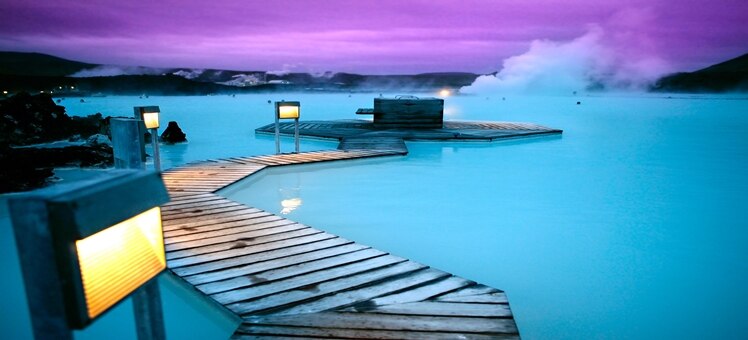 The multitude of attractions, which draw tourists worldwide onto Reykjavik's streets, is truly astounding. A world-class collection of museums, galleries and exhibitions, all showcasing Iceland's cultural heritage, can be found in many main areas of the city, scattered amongst breathtaking examples of innovative, Reykjavik architecture, most notably in the form of its many churches and cathedrals. Journey a little in any direction from the city center, and you will undoubtedly stumble across natural landscapes of the most visually impressive variety. Fjords and geothermal pools, mountains and volcanoes, there are miles of beautiful expanses just waiting to be discovered.
Perlan
Offering spectacular views across the city in all directions, Perlan or 'The Pearl' is primarily a water-storage facility, trapping the geothermal water from the surrounding pools to supply the city with hot water. However, situated atop the amazing Öskjuhlíð Hill, its attraction is undoubtedly the unequalled location and the dramatic vistas of Reykjavik it affords from its viewing platform. As well as this, Perlan features a revolving restaurant in its roof, and the amazing Viking Saga Museum, a collection of exhibits and information about the city's Viking heritage. The Viking Saga Museum is however due to relocate very soon.
Viðey Island
For truly unspoilt natural splendor in Reykjavik, there is none more beautiful than Viðey Island, just off the northern coast of the city. A deeply significant historical site, many archeological excavations have shown that this little island was inhabited as early as the 10th Century. The island is also home to the first stone house in the whole of Iceland. Viðey is equally as significant culturally as it is historically, proudly displaying many of the most important works of art, most notably sculptures by American artist Richard Serra. Yoko Ono's peace tower, which was erected in memory of her late husband John Lennon, can also be found here. Viðey Island is truly an enlightening place, providing insights into the cultural and historical flavor of Reykjavik, against a beautiful, coastal backdrop.
Hallgrimskirkja Church
Standing magnificent and imposing over the central city area of Hallgrímskirkja, this incredible church is arguably the star attraction of Reykjavik itself. An example of astoundingly innovative architectural design, this church draws crowds of tourists to admire its sleek, curving design and beautiful windows every day. The steeple of the church rises to an unbelievable 74.5m, offering panoramic views across the city for those brave enough to climb it. Designed in 1937 and built in 1945, the Hallgrímskirkja church is a splendid example of the contemporary architectural style that characterizes many of the city's buildings, and is well worth a visit for the photography opportunities alone.
National Museum of Iceland
Whatever the nature of your visit to Reykjavik, the National Museum of Iceland is a must for those wanting to discover any aspect of the history of Icelandic culture. The museum boasts an excellent array of exhibitions and permanent fixtures, which serve to illustrate the fascinating story of Iceland's past, and its journey into the thoroughly modern country it is today. In the main section of the museum, over 2,000 artifacts from various time periods, discovered in various archeological sites across the country, which paint a detailed picture of Iceland's past. Perfect for both adults and children, there is plenty here for a truly enlightening day of culture.
Blue Lagoon
Many travel to Reykjavik to relax and unwind in its spectacular array of geothermal pools and natural spas. There is none more heavenly than Blue Lagoon, situated in the suburban town of Grindavik, a 30 minute drive from Reykjavik. Sink into one of the bubbling pools, filled with natural seawater, which is renowned for its exfoliating and enriching properties. For most, the draw of Blue Lagoon is that it makes use of nature's provisions, featuring naturally occurring pools set amongst breathtaking, mountainous scenery. Featuring pools, saunas, spa treatments and even an outdoor bar serving food throughout the day, it is impossible to leave Blue Lagoon feeling anything other than refreshed, rejuvenated and completely pampered.
Whale Watching
Why not get up close and personal with some of Iceland's most iconic marine life? Departing daily from Reykjavik's Old Harbor, there are a number of whale watching tours that provide a chance to experience the majesty and power of many species of whale in their natural habitat. On a typical tour, passengers an expect to witness numbers of Minke and Humpback whales, white-beaked dolphins, porpoises and a wealth of seabirds, including the beautiful puffin. This is truly the best way to experience the true splendor of Reykjavik's coast and its inhabitants in stunning detail.