Where to eat in Krakow – a food and dining guide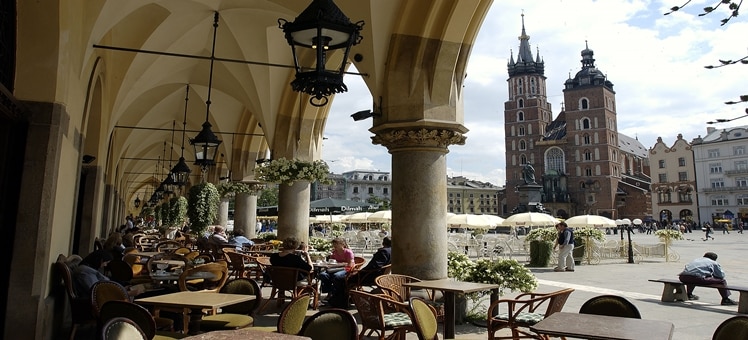 Polish cuisine has become very eclectic; its central European location means many other countries feature heavily in its cuisine now such as German, Hungarian, Russian and Austrian. Meat, especially pork features a lot in the food, as do eggs and cream, making it rather rich. Many restaurants offer Jewish-inspired dishes too which are a must try. Other European food here is also very popular, especially Italian.
Try Jewish food such as czulent, which is a bean casserole and knyshe dumplings. Polish dumplings should also be high on your list to try, with pork loins and vegetables and if you're feeling really adventurous, try the trout dumplings and pork knuckle.
Old Town
The Old Town has a lot of international, French and Polish cuisines. For some real Polish cuisine in the heart of the city, head to Pod Baranem. Inside, the restaurant beams a traditional feel with antique furniture, brick walls, logs and knick-knacks on the walls and linen table cloths giving it a real cozy warm atmosphere. Complementary bread and smalec (pork dripping) begins the authentic dining experience. Try venison and wild boar game. Locals often dine here – a sure sign of its reputation, along with its affordable prices.
Jewish neighbourhood
Hamsa is another new addition to the Jewish districts' ever increasing international restaurant scene. The name refers to the palm shaped symbol with the 'all seeing' eye which is seen throughout the Middle East and North Africa. Creating authentic and traditional Israeli food in the form of a modern Israeli café, Hamsa shares its location with a bookshop. Located in the northern end of Szeroka, hummus and happiness is its motto and on the front of every menu. Try the Middle Eastern meat tagines, Palestinian cheese and Israeli wine for excellent value.
•
Hamsa
, Szeroka 2, Krakow, Poland. Tel: +48 515 150 145
Podgorze
Inspired by Lithuanian and Ukarania cuisine and cultures is Ogniem I Mieczem. A take on a traditional 17th century restaurant decked out in thick wood and stone with a hearty fire, probably with a whole pig gently roasting over it. To keep up its authenticity it's decorated with wheat sheaves, wooden tools and spinning wheels. Sit on wooden tables with thick candles to complete the look. Try the barszcz soup and sledz which is pickled herring – perhaps an acquired taste. With a huge range of foods to try, it is a great restaurant to really experience Krakow.
•
Ogniem I Mieczem
, Pl. Serkowskiego 7, Podgorze, 30-512. Tel: +48 12 656 23 28
Nowa Huta
This is the area that is literally full to the brim of Poland's famous milk bars which took off after World War II offering cheap and nourishing food. Bar Mleczny is the obvious choice to sample the best. Milk bars in Krakow are a local's favorite, head to Bar Mleczny for the real deal. They are places to eat cheaply and leave full. A Polish form of cafeteria, they offer milk based food and traditional food. It is a great place to really experience local eating. The midnight blue and rainbow motif interior only adds to the splendor of this place which opens at 7am.
•
Bar Mleczny
, 22, 31-842 Krakow. Tel: +48 12 648 15 10
Zwierzyniec
Set amongst some of the last forestry in the area, it's the best place to go for dinner with impressive landscape views. Set amongst plenty of furry trees is Villa Decius. This up-market restaurant is located inside an impressive Renaissance mansion. Sit on the terrace in the peaceful natural location to enjoy international food of a standard as high as the surroundings. Ingredients and wines are carefully chosen to complement each other and the stylish interior compliments its food and service.
•
Villa Decius
, ul. 28 lipca 1943 roku 17a, Zwierzyniec, 30-233, Krakow. Tel: +48 12 425 33 90
Discover
Find your perfect holiday in Krakow
From 930 hotels.