Where to stay in Rotorua – an area guide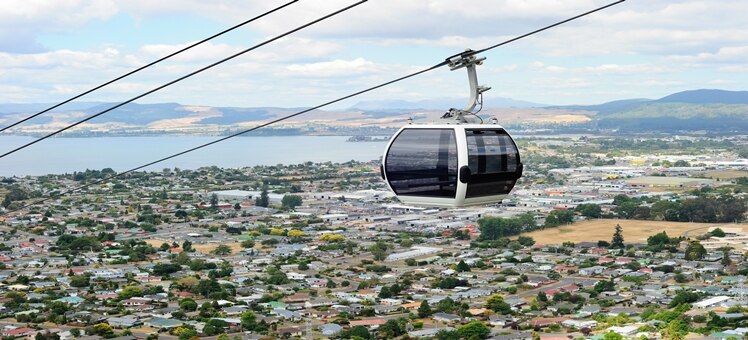 Wherever you decide to stay around Rotorua, there will be a room or camping pitch to suit your needs. If you're traveling with a tent or caravan, you'll find plenty of scenic campgrounds, while budget travelers are looked after by a variety of hostels and 'flashpackers'. Luxury resorts and lodges are also scattered across the region, often with an accompanying thermal spa – although you'll find even some hostels are geo-thermally heated.
Rotorua City
Staying in the city puts you within easy reach of many of the region's lakes, including Lake Rotorua, which the city hugs. You'll also be a short drive from the spectacular Whakarewarewa Forest, with all its hiking and biking trails, and the multiple family attractions to the north, off Fairy Springs Road.
Accommodation in Rotorua City
Close to the lake you'll find some award-winning five star hotels, luxury lodges and thermal motels. In the city center, Fenton Street is home to a large number of motels, several five star spa hotels and a couple of backpacker hostels.
Tauranga
60 kilometers north of Rotorua, in the Bay of Plenty, the city of Tauranga is the most populated area in the region. There's plenty to do here – cruise the harbor on a local boat tour, spot dolphins on a sea safari, or skydive at one of the best drop zones in the country.
Accommodation in Tauranga
The city boasts a great mix of accommodation to cover all bases. For budget travelers, there are plenty of backpacker hostels, 'flashpacker' guesthouses and peaceful holiday parks. Tauranga also offers a variety of motels and hotels, including family-run boutique establishments.
Mount Maunganui
Just across the water from Tauranga, the peninsula of Mount Maunganui offers something a little different. This area buzzes with boutique shops and classy cafes, and boasts both a sheltered harbor bay and an ocean beach with great surf – making it a popular holiday destination for Kiwis.
Accommodation in Mount Maunganui
Being a popular holiday destination, Mount Maunganui is brimming with upmarket apartments and beachside resorts. Motels, B&Bs and campsites can be found just outside the main shopping areas.
Whakatane
The quiet town of Whakatane lies on the coast, 90 kilometers from both Rotorua and Tauranga. Home to Ohope Beach - named New Zealand's Best Beach 2013 - the area boasts stunning coastal scenery and numerous water sports. Whakatane is also the starting point for tours to White Island, an active volcano 48 kilometers off the coast.
Accommodation in Whakatane
There is plenty of accommodation to choose from in Whakatane, from holiday apartments, motels and backpackers in the center, to holiday villages and campgrounds on the outskirts of town.
Taupo
Less than an hour's drive south of Rotorua, Taupo is dominated by Lake Taupo – the source of the town's popularity and also its river. It's on the Waikato River you'll find the famous Huka Falls, the country's most visited natural attraction. The area around the town is also great for rafting, fishing, kayaking, hiking, and much more.
Accommodation in Taupo
The town of Taupo is one of the best places in the region to stay, with a huge variety of accommodation. Pick from one of the many luxury resorts and lodges outside town, or go for a lakeside motel or B&B thermal spa.