Where to shop in Kusadasi: carpets, gold and a fake Gucci bag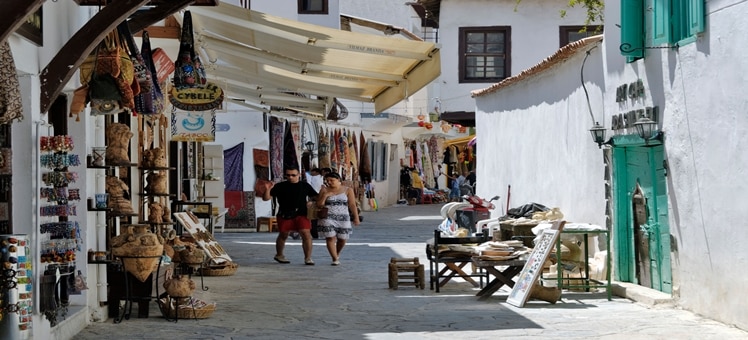 When it comes to shopping in Kusadasi, you can spend all your money in high-end stores, or stick to your budget and haggle like a pro at the local markets. It's up to you. Either way, there's a great selection of things to buy and they're often cheaper than at home. So if you're looking for some souvenirs for the family, a gift for yourself or the ideal interiors for your home, get out in the streets and get bargaining.
Local markets
The local markets are a hive of activity, so set out with that in mind, as they can be quite overwhelming. The atmosphere is hectic, with market traders shouting and competing to entice you to their stalls. If you look like a tourist, you're likely to be quoted an expensive price, so be prepared to bargain for the best offer. Don't be shy; it's a Turkish tradition and the stallholders are expecting you to do it. Local markets are on different days in each area so it's best to check with hotel receptions or tourist information centres when you arrive. Many markets sell fake items and designer brands at ridiculously cheap prices, from Rolex watches to Gucci handbags. Popular with tourists, the items are often very realistic. Altinkum is the bargain basement of shops, and the best place to get your holiday souvenirs. And if you're looking for traditional, local produce Sirince sells authentic olive oil and handmade lace to take home for your friends.
Carpets
Carpets are Turkey's speciality. Purchasing them is the polar opposite to shopping at the local markets. Instead of a hectic, rushed event, you'll find yourself drinking tea and bartering with the shop owners to get the best price. Carpets are the most well-known handmade crafts across the globe and often treated as works of art. As a result people travel from far and wide to buy authentic pieces. For the effort that goes in to making them, you'll be surprised by the price, which varies depending on the quality and size. If you're in Kusadasi town centre, visit Kusadasi Carpets. Their designs are beautifully inspired by nature, and they also sell a range of handmade ceramics. In Selcuk, Can Carpets have been selling rugs of all shapes and sizes for over 40 years, and their pure silk carpets are simply divine.
Gold
Turkey is well known for its gold. Selling for a much cheaper price than in other European countries, cruises often stop off for that particular reason. For good quality items, purchase your jewelry in reputable shops instead of at the markets. You won't have to haggle quite as aggressively and you'll have a more relaxing shopping experience. In the town of Altinkum, Sinbad Jewelry sells a wide selection of gold, diamonds and gemstones. Their made to order and polishing services means you'll come away with exactly what you want. And if you're short of cash, they'll even exchange unwanted items for something new and sparkly. In Kusadasi town centre, Odeon Jewelry sells gold, diamonds and pearls in bracelets, earrings, necklaces and pendants. All their jewelry comes with international guarantee certificates and a five year repair guarantee so you'll be sure you're purchasing a quality item.
Shopping Tips
Haggling for prices is a way of life in Turkey. Store holders expect you to do it so don't be afraid to get the best price for your purchases. The best idea is to start with a ridiculous figure and work your way up to a price you agree on. That way, the store holder feels like they're getting a good deal and you most definitely will be! The markets are full of fake items, and in most cases, the quality won't be great. However, if you're buying a t-shirt or a bag for a one off occasion, then it probably won't matter. It's a good idea to check sizes and try clothes on, as often the sizes aren't correct.
However, it's good to be aware that haggling isn't the way everywhere. Some expensive, boutique and specialist stores don't accept haggling and sell items at set prices. It'll be obvious, as the items will be already priced, and usually more expensive.Whether you're looking for an authentic Turkish shopping experience or simply need a new pair of jeans, Kusadasi has high street stores and shopping malls as well as traditional carpet shops and local markets stalls, so you're guaranteed to spend your cash the way you want to.