The Lure of Crete - Beaches, Mountains, and Ancient History on Greece's Largest Island
The Lure of Crete - Beaches, Mountains, and Ancient History on Greece's Largest Island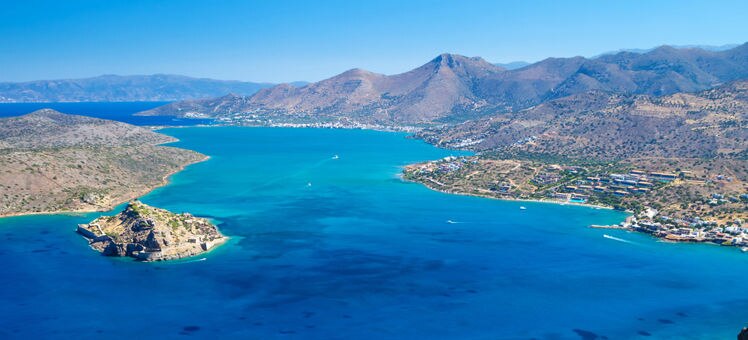 For most visitors to Crete, beach hotels famed for water sports and nightlife are the main attractions. But go a little farther from the resorts to find quieter coves, mountain walks, verdant vineyards, and harbors where fishing boats anchor under the battlements of impregnable strongholds. Famed archaeological sites such as Knossos are easy to reach from Crete's main resorts and cities.
Crete's capital
Heraklion, midway along Crete's north coast, is the island's capital - come here for museums, markets, and history. A massive fortress guards a harbor that is busy with fishing boats, and the historic center is ringed by formidable 17th-century ramparts. Odos Avgoustou 25, a busy main street, links the waterfront with Platia Venizelou, the hub of the old quarter. Full of cafés, it's a great spot for a drink or lunch after a morning exploring Crete's capital. Just steps away is Odos 1866, the old market street, where you can buy everything from olives to live snails.
Luxurious Elounda
Turquoise water, dazzling views, and the most upscale resorts in Crete set Elounda apart. Stay here, and you may be reluctant to set foot outside this pampered enclave, with its manicured grounds, tennis courts, spa treatments, and private beaches. But Elounda's location on the Gulf of Mirabello puts you close to natural and historic attractions, too. Spooky Spinalonga, a labyrinthine island fortress, is a 20-minute boat ride away. Knossos, Crete's most famous archaeological site, is a 90-minute drive, as are the lunar landscapes that surround the "Plain of Windmills" on the Lasithi plateau.
Agios Nikolaos
"Ag Nik" is built around an inner lagoon, Limni Voulismeni, where cafés and restaurants stand side-by-side on a broad quayside. It's the perfect place to dine with a view of city lights reflected in the water. From the harbor, you can take a 35-minute boat trip across the Gulf of Mirabello to Spinalonga. Agios Nikolaos has its own beaches, a few short blocks south of the city center. For even sandier strands, head 2.5 km east, to Almyros and Ammoudara.
Lively Chania
With its narrow streets and shop-lined alleyways, Crete's second city oozes character. For most vacationers, it's the most popular gateway to the island. Many are drawn to this western stretch of Crete's north coast by sandy beaches such as those at Kalyves and Almyrida, about 30 minutes drive east of Chania on Souda Bay, or Georgioupoli, still farther west. Chania's own beach at Kalamaki is a 10-minute bus ride west of town.
Historic Rethymnon
Rethymnon - on Crete's north coast, west of Heraklion - is packed with photo opportunities and relics of a cosmopolitan past. Locals like to sip sundowners under the palm trees on Venizelou, the seaside boulevard that stretches along the beach west of the harbor. The mighty Fortezza overlooks a small fishing harbor surrounded by seafood tavernas. It's an irresistible place for a fish dinner, and you'll find more restaurants in the maze of streets lined with old Venetian and Turkish townhouses a few steps inland from the waterfront.