The Insider's Guide to the Perfect Vacation in Crete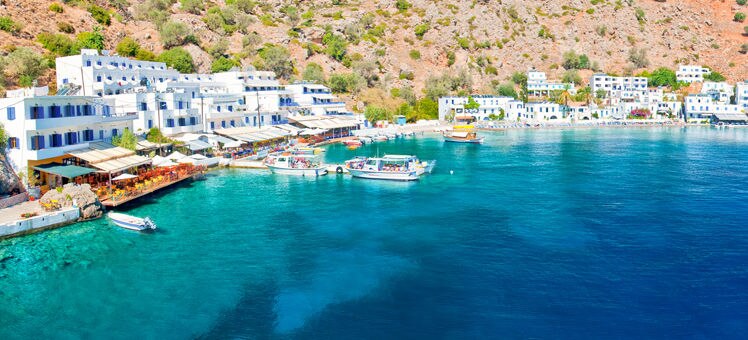 Crete offers great beaches, breathtaking mountain landscapes, historic cities, and lively vacation resorts. Cretan hospitality is famous, and most people working in hotels and restaurants speak fluent English - and often several other languages as well. It's easy to get around using public transport, but if you'd rather drive there are plenty of car rental outlets and main roads are good.
Best time to travel
Spring - early April through May - is the perfect time to visit the island. Temperatures are mellow, and beaches and attractions aren't crowded. Crete's long, hot summer lasts from May through September. This is vacation high season, when hotel rates hit their peak. September and October are great months to visit - there's still plenty of sunshine, the sea is warm, the crowds dwindle and so does the price of accommodation. Almost all resort hotels, and many restaurants and attractions, close from October through Easter. From November through February it's likely to be cold, wet and windy.
Not to miss
Your vacation in Crete can be a journey through 4,000 years of the island's history. Must-sees include ancient Knossos, but other Minoan palace sites such as Festos are worth a look too. Don't miss the Roman-Byzantine ruins from the dawn of Christianity at Gortyna, and make time to walk the battlements of the Venetian Fortezza in Rethymnon. Walk down the Samaria Gorge, through the White Mountains, for a taste of wilderness. And take in 1 of the small museums celebrating Cretan folkways, which have vanished only within the last few decades.
Getting around
Crete has 2 international airports; Heraklion (HER) and Chania (CHQ). They both receive charter flights from most European countries between April and October, with some scheduled flights operating all year round. Domestic flights also operate between both cities and Athens. Fast and frequent coaches operated by the KTEL consortium connect all Crete's major cities via the E75 coastal highway. You can also use taxis for long-distance trips as well as within towns. All 3 major cities have urban bus networks, but walking is the easy way to get around the historic town centers.
Cuisine
Crete has its own cuisine. High in pulses, olives, and olive oil, vegetables, and foraged greens, and low on red meat, the "Cretan diet" puts Cretans among the world's longest-living people. You'll find dishes from this traditional menu in trendier restaurants. In resorts, you'll also find eateries offering versions of American, British, Indian, and Italian food. For authentic Cretan eating find a mezedopoleion, serving lots of tiny, varied, tapas-style dishes that you can order by the platter. Also seek out a psarotaverna, or specialist fish restaurant, and for carnivores, a psistariagrill.
Customs and etiquette
Although Crete is steeped in tradition, it has adapted to tourism in just a few decades and has few cultural quirks to trouble visitors. Topless sunbathing - unthinkable a generation ago - is tolerated, as is discreet nudism in more secluded spots. When visiting the monasteries or churches though, modesty is required. That usually means trousers and shirts with sleeves for men, and clothes that cover knees and shoulders for women. Crete's reputation as a party island is justified, with cheap drinks attracting young British summer visitors to resorts such as Malia. However, islanders generally disapprove of public drunkenness.
Fast facts
Population: 538000

Spoken languages: Greek, English, German, Italian

Electrical: 230 volts, 50 Hz, plug type C, F

Phone calling code: +30

Emergency number: 007