Experiencing the Arts and Culture Scene in Las Vegas
Experiencing the Arts and Culture Scene in Las Vegas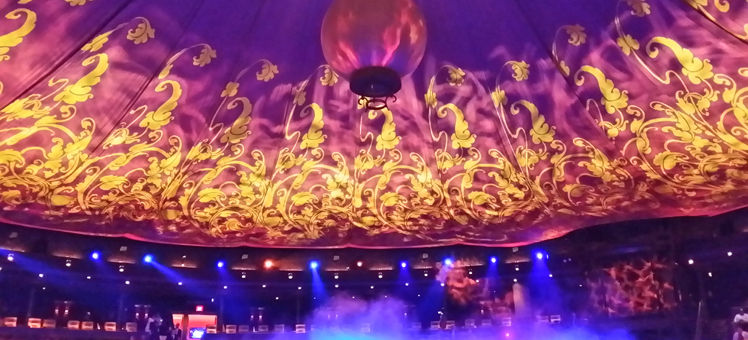 When you think of the arts in Las Vegas, the dazzling live performances at the resorts along The Strip are probably the first thing that comes to mind. The truth is, that's only scratching the surface of the city's vibrant arts scene. Las Vegas has it all, from Broadway performances to fascinating museums. Allow some time during your visit to experience Sin City's cultural destinations.
Live music
Las Vegas has no shortage of first-rate live music venues, and it comes as no surprise that it easily attracts some of the industry's top names. Without a doubt, The Strip is the centre of the city's music scene, and you can find some of its best venues here, including the Colosseum at Caesars Palace and the MGM Grand Garden Arena. Best of all, Las Vegas has everything from thousand-seat venues to intimate concert halls, so you're sure to have plenty of entertainment options.
The Colosseum at Caesars Palace
Arguably the top venue in the city, the Colosseum opened in 2003 and seats up to 4,300. Since its opening, it has hosted some of music's biggest names, including Celine Dion, Elton John, and Rod Stewart.
3570 Las Vegas Boulevard South, Las Vegas, NV 89109Tel: +1 866 227 5983
The Colosseum at Caesars Palace website
Brooklyn Bowl Las Vegas
Located at The Linq, Brooklyn Bowl has 3 stories of space for concerts and performances from acts like The Avett Brothers, Cake, and Alabama Shakes. And, of course, there's a bowling alley on site.
3545 Las Vegas Boulevard South, Las Vegas, NV 89109. Tel: +1 702 862 2695
Brooklyn Bowl Las Vegas website
Museums
Las Vegas's downtown area is home to plenty of museums. Options range from the traditional, like the Las Vegas Natural History Museum, to the unusual, like the Mob Museum. The city has museums that appeal to a wide range of interests, and you're sure to find a day spent touring them both educational and entertaining.
Neon Museum
This unique museum offers hour-long guided tours, where you can see more than 150 historic signs housed in an area affectionately known as the Boneyard. Nighttime tours are available if you want to see the signs lit up.
770 Las Vegas Boulevard North, Las Vegas, NV 89101. Tel: +1 702 387 6366
Neon Museum website
Mob Museum
Housed inside the former federal courthouse and U.S. Post Office building, the Mob Museum contains exhibits highlighting the history of organized crime in Las Vegas and across the United States.
300 Stewart Avenue, Las Vegas, NV 89101. Tel: +1 702 229 2734
Mob Museum website
Performing arts
Las Vegas has a thriving performing arts scene. You'll find everything from Broadway shows to ballet here, and several venues throughout the city host performances. The highlight, though, is the Smith centre for the Performing Arts in downtown, which hosts live theatre, dance, and concerts. Take some time to enjoy a performance during your trip.
The Smith centre for the Performing Arts
The city's premier performing arts centre, the Smith centre hosts Broadway performances and jazz concerts. It's also the home of the Nevada Ballet Theatre and the Las Vegas Philharmonic.
361 Symphony Park Avenue, Las Vegas, NV 89106. Tel: +1 702 749 2000
The Smith centre for the Performing Arts website
Stage productions
Nothing says Las Vegas like an extravagant, over-the-top production, and you'll find no shortage of them on The Strip. Virtually every resort here has its own theatre hosting shows from the likes of Cirque du Soleil and the Blue Man Group. The schedules contain everything from Broadway hits to magic acts, so check for your favorite performances before you go.
The Monte Carlo
This resort is home to the Blue Man Group's one-of-a-kind show that dazzles audiences with music, comedy, and multimedia performance art.
3770 Las Vegas Boulevard South, Las Vegas, NV 89109. Tel: +1 702 730 7777
The Monte Carlo website
Bellagio
O, one of Cirque du Soleil's most fascinating and mesmerizing shows, has called the Bellagio home since 1998. This immensely popular show combines acrobatics and artistry in a surreal aquatic setting.
3600 Las Vegas Boulevard South, Las Vegas, NV 89109. Tel: +1 702 693 7111
Bellagio website
Discover
Find your perfect holiday in Las Vegas
From 380 hotels.