Fun With the Kids - Outings and Activities in Benidorm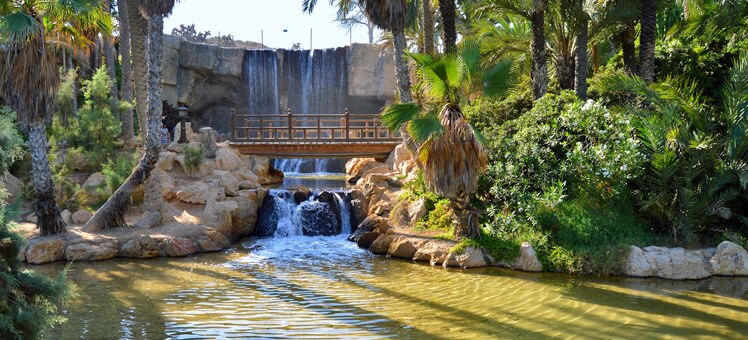 Benidorm's sunny weather, Blue Flag beaches, and countless theme parks make it the perfect destination for family vacations. Grab some goggles, buckets, and spades and prepare to enjoy the city's lively beaches and water parks. Go cable skiing on Playa de Levante, and then embark on a journey of discovery of ancient Mediterranean civilizations at Terra Mítica. Or marvel at beasts from all over the globe in Benidorm's nature parks.
Blue Flag beaches
Benidorm's beaches have everything you need to relax and spend a great day out with the family. Both Playa de Levante and Playa de Poniente have Blue Flag facilities, as well as sports and recreation areas. Play beach volleyball, learn how to cable ski, or swim out onto a popular floating platform with slides.
Cable Ski Benidorm
Who needs a boat to water ski? Cable skiing is fun for kids and grown-ups alike. Try it out on this pioneer cable ski platform built at Playa de Levante.
Rincón de Loix, 03503 BenidormTel: +34 965 851 386
Cable Ski Benidorm website
Terra Mítica
To play is to discover, so why not explore the history of ancient Mediterranean civilizations in a theme park with all kinds of rides? Test your laser-shooting skills hunting down the Minotaur in a Greek labyrinth, sail to the port of Alexandria, or ride the Roman Magnus Colossus roller coaster.
Terra Mítica
This historical theme park is divided into 3 sections, each one representing one of the Mediterranean's greatest civilizations; Greece, Rome, and Egypt.
Partida del Moralet s/n, 03502 Benidorm. Tel: +34 902 02 02 20
Terra Mítica website
Wildlife parks
From wild felines to sea critters, nothing sparks a kid's curiosity like a day spent observing the animals they learn about in school. Discover creatures from every continent, explore their natural habitats, take a swim with dolphins, or become a sea lion trainer for a day. Benidorm's Terra Natura and Mundo Mar animal parks promise unique experiences for animal lovers of all ages.
Terra Natura
This sprawling zoo recreates natural habitats from across the globe. Explore the park's 4 ecosystems (Pangea, America, Asia and Europe) and discover fascinating creatures, big and small; from a lethal giant scorpion to the highly intelligent African elephant.
Foia del Verdader 1, 03502 Benidorm. Tel: +34 966 072 770
Terra Natura website
Mundo Mar
Mammals, reptiles, and birds await in this animal park with dolphin and sea lion shows. For a unique experience, and the chance to interact with local critters, children can become a zookeeper or animal trainer for a day.
Calle Sierra Helada s/n, 03503 Benidorm. Tel: +34 965 869 101
Mundo Mar website
Water parks
Looking to spend a refreshing day while avoiding the sand? Try splashing the day away with the entire family at one of the city's many water parks. Swim in giant pools with waves and waterfalls, slide down twisting water chutes, or simply relax on the sun deck.
Aqua Natura Benidorm
The city's newest water park is located next to Terra Natura. Relax in a hot tub while you watch your kids play in giant pools with zigzag slides.
Foia del Verdader 1, 03502 Benidorm. Tel: +34 966 072 7 70
Aqua Natura Benidorm website
Eating out with children in Benidorm
The vast majority of restaurants in Benidorm are suitable for the little ones. You'll find plenty of venues serving familiar foods such as hamburgers and pizzas, and set menus can almost always be altered to satisfy the most finicky of tastes.
The Cellar Bar
This colourful British pub keeps kids entertained every evening with Louie, the resident clown.
Calle Estocolmo 7, 03500 Benidorm. Tel: + 34 655 551 708