Art and Culture in Udaipur - Ancient Palaces, Rajasthani Folk Dancing, and Sacred Temples
Art and Culture in Udaipur - Ancient Palaces, Rajasthani Folk Dancing, and Sacred Temples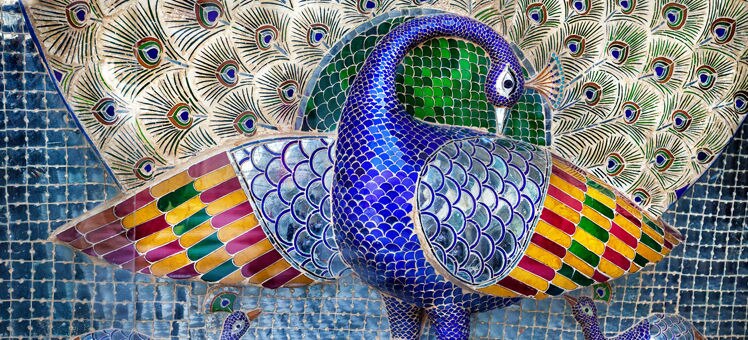 Beautiful Udaipur has been the backdrop for many films, including "The Darjeeling Limited," "Gandhi," and the James Bond movie "Octopussy." Ornate Rajasthani- and Mughal-influenced architecture creates a fairytale setting that draws visitors from around the world. The city is at the heart of Rajasthan's heritage and you can see fascinating artifacts, monuments, palaces, and temples.
Touring elegant palaces
Once part of the Mewar Dynasty and the Mughal Empire, Udaipur is home to majestic palaces from both eras. The legendary City Palace is considered the largest in Rajasthan and the elaborate hilltop structure houses a series of complexes. On another nearby hilltop, you'll find Monsoon Palace, overlooking Fateh Sagar Lake. It was built for observing incoming monsoon clouds and its elevated position makes it a popular spot for watching the sunset.
City Palace of Udaipur
Construction of City Palace began in the 16th century under the rule of Maharana Udai Singh II and continued for 400 years. Exploring the palace's splendid complexes is an experience at the top of many visitors' itineraries.
Udaipur 313001, RajasthanTel: +91 294 2419021
Monsoon Palace
Said to glow in shades of gold at night, the white-marble palace is the former resort of the Mewar royal family. Inside the complex there are intricately carved pillars, dramatic fountains, and jharokha, ornate Mughal balconies.
Kodiyat, Udaipur 313011, Rajasthan.
Monsoon Palace website
Sacred temples
Ancient Jain and Hindu temples, many dating back to the Mewar Dynasty, are part of the fabric of Udaipur and the surrounding area. The stories behind these carefully preserved temples are often just as intriguing as the buildings themselves. Aside from their religious and spiritual significance, the temples also showcase striking art and architecture.
Eklingji Temple
Eklingji, a form of Lord Shiva, is believed to be the ruling deity over the Mewar Dynasty. This massive complex of 108 temples, 40 km from Udaipur, was built for the god in 971 AD using pure marble and granite.
Siyol 313202, Rajasthan.
Jagdish Temple
Next to City Palace, Jagdish Temple was finished in 1651 in honor of Lord Vishnu and is one of the largest temples in Udaipur. Its impressive 3-story structure features elaborately painted walls, carved pillars, and ornate ceilings.
RJ SH 50, Udaipur 313001, Rajasthan .
Traditional Rajasthani folk dancing
Udaipur is known for traditional forms of Rajasthani folk dancing, mainly Jhumar and Ghumar styles, performed during sacred festivals like Holi and Diwali. Many performances are based on Rajasthan's folklore, with dancers telling stories through movement and music. Dancers wear colourful, sequined costumes that sparkle as they swirl around the stage.
Dharohar Folk Dance
Dharohar (meaning "heritage") is widely praised for celebrating Rajasthan's cultural richness in Udaipur. Their talented dancers perform 1 show daily and audience participation is encouraged.
23/186, "Bhagwat", Parshwanath Colony, Near Savina Vatika, Udaipur 313002, Rajasthan. Tel: +91 94141 55904
Dharohar Folk Dance website
Mesmerizing museums
Udaipur's rich history means its museums are packed with intriguing objects from bygone eras. The city's location in a lush valley surrounded by 5 lakes has made it a significant destination and trading hub for hundreds of years. At local museums you'll see historic artifacts from past centuries, including weaponry and coins. For a more futuristic experience, you can visit Udaipur's solar observatory, modelled after Big Bear in California.
Bagore-ki-Haveli
On the banks of Lake Pichola and Gangori Ghat, this 18th-century haveli has been converted into a museum. It now houses an array of art, handicrafts, and costumes spread across 100 rooms, including Mewar paintings in the Queen's Chamber.
Ambapol, Pichola Lake, Udaipur 313002, Rajasthan.
Bagore-ki-Haveli website
Musical instruments and lessons
Udaipur has a musical heritage renowned throughout the country. Traditional folk music celebrates the arrival of the monsoon and honors farmers' bountiful harvests. There are even local musical castes dedicated to singing and entertaining. Popular Rajasthani instruments, like tanpuras and sitars, add to the city's celebratory atmosphere, especially during dharohar dance performances.
Prajapati Musical Instruments
Music lovers will enjoy meeting store owner Suresh Prajapati, who is 1 of Udaipur's top musicians. Ever dreamed of learning to play a new instrument? Here's your chance to try flute, sitar, or tabla lessons.
Chandpole at Hanumaan Ghat, Udaipur 313001, Rajasthan. Tel: +91 992 8353167