High Stakes and Headline Acts - Reno's Nightlife and Entertainment
High Stakes and Headline Acts - Reno's Nightlife and Entertainment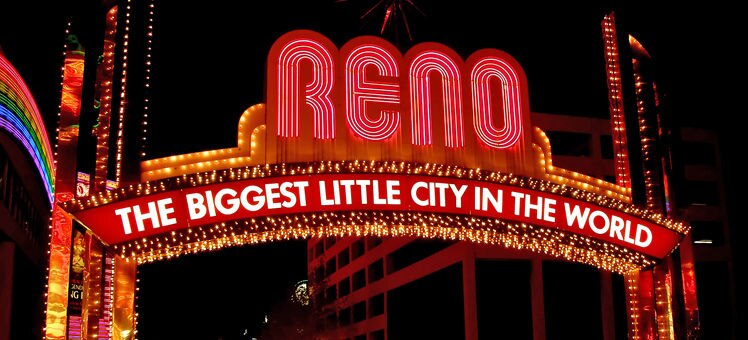 Reno's reputation as an American gambling mecca - perhaps second only to Las Vegas - is well earned, but the presence of the University of Nevada, Reno campus means it ranks as a big college town. Mega casino hotels and theatres share space with student dance clubs and bars. This is a party town with a variety of hot spots you can hit up every night.
Casinos
Between Reno and Sparks, you'll find more than a dozen casinos with all manner of table games, video poker, Keno, slot machines, race and sports book betting. Though the majority can be found along Virginia Street in Downtown Reno, others can be found farther out of town. You can head east along Interstate 80 to Sparks, or west towards Verdi.
Atlantis Casino
Built in 1972, this tropically themed downtown casino keeps a rotating tournament calendar for poker, blackjack, and Keno.
3800 South Virginia Street, Reno 89502Tel: +1 775 825 4700
Atlantis Casino website
Eldorado Casino
With a gaming space measuring over 75,000 square feet, this Reno mainstay offers players a plethora of games including over 1,500 slot machines.
345 North Virginia Street, Reno 89501. Tel: +1 775 786 5700
Eldorado Casino website
Cocktail bars
Thanks to the city's ongoing revitalization and beautification efforts, the areas known as MidTown and CalAve (California Avenue) have seen an influx of hip spots that serve well-crafted cocktails. The former area comprises a triangular group of streets located a 5-minute walk south of the Truckee River, while CalAve lies in the Truckee River Arts District. In these districts, as well as 2 miles north toward the University of Nevada campus, you'll find trendy bars pumping eclectic music and serving up inventive drinks. It's a formula that will undoubtedly make for a memorable night of hijinks.
Death & Taxes
Black leather sofas and top-shelf spirits give Death & Taxes its ultra cool vibe. Its extensive drink menu will make it difficult to decide what to start, or end, with.
26 Cheney Street, Reno 89501. Tel: +1 775 324 2630
Death & Taxes website
The Little Waldorf Saloon
Beaming with University of Nevada Wolf Pack pride, "the Wal" has been catering to hungry locals and thirsty students since 1922. Drink specials, impressively sized meals, and a long list of craft beers make this informal spot a college favorite.
1661 North Virginia Street, Reno 89503. Tel: +1 775 337 9255
The Little Waldorf Saloon website
Nightclubs
Aching to dance under flashing lights while thumping beats reverberate throughout the room? Then Reno's the place for you. Many casinos house expansive clubs with live DJs who cater their musical lineups to include booty-shaking tunes from hip-hop, R&B, modern country, reggae, and Top 40 artists. You can call ahead to arrange for bottle service or for VIP group reservations.
EDGE Nightspot at the Peppermill
Come here and you'll find go-go girls on raised platforms, stocked bars lining the perimeter, and a massive dance floor packed with people looking to party into the morning hours.
2707 South Virginia Street, Reno 89502. Tel: +1 775 826 2121
EDGE Nightspot at the Peppermill website
Live music
A regular stop for major international and national acts, Reno sees its fair share of famous names. You're just as likely to catch a star of the recent past headlining a casino ballroom as you are to find your favorite up-and-coming indie band in a small club. Local acts hit the city's stages throughout the week and regional bands make it a point to stop in Reno on tours of western America.
Knitting Factory Concert House
The legendary New York City club's branch in Reno remains true to its roots by staging a steady schedule of cutting edge acts, ranging from folksy female chanteuses to caustic death metal bands.
211 North Virginia Street, Reno 89501. Tel: +1 775 323 5648
Knitting Factory Concert House website
Grand Theatre
This 1,800-seat hall within the Grand Sierra Resort is famous for its large stage and the big name musicians that have occupied it. Its red velvet walls have hosted a who's who of artists including Billy Idol and Diana Krall.
2500 East 2nd Street, Reno 89502. Tel: +1 775 789 2000
Grand Theatre website
Shea's Tavern
An unpretentious spot that predates MidTown's gentrification, Shea's Tavern specializes in showcasing underground bands.
715 South Virginia Street, Reno 89501. Tel: +1 775 786 4774
Shea's Tavern website
Discover
Find your perfect holiday in Reno
From 50 hotels.