Live Music, Woodland and Lakes - A City Guide to Branson
Live Music, Woodland and Lakes - A City Guide to Branson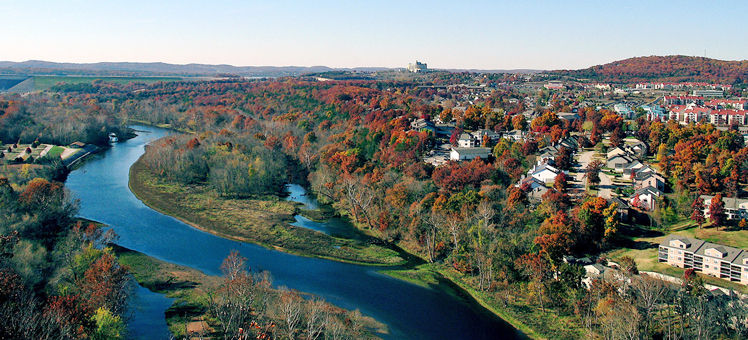 Often considered a mini version of Las Vegas with none of the decadence, Branson prides itself on its family-focused entertainment and natural beauty. The musicians who have opened their own namesake theatres here helped grow this small Ozark Mountain city into the tourist destination it is today, while the city's gorgeous wooded areas and lakes add to its family-friendly appeal.
Live theatre
Living legends, touring stars, and multi-generational virtuoso families attract visitors to Branson's theatre district for daily lineups of live music that are hard to match. Veteran shows, like the one at the Baldknobbers Theatre that features country music and comedy, have been entertaining all-ages audiences for decades. You can catch more music shows on "the strip" and Shepherd of the Hills Expressway. Performances range from large-scale to intimate, as do the music halls that include cozy venues like the Little Opry Theatre.
Baldknobbers Theatre, 2835 West 76 Country Blvd., Box 1, Branson 65616; Tel: +1 417 334 4528; Website: Baldknobbers Theatre

Little Opry Theatre, 3562 Shepherd Of The Hills Expressway, IMAX Entertainment Complex, Branson 65616; Tel: +1 417 335 4832; Website: Little Opry Theatre
Natural splendor
Outdoor activities that bring people to Branson include fishing, boating, swimming, and hiking the shores of the area's lakes and trails. Between the cool waters of Lake Taneycomo and the warmer currents of Table Rock Lake lies Table Rock Dam. Built by the U.S. Army Corps of Engineers in 1959, you can visit the historical site and take in its sublime, rushing waters. If you're looking to revel in more of the Ozark landscape, you can hike 1 of 2 woodland trails in the Lakeside Forest Wilderness Area. The park features a waterfall, cave, and multiple picnic areas.
Historic and pop culture museums
Although Branson is best known for its live entertainment, the city's museums are rife with historic and pop cultural experiences for everyone to enjoy. You can take in some American history at the Veterans Memorial Museum or spend an afternoon among celebs at the Hollywood Wax Museum. For a truly unique cultural experience, you can visit the Titanic Museum. Housed in a half-scale version of the ship, it stands parked in a false iceberg, and contains over 400 artifacts from the original ship and its passengers.
Zoos and animal sanctuaries
If there was any doubt that Branson is a great destination for the whole family, you have only to consider its many zoos, conservatories, aquariums, and sanctuaries. Branson's Wild World contains more than 180 animal species, and features an indoor wolf enclosure, as well as an aquarium with sharks and stingrays. You can drive 15 minutes outside of the city for a guided tour of the National Tiger Sanctuary, which is home to a small group of tigers, lions, and other big cats that receive personal care from the nonprofit organization that manages it.
Vineyard tours
Branson's local vineyards offer adults a calm and relaxing experience among nature. You can discover some of Missouri's wines, which are noted for their dry, full-bodied reds, and fruity, dry whites. You can tour the fragrant grounds of the Stone Hill Winery, enjoy a tasting, and watch them bottle a signature sparkling white spumante wine. On weekends, the vineyard often hosts live music events. At Mount Pleasant Winery, you can take a class in the basics of wine appreciation, and bottle, sign, and date your own dessert wine.