A City Guide to Virginia Beach - Enjoying a Vacation by Chesapeake Bay
A City Guide to Virginia Beach - Enjoying a Vacation by Chesapeake Bay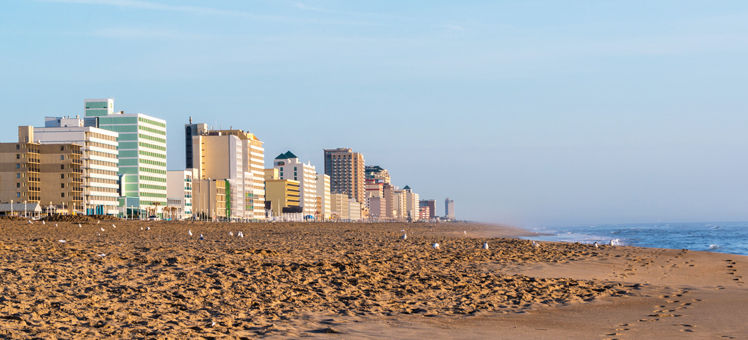 Virginia Beach has been a weekend getaway destination since the first resort popped up in the late 19th century. Located at the confluence of the Atlantic Ocean and Chesapeake Bay, the city has enhanced what nature has provided by offering visitors 3 long, sandy beaches. There's also a bustling boardwalk filled with restaurants and entertainment venues to enjoy, especially in the summer.
Strolling the Boardwalk
Virginia Beach's 28-foot-wide beachfront boardwalk runs for 3 miles along the Atlantic Ocean. This gives you plenty of room to bike, rollerblade, or get your picture taken in front of the famous bronze King Neptune statue. The boardwalk is also wide enough to accommodate live musical acts, as various performers bring tunes to the coastline during the summer. You'll find several boutique shops, eclectic restaurants, vibrant parks, and other entertaining points of interest to explore, regardless of which portion of the walkway you choose.
A trio of beaches
Beach culture is a big deal in Virginia Beach, especially in the summer. The city's 3 main beaches are popular with visitors and locals because they offer wildly different environments to explore - atmospheres that also represent the diverse nature of the city itself. Resort Beach is on the other side of the boardwalk and enjoys a lively vibe. Sandbridge Beach features a much more subdued environment and untamed marshland - a perfect setting for kayaking. Those with kids in tow will want to enjoy Chesapeake Bay Beach's family-friendly feel and calm, gentle waves.
Excellent ecotourism
The marshes, wetlands, and open waters that surround Virginia Beach have made the city a prime destination for those who want to experience nature on their trip. Several ecotour companies located here, like Beach Eco Tours and Chesapean Outdoors, will help you explore the city's unique terrain. You'll have the chance to kayak through tributaries, guide a stand-up paddleboard through Chesapeake Bay, and hike through natural habitats. You may even be able to spot a dolphin or 2 if you're lucky.
Historic buildings
Virginia Beach is a historic town by American standards - the first English colonists landed at Cape Henry in 1607. The city has done a terrific job of preserving several historic homes from the nation's early days, which makes them pretty fun to explore. Properties once owned by 17th-century settlers, prominent 19th-century farmers, and more, are open to the public for tours. You can visit the Adam Thoroughgood House, dating back to 1719, and the Francis Land House, built in 1805. Other historic buildings have been renovated and given new lives as museums and art galleries.
Exploring Hampton Roads
Virginia Beach is part of a larger area known as Hampton Roads, which is generally considered to be the first metropolitan region in the United States. For a culturally rich encounter, head about 18 miles west to Norfolk and explore the city's impressive network of museums and performing arts centres, including the Harrison Opera House. While you're there, you can spend time in the Historic Ghent district and check out its collection of boutique shops and independent restaurants.
Discover
Find your perfect holiday in Virginia Beach
From 520 hotels.