Nature, History, Shopping, and Dining - What to See and Do in Galveston
Nature, History, Shopping, and Dining - What to See and Do in Galveston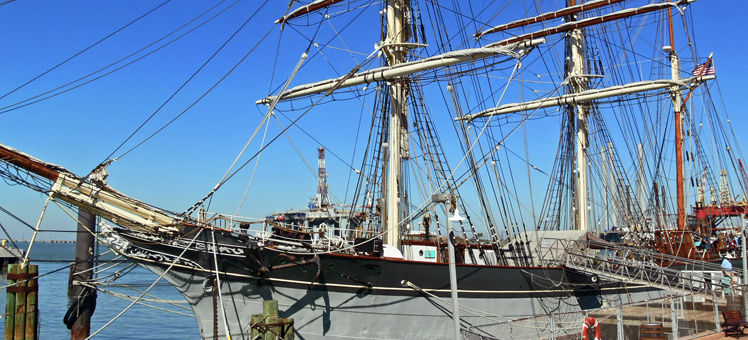 In Galveston, you can relax all day on a white-sand beach, delve into the island's past and the Victorian charm of its old mansions, explore nature, shop for antiques and art, and enjoy a superb seafood dinner. There are fun events and festivals throughout the year, activities and attractions for all ages, and a genuinely laid-back feeling: You're on "island time" here.
Beaches, beaches, beaches
Galveston has miles of beaches; all you have to do is pick your favorite. Those along Seawall Boulevard are usually busy, but you'll always find a spot for your umbrella, chair, and cooler. The most crowded spots are Stewart Beach and East Beach, the latter normally pretty packed with young people. For a quieter option, visit one of the Galveston County Beach Pocket Parks, located on the southwest side of the island, along the continuation of Seawall Boulevard.
Beach Pocket Park 1, 11102 FM 3005, Galveston 77554; Tel: +1 409 740 0390; Website: Beach Pocket Park 1

Beach Pocket Park 2, 11745 FM 3005, Galveston 77554; Tel: +1 409 740 0390; Website: Beach Pocket Park 2
The Strand, of course
A trip to Galveston is not complete without a visit to the Strand, the heart of the island. Check out boutiques, antiques stores, and restaurants housed in old red-brick buildings. During the first week of December, this historic district hosts Dickens on the Strand, inspired by Victorian London. This popular festival features parades, entertainment, food and craft vendors, and plenty of elaborate costumes. Mardi Gras parades with New Orleans flair take place at the Strand for several days before Ash Wednesday. Pageants, parties, and a family-friendly Sunday ensure everybody has fun.
History at its best
Galveston's rich history is still alive in the historic districts and museums. The restored Victorian mansions along Broadway Street contain original furniture and art. Ashton Villa, built in 1859, houses the Heritage Visitors centre, where you can inquire about historic attractions and tours. For museums, take your pick. The Railroad Museum, the Lone Star Flight Museum, and the Texas Seaport Museum let you explore the island's land, air, and maritime past. There's even a museum about offshore oil drilling, the Ocean Star Offshore Drilling Rig and Museum, that covers this important side of the area's economy.
Exploring nature
There's more to nature in Galveston beyond sunbathing and swimming at the beach. Drive your car or, even better, rent a bike and go explore. The island and surrounding areas are prime bird-watching locations. Conditions are great for cranes, kingfishers, herons, pelicans, and egrets, besides the ever-present seagulls. Galveston Island State Park, on the southwest side of the island, has hiking and biking trails through dunes and marshes. It's also a great spot for camping and fishing.
Shopping and dining
Shopping and dining are 2 of Galveston's favorite activities. The historic districts offer a variety of options for both. Look for that special antique piece at Big House Antiques. Update your beach and cruise wardrobe at Surf Styles. When it's time to dine, how about a burger or sandwich at the casual Mosquito Café, housed in an 1870 building? For super-fresh seafood with a Gulf view, try one of the many options, such as The Spot, along Seawall Boulevard.