A Waterfront Treasure - A City Guide to Halifax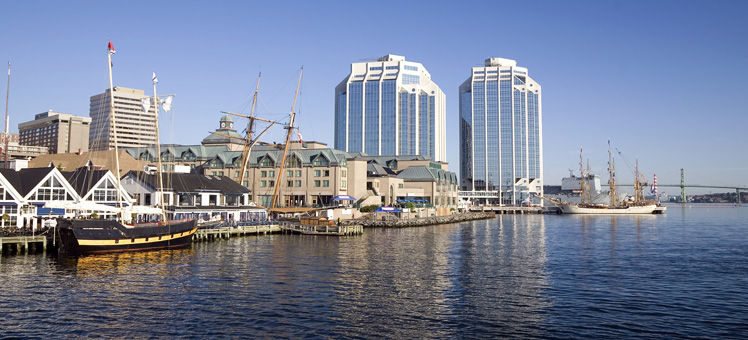 Halifax is the premier destination from which to explore Atlantic Canada's past and present. The city's devotion to preserving its roots as a military fortification, and key player in the Titanic disaster, make it an attractive spot for history buffs. Its urban core is a cheery haven for fashion-seeking shoppers and sundown revelers. Families flock to Halifax's waterfront to enjoy one of the world's largest natural harbors.
Downtown and waterfront Halifax
You won't need a car to get around downtown Halifax. The compact city centre starts at its waterfront. The 2-mile-long boardwalk is a popular place to catch seasonal festivals and street performers. Downtown stretches about 8 blocks west to the Halifax Citadel National Historic Site. The Citadel sits atop a massive hill that served as a military outpost when the city was settled in 1749. The neighbourhoods between these borders are filled with historic urban architecture, boutique shops, and restaurants serving the city's culinary staple, the gyro-like donair.
Halifax history
Halifax's past is largely preserved thanks to its downtown museum scene. A healthy chunk of the city's museums are located within a block of the waterfront. Venues like the Maritime Museum of the Atlantic demonstrate how the Titanic sinking, and its connection to the Canadian military, shaped Halifax's character. If you work your way inland, you'll have the chance to visit a handful of well-preserved historic properties that are as old as Canada itself, such as the expansive Halifax Public Gardens.
Halifax's eclectic shopping scene
Halifax is a playground for fashionistas and fans of local handiwork. Most of the downtown shopping action is located around historic Barrington Street and the Spring Garden Area. Here independent clothing boutiques and whimsical home decor spots rule the day. The colourful neighbourhoods in Halifax's North End district are home to a network of vintage clothing and accessory shops to delight your inner hipster. If you want to shop like a local, the waterfront Halifax Seaport Farmers' Market features several kiosks selling regionally made goods ranging from jewelry to soap.
Nighttime adventure in Halifax
Old city alcohol licensing laws have led to a robust nightlife scene in Halifax. You'll find a wealth of food options at places that serve beer, and live music at spots that serve the hard stuff - features that were legal requirements back in the day. The epicentre of the city's after-dark entertainment is found on and around Barrington Street, where locals and young revelers hang out at spots like Durty Nelly's and The Bitter End to enjoy libations, catch some tunes, and enjoy good times.
Halifax seafaring adventures
The waters surrounding Nova Scotia are ripe for exploration, and Halifax serves as a prime launching point for a wide range of maritime adventures for all ages. Those who want to stay local can take in the city skyline from Halifax Harbor's waters, or take a ferry to McNabs Island to check out military ruins and indigenous wildlife. If you're in the mood for a longer trip, you can take a day cruise to explore Peggy's Cove, home to arguably the most famous lighthouse in Atlantic Canada.