A City Guide to Eastbourne - Dramatic Cliffs, Beach Resorts, and Seafront Adventure Parks
A City Guide to Eastbourne - Dramatic Cliffs, Beach Resorts, and Seafront Adventure Parks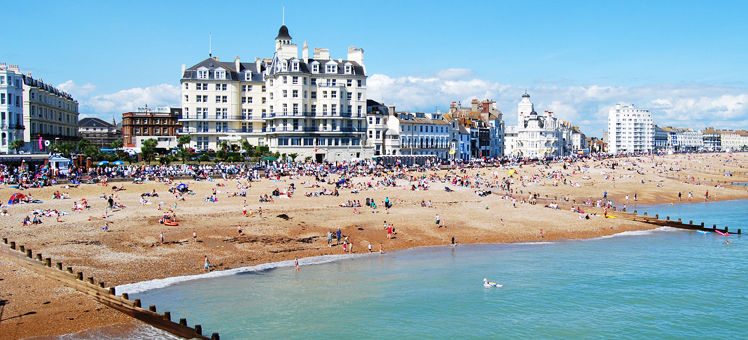 Beach lovers and outdoor enthusiasts enjoy Eastbourne, which enjoys a warm climate relative to the rest of England. Hiking trails can take you close to the white cliffs at Beachy Head, while resort beaches and seafront cafés invite you to spend a lazy day at the beach. Restored to its former glory, Eastbourne Pier is packed with fun attractions.
Beachy Head
A 10-minute drive southeast takes you to Beachy Head, whose iconic chalk cliffs are the tallest in Britain. As well as peerless views over the red-and-white lighthouse and across the English Channel, the area offers scenic hiking trails. A popular 4-mile stretch begins at Birling Gap, skirting the edges of the Seven Sisters chalk cliffs. Pubs, tea rooms, and cafés are easy to find, so you'll never be far from a relaxing pint of beer or an invigorating hot drink.
Beachy Head; Tel: +44 1323 423878; Website: Beachy Head

Birling Gap, Eastbourne BN20 0AB; Tel: +44 1323 423197; Website: Birling Gap
Exciting theme parks
There are both indoor and outdoor theme parks to enjoy in Eastbourne. At pirate-themed Treasure Island, children can clamber on the slides and netted walkways of Long John Silver's shipwreck and enjoy a treasure hunt on a sandy beach with lagoon. There's also an indoor soft play area with 2 levels and activities for all ages. Half a mile away is Fort Fun, which offers an outdoor play area, a water park, mini-golf, and indoor soft play. You can also take a break at the adventure park's café.
Lush gardens
Eastbourne has warmer, sunnier weather than most of the country, which is reflected in the city's lush gardens. The Italian Gardens, built around Italianate buildings in the 1920s, are perfect for a wander on a spring afternoon. Highlights include mature trees and fragrant climbing roses that bring a vibrant pop of colour when in bloom. Or head to Carpet Gardens, next to the pier, for flora that includes spring tulips, summer begonias, and palms the thrive all year round.
Scenic beaches
Eastbourne's highlight is its long seafront flanked by beaches, gardens, restaurants, and cafés. Grand Parade, the main resort beach, has excellent facilities including "kid safe" zones and on-duty lifeguards. For a traditional British seaside experience, why not rent a beach hut for the day? You can also check out Holywell Retreat, a quiet spot beneath dramatic cliffs on the edge of the South Downs, where you can spot marine life in rock pools during low tide.
Fun on the pier
Few things are as quintessentially British as a traditional beachfront pier - and Eastbourne's is a classic. Funtasia arcade has video games for kids of all ages as well as an adult-only gambling section with slot machines. There are ice cream shops, a Victorian tea room, a nightclub, and several places to buy fish and chips. Perhaps the pier's best-known feature is its camera obscura, which houses an original Victorian projector and offers panoramic sea views.