Big-Name Department Stores and Small, Independent Boutiques - Where to Shop in Exeter
Big-Name Department Stores and Small, Independent Boutiques - Where to Shop in Exeter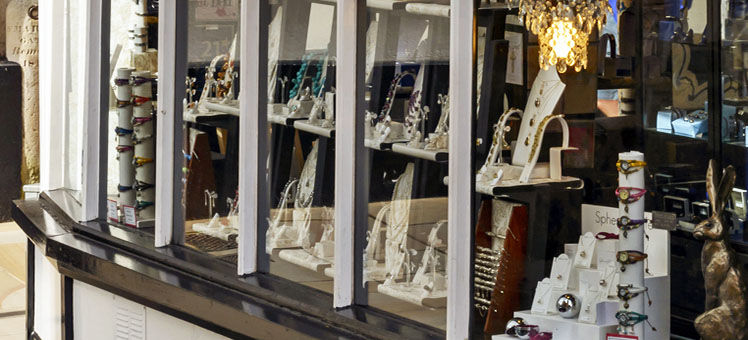 Shopping in Exeter is built to appeal a wide range of tastes and budgets. The majority of the downtown shopping scene is centreed on High Street, where department stores, familiar international retailers, and fine jewelers set up shop. If you venture from Exeter's city centre, you'll find independent boutiques selling eco-friendly gifts, vintage clothing, and other unique items to add to your suitcase.
Shopping at Princesshay
This open-air shopping centre anchor's High Street. It's a pretty place to shop, as glimpses of Exeter Cathedral can be caught as you walk the pathway connecting the centre's 70-plus stores. TopShop's line of trendy fashion clothing make it nationwide favorite, and other British fashion labels found here include Hobbs, Karen Millen, and Dorothy Perkins. After exhausting your credit card, fans of the celebrity chef Jamie Oliver may enjoy a delicious pasta lunch at Jamie's Italian.
TopShop, Princesshay, 11 Eastgate, Exeter EX1 1GB; Tel: +44 1392 431111; Website: TopShop

Jamie's Italian, Princesshay, 20 Bedford St., EX1 1GJ; Tel: + 44 1392 348 448; Website: Jamie's Italian
Guildhall Shopping Centre
Also on High Street, this indoor shopping centre has an unusual feature - a small 12th-century church is in the middle of the first floor. You'll find a wide range of conventional shops to browse during your visit. The products at The Body Shop feature ingredients that focus on different aspects of skincare, such as their line of pomegranate-based products for anti-aging. Primark is huge chain that peddles everyday clothing and homeware at astonishingly low prices.
West Quarter
Once the heart of Exeter's wool trade, the West Quarter has a strong reputation for being a hub for offbeat, independent specialty shops. You'll find most of the area's 60-plus shops and restaurants on and around Fore Street. You can pick up guitar accessories for the musician in your life with a trip to Mansons Guitar Shop -a store that counts rockers like Jimmy Page, Dave Grohl, and Noel Gallagher amongst its clientele. The Real McCoy deals in retro clothing, and some vintage duds go back to the 1880s.
Historic Quayside
Several warehouses and buildings left over from this neighbourhood's days as an industrial hub have been converted into creative craft stores and vintage-centric venues. Quay Presents specializes in locally designed accessories and home decor, including several items made from unique materials like driftwood and fused glass. A former fish market is the home of Exeter Quay Antiques, where you will find 20 different vendors selling vintage, collectable, and decorative items - from ceramics to jewelry.
Magdalen Road
Located about a half-mile from downtown Exeter, this modest shopping area features over 20 stores specializing in artisan foods and environmentally conscious merchandise. Leela sells clothing and colourful home decor, including items made from eco-friendly materials like bamboo. After you're done shopping, you can prepare for a picnic by the River Exe by picking up a custom-built basket of farmhouse cheese and wine at Bon Gout Delicatessen.